Early lead for Andrew Mills
The opening day of racing at the 2013 Finn Gold Cup in Tallinn, Estonia started slowly with light winds and a delayed start. After two races Andrew Mills (GBR) leads from Ed Wright (GBR) and Matt Coutts (NZL). Race wins went to Oliver Tweddell (AUS) and Jorge Zarif (BRA).
Racing was postponed for two hours Monday morning to wait for the wind, which when it did arrive was still only 5-7 knots. Race 1 got away after one general recall, with the wind increasing to 7-8 knots by the finish.
Oliver Tweddell (AUS) started at the committee boat and immediately tacked to the right. He soon pulled clear of the right and when the sides crossed near the top mark was already building a nice lead. He extended on each leg to win by nearly two minutes. Pieter-Jan Postma (NED) rounded a tight second ahead of a big group of chasing boats, but he too pulled away. Jonathan Lobert (FRA) eventually moved up to third and Matt Coutts (NZL) to third, which they all held to the finish.
Ed Wright (GBR) and Andrew Mills (GBR) also climbed through the fleet to fifth and sixth, while home favourite Deniss Karpak (EST) wasn't looking good at the first top mark but recovered to eighth by the finish.
The second race got under way fairly promptly, though took three attempts to get it away with three boats black flagged. Again the right paid handsomely with Alexey Selivanov (RUS) leading Marin Vujansinovic (CRO) and Jorge Zarif (BRA) round the top mark. These three led the fleet round the course in the gradually lightening wind, but at the end of the final downwind, Zarif passed Selivanov on one side and Vujansinovic passed him on the other. Zarif and Vujansinovic rounded the downwind gate side by side, but Zarif just had an edge to move ahead and take his first ever Finn Gold Cup race win. Vujansinovic crossed in second, while Mills had a great last leg to move into third, with Selivanov in fourth.
Tweddell described his race win, "It was a nice fun race and great to get off with race win. I started at the boat end and I tacked straight out towards the shore. There was more breeze and a right hand shift. When I tacked back I was quite a long way ahead. The conditions were really tricky, but I like light winds, and seem to be okay in them at the moment, but maybe I just got lucky in that race. I'm looking forward to the rest of the week if it stays light like this." Tweddell had spent all day yesterday preparing his charter boat for the week, "So I was pretty rapt to go out there in the first race and win by quite a long way. I had a pretty big smile on my face after that."
Championship leader, Mills commented on his day: "There were two races in light and tricky conditions. I had bad start in the middle of the pack, and rounded the top mark about 12th so just fought back and won a few places on all the other legs to sixth, so that was a good comeback. The second race as similar conditions, with different bias on the line, though the right was still favoured. I had a good start and good speed and was about sixth at the top, then fourth at the bottom by playing the pressure but on the second beat the left came in better and I dropped to sixth. The last run was lighter again, and I managed to jump to third on the last reach."
Race two winner Zarif said, "We were expecting the left to pay today, but we were wrong so in the first race I had a bad race, but I learned from that for the second one. We have been here for ten days, which I thought was enough time, but I think we needed more time as the conditions are quite difficult."
Zarif, 21, said last week that it was his father winning a Finn Gold Cup Race in Rio in 2004 that inspired him to start Finn sailing. "After I crossed the line I thought about it and I was very happy about it and remembered that day in 2004. I think it's very nice that two Zarifs have won a race at the Finn Gold Cup."
There have been plenty and father and sons who have sailed Finns, but perhaps this is the first father and son to have won races at the Finn Gold Cup?
Zarif says his 2016 campaign is different from the one leading up to 2012. "I am very lucky that the Star is out of the Games. Because of that Bruno [Prada] came to the Finn and since October we are training together. The difference between sailing alone and sailing with someone with his level and his history is huge. He also hired Rafa [Trujillo], for me already one of the best coaches in the world, if not the best. It's amazing how many important things he knows about the class and I am just trying to learn as much as possible from them. To look to your side and see two Olympic medallists, two world champions is very motivating; it's helping a lot."
His goal this year, "I still have to improve a lot to fight for a podium. A good target for me is top 15. If I finish top 20 it's not too bad and top 10 would be very nice."
In the light winds today the fleet was really compressed for most of the race with very busy mark roundings and tight upwind legs making for some exciting if mentally exhausting racing. The high scores already after just two races perhaps hints at the kind of week this is going to be, and consistency is going to be a key element. Lots of the favourites had difficult days and picked up one or two high scores. The results make fascinating reading.
Full results here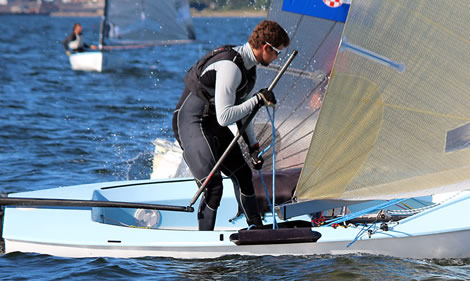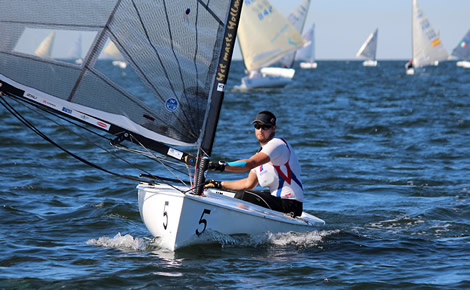 Back to top
Back to top