Medal racers decided
Two races today and the eight-boat Medal Race line-up is determined, after one of the trickiest race days yet. Massive wind shifts favoured those who kept their heads out of the boat to seize the advantage.
Tomorrow will mark exactly one year since Jo Aleh/Polly Powrie became Olympics Champions. Back in 2012, they went into the medal race on Weymouth's Nothe Course on equal points with Hannah Mills/Saskia Clark. Here in La Rochelle they carry an 11 point advantage into the double-point Medal Race.
As he seeks to defend his World Championship title with new crew Will Ryan, 2012 Olympic Gold Medallist Mat Belcher was sentimental about the 470 World Championship Medal Race coinciding with his Olympic Gold Medal victory. Belcher has come a long way since he won his first World Championship title thirteen years ago in La Rochelle, with his brother at the 420 Worlds.
Saturday's Medal Race carries double-points and is non-discardable, so the pressure is immense in what is set to be a thrilling 25 minute race around the windward leeward track.
470 Men
"It is nice to be back on top. We have had a great season, but this has been a really difficult regatta," said Belcher. The team scored a 10, 1 and will start the medal race with a 7 point advantage over Greece's Panagiotis Mantis/Pavlos Kagialis.
"We are all trying to get away without any disasters. The fleet is really close, there is a lot of current and it is very shifty," he continued. "If you can start well and be consistent, it doesn't have to be first, you are on track. Today it all came down to the last race. For us, this is the highest scoring regatta we have done in almost 20 events, so it just shows you how difficult it is."
Expectations run high for Belcher as he steps closer to adding another gold medal to his 2012, 2011 and 2010 World Championship collection, which he achieved with former crew Malcolm Page.
The first race of the day and a win to Finland's Lindgren brothers, Joonas and Niklas, who moved up to 10th and closer to the top 8 cut, after claiming their first race win of the series. But a topsy-turvy result of 14th in the final race knocked them back to 12th overall.
Hard to imagine the emotions after racing for France's Pierre Leboucher/Nicolas le Berre, the series leaders going into the day, who ended the final series in 4th overall after posting finishes of 13th and 20th, and sit a massive 17 points behind the Australians. The gold medal is out of reach, but they still have a shot at silver or bronze.
Results of 2,5, take Panagiotis Mantis/Pavlos Kagialis a step closer to claiming their first ever World Championship victory, and improving on their performance best of fifth at the 2010 Worlds.
"It was a difficult day. All the boats were very close and we gave our best and never stopped sailing and keeping an eye on the others," said Kagialis. "We enjoyed the day and are waiting for tomorrow! We will race our own race and not think too much about the others, as a small mistake will be very painful!"
Belcher/Ryan are assured of a medal, with only the Greeks or third placed Lucas Calabrese/Juan de la Fuente able to grapple the gold from them. The battle for silver extends to all of the four top teams, with Great Britain's Luke Patience/Joe Glanfield adding to the top five team mix who can challenge for bronze.
Across the seven race final series, a different team has won each race – clear evidence of the tough conditions and depth of talent competing.
The 470 Men Medal Race is scheduled to get underway at 1445 local time.
470 Men – Medal Race Top 8
1. Mat Belcher/Will Ryan (AUS) – 32 pts
2. Panagiotis Mantis/Pavlos Kagialis (GRE) – 39 pts
3. Lucas Calabrese/Juan de la Fuente (ARG) – 45 pts
4. Pierre Leboucher/Nicolas Le Berre (FRA) – 49 pts
5. Luke Patience/Joe Glanfield (GBR) – 58 pts
6. Stu Mcnay/Dave Hughes (USA) – 69 pts
7. Sofian Bouvet/Jeremie Mion (FRA) – 78 pts
8. Paul Snow-Hansen/Daniel Willcox (NZL) – 81 pts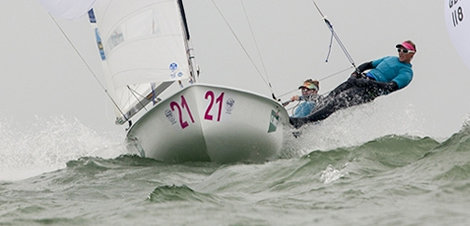 470 Women
Jo Aleh/Polly Powrie advance to the Medal Race with an 11 point lead, and bar a scoring penalty are assured of a medal. They didn't make it easy for themselves after a 13th in the first race of the day, although a 3rd place follow up put them safely back into the lead.
"It was really hard. We had big shifts and choppy seas and most of the time you had to go with your gut feeling," said Powrie. "It was sail your own race. We had a bit of a shocker in the first one and then managed to sort ourselves out for the next."
"This year is a bit different for us," added Aleh. "We have had some time off and come back, although we feel a bit rusty. We didn't have a great day today, so I was a bit surprised to come in and find we were doing this well."
At the 2012 470 World Championships in Barcelona, Aleh/Powrie lost out in the winner takes all Medal Race between four boats. This year their prospects are not quite so risky, so a different strategy will no doubt be discussed tonight to mitigate any chance of losing out on World Championship glory for the second year running.
In second overall are Austria's Lara Vadlau/Jolanta Ogar, with the 2012 World Champion silver medallists and reigning European Champions Camille Lecointre/Mathilde Geron from France in third.
The opening race of finals day went to Australia's Elise Rechichi/Sarah Cook, with China's Xiaoli Wang/Xufeng Huang in second and Xiaomei Xu/Chunyan Yu in third. This result left the Australians in 9th overall and just 1 point off the medal race cut, which only served to motivate them to follow up with a 2nd place finish and advance to the Medal Race in 6th overall.
A stunning outcome for the two Chinese teams who have both qualified to the Medal Race.
The points are very close in the 470 Women fleet and in theory all of the eight teams are in with a chance of a medal, so expect a fierce battle to the podium.
470 Women – Medal Race Top 8
1. Jo Aleh/Polly Powrie (NZL) – 29 pts
2. Lara Vadlau/Jola Ogar (AUT) – 40 pts
3. Camille Lecointre/Mathilde Geron (FRA) – 43 pts
4. Xiaoli Wang/Xufeng Huang (CHN) – 46 pts
5. Sophie Weguelin/Eilidh McIntyre (GBR) – 53 pts
6. Elise Rechichi/Sarah Cook (AUS) – 55 pts
7. Tina Mrak/Veronika Macarol (SLO) – 55 pts
8. Xiaomei Xu/Chunyan Yu (CHN) – 59 pts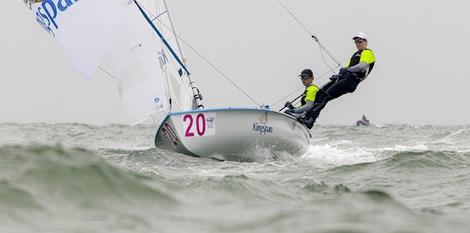 Back to top
Back to top