Three different winners
Three different race winners on day three at the 2013 Finn European Championships in Warnemünde has closed the points gap at the top but Vasilij Zbogar (SLO) still leads by just one point from Jonathan Lobert (FRA) and by three points from Ed Wright (GBR). Race wins went to Tapio Nirkko (FIN), Pieter-Jan Postma (NED) and Wright.
The fleet was sent out on time for a start in a building sea breeze. After two general recalls six boats were pulled out of race four under the black flag. The fleet got away cleanly the next time in 7-8 knots with the left side favoured by the building sea breeze. Tapio Nirkko (FIN) led out from the pin end and was never headed. Milan Vujasinovic (CRO) followed in second until the final downwind when Josh Junior (NZL) sneaked past for second. Andrew Murdoch (NZL) claimed fourth and Jonathan Lobert (FRA) crossed fifth.
Having not had the best start to the week so far, Nirkko is now in 14th. "In the first race I started at the pin, as it was a little bit favoured. I had good speed and managed to get rid of the fleet pretty much straight away and then got the big lines right. Conditions were pretty nice today like yesterday's two races with a nice sea breeze and nice waves, actually quite tricky waves and quite tricky conditions but good sailing. I went left first because of the pin bias and then I was playing in the middle trying to keep my options open until the end of the beat to see if the right or the left was favoured. But I could control the fleet pretty well and I managed to do it this time as there were not any really big shifts happening."
The wind started to build for race five and it belonged to Pieter-Jan Postma (NED) from the start. Winning the pin and the controlling the left he already had a nice lead by the top mark, which he extended on every leg helped by the fact that Oscar flag for free pumping was put up at the first mark. Lobert held second all the way while Wright lost third place to championship leader Vasilij Zbogar (SLO). The Kiwis again had a good race with Andrew Murdoch (NZL) gaining the upper hand to cross fifth with Junior in sixth.
Postma commented, "I popped out at the start and I could wait for the next shift as I started at the pin. Then the wind shifted slightly to the left and I could cover and I had good speed up and down. When you are in front it's not that difficult, the difficult thing is to get in front."
The final race was similar with Wright coming off well near the pin to dominate the beat and round first, never to be threatened. He rounded ahead of Zsombor Berecz (HUN), Postma and Zbogar. Tomas Vika (CZE) moved up to second by the gate but on the second upwind, Postma misjudged the moved windward mark to overstand while Zbogar suffered his second gear breakage of the week with the failure of a mainsheet loop on his boom. This cost them each 10 places.
Wright extended away for a big win while Max Salminen (SWE) had a great final beat to close on Vika, who he passed downwind to cross second. Vika was third while Lobert ended a great day with fourth and Nirkko fifth.
Salminen said of his day, "It was a day that looked much like yesterday. We had some light wind in the morning and it picked up slowly so then we had two nice hiking races. I am just happy I have good speed in the boat and I've kind of figured out this wind I think, so for my sake we can keep these conditions. I am super happy. I felt fast the whole race and as I think I know what the wind is doing so there as no surprises. I managed to be at the top the whole race but it was the last upwind I managed to get to the front."
Junior is now in fourth overall, just four points from the lead. "It was pretty tricky really, and a long start line, which means you have to get a good start, which I didn't but I managed to fight my way through with good downwind speed to get three good results. So I am pretty happy, and I am really enjoying it. And looking forward to the next two days of racing."
His expectations, "I want to just keep knocking off small things so just keep getting good results and I think a couple of good starts to make sure I get closer to the front. If I can get some good starts then maybe I can get near a medal."
Postma said, "Three beautiful races today from 8 to 12 knots. It was fierce racing with a big line. If you start with 105 boats on the line it's tricky to keep consistency and to be in front. I had an all-right day. A 14, 6, 1 and I think seven guys are still really close together at the front so the next couple of days will be tough. We have five races to go and I am looking forward to it."
In the 16 boat Junior Championship Peter McCoy (GBR) is sailing an excellent series to lead and sits in 22nd overall, while second placed Jake Lilley (AUS) is in 35th, some 57 points behind. Arkadiy Kistanvov (RUS) is third in 45th overall, another 40 points back. But in such a large fleet it is still far from being over.
The fleet was today joined on the water by a group of former German Finn champions watching from a large yacht. The sailors included Jochen Schumann, Jurgen Mier, Bernd Dehmel, Christian Schroeder, Walter Mai and Arne Akerson from Sweden. They were all visiting the championship under the invitation of the German Finn Association and enjoyed a reunion dinner Tuesday night before coming on the water on Wednesday.
Racing continues Thursday at 12.00 with two races scheduled, with the forecast looking slightly better than it has been.
Full results here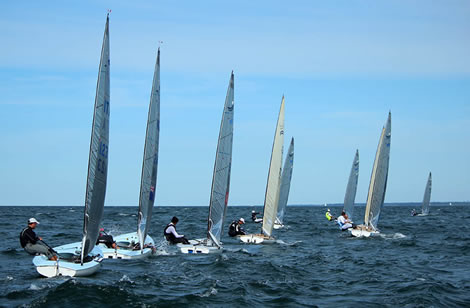 Back to top
Back to top