Fresh challenge
Adding a new women's skiff class to the Olympic roster for Rio 2016 has sucked talent fairly equally out of the three London 2012 women's sailing disciplines – the Laser Radial, 470 and match racing. Making the step up from the former to the 49erFX has been Charlotte Dobson, Helensburgh's finest (now Emma Richards has retired...in fact Emma Richards used to be her nanny...)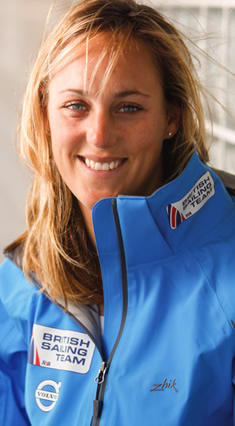 Part of the reason for her move, Dobson says is that competition in the Laser Radial changed over the last cycle, with the likes of Ali Young and Annalise Murphy, tall powerful girls, becoming dominant in the class, and not only in strong winds. "The fact is that the bigger sailors, who have a huge dominance in the breeze are starting to work out how to sail in lighter winds. I don't think that even at the biggest I got to that I could keep up – I was never going to be able to break into the top three. I'd got used to coming about five in the really windy races and as a result I also ended up losing some of what I had in lighter winds."
However the 27-year-old admits that after eight years of Laser sailing she'd pretty much had enough of it. "I was looking for a new challenge and I wasn't sure if I wanted to continue or not. So I jumped into the skiff in September and I literally just loved it."
Anticipating the arrival of the FX, she acquired a 49er last summer and attempted to learn how to sail it with some of the men's 49er squad. "It was absolutely amazing. We were fine in 8 knots, but in 9 knots we were in big trouble! There was a pretty small wind range and it was the first time we had done any skiff sailing or any two handed. So a lot of it was user error at the time."
While experienced 49er sailors make sailing the men's Olympic skiff appear a doddle, of course it remains a beast of a boat for average mortals to sail. However for the girls, the 49erFX's cut down, state of the art rig makes it significantly easier. "Boat handling is so difficult, but the new rigs are gradually making that easier," says Dobson. "That is what makes the FX a great boat - the handling is considerably easier than it is in the 49er. The boys are continually talking about how much we get away with that they would never get away with thanks to the rig being a bit shorter and the sails being a lot flatter. It is a more dynamic rig, we can depower it a bit better. It is carbon too, but quite a lot stiffer than the boys' rig."
Significantly the main is 13.8sqm compared to the 49er's 20, and the gennaker is similarly reduced down from 37sqm to 25. "Our kite is quite flat and small and we don't have half the problems of pitchpoling that they do downwind," Dobson continues. "Downwind they are continually flogging the kite, whereas we are still going Mach 10... We are looking forward to the time when the user error doesn't get in the way and we get to go faster than the boys downwind. That is a definite milestone we are looking forward to." And not unrealistic by all accounts.
For Dobson getting to grips with the 49erFX has been a case of going back to school, but she has relished the challenge. Compared to dealing with the minutiae of the Radial, every day she goes out on the 49erFX whole scale improvements are to be made. "From that point of view it has been hugely exciting and really encouraging to go out on the water again because you will get noticeably better. There has been a lot more swimming than there has been sailing, but I invested in a very good thick wet suit before we started it!"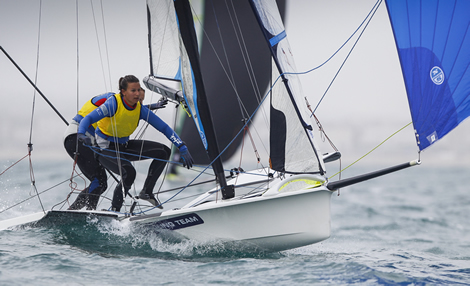 And body armour? "I should have done that... I ended up a ski boot for a while, because I hurt my toe - I got stuck in the foot loop and was hanging upside down for ages. There have been quite a few bumps and injuries."
In fact at one point half of the squad was off due to injury. "We haven't sailed skiffs that much and suddenly you are sailing a boat that feels hugely powerful and there isn't really an 'off' button. Back in September I think a large portion of it was that you were a bit scared of the boat when it was really windy, so to get over that, what I thought was the most important thing to do was every time you were wondering whether you should go sailing, it was always a 'yes'. As a result we picked up injuries but it was so worthwhile because quite quickly we stopped being scared of the boat. That in the long term was far more important than missing three weeks sailing because you've got a sore toe, although the physios might not agree with me!"
Obviously while the boat is new to the girls, there is a group of 49er sailors to whom sailing the skiff is second nature so the FX girls have been keying into that knowledge base. "They have been completely fantastic," says Dobson of the boys. "Obviously they have been through all of this, but where they helped most is with us working out how to learn and how to challenge ourselves." However she adds that it is important they don't directly copy what the men do on the 49er as there are subtle differences between the two boats. "The angle you trapeze at is all different because the trapeze wires are lower, and when we capsize we fall differently to the way that the boys do. So I don't think trying to do a carbon copy of what they do is all that appropriate."
However there have been plenty of occasions when FX helms or crews will go out with a male 49er sailor in the opposite position to show them the ropes. "If you are learning as a helm, it's great to have a crew who knows what they are doing, so you can learn your part properly rather than always adapting to someone else who is not quite doing it properly. It is harder probably for the crews because they can't learn how to do the perfect hoist when their helm can't put the boat in the right place. In that respect the boys have helped so, so much."
Unlike the Nacra 17, the British FX sailors have been running as a squad since they formed with helms and crews rotating every two weeks. At Sail for Gold for example Dobson dominated with Nicola Groves crewing for her, whereas in Hyeres she finished second sailing with match racer Mary Rook and at the Princess Sofia Trophy in Palma she was fifth with ex-470 sailor Sophie Ainsworth.
Dobson says that the rotation has particularly helped her in making the transition from racing singlehanded to doublehanded. "It has been really interesting for me to realise what combinations bring what characteristics out in me – some good and some bad - and learning about what leadership skills I've got, if any..."
However it has required focus on the long term gains as by the time you have got your boat handling sorted out with your present crew it is time for them to move on again.
The pairing between the eight 49erFX sailors in the British squad are set to be announced this week and Dobson says they will partly chosen by the sailors themselves and by the RYA's Olympic Manager, Stephen Park.
The squad is being coached by former 49er sailor turned Moth ace Chris Rashley. "He has a huge knowledge of rigs," says Dobson. "He has done a huge amount of starting with classes where there isn't much knowledge of the rig. He's helping us put together a good tuning guide over the summer and that has been going really, really well. In the last couple of weeks we have got some good base line settings for a couple of conditions."
In terms of physiology while one imagines that the ideal for 49erFX sailors will be tall and light, much like the boys, Dobson says that they are in the process of establishing this. In fact it's another area where the squad system has helped. "Mary and I were quite heavy together in Hyeres," she says. "This time [Sail for Gold], Nic [Groves] and I are really small. Definitely the first time we sailed together in breeze we got the rig set-up all a bit wrong, but when we got that sorted out we had quite good pace. So in terms of weight, we don't know what the ideal is, but I think the range will be quite broad and, with Rio always in the back of your mind, I know which end of the scale I'd want to be at. At the beginning I think it'll be pretty broad."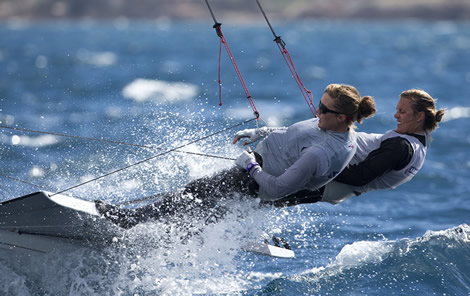 To date the girls who have been going the best in the 49erFX are long term 29er sailors, in particular Danes Ida Marie Baad Nielsen and Marie Thusgaard Olsen, who dominated the class early on this season. "One race when it was breezy they won by a leg and a half," she says of the Danes. "But it was different in Holland. Everyone was a lot closer to them." She hopes that they might be able to catch up with the powerful Danish and Kiwi teams by the time the Europeans in Denmark come round in August. In the British squad Francis Peters and Nicola Groves have also come from the 29er.
Another issue to be resolved is how many teams the RYA wants to back. With the 49er it could be argued that they backed too many in the last two cycles, all good teams but typically clustered in the bottom half of the top 10. Dobson says that it is likely this will be decided for the 49erFX after the Worlds (due to take place in Marseille in September).
Personally she'd prefer the funding to be concentrated more on fewer teams (provided hers is one, of course...). "They have some difficult decisions to come up with after the Worlds in terms of how much they want to keep it open and keep the talent pool or how much they want to focus the resource. It has been proven from other classes and other medallists that actually it is better to focus resource on a couple of boats, assuming they are the right boats. But how do you choose that when you have got so many of them?"
Perhaps the best news is that moving into the FX has revived Dobson's interest in sailing – an interesting, state-of-the-art (ish) boat for the girls to sail. "I am loving it," she admits. "I feel like I am 15 again. It is the most fun I have had sailing in I can't remember how long."
Back to top
Back to top