France still holds the top spots
Race day 5 at the 2013 470 European Championships determined the eight boats who will advance to Saturday's medal races for the 470 Men and 470 Women. France continues to dominate at the top, with gold or silver guaranteed to the nation in both events.
Light winds forced a postponement ashore before the breeze filled in, but only one race could be completed for each fleet. It was a particularly tricky track today with a light and shifty breeze.
470 Men

After claiming the yellow leader bibs yesterday, there's been no change in the top three with Sofian Bouvet/Jérémie Mion guaranteed either the gold or silver medal for the European Championship. The only team who can potentially knock the French of their spot for the European Championship title are Luke Patience/Joe Glanfield, but it will be a touch call for them as they sit 11 points adrift.
"This year for me and Joe has been about getting our feet of the ground and getting our campaign rolling," said Patience. "I think that to stand on the podium at our first regatta in Palma was a great thing for us and even here it has not been about that. It has been about establishing everything that will matter in future years. But, you don't go into any medal race without taking the gloves off and doing everything you can to ensure you stand on the podium," he concluded.
The other three European teams in the Medal Race top 8 all have potential to claim a medal. All of these three teams are former European Champions, with Greece's Panagiotis Mantis/Pavlos Kagialis (GRE) winning the title in 2010, Croatia's Sime Fantela/Igor Marenic winning in 2009, and following up with back to back European titles in 2011 and 2012. Between Nick Rogers and Elliot Willis they hold three European Championship titles, with Nick Rogers winning gold medals in 2004 and 2005 with former crew Joe Glanfield, who is now sailing with Luke Patience, whilst Willis won the title in 2008 sailing with Nic Asher. An outstanding mix of talent with all to play for.
Fantela/Marenic are back in the campaign fray after a long post-Olympic break, and clearly back on the pace. "The week has been good and we have sailed pretty constantly," said Marenic. "Today we had a really nice opportunity to have a good race. We had an excellent start but then made a tactical mistake and lost a lot there," he said referring to their 14th place finish. "We are where we should be and are pleased. Tomorrow we will do our best to win a medal."
Both the Croatians and Greek pair of Panagiotis Mantis/Pavlos Kagialis, who sit four points ahead of them on the leaderboard, have either silver or bronze in their grasp.
Mantis said, "It is always good to be inside the medals, and we want to take silver or bronze. We are happy we are inside the game and tomorrow will try to win the race. A medal race is always the same you try to win it and don't think about the other boats."
Nick Rogers/Elliot Willis (GBR) dug deep today to post a second place result and pull themselves back up into the top 8 medal race running, and have the potential to secure the bronze medal. They are joined in the top 9 by Paul Snow-Hansen/Dan Willcox (NZL) who took the race win today. These two teams went up, but disappointment for Switzerland's Yannick Brauchli/Romuald Hausser and Austria's David Bargehr/Lukas Mahr who both had high scoring races which knocked them out of the top 8.
The Open European Championship is open to all teams, European and non-European, which includes Mat Belcher/Will Ryan (AUS), Lucas Calabrese/Juan De La Fuente (ARG) and Paul Snow-Hansen/Daniel Willcox (NZL) into the mix.
Expect a formidable day tomorrow. The 470 Men Medal Race is scheduled to get underway at 1400 hours with results counting for double points. The race course is immediately adjacent to the harbour, with a specially constructed spectator area.
470 Men - Medal Race Top 8
1. Sofian Bouvet/Jérémie Mion (FRA) – 18 pts
2. Mat Belcher/Will Ryan (AUS) – 18 pts
3. Luke Patience/Jonathan Glanfield (GBR) – 29 pts
4. Lucas Calabrese/Juan De La Fuente (ARG) – 34 pts
5. Panagiotis Mantis/Pavlos Kagialis (GRE) – 36 pts
6. Sime Fantela/Igor Marenic (CRO) – 40 pts
7. Paul Snow-Hansen/Daniel Willcox (NZL) – 41 pts
8. Nick Rogers/Elliot Willis (GBR) - 50 pts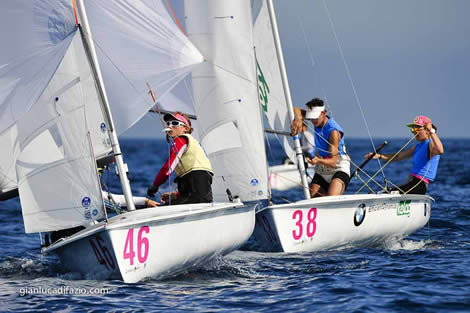 470 Women

No change in the 470 Women, as the same eight boats that were at the top of the leaderboard going into today hold their top 8 positions for tomorrow's Medal Race. Another race win to France's Camille Lecointre/Mathilde Geron breaks the tiebreak they started the day on against Austria's Lara Vadlau/Jolanta Ogar, to position the French 2 points ahead.
Having established a sufficient points cushion, the top three European teams on the leaderboard are ensured European Championship medals, with Lecointre/Geron and Lara Vadlau/Jolanta Ogar guaranteed gold or silver, and Sophie Weguelin/Eilidh Mcintyre assured of bronze.
Vadlau/Ogar had established what seemed a safe lead in the only race of the day, but lost out just ahead of the last mark, as Ogar explained, "It was pretty good today and it was our conditions. We know we are fast and we were happy we were leading, but we also knew the French were not going to give up and would fight to the end. Only in the last metre of the downwind we lost the lead. They gybed first and got the breeze and were in a position to take the win. But nothing has changed, it will all be down to the Medal Race."
Realising they are certain of a Championship medal tomorrow, Ogar continued, "I am really happy that we are guaranteed a medal. We will need to think carefully about our tactics with the French, but it will be fair play and fighting."
The French came here to win, are now within striking distance of the gold and have the pace and experience to wrap up the Championship. Reflecting on their lead take over just before the last mark, Lecointre said, "We just had better speed than the Austrians and were in a better position, so it was easy to block them and gybe on them coming into the final mark, so we did what we had to do."
Whilst their Medal Race experience is considerable, a Medal Race win has so far proved elusive for the team. "We have already done some medal races finishing 2nd and 3rd, but we have not previously won one," said Lecointre, with Geron adding, "The Medal Race of the Olympics was pretty stressful and we will just try to win the race tomorrow."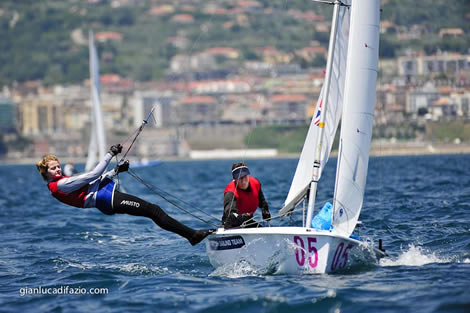 A stunning outcome for the new partnership of Sophie Weguelin/Eilidh Mcintyre from Great Britain who have assured themselves of the bronze medal. The points margin to the top two is too big to climb any further, but for this pair the Championship was not so much about winning and more about training and gaining experience as a new team.
"The transition has been really good," said Mcintyre on establishing the new partnership. "It has been great to have Sarah here who has run two such successful Olympic campaigns," she added, referring to the presence of coach Sarah Gosling (née Webb) who won gold in the women's keelboat event in 2004 and 2008.
The top three leaderboard for the Open European Championship will see Olympic Champions Jo Aleh/Polly Powrie added to the mix, as the only team close enough to challenge.
Racing for the 470 Women is scheduled to get underway at 1300 hours.
470 Women - Medal Race Top 8
1. Camille Lecointre/Mathilde Geron (FRA) – 24 pts
2. Lara Vadlau/Jolanta Ogar (AUT) - 26 pts
3. Jo Aleh/Polly Powrie (NZL) - 35 pts
4. Sophie Weguelin/Eilidh Mcintyre (GBR) - 44 pts
5. Annina Wagner/Elisabeth Panuschka (GER) - 69pts
6. Agnieszka Skrzypulec/Natalia Wojcik (POL) - 79 pts
7. Cassandre Blandin/Charlotte Mery De Bellegarde (FRA) – 80 pts
8. Anne Haeger/Briana Provancha (USA) – 82 pts
Back to top
Back to top