Belcher and Ryan still in front
Another glamorous day of racing at the 470 European Championships in Formia, Italy. The breeze filled in right on cue across the race track as the fleet were leaving the boat park to deliver around 17 knots of steady pressure for racing. Two races across all three fleets, with the 470 Men wrapping up the Qualification Stage today, whilst the 470 Women continue to sail a single series, through until the Medal Stage on Saturday.
470 Men

The Gold and silver fleet splits advancing through to the Final Stage were confirmed today, with pole position safely in the hands of Mat Belcher/Will Ryan (AUS) who notched up another first place. They opted not to race the second race, as Belcher explained, "We want to rest now ahead of the finals, so after a win in the first race today we chose to come ashore."
The new format puts much more of an emphasis on the Final Stage, with the qualification series determining the fleet quality and those who will advance to the gold and silver fleet splits. Fair enough therefore that the teams' scorelines effectively start again in the Final Stage, as they now face off against teams of similar racing form.
With University exams looming, Belcher and Ryan are also up their eyes studying and will be back at their respective University courses in Australia early next week.
The French pairing of Sofian Bouvet/Jeremie Mion (FRA) were OCS in the opening race of the day and followed up with a 6th to drop down the leaderboard to 6th overall, from second going into the day.
Moving on up to claim the second place slot vacated by the French, and after a race win and 2nd place are 2012 Olympic silver medallist Luke Patience and crew Joe Glanfield. In third are Greece's Panagiotis Mantis/Pavlos Kagialis, the 2010 470 European Champions.
The defending 470 European Champions Sime Fantela/Igor Marenic (CRO) remain in fourth overall after a steady scoreline of top 5 finishes. "It was really nice to sail," commented Marenic on the conditions today. "Nobody expected this much wind here as we were all told it would be light. We are enjoying the racing so far, it is going well for us."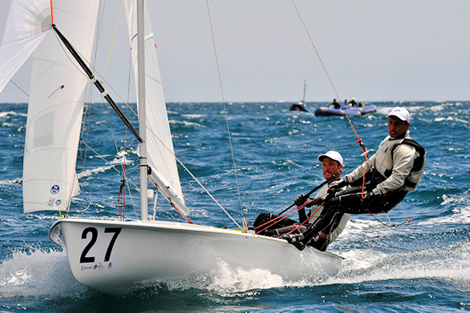 They have been training hard since their post-Olympic break. "We had to work hard. We spent one month training in Croatia before ISAF Sailing World Cup Hyeres and needed some time to get back the feelings in the boat, but I would say now we are close to being good, but still need to work for the 470 Worlds," explained Marenic.
They are clearly not putting themselves under any pressure to win here, as Marenic explained, "We have won three Europeans so far. It would be great to win it again, but we didn't come here to defend our title, we came here to sail our best. That is how we race every time, we just do our best."
Tackling with the big boys up at the front of the fleet today were South Africa's Asenathi Jim/Roger Hudson who even out-paced Belcher/Ryan during the early stages of race 4, and safely qualified through to the gold fleet.
"I am very pleased with the result," said Asenathi. "As everyone knows, coming to the right is the key and we just managed to get a gap and headed to the right and we forward and that was it. This strategy was the decider for us to get into the top 10 and as it turned out we were in the top 2 around the first top mark and down to the gate."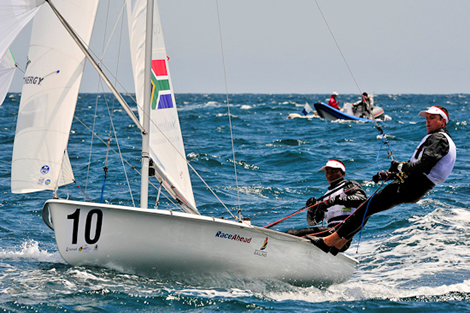 This move positioned the South Africans ahead of Belcher/Ryan for the first two legs which clearly pleased the pair. "But there are gurus in the fleet and they just made their way through," smiled Asenathi referring to Belcher. "It is so nice to be ahead of him, but you've got that fear that he is going to get past somehow and you try to stay ahead, but that is a hard challenge!"
Hudson laughed, "Mat actually apologised as he went past today. As he rolled us, he said, 'Sorry guys!' We count him as a friend and he is really good with us. It is nice to have a dice with him."
After the five races of the Qualifying Stage, teams carry forward (C/F) their position on the leaderboard into the final series, with 0 points to first on the leaderboard, 2 points to second and so on. For the 6 race Final Stage, teams are allowed to discard one race result, but not the C/F score.
470 Men – Top 10 Overall
1. Mat Belcher/Will Ryan (AUS) – 0 pts
2. Luke Patience/Jonathan Glanfield (GBR) – 2 pts
3. Panagiotis Mantis/Pavlos Kagialis (GRE) – 3 pts
4. Sime Fantela/Igor Marenic (CRO) – 4 pts
5. Yannick Brauchli/Romuald Hausser (SUI) – 5 pt
6. Sofian Bouvet/Jérémie Mion (FRA) – 6 pts
7. Pavel Sozykin/Denis Gribanov (RUS) – 7 pts
8. Lucas Calabrese/Juan De La Fuente (ARG) – 8 pts
9. Joonas Lindgren/Niklas Lindgren (FIN) – 9 pt
10. Julian Autenrieth/Philipp Autenrieth (GER) – 10 pts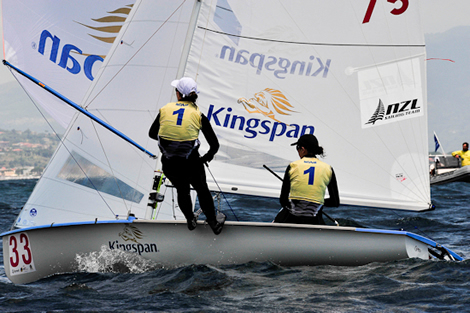 470 Women

All change at the front of the fleet as France's 2012 Olympic team of Camille Lecointre/Mathildre Geron sealed two race wins to jump ahead of the Kiwis Jo Aleh/Polly Powrie.
After dominating in yesterday's races Aleh/Powrie had a few technical challenges.
"We are not too sure to be honest," reflected Powrie on the reason for their change in pace between yesterday and today.
"There is not much difference between winning and being off the pace," added Aleh. "We got one of the beats pretty wrong today and that didn't help. The boat isn't quite set up right and we will be checking everything this evening."
Sophie Weguelin/Eilidh Mcintyre continue their steady and strong pace, to finish in second behind the French. These top three teams have now already established a helpful 15 point lead over the result of the fleet.
Double-Olympic gold medallist in 2004 and 2008 in the women's keelboat event Sarah Gosling (nee Webb) is coaching Weguelin/Mcintyre and easily admitted she would rather have been racing today. "It is a wicked sport on days like this and I felt really jealous. They had an awesome day and were on fire, so I was very pleased from the coach boat. On days like today, you always want to be out on the water. They were absolutely perfect racing conditions."
Still recovering from illness are Lara Vadlau/Jola Ogar, but racing seems to cancel out their sickness, as the team have moved up to 5ht on the leaderboard. Ogar explained, "I am still a little ill, but of course when you are racing there is lots of adrenalin and I feel nothing."
"We are quite happy, because today there was a lot of wind which is not our preferred conditions and we were pretty fast and very happy. We made some technical mistakes but the results are okay. But, we must work much more and focus on these."
An unfortunate port/starboard incident at the start of the day's first 470 women race put two boats out of action, with Israel's Gil Cohen/Danielle Maman and Greece's Despoina Stefanoudaki/Rafailina Klonaridou forced to head ashore. Damage for both boats which hopefully can be repaired overnight.
Two races are scheduled for the 470 Women fleet on Wednesday.
470 Women – Top 10 Overall
1. Camille Lecointre/Mathilde Geron (FRA) – 6 pts
2. Jo Aleh/Polly Powrie (NZL) - 9 pts
3. Sophie Weguelin/Eilidh Mcintyre (GBR) - 11 pts
4. Agnieszka Skrzypulec/Natalia Wojcik (POL) - 26 pts
5. Lara Vadlau/Jolanta Ogar (AUT) - 26 pts
6. Annina Wagner/Elisabeth Panuschka (GER) - 28 pts
7. Tina Mrak/Veronika Macarol (SLO) – 31 pts
8. Nadine Bohm/Karoline Goltzer (GER) – 48 pts
9. Michelle Broekhuizen/Marieke Jongens (NED) – 49 pts
10. Afrodite Kyranakou/Anneloes Van Veen (NED) - 51 pts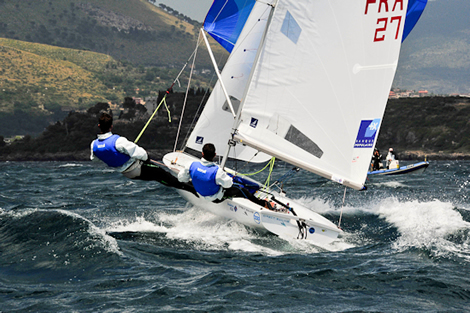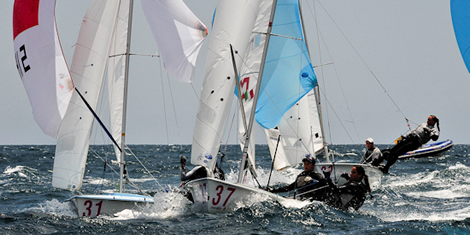 Back to top
Back to top