Multiple medal race lead changes
So is it right or is it wrong? The new race format being trialled at the Delta Lloyd Regatta in Medemblik, part of the EUROSAF Champions Sailing Cup, placed even greater emphasis on the medal race with teams taking just the points value of their position through with them (rather than points accumulated over the regatta). As a result five of the leaders going into the medal races lost their top postions.
After winning seven races and dominating the RS:X Men's fleet all week, London 2012 gold medallist Dorian van Rijsselberge was hardest when a shift at the start of the race caused him to fall behind the fleet and as a result off the podium. Poland's Pawel Tarnowski won gold after coming second in the Medal race.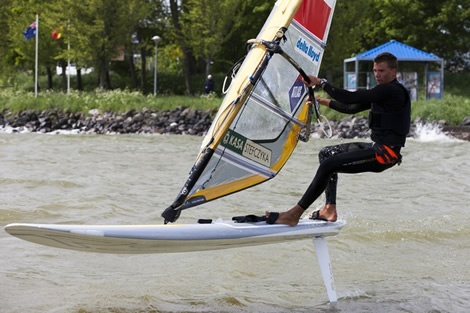 "I am very happy with my first victory in a RS:X senior event," said Tarnowski. "This is my first season on the senior circuit and hope I can continue doing well at the European next summer. I won over great sailors here, Worlds champions, Gold medallists, this new system allows for all six sailors in the final to win and for me it worked well."
Second was Byron Kokalanis (GRE) and third French veteran Julien Bontemps.
However the consistent week of Italy's Flavia Tartaglini in the RS:X Women continued. As she explained: "I came into the medal race in first place. For the medal race we had a nice breeze, it was also tricky as close to shore there were gusts and shifts. I manage to get a good start and led for most of the race. In the end a third place was enough for me to keep the lead and win the title!"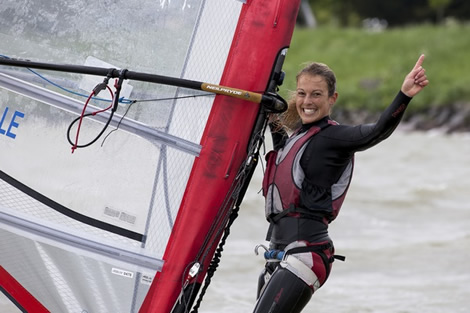 Mayaan Davidovich (ISR) took silver after finishing second in the medal race, while Spain's Blanca Manchon win in the medal race launched from sixth place to third place.
The Laser Medal race continued to provide the drama expected from the new format. Early leader and World number 1 Tom Burton (AUS) lost his lead after a difficult medal race - the second time in a row that the Australian loses a regatta with this kind of format, following the first EUROSAF Champions Sailing Cup on Lake Garda earlier this month. Winning the medal race was what local hero Rutger van Schaardenburg needed to keep the title he had won last year in Medemblik.
"I am very happy with my results and with the format," said the Dutch Laser sailor. "The medal race keeps opportunities opened for the top six, and for me it was a great opportunity."
Young Australian Matthew Wearn finished second in the Medal race to take Silver, while Andy Maloney (NZL) won bronze.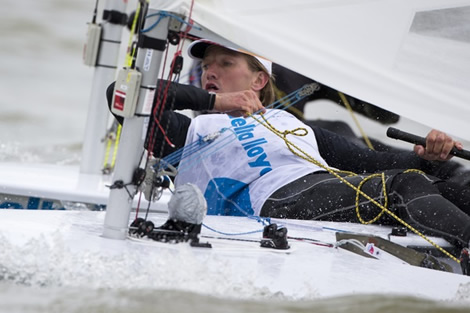 Results in the Laser Radial Medal Race could not have been closer, but perhaps highlights one of the shortcomings of the new trial format. In third place coming into the medal race Ireland's Annalise Murphy victory in left her on four points, as it did with for Ali Young, leading at the start of the medal race, who came home third, as it did for Marit Bouwmeester (NED), second going in and second in the medal race. The medal race positions deciding the tie break, it was Murphy first, Bouwmeester second and Young third.
"I knew I had to give it all going into the Medal race," said Murphy. "Alison and Marit are very strong and like me are good in these conditions. Of course I am happy with my victory but I don't think this format is very fair on the sailors. It is good to experiment but this is not the way to go."
Ali Young added: "It was a close little battle with Marit and unfortunately couldn't get past her on the run, so finished up third. But things are moving on – I spent most of last year finishing fourth, so now with three regattas and three medals things are going in the right direction."
However success was better for Team GBR in the Finn where Scot Mark Andrews won his first major Finn event after a nailbiter of a medal race where the overall lead changed hands several times, but where Andrews eventualy came home holding an impressive lead.
"It's pretty fantastic – it was down to the wire," Andrews explained. "I think at the windward mark I'd maybe just got into the medals then there was a nice little gybe and gust, I took a few boats and got into second place. It wasn't over until it was over. It's an awesome confidence boost. The other Finn guys are amazing – Millsy and Giles and Ed – we've all won an event each this year so it's going to be tight all the way up to Rio in 2016."
After his victory, Andrews once more paid tribute to former Finn sailor, teammate and Olympic gold and silver medallist Andrew Simpson, who died earlier this month in an America's Cup training accident. "I'd known Bart for ten years or so since I was fresh out of school. He kind of took all the guys – not just the Finn sailors but everyone in the team – under his wing. He was always supportive of everyone and the kind of person you could talk to if you had a bad day, or anything technical. He was that perfect guy who always had time for someone and was obviously a fantastic sailor as well. Definitely this one's for him and it's good that we kept the Finn winning streak going."
Piet-Jan Postma lost his top place but secured Silver. "I was not aggressive enough in this race!" said the Dutch sailor. "I should have followed my own line without worrying about the other sailors."
London Gold Medallists won the 470 in both the women and the men classes. Early regatta leaders Jo Aleh and Polly Powrie (NZL) won the Medal race to take their second event in a row after winning the Garda EUROSAF event.
"We had a big rest after London and only raced at home for Sail Auckland," said Aleh. "We are happy with the way we are going but there are lots of new faces and we will know where we are at when we race at the Worlds in July."
Anne Haeger and Briana Provancha (USA) and Tina Mrak with Veronika Macarol (SLO) took Silver and Bronze. It was a tough end to the week for Team GBR's Sophie Weguelin and Eilidh McIntyre, who sailed a consistent series to head into today's medal race second overall, but finished sixth in the race to end their regatta in fifth place overall, after falling the wrong side of a three-way tiebreak.
Mat Belcher and Will Ryan (AUS) continued their undefeated run in Medemblik: "It was tricky today with lots of pressure and three laps," said Belcher. "We are really concentrating on our performance and staying focussed and it is working well for us."
New Zealanders Paul Snow-Hansen and Daniel Willcox won the Medal Race to take second place ahead of the Croat Sime Fantela and Igor Marenic.
There was another lead change in the Nacra 17 mixed catamaran fleet. For Mandy Mulder and Thijs Visser, Dutch leaders going into the medal race, all was going according to plan until a capsize on the last leg destroyed the Dutch podium chances.
"We have raced really well all week and know we are the best out there," explained Mulder. "Our capsize was unfortunate and still a "mystery"! We need to work out on what happened, so we can learn from it."
The situation benefitted the French teams which have been fighting for the top place with the Dutch since the start of the season. They took the top two positions with Moana Vaireaux/Manon Audinet winning gold and Audrey Augereau/Mathieu Vandame silver. Renee Groeneveld and Karel Begeman won bronze.
"We had a great week with lots of wind. We are tired but happy to win. It is a pity for Mandy and Thijs, they have dominated all week and deserve a better place than that! The Nacra is a great boat, very fast and when we will have a carbon mast it will be the fastest boat around." explained Moana Vaireaux.
The paralympic classes sailed two more races today. Megan Pascoe won the 2.4mR title following her success at the Miami OCR and placing in the top three both in Palma and Hyères. Team mate Helena Lucas took silver and Barend Kol (NED) the bronze.
"It was getting exciting out there, and it's nice that it was another Brit to get excited with," 26-year-old Pascoe of the final race showdown. "I think it's really good for our team we've got some great guys coming up and it's been a really good regatta."
The Ardingly sailor was delighted with her consistent show this week, across a mixture of weather conditions on the Ijsselmeer. "I think my mental resilience was a real positive – every time a shift went wrong it was just a case of trying again, and keep on coming back. I showed my consistency, I didn't drop outside the top three so I'm really happy with that."
London 2012 gold medallist Helena Lucas agreed that Medemblik had provided a tough test for the sailors this week: "I think we've had everything from rain, hail, 20 knots, no wind. It's been probably one of the trickiest regattas I've done for quite a while," It was good racing today though, it came down to who beat who so there was a little bit of match racing going on up the second beat. Meg did a great job and hung on to the lead and did really well."
The French team of Bruno Jourdren finished the week on a high in the Sonar. They defended their Delta Lloyd regatta title on the last day after scoring top two results. The fleet was small. but of high quality with the top five from London 2012 competing.
Of the Team GBR performance at the Delta Lloyd Regatta, RYA Olympic Manager Stephen Park said: "It's great to Mark winning his first event and posting another great British performance in the Finn class this week, as well as a solid performance across the team as a whole amid some pretty difficult conditions.
"There's been quite a bit of discussion about the racing formats being used. I think we need to be careful not to judge performance gains solely on the results at these regattas – it's swings and roundabouts and clearly some people have done well out of it and others have missed out. From our team perspective the total medal count works out, but the downside of the format is that there's still so much luck involved when you get to the medal race stage.
"It's good to see that we've had people fighting it out in the medal races for most classes we've competed in, which is a good place to be."
The EUROSAF Champions Sailing Cup circuit now wings its way to Great Britain for the Sail for Gold Regatta, held on the 2012 waters of Weymouth and Portland from 9-13 June.

"We're looking forward to hosting the third stage of the EUROSAF Champions Sailing Cup, which provides a great opportunity for the international fleet to return to the 2012 Olympic waters for hopefully some great competition," Park continued.

"After this week's conditions in Medemblik, I'm pleased to confirm we have a guarantee of sunny, warm, sea breeze conditions every day which should make for some perfect racing!"
Back to top
Back to top