49er medallists decided
The last day of finals racing at Delta Lloyd Regatta, second stage of the EUROSAF Champions Sailing Cup in Medemblik has been full on with the full schedule sailed in all classes. In the 49er and 49erFX, three medal races for the top eight were scheduled at the end of racing today in a building breeze.
The FX completed two medal races of the three scheduled. With two wins, it was the German team of Tina Lutz and Susan Beucke who moved into first place to take the title.
"We had two really good races in tricky conditions so we are really proud!" said Lutz. "This is our first win in the 49ers! It has been a hard week with lots of problems and strong wind and with four races a day it was tough. Our next goal is the European in Denmark, so we will go and train in Kiel for a month and then try to sail good…sailing easy, keep it simple!"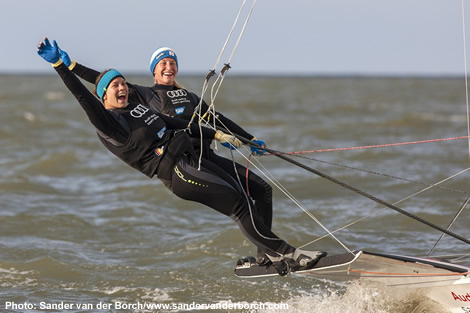 Early leaders, Ida Marie Baad Nielsen and Marie Olsen (DEN) dropped to the bronze position with silver going to another German team, that of Victoria Jurczok who started the medal race stage carrying six points from their opening series placing. Two British crews – Frances Peters/Sophie Ainsworth and Penny Clark/Mary Rook – made the eight-boat finals, finishing fifth and sixth respectively.
Denmark was more successful in the Men's 49er, with Beijing gold medallist Jonas Warrer and Peter Lang taking the title after posting a 1-2-3 scoreline in the medal races sailed. As Warrer said: "It was very close - very tight in points and great to win. Now we go home to Aarhus where we will train for the Europeans and hope to win!"
Team GBR's David Evans and Ed Powys scored a fifth in the first medal race, dropping them off the podium temporarily but the duo held their nerve, and sailed two perfect races after that winning both, to boost themselves into the silver medal spot, leaving France's Julien D'Ortoli and Noe Delpech in Bronze.
For Cardiff's Evans and Powys, from Truro, this marks a continuation of the consistent form they've shown so far this season, and a third straight podium finish to add to their bronze and silver medals from the Palma and Hyeres World Cup regattas back in April.
"It's great for us I think, because the last few regattas have all been different conditions so it's been nice to be up there again," said Powys of their back-to-back podium finishes this year. "We've just been really consistent, which is good, and good to get some more practice at that theatre-style racing in case in stays in, so that's the most important thing for us. To come away with two wins from those [today] is great."
Evans added: "There's a lot of different racing formats going around so we were just making sure we were in the race today. We haven't been too good at these 'theatre' races just yet but I think we're slowly getting the hang of it now! We enjoyed it racing today."

Today's racing has also selected the top six sailors for the Medal races on Saturday. The series placing is counting for one race in the Medal race stage and will be added to the Medal race score.
Today's races didn't change much in the top rankings and the same sailors keep their lead in all classes at the exception of the RS:X women where Flavia Tartaglini (ITA) has taken the first place from Hei Man Hayley Victoria Chan (HKG).
Alison Young regained the lead in the Laser Radial following some close racing with her London 2012 rivals Marit Bouwmeester (NED) and Annalise Murphy (IRL). Young posted a 5,2,1 to claim the yellow jersey for the final day of racing, but will not be able to rely on the nine point cushion she's built up as it's positions, and not points, which are carried forward to the single point medal races tomorrow.
The Laser Standard has now become an even more Antipodean affair with Tom Burton (AUS) holding first ahead of Andy Maloney (NZL) with Matthew Wearn (AUS) now up to third with Sam Meech (NZL) fifth, with the sole European in the top five being the Netherlands Rutger van Schaardenburg. Finishing 11th, Nick Thompson hasn't made the medal race.
Tom Burton gave his take on the day: "We started off in a bit of a softer patch today and I used some nice shifts and finished the race second. The breeze picked up for the next race and after a lot of sitting around shivering we got away, I didn't have the best of starts and ended up using my drop with a 14th. In the last race I ended up getting a third with Andy Maloney fourth, leaving me in front on the scoreboard by one point.

"Going into tomorrow I'm feeling good about how I'm sailing even though I haven't won a race all week. The worst outcome with this point score system happened to me last week in Garda so I'll be trying to redeem myself from that a little, but as usual with just one race anything can happen so I'll just try and sail well and see what happens. This new system places a lot of pressure on the guys leading and very little pressure on the guys behind. So it's about trying to minimise the risk and still take some risks at the same time because the guys behind who can still win will put it all on the line for the big prize. I'm sure there will be some frustrating moments to come tomorrow."
A steady day with 3,3,6 for Mark Andrews sees him into the Finn medal race in third place overall, behind leader Pieter Jan Postma (NED) and the USA's Caleb Paine. For Andrews it is his first time wearing a coloured bib ever in a major event.
The 27-year-old Scot has had a disrupted early season due to injury, but is pleased with his progress this week. "There have been a lot of races – 12 races in a series so it's been quite long event. It's good to be consistent really, and that's kind of what we've come here to do. I've missed a few events with an injury so it's good to come back and work on everything that we worked on over the winter and get going ready for the Worlds later on the year."
Andrews remained level-headed about the possibility of a first podium finish, saying "It's good to be within a chance, just do the best I can in the race and hopefully come back with a medal."
He was also quick to praise former Finn sailor and teammate Andrew Simpson, tragically killed in San Francisco on 9 May, and paid tribute to the influence and impact the Olympic gold and silver medallist had had on British fortunes in the his class. "The Finns have been strong for quite a while now back since Percy, and Bart and Ben. It was such from the other week with the tragedy with Bart, so it's good to try and keep on that strong tradition. We've all been sailing with black armbands [this week] in support of Bart after what happened. He's been a bit of an idol for me. He was sailing Finns when I first started – he taught a hell of a lot to us guys so it's good to keep working away, keep chipping away, and hopefully he's up there proud of us."
If Andrews can pull off a medal win tomorrow that will mean four different British Finn sailors will have been on the podium at the last four events – Giles Scott won the Palma World Cup and came second to Andrew Mills at the Hyeres event, while Ed Wright claimed gold at the first EUROSAF Champions Sailing Cup event in Garda earlier this month.
In the 470 Men Mat Belcher and Will Ryan (AUS) scored more bullets to the extent that they didn't have to compete in the final race to be assured of their first place going into the medal race.
"It was another good day for us today, the conditions again were very testing with temperatures of three or four degrees and rain," said Belcher. "Today we had a lot of rain squalls come through which made the racing difficult. With large shifts and pressure differences the racing was entertaining with the committee doing a good job with what they had. The breeze was getting quite strong towards the end of the second race, up above 25 knots. We made the decision to save our equipment and head in, It's always a nice position to be in if you can do this. We'll see how we end up after the medal race tomorrow."
The Aussies currently lead Croats Sime Fantela and Igor Marenic in second and third placed Swiss crew led by Yannick Brauchli.
Sophie Weguelin and Eilidh McIntyre also continued their consistent run in the 470 women's class, with 3,2,2 keeping them in second place overall heading into the medal race tomorrow, behind London 2012 Gold medallists Jo Aleh and Polly Powrie (NZL). This would give the British duo a chance of a third straight podium finish for their new partnership.
In the Nacra 17, the top of the leaderboard continues to be dominated by Dutch and French teams with Mandy Mulder and Thys Visser leading from France's Moana Vaireau and Audrey Ogerey while Renne Groeneveld is up fourth. Top Brits ended up being Lucy Macgregor and Tom Phipps who finished eighth and therefore out of the six-boat medal race.

For all the Olympic classes sailors who didn't make the cut for the six-boat medal races, there will be one further fleet race tomorrow, giving them the chance to improve their overall scores.
The medal races are scheduled from 1100.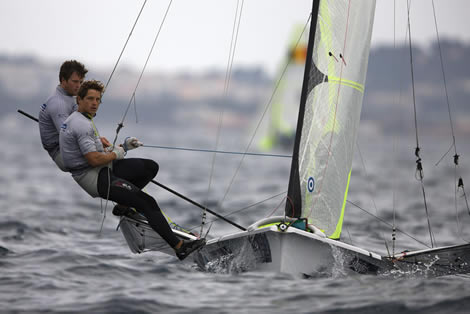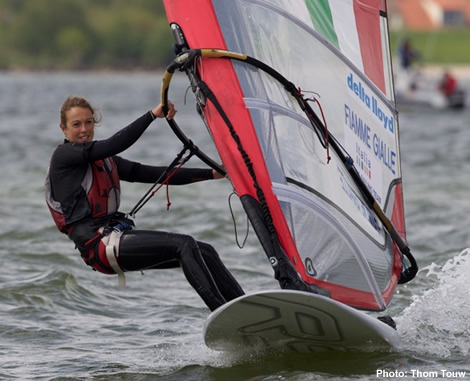 Back to top
Back to top