Dutch hold podium spots in all classes
After strong winds limited racing on Wednesday crews were greeted by lighter but still bitingly cold conditions for day three of racing at the Delta Lloyd Regatta, with crews embarking on their finals series.
The outstanding performance of the day came in the Finn where local hero, Pieter Jan Postma scored three bullets to take the lead. Postma who enjoyed the breeze yesterday was pleased with his day: "It finally all came together! The feeling is right as well as the fitness and the tactics. I am pleased with the way I go and it surely gives me confidence for the regattas ahead."
The day was less good for the British squad where the leader going into today, Andrew Mills was black flagged in today's final race dropping him to seventh overall. Caleb Paine (USA) has moved up to second with Poland's Piotr Kula third, tied on points with Mark Andrews (GBR).
Ali Young still leads the Laser Radial class but is now tied on points with Irish star Annalise Murphy, with Marit Bouwmeester still in the hunt in third. However there is now a 19 point gap back to Tina Mihelic (CRO) in fourth. London 2012 gold medallist Lijia Xu (CHN) won the final race today and holds sixth.
Competition in the Laser Standard is also becoming a three horse race with an Antipodean fight for first between Aussie Tom Burton and Kiwi Andy Moloney, who are separated by a point with the Netherlands' Rutger van Schaardenburg third, with a nine point cushion back to Croat Tonci Stipanovic. Top placed Brit is Nick Thompson in 8th, while today's final race was won by 21-year-old Team GBR development squad sailor, Martin Evans.
Andy Maloney reported: "Yesterday now seems almost tropical after freezing on the water for five hours today. We had a few too many postponements waiting for the wind to settle in, making for some very numb fingertips for a lot of the day.
"Despite the cold, we did manage to get in our first three 'gold fleet' races in 10-17 knots of wind. The whole fleet had mixed results today, I scored a 2, 1, and 17. The first two I sailed well, in the final race I got stuck on the wrong side of the big shift up the first beat and the distance from the leading group was too big to make up over the course of the race."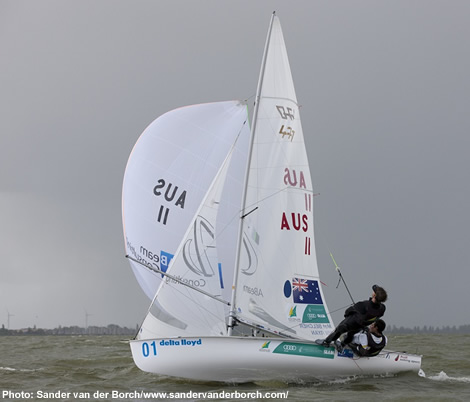 The 470 classes the London 2012 gold medallists are showing their form once again. The Men's division is again a 'down under' affair. Aussie duo Mat Belcher and Will Ryan have pulled into the lead with a 10 point cushion over Kiwi duo Paul Snow-Hansen and Daniel Willcox in second with yesterday's leaders Sime Fantela and Igor Marenic (CRO) down to third but holding a 10 point advantage over the fourth placed Swiss team.
Mat Belcher reported: "Today was a good day for us, we were happy with the way that we sailed. An early morning 9.30am race start in seven degrees wasn't pleasant but the committee managed to get three quick races in so it wasn't too bad. The conditions here have been very difficult and today we saw some big shifts. So we're happy to come away with the scores that we did."
In the Women's class, New Zealand's Jo Aleh and Polly Powrie also led by ten points, posting a 2-1-2 today. Second place is held by the up-and-coming Brits, Sophie Weguelin and Eilidh McIntyre, who have dropped back a little today while Dutch duo Afrodite Kyranakou and Anneloes van Kyranakou third, having posted two bullets today.
"After we got over the shock of the cold, or went numb, we managed to get through three races," reported Aleh and Powrie. "The wind was a little shifty and crazy, with some big rain squalls coming through all morning. We had some mixed races, with the results showing a 2, 1, 2, however we were up and down at times, and made a few more mistakes than we would have liked."
The biggest lead is in the 49ers where Beijing gold medallist Dane Jonas Warrer and his new crew Peter Lang are 14 points ahead of France's Julien D'ortoli and Noe Delpech with Germans Erik Heil (fresh from Match Race Germany) and Thomas Ploessel holding third. Brits hold fourth with Dave Evans and Ed Powys six points from the podium with with John Pink/Simon Wheeler and Stu Bithell/Chris Grube holding sixth and seventh, still in the fight.
Denmark and Germany are also strong in the 49erFX where Princess Sofia winning Danes, Ida Marie Baad Nielsen and Marie Thusgaard Olsen hold a two point lead over Germans Tina Lutz and Susan Beucke with early leaders Annemiek Bekkering and Claire Blom (NED) now down to third position, 13 points behind. Top Brits are Frances Peters and Sophie Ainsworth, nine points from the podium in fifth.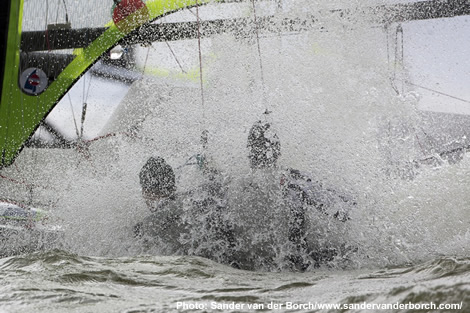 The Nacra 17 is once again turning into a Netherlands versus France dust-up. With two bullets today, the Dutch team of Mandy Mulder and Thijs Visser continue to lead holding a 12 point lead over Moana Vaireaux/Monan Audinet with Audrey Ogereau/Matthieu Vandame three points behind. Top Brits are Ben Saxton and Hannah Diamond in ninth, while fresh from her match racing win in St Quay Portrieux Lucy Macgregor is 11th, sailing with Tom Phipps.
Dutch London 2012 gold medallist Dorian van Rijsselberge is dominating the RS:X class 15 points ahead of Przemyslaw Miarczynski (POL) with French veteran Julien Bontemps (FRA) a further 17 points back. Across the Delta Lloyd Regatta, the RS:X Women's class remains the closest with the top five within five points. The top three are within a point of one another with Hei Man Hayley Victoria Chan (HKG) just ahead of from Moana Delle (GER) and Lilian de Geus (NED).
Paralympic champions Udo Essel, Mischa Rossens and Marel van de Veen won today with three victories in the Sonar while it is close in the 2.4mR with Megan Pascoe (GBR) leading from Barend Kol (NED) and Helena Lucas (GBR).
Tomorrow will see the last day of the finals racing and the last chances to qualify for the top 8 in the skiffs with the medal races scheduled for Friday night. The top six in the other Olympic classes who will sail their medal races on Saturday.
The forecast on Friday is from medium winds.
Full results here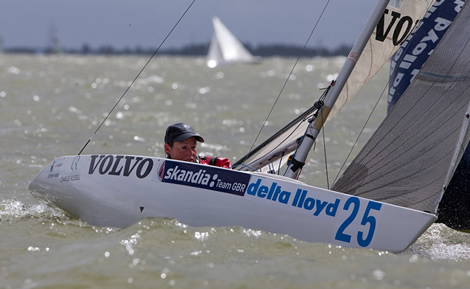 Back to top
Back to top