Patience and Glanfield to the fore
The second days of fickle breeze at ISAF Sailing World Cup Hyères saw the end of the Qualification Series as the competitors line up for three days of Finals Series racing. The breeze stabilised later on in the day, peaking at 10 knots.
Olympic silver medallists Luke Patience and Joe Glanfield recorded the perfect scoreline from their two 470 class races today. The new pairing, who competed together for the first time in Palma earlier this month, comfortably won both of their races to top the leaderboard at the end of the qualifying series, and will take a score of zero points into Finals Series.
"It's been great today," Glanfield admitted. "We've had really nice conditions and, in a way, today and yesterday has filled a void a little bit of what we didn't see in Palma, so it's helped us tick all the boxes of seeing every different wind range and every different sea state."
"The sport's so complex and so dynamic, I don't think you ever stop learning every time you go out on the water," said Patience on the learning curve of the sport and of being in a fledgling team. "It's so rare to have repetition and be able to see the same things time and time again. That takes many, many, many years, and even Joe hasn't reached that age yet I don't think!"
Despite of their good position heading into the business end of the regatta, Glanfield is yet to be convinced of the experimental scoring formats being trialled at the Palma and Hyeres World Cup events: "Essentially it all does still start again tomorrow. We've qualified and we're in a good position, but it counts for very little as it only goes through as one race," the Athens and Beijing silver medallist explained. "It would still be nicer if we kept all of our results and took them all through, and it certainly would reward us because we haven't had a bad race yet. But it is what it is, and at this stage it really doesn't matter for us because we're really just trying to learn and improve and find out what we need to be better at."
The Brits dislodged overnight leaders Paul Snow-Hansen and Dan Wilcox (NZL) who were still upbeat, "We had the best day we could have had," said Wilcox. "We struggled a little bit off the line and on the first beats but we had some good comebacks."
Like the Brits, the Kiwis are a new partnership and Snow-Hansen is happy with consistent results top five results over the Qualifying Series that sees them advance to the finals second overall, "If we can keep up there then we're really stoked. We're a new combination so we haven't sailed much together so we don't know what our weaknesses are. We've got to keep getting better throughout the week and it'll be hard to stay at the front."
The British Sailing Team's other new 470 combination – Nick Rogers and Elliot Willis – head into the finals series in 13th place overall with an eighth and a seventh added to their scorecard from the two races today.
Fernanda Oliveira and Ana Barbachan (BRA) were on form once again in the Women's 470 to pick up their third race win of the week. They advance to the final series on top followed by Lara Vadlau and Jolanta Ogar (AUT) and Tina Mrak and Veronika Macarol (SLO). Britain's Sophie Weguelin and Eilidh McIntyre ended the day in ninth.
Dutch and French sailors continue to top the Nacra 17 mixed catamaran fleet having dominated the proceedings at ISAF Sailing World Cup Palma. Elke Delnooz and Coen de Koning (NED) top the leaderboard but are closely followed by Volvo Ocean Race winner Franck Cammas and Sophie de Turckheim (FRA) who are making their competitive Nacra 17 debut. Palma runners-up Renee Groeneveld and Karel Begemann (NED) are third, while Britain's Lucy Macgregor and Tom Phipps lie in sixth overall with Ben Saxton and Hannah Diamond advancing to seventh after their three races.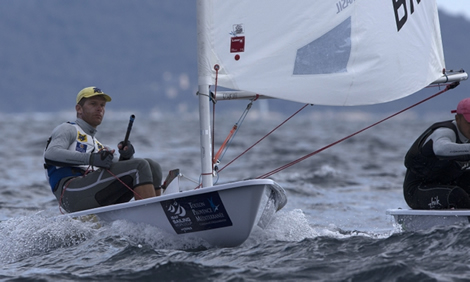 Tonci Stipanovic (CRO) enjoyed another strong day in the Laser to remain at the top of the 113-boat fleet. Following the Croatian is Bruno Fontes (BRA), Sam Meech (NZL), Jesus Rogel Sanchez (ESP) and Mattis Naud (FRA). Of the Elliot Hanson has advanced to 16th as Nick Thompson has bombed picking up a DSQ in today's final race leaving him 41st.
In the Laser Radial Finland's Tuula Tenkanen was a model of consistency and across three races recorded a first, second and third. Her standout performance pushed her to the top of the Radial leaderboard ahead of Mathilde de Kerangat (FRA) and Marit Bouwmeester (NED).
Chloe Martin and Alison Young both take top ten positions through into the final series. London 2012 gold medallist Lijia Xu (CHN) lies seventh while among the Brits, Chloe Martin is fifth overall and Ali Young ninth, having had to retire from the second race today after picking up a second yellow flag penalty.
Taking the victories in the Finn on the second day was Oliver Tweddell (AUS), Vasilij Zbogar (SLO) and Andrew Mills (GBR). The Slovenian was the most consistent sailor in the fleet adding a sixth and a third to his tally and lies 10 points ahead of Giles Scott (GBR) with Pieter-Jan Postma (NED) third. Mills and Tweddell were less impressive than Zbogar and sit seventh and eighth respectively.
Germany's Victoria Jurczok and Anika Lorenz maintained their solid start in the 49erFX and solidified top spot after the second day of racing. Following them is Charlotte Dobson and Mary Rook (GBR) and Alex Maloney and Molly Meech (GBR).
Dobson and Rook posted a first and a third, but these sandwich an OCS (their discard). In spite of their second-race blip, Rook is happy with their progress so far this week in what's only the British squad's second 49erFX regatta. The eight girl squad are switching helm and crew combinations for each event to learn which pairings work best together in these early days of the class.

"I'm really surprised and happy actually that we've managed to do so well and we managed to keep our speed going despite being quite heavy [as a crew]," said Rook of her partnership with Dobson this week. "But I'm really looking forward to there being some wind so that I'm allowed to trapeze and hopefully we'll have a bit more speed!"

"I love skiff racing – it's really fast and there's loads of places to take, always – a race is never over until you really have finished," Rook continued. "It's really good fun, especially when there's a bit more wind. Our second regatta is going really well, we're learning a lot and learning about each other, so by the end of the summer hopefully we'll be in a lot better position to choose who we want to sail with and go out and do well at the events."
British crews are dominating the top 10 49er FX standings at present with Frances Peters and Nicola Groves fourth and Penny Clark and Sophie Ainsworth sixth after six qualifying series races.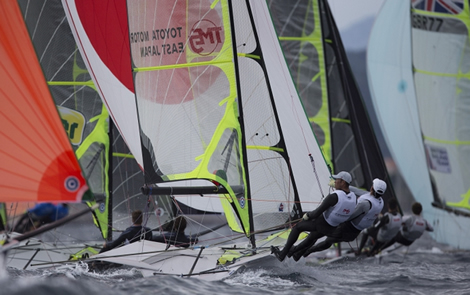 The 49er fleet were the last off the water at 20:10. Holding the lead is Federico and Arturo Alonso (ESP) followed by Pavle Kostov and Petar Cupac (CRO) who have finished third in all six races to sit second overall. Overnight leaders Dylan Fletcher and Alain Sign (GBR) slip to third. Again British crews are in the majority in the 49er top ten with Dave Evans-Ed Powys fourth, Stevie Morrison-Ben Rhodes seventh and the new pairing of Nic Asher-Fynn Sterritt in eighth.
In the 2.4mR Heiko Kroger (GER) holds a one point advantage over London 2012 Paralympic gold medallist Helena Lucas (GBR) and Bruno Jourdren, Eric Flageul and Nicolas Vimont-Vicary (FRA) lead the Sonar.
Ivan Pastor (ESP) and Charline Picon (FRA) were the star performers in the Men's and Women's RS:X on the second day of racing in Hyères to take a clean score through to the Final Series.
Pastor has been a man on fire recently epitomised by back-to-back ISAF Sailing World Cup victories in Miami and Palma which moved him to World #1 in the Men's RS:X World Rankings. He was at his best again in Hyères winning both of the day's Men's RS:X races to take the overall lead and was pleased with the way things went, "I didn't have good starts but I chose the right side of the course," the Spaniard said. "I had good speed and good pumping to win both races. It was great for me. It was a difficult day for the RS:X with a lot of pumping and shifty winds but it was okay for me."
The Spaniard finishes the qualifying series ahead of Julien Bontemps (FRA) and Piotr Myszka (POL) to carry forward a clean slate into the start of Wednesday's Final Series and Pastor isn't getting carried away with his performance on the second day, "I want to compete day per day, it's a long race with this system and you've never won anything until the end."
Finding form in the Women's RS:X was French sailor Picon who, after London 2012, is competing at her second event following a fifth at the RS:X Worlds in Buzios, Brazil. Using her light weight to her advantage Picon attacked the light breeze head on, "I won the first and the second race of the day and I am very happy because my coach wanted me to win in these conditions because they are good for me. It's like the conditions in Rio and I have to be the leader in these winds."
Things didn't go all her way in the third race of the day as she explained, "I wasn't happy for the last race because I made a mistake on the upwind on the first run and went down to between 25-30. It was hard to get to the head of the race and I finished tenth so not too bad. I am first after the qualifying series which is nice but tomorrow is another day and it will be windy."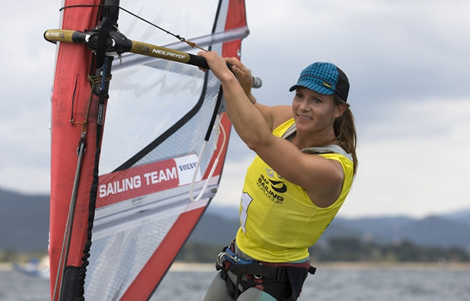 Spain's Blanca Manchon (ESP) took the final race win of the day to move to third whilst Bryony Shaw carries forward a second place to the Final Series after a steady day of racing.
With the Qualification Series over, sailors now carry forward a non-discardable race with their points equal to their final rank in the qualification stage. A three day final series now ensues ahead of Saturday's Medal and Stadium Races.
Racing resumes at 11:00 local time tomorrow.
Results (top 3)
RS:X Women, after 4 races :
1 – Charline Picon (Palmyr Atlantic Voile): 3 pts
2 – Bryony Shaw (GBR): 6 pts
3 – Blanca Manchon (ESP) : 7 pts
RS: X Men, after 4 races :
1 - Yvan Pastor (ESP ): 2 pts
2 – Julien Bontemps ( ASPTT Nantes ) : 4 pts
3 – Piotr Myszka (POL) : 7 pts
Finn, after 5 races :
1 – Vasilij Zbogar (SLO): 15 pts
2 – Giles Scott (GBR): 25 pts
3 – Pieter Jan Postma (NED): 28 pts ...
Laser Radial, after 5 races :
1 – Tuula Tenkanen (FIN) :16 pts
2 – Mathilde de Kerangat (S R Rochelaises): 17 pts
3 – Marit Bouwmeester (NED) : 21 pts
Laser Standard, after 5 races :
1 – Tonci Stipanovic (CRO) : 2 pts
2 – Bruno Fontes (BRA) : 18 pts
3 – Sam Meech (NZL) : 21 pts
470 W after 5 races :
1 – Fernanda Oliveira/Ana Barbachan (BRA) : 3 pts
2 – Lara Vadlau/Jolanta Ogar (AUT) : 15 pts
3 – Tina Mrak/Veronika Macarol (SLO) : 17 pts
470 M after 5 races :
1 – Luke Patience/Joe Glanfield (GBR) : 7 pts
2- Paul Snow-Hansen/Daniel Willcox (NZL) : 8 pts
3 – Pierre Leboucher/Nicolas Le Berre (ASPTT Nantes / FFVoile) : 10 pts
49er after 6 races :
1 – Frederico Alonso/Arturio Alonso (ESP) : 12 pts
2 – Kostov Pavle/Cupac Petar (CRO) : 15 pts
3 – Dylan Fletcher/Alain Sign (GBR) : 15 pts
49er FX, after 6 races :
1 – Victoria Jurczok/Anika Lorenz (GER) : 12 pts
2 – Charlotte Dobson/Mary Rook (GBR) : 15 pts
3 - Alex Maloney/Molly Meech (NZL) : 22 pts

Nacra 17, after 5 races :
1 – Elke Delnooz/Coen De Koning (NED) : 17 pts
2 – Franck Cammas/Sophie de Turckheim (Groupama / Y C Antibes) : 18 pts
3 – Renée Groeneveld/Karel Begemann (NED) : 18 pts
2.4 MR, after 4 races :
1 – Heiko Kroeger (GER): 6 pts
2 – Helena Lucas (GBR) : 7 pts
3 - Megan Pascoe (GBR) : 8 pts
Sonar, after 4 races :
1- Bruno Jourdren, Nicolas Vimont Vicary et Eric Flageul (CN Carantec, PEC Voile Poitiers, YC Carnac) : 2 pts
2- Jens Kroker, Robert Prem et Siegmund Mainka (GER) : 5 pts
3- Udo Hessels, Mischa Rossen et Marcel Van de Veen (NED) : 7 pts
Back to top
Back to top