Britain leads five classes
Great Britain's sailors now lead five of the 11 classes after three days of racing and the conclusion of the qualification series at the 44th Trofeo Princesa Sofia Mapfre, ISAF Sailing World Cup Palma regatta. Light winds kept crews ashore in the morning under the sea breeze finally filled in.
Ali Young, won her fifth consecutive race in lighter winds today and scored a fourth in race six to continue her impressive form and 'zero' score at this first European World Cup event of the season. Today's final race was won by Denmark's Sarah Gunni, who holds second overall 11 points astern of Young, with France's Amélie Riou third on 12. However with ISAF trialling a new scoring system at this event, now the qualification series is complete, sailors will effectively disregard their race scores to date, and carry forward just their overall position going into the final series tomorrow. This means that Ali Young's lead is now reduced from 11 to just one point going into the final three days of racing.
British team sailors are also topping the leaderboards in the Finn, 470 women, 49er and 2.4mR classes.
Exmouth pairing Stevie Morrison and Ben Rhodes are leading the 49er fleet in their first event since the London Olympics, while Dave Evans and Ed Powys hold second. But Morrison knows that with the new format, the tempo of the regatta will change from tomorrow: "It's a funny new format really where we're not actually halfway through yet – we're technically only one race in, so that's an awful lot of effort [so far] for effectively just one race, but I guess they're playing around with the format. I'm pretty unsure of this new format, but we'll see as it goes along.
"Obviously the racing's going to get a lot tighter with the standard getting higher, and there's every chance that's going to pick up some of the rusty points in our sailing. If we can stay relaxed and realistic about that then there's no reason why we can't make some good decisions and still get good results. But this week and the next couple of months are about just keeping a reasonable perspective on things – one thing is for sure is that we're sailing really fast."
Injuries to Rhodes over the winter months have led to a longer than anticipated lay-off for the two-time Olympians, but the 31-year-old crew has been happy so far with his return to competition. "I'm holding up all-right. It wasn't really the ease-in that the physios had recommended!" said Rhodes of strong wind conditions for the start of the regatta. "We'd done four days' sailing [since the Olympics] up until the day before yesterday so the 18-20 knots and big waves and four races was quite a shock to the system! But I stood up to it – massive thanks to all the physios and strength and conditioning guys who've helped get me back in one piece, but it's all good."
The Finn sailors were the first off the water, concluding their qualification series after six races. After fighting for top place with Jonathan Lobert (FRA), Giles Scott (GBR) has shown consistency in all conditions to take the lead in the 72 boat fleet. The 2011 European and World Champion is one point ahead of Vasilij Zbogar (SLO) and two points ahead of team mate Andrew Mills. Read Robert Deaves' Finn Focus at the bottom of this page.
New British pairing Sophie Weguelin and Eilidh Mcintyre have conserved their lead in the Women's 470. They end the qualification stage on 7 points ahead of Brazil's Fernanda Oliveira and Ana Barbachan on 15, and Croats Enia Nincevic and Romana Zupan on 20.
With Austrian duo Matthias Schmid and Florian Reichstaedter bombing today, so London 2012 gold medallist Mat Belcher and Will Ryan have taken the lead in the 470 Men.
"Today was a difficult day," said Belcher. "The fleet was a lot more dense and there wasn't much separating everyone with the breeze between seven and 10 knots.

"The conditions each day, and for every race, have been very different. So for us coming here it has been great to have the full range of conditions. We're happy with how we're sailing and it's good to be able to test where we're at."
However Britain Luke Patience and Joe Glanfield are on a charge and have moved up to second place, on 10 points to the Aussies' 5 at the end of the qualification stage (although this reduces to 1 point from tomorrow).
Patience and Glanfield posted a second and a win on their last day of the qualifying series. "It's nice to not just be pulling the control lines as hard as you can and there's a bit more finesse in the racing," said Patience of today's lighter sea breeze conditions.
"That's the qualifying over and those six races we've now done counts for just one race, and for some people in the fleet that's a discard so the whole first three days is really kind of irrelevant. Luckily for us we've had a good first six races and we're second overall, so we've got a second.
"It was nice to get a lighter breeze today. The conditions have just been gorgeous this week so far. We couldn't have asked for much more and we've had good fun for our first time together in a big fleet like this. But we'll see from here - the regatta starts again tomorrow!"
France's Pierre Leboucher, now sailing with his ex-coach, Nicolas Leberre is proving their potential together in third place. However heroes of the day were the young French duo of Sofian Bouvet and Jeremie Mion who won two races to climb to fifth overall.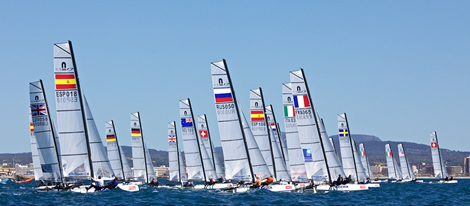 In the two new Olympic classes, the Nacra 17 has seen Dutch and French teams rising to the top. Renee Groeneveld and Karel Begemann (NED) are leading through consistent results although they have yet to win a race. Their teams is the product of a successful mix of multihull and match-racing experience. Helm, Groeneveld said: "I've come out of match racing so I'm really new to cat sailing so everything on the cat with the foils has meant we've done a lot of training here in Palma from December onwards." And of her day, she added: "It went pretty well with three good solid races. We were at the front of the fleet for all three and we are pretty happy with the day,"
On their consistent performance in Palma, Begemann explained: "Yesterday we didn't have a bad day but we did have a few bad starts, so our focus today was to have some good starts. And the first two races today were pretty much perfect but in the last one we were a little bit unlucky with someone coming from over the line a little bit low and giving us some bad wind but we ended up fourth so it was okay."
The Dutch duo are followed by the French teams of Moana Vaireaux/Manon Audinet and Billy Besson/Marie Riou, tied on points.
Like the Dutch, Besson and Riou are a multihull specialist and a former Olympic match racer. The pair won the first two races, but suffered some bad luck in the last of the day, "Today was not so bad, we won two races," said Besson. "We broke the rudder so that's why we were not so good in the final race. But it was a really good day. Marie is a really good crew and is working hard on the boat."
Sailing the multihull after an Olympic match racing campaign is a new challenge for Riou and one she's taking to with the help of the experienced multihull sailor Besson: "I have a tough job with a lot of things to do – trim the mainsail and the spinnaker – but I've been learning a lot because before I was in match racing so it's new for me to sail the multihull. I have to learn a lot and I have a good teacher. He's a good protector and saved us from capsizing. The boat is really fast compared to the keelboat before. It's really fun and fast."
To have a mixed event is also a new test in the Olympic sailing programme. After two Olympic campaigns in the Tornado class, Billy Besson appreciates sailing with a female crew, "It's really nice sailing with Marie and she compliments the team. With all the men we had a lot of fights and we want to make it and now we have no fights and we just talk and make good decisions for a good race."
Ben Saxton and Hannah Diamond are currently the best-placed British crew in the new mixed cat. They're fourth overall, while Pippa Wilson and John Gimson are sixth.
The 49erFX sailors has ended up being a dust up between talented Danish sailors Ida Marie Baad Nielsen and Marie Thusgaard Olsen and their Kiwi training partners, Alexandra Maloney and Molly Meech. Only a point separates both teams who hold a clear advantage over the fleet with 20 points separating them and the Italians Giulia Conti and Francesca Clapcich in third.
"We have sailed together in the 29er for the last two years," explained Maloney after racing. "We were lucky to have Ida and Marie over in New Zealand to train with us. We usually sail against the guys in the 49ers, so it was good to have another FX team to train with. They are very fast and smart and they are used to large fleets."
On what it will take for the Kiwis to overtake the Danes, Maloney added, "We surely need to take better starts. Yesterday they were not so good, we are not used to large fleets in the skiff, but today was already a lot better.
Germany's Philip Buhl is fending off an Antipodean onslaught in the Laser. He finishes the qualification series one point ahead of New Zealand's Andy Moloney who has jumped to second overall after taking two bullets in today's races. World #1 Tom Burton (AUS), has dropped to fourth, tied on points with New Zealand's Sam Meech.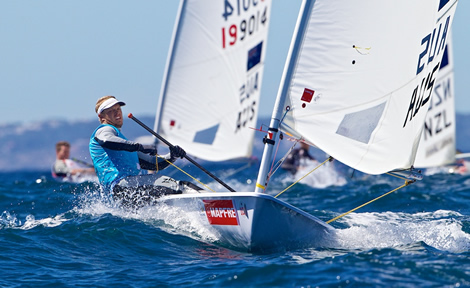 "Today started with a postponement and we eventually left the shore in a soft breeze," said Burton. "It was all about starts today which I struggled with but managed to come away with a two eighths which is not a disaster. The results leave me tied on points with third going into tomorrow which is still right in the game with a few days to go."
The class favourites lead the RS:X with 2012 World Champion Julien Bontemps (FRA) on equal points with Toni Wilhelm (GER) in the Men's division while Ivan Pastor is third and Ricardo Santos fourth.
In the women's fleet ISAF Sailing World Cup winner Maayan Davidovich (ISR) conserved her lead over Flavia Tartaglini (ITA) and Bryony Shaw (GBR).
The 2.4mR has a new leader with Sailing World Cup Miami winner, Britain's Megan Pascoe moving ahead of Norway's Bjernar Erikstad, having finished no worse than second after six races in a fleet of 23 boats.
The finals start tomorrow for all classes with the exception of the 2.4mR.
Robert Deaves' Finn focus:
Giles Scott (GBR) took the overall lead in the Finns for the first time on the third day at the Trofeo S.A.R. Princesa Sofía MAPFRE in Palma de Mallorca as the fleet heads into the finals series on Thursday. There were race wins for Giorgio Poggi (ITA) and Tomas Vika (CZE) in less wind than the previous days, with several sailors picking up high scores in the shifty conditions.
With six races now completed the sailors effectively start again, taking their place in the opening series as the first score in the final series. ISAF is trialling a new scoring system in Palma and so far the jury is still out on any benefits.
Race five got away in a tricky building breeze, starting at around 8 knots and rising to 10 knots, with some pin end bias. The breeze was much stronger and bending round to the left. Those that missed this picked up some the deep positions. Unlimited pumping was on but was borderline.
Giorgo Poggi (ITA) won race five from Caleb Paine (USA) and Bruno Prada (BRA). Poggi explained, "Today in the first race I had a good start four boats up from the pin. There was more pressure on the left of the course and also a small shift to the left that helped me to round the top mark in third. On the downwind I moved up to second place and then I just try to control my position. On the last downwind I closed the distance to Bruno [Prada (BRA)] and at the gate before the finish he took the wrong mark and I won the race. So I also had some luck."
For race six, the breeze settled at around 10 knots and was a little more steady. Andrew Mills (GBR) said, "It was classic Palma with the land effect making the left good. I came out the pin and went all the way to the layline and rounded second from Thomas Vika (CZE) after going past the layline. The run was unlimited pumping with Giles, Vasilij Zbogar (SLO, myself, Bruno Prada (BRA) and Tomas. Tomas pulled away nicely and sailed the second beat well for the win. I rounded the second top mark in second closely followed by Vasilij and Caleb, then Vasilij got past on the run."
"The proper racing starts tomorrow."
Vika took the race win from Zbogar and Mills. Leader into the day, Jonathan Lobert (FRA) had a difficult day with a 17, 12 and dropped to fourth overall, while a 16, 5 for Scott was enough to take the overall lead from Zbogar and Mills. The best performance of the day was Paine with a 2, 4 to move up to ninth, while newcomer Josh Junior (NZL) continued his good form to end the day in eighth at his first major Finn event.
But a points difference at this stage make no difference as the sailors can only take their opening series positions into the two day final series before Saturday's medal racing.
Back to top
Back to top