1127 Optimists
After yesterday evening's glorious opening ceremony in which four time Olympic medallist, Alessandra Sensini recalled winning the RS:X World Championship here at Trentino on Lake Garda, the 31st Garda Optimist Meeting got under way this morning.
A new record has been set with 1127 registered participants from 30 nations competing.
Competitors went afloat dressed in thermals, oilskins, gloves and some very original woolly hats to brave the bitter cold, but as they went for the first start at around 11.00 am, the wind disappeared. Only the 'pink' group of the cadets (9-11 year olds) was able to complete a race while the rest had to wait patiently for the wind that never arrived.
Winner of the only race today was Abramowicz of Poland followed by fellow Pole Kosmalski. In third place was Italian Giovanni Sandrini and the first Italian girl was Alessia Palanti. Even though there was no racing for the majority of the competitors, there was still a spectacle both on water and on land, as there is every year, of the huge number of boat. This year for the first time there is a sailor from Sri Lanka in 12 year old Marc Wilson plus competitors from Antigua and Bermuda, including Rocco Falcone, son of the Italian Consulate of the Caribbean island group who will also be participating in the Optimist World Championship at Fraglia Vela Riva in July.
Among the favourites are Great Britain's David Labrouche, winner if the International Optimist Regatta in Palamos, and the mighty Turks who have won the last two editions and are looking to win a third. The Italians could also make a bid for the podium.
Tomorrow's start is scheduled for 10.00am.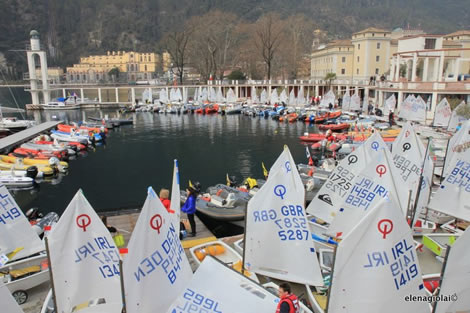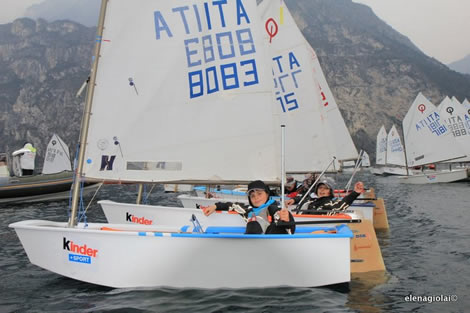 Back to top
Back to top