Game, set and match for Gotta Love It 7
Gotta Love It 7 made a clean sweep of the 2012-2013 Season championships when she took out the final race and the Australian 18 Footers League Club Championship on Sydney Harbour today.

With regular skipper Seve Jarvin taking his place as bowman today with regular crewman Peter Harris missing from the team, Moth World Champion Josh McKnight joined the Gotta Love It 7 crew for the race. Meanwhile the crew's regular trimmer, Scott Babbage, who by coincidence was defeated in last year's Zhik Moth World Championship by McKnight, skippered Gotta Love It 7 to an all-the-way victory today.

Gotta Love It 7 grabbed the lead soon after the start in the 8-12-knot northeasterly and took out the race by 2m57s from Appliancesonline.com.au (John Sweeny, Paul Montague, Tom Anderson). Asko Appliances (Marcus Ashley-Jones, Ash Rooklyn, Geronimo Harrison) was a further 40s back in third place.

Babbage had Gotta Love It 7 1m ahead at the first windward mark, with today's placegetters Appliancesonline.com.au and Asko Appliances heading the rest of the fleet. It was a lead 7 never looked likely to lose, but the race for the next six placings remained in doubt throughout.

Today's race produced a first in the 120 years old class when three generations of one family comprised the entire crew of an 18 Footer:
Trevor Barnabas, a five times Giltinan champion, his son Trent, also a Giltinan champion, and Trent's two sons Zac and Jake, sailed Thurlow Fisher Lawyers into 9th place.

Overall Gotta Love It 7 finished on 39 points in the championship, followed by Smeg (Nick Press, Dan Phillips, Dave Ewings) on 52. Thurlow Fisher Lawyers (Michael Coxon) and Yandoo (John Winning) finished on 62 points each, with Coopers-Rag & Famish Hotel (Jack Macartney) on 68 and Mojo Wine (James Dorron) on 90.

Asko Appliances won the Alice Burton Memorial Trophy handicap section and De'Longhi-Rabbitohs (Simon Nearn) took the Club's Season Point Score series.
Today's race was the final one of the 2012-2013 season.
Full results here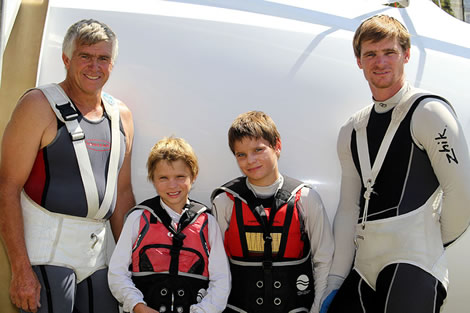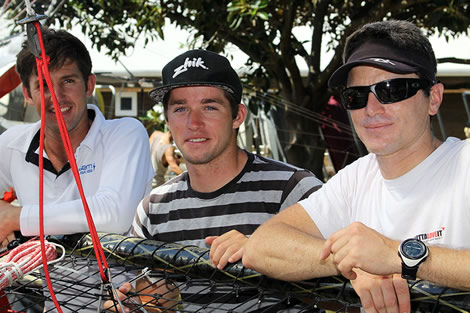 Back to top
Back to top