Aussie Olympic sailing team announced
Australia's sailors have begun their Rio 2016 Olympic Games campaign with the naming of the 2013 Australian Sailing Team and Australian Sailing Squad.

Last year's London 2012 Olympic Games was Australian sailing's most successful ever, with three gold and a silver medal sitting the team on top of the sailing medal tally, with sailing also Australia's most successful sport, both for the first time.

Rio 2016 presents a number of challenges for Australia's sailors, a new continent for most, different conditions to those in Weymouth and two new classes; the women's 49erFX and the mixed Nacra 17 multihull.

The Australian Sailing Team begins the new Olympic cycle with a team brimming with experience, with Olympic gold and silver medals, and multiple World Champions, throughout the team.

"It was great to see our crews stand out on the sport's biggest stage at London 2012," said Australian Sailing Performance Director Peter Conde. "The results at the Games were the culmination of years of hard work for the entire team, including the athletes, coaches and support staff.

"We know that we can't rest on those achievements, if we do the rest of the sailing world will pass us by," he said. "The team is now fully focused on Rio 2016, we've got new classes and new conditions which will present plenty of challenges but we have the team to remain at the top."

London 2012 gold medallist Mathew Belcher begins a new Olympic campaign with a new crew, teaming up with Will Ryan following the retirement of dual gold medallist Malcolm Page. Belcher and Ryan have made the perfect start to their new campaign, winning their first four regattas together, including the opening round of the 2013 ISAF Sailing World Cup, Sail Melbourne.

Gold medallists Nathan Outteridge, Iain Jensen and Tom Slingsby have all qualified for the Australian Sailing Team but will spend the majority of 2013 focused on a different goal, the 34th America's Cup in San Francisco. Outteridge and Jensen are working with Artemis Racing while Slingsby is a part of the Oracle Team USA crew.

Outteridge and Jensen will spend time training on a 49er in San Francisco while Slingsby is waiting until his America's Cup commitments have come to an end before deciding on his next move.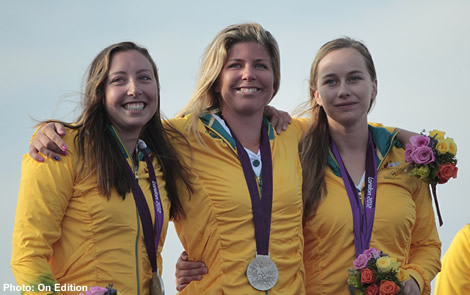 With Women's Match Racing not a part of the Olympic schedule for Rio 2016 Australia's silver medallists Olivia Price, Nina Curtis and Lucinda Whitty have all switched classes, with the sailors looking forward to the challenge of a new class for a new Olympic campaign.

All three will embark on separate campaigns for Rio 2016, with Price steering a 49erFX, Curtis juggling a season in both the 49erFX and Nacra 17, while Whitty will try her hand at the mixed catamaran.

Price and Curtis will both sail alongside Australian Sailing Squad members in the 49erFX, with Price racing with former Laser Radial sailor Caitlin Elks and Curtis with Haylee Outteridge, younger sister of Nathan Outteridge.

Beijing 2008 gold medallist Elise Rechichi has her eyes on a third straight Olympic Games appearance in the 470 women's class, competing with Squad member Sarah Cook. Cook, a dual Olympic Rower, has made a successful transition to sailing, with the pair recently winning the women's trophy at the 2013 Australian 470 Championship.

Brendan Casey will be out to put his London 2012 experience to good use in the Finn class, while Laser sailor Tom Burton has secured his spot in the team for another year following a strong 2012 where he finished in the top six in every regatta he contested. Burton has a busy 2013 ahead of him, juggling a Laser campaign and his role with the Objective Australia team in the Red Bull Youth America's Cup.

The Australian Sailing Squad has been designed to provide a pathway for Australia's future Olympic and World Champions, with sailors receiving support to compete against the best on the world stage. For 2013 there are 27 members in the Squad, competing in eight classes.

For 2013 a Youth Bridging Program has been added to the Australian Sailing Squad, designed to bridge the gap for those who have either recently represented Australia at youth level or have been close to that honour, have top international results and a clear plan to make their way into the Australian Sailing Team.

Australian Sailing Team and Australian Sailing Squad representatives in the three Paralympic classes, Skud 18, 2.4mR and Sonar, will be announced in the coming months. There is plenty of activity in the Paralympic classes, with the Skud 18 and 2.4mR fleets in particular, continuing to grow and the level of competition is increasing.
Australian Sailing Team:

Mathew Belcher – QLD
Tom Burton – NSW
Brendan Casey – QLD
Nina Curtis – NSW
Iain Jensen - NSW
Nathan Outteridge - NSW
Olivia Price – NSW
Elise Rechichi – WA
Will Ryan – QLD
Tom Slingsby – NSW
Lucinda Whitty - NSW
2013 Australian Sailing Squad

Ashley Brunning – NSW
Amelia Catt – TAS
Sarah Cook – VIC
Matthew Crawford – NSW
Robert Crawford – NSW
Lisa Darmanin – NSW
Caitlin Elks – WA
Angus Galloway – QLD
Jacqui Gurr – VIC
Tim Hannah – VIC
Kate Lathouras – WA
Jake Lilley – QLD
Rhys Mara – NSW
Haylee Outteridge – NSW
Ryan Palk – QLD
Luke Parkinson – WA
Tessa Parkinson - WA
Will Phillips – VIC
Sam Phillips – VIC
Sasha Ryan – QLD
Jaime Ryan – QLD
Ashley Stoddart – QLD
Oliver Tweddell – VIC
Jaspar Warren – WA
Jason Waterhouse – NSW
Jared West – QLD
Matthew Wearn – WA
Back to top
Back to top