Better day for the Brits
The second day of racing at the RS:X Worlds was typical of Búzios, Brazil with easterly winds of 15 knots allowed the race committee to hold the three races scheduled. With five races completed, the sailors have been able to discard their worst result, which has transformed the leaderboard.
Sailing in his home waters, but happy with the conditions, Ricardo 'Bimba' Winicki, won the first race of the day and with a third and a fourth places, has moved up to fifth overall, behind leader, Greece's Byron Kokkalanis.
"The wind was a little more constant and I sailed easier today," said Bimba. "On the first race, I believed in the gusts on the right side of the course. It paid off and I won. On the second race, I did the whole race in fourth, passing the French in the last downwind leg. In the last one, I had a good start and fought with Dorian Van Rijsselberge and Nick Dempsey, gold and silver medals in London Games, the whole race."
Britain's Nick Dempsey had a better day and with his discard is now up to third overall, two points behind the leader.
"The weather was quite tricky again on the water and I had a six and two second places," said Dempsey. "That is not bad, the first result is a little bit disappointing, but the weather was quite difficult there, so, it's okay."
The girls also had three races with Britain's Bryony Shaw taking the lead. France's Charline Picon regrets having lost the first place. "I haven't sailed in these conditions in a while so it served as a test for me. Today was a bit more complicated. In the third race I made a mistake that cost me the leadership. I was close to the British, but took the wrong decision in the windward leg and ended in 13th place," she said.
With yesterday's races, the men's fleet has reached the end of its qualifying series and tomorrow will be divided into gold and silver fleets, while the girls will continue racing as a single fleet.
Tomorrow three more races are scheduled, with start signal will be at 1200. The forecast indicates that the wind will remain the same as today 12 to 15 knots from the east.
The 7th World Championship RS: X is sponsored by city of Buzios, Pro Lagos, Institute Equipav and Aegea. Is supported by Federal Government and has the aid of: Wöllner, Rider, Hannover Wines and Bodega Ruca Malen.
Results:
Men's fleet after five races and one discard
1. Byron Kokkalanis, GRE, 9 points
2. Dorian Van Rijsselberge, NED, 10
3. Nick Dempsey, GBR, 11
4. Piotr Myszka, POL, 11
5. Ricardo Winick, BRA, 14
Women's fleet after five races and one discard:
1. Bryony Shaw, GBR, 10 points
2. Charline Picon, FRA, 13
3. Lee-El Korsiz, ISR, 14
4. Maayan Davidovich, ISR, 23
5. Qiaoshan Weng, CHN, 23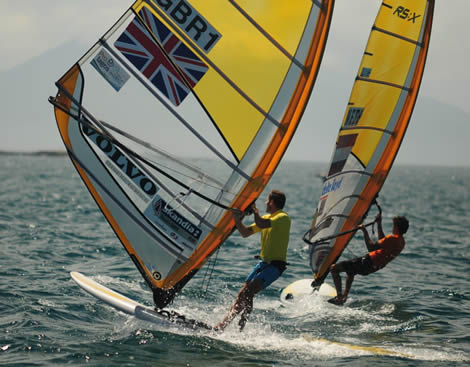 Back to top
Back to top