China and France ahead
The first day of racing at the RS:X Worlds in Búzios in Brazil, took a while to start.
The sailors had to wait for more than an hour for the wind to fill in, and the Race Committee was then able to hold only two of the three races scheduled.
Divided in two fleets, the Men were first to sail. The orange fleet sailed the outer-trapezoid and the blue fleet, the inner. The girls, in the third start, also sailed the inner-trapezoid. The wind at the first start was around ten knots from thesouthwest and at the second start, it was a little lighter and shifty.
At the end of the day, the Chinese sailor Chuankun Shi leads the Men's fleet, while France's Charline Picon is first among the girls.
Brazilian sailor Ricardo Winicki, also known as Bimba, celebrated sixth place in race two in the fickle and unstable winds: "I had a good start, but lost 10 positions on the first downwind leg. In the following legs I could sail well and recovered 11 positions. I'm really satisfied with this result," he said.
Three races are planned for tomorrow, starting at 13pm (1600GMT) at Búzios Vela Clube. The weather forecast indicates winds of 15 to 19 knots from the northeast.
The 7th RS:X World Championship is sponsored by Búzios City, Pro Lagos, Instituto Equipav, Aegea and is supported by Wöllner, Rider, Hannover Vinhos and Bodega Ruca Malen.

Results:

Men's fleet after two races
1. Chuankun Shi, CHN, 4
2. Shahar Zubari, ISR, 4
3. Pierre Le Coq, FRA, 6
4. Dorian Van Rijsselberge, NED, 6
5. Bing Ye, CHN, 7
Women's fleet after two races
1. Charline Picon, FRA, 2 points
2. Eugenie Ricard, FRA, 5
3. Bryony Shaw, GBR, 8
4. Qiaoshan Weng, CHN, 13
5. Flavia Tartaglini, ITA, 14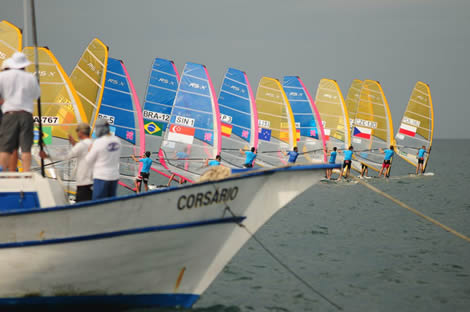 Back to top
Back to top