7 working against the clock
The defending champion Gotta Love It 7 team's race for the JJ Giltinan Championship has already begun, following a spectacular capsize in strong wind conditions last Sunday.

Seve Jarvin, Scott Babbage and Peter Harris can do nothing now except wait to see if the team's damaged hull can be repaired in time for Saturday's opening race on Sydney Harbour.

Fortunately for the team, class boat builder Brett Van Munster, who is also a skipper in the 18s fleet, was immediately on hand to survey the damage with Seve Jarvin.

"I spoke on the phone to Iain Murray, who is both team manager for the 7 campaign, as well as the designer of the skiffs and someone whose knowledge and experience you respect", Van Munster said. "Our priority was to determine a scope of work, develop a jobs list and formulate the best plan to get the boat back on the water as quickly as possible.

"The amount of damage was amazing. In those situations sometimes the skiffs can come out with little or no damage, unfortunately this time it's not the case. It's pretty major; the list is long and complex."

The skiff was transported immediately to Van Munster Boatbuilders on the NSW central coast where the Van Munster team began working around-the-clock.

"It's most important that we make like-for-like replacement to insure that the boat maintains its original structural integrity and stiffness which is so important for an 18ft skiff", Van Munster concluded.

When 7's sheet hand Scott Babbage was commiserated on the bad luck just one week before the biggest 18ft Skiff event on the world calendar, he simply replied: "It could have been worse; it could have been next week."

The Van Munster Boats team led by Dan Grilk, with assistance from Dylan Neilson, is pushing hard to try and get the job done and have the boat back in the water for the invitation race on Friday.

At the same time, Brett has to find some time to prepare his own Rabbitohs-Kenwood skiff for the championship.

John Winning, President of the Australian 18 Footers League, which is hosting the championship, said: "We are lucky to have a quality local builder in our fleet who can get the job done."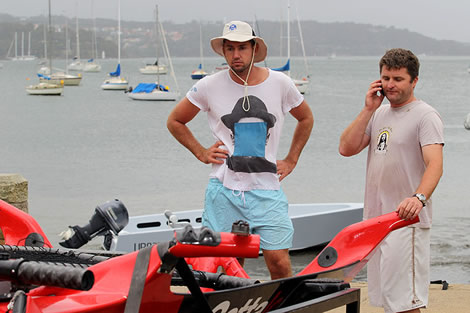 Back to top
Back to top