British Olympic sailing musical chairs part 2
This article follows on from part one here
As to the existing classes, Nick Dempsey has announced much to the chagrin of his wife Sarah Ayton, that he plans to embark on his fifth Olympic campaign in the RS:X, while Beijing bronze medallist Bryony Shaw is also set to return.
Dempsey remains the clear favourite in the British squad although there is every opportunity for Elliot Carney to play catch up. Bryony Shaw will be looking over her shoulder more anxiously at the potent Izzy Hamilton, a former two time ISAF Youth Worlds champion.
While traditionally there hasn't been much depth in either of the British RS:X squads this looks set to change, certainly in the men's event this cycle, with some hot shots coming through, including Tom Squires, Sam Sills, the former Under 17 World and European Champion and 19 year old Connor Bainbridge (of that dynasty).
"Elliot has done a lot of training with Nick and he is keen to put his mark down. It is going to be interesting to see if he can make the jump from being in that 8-12 bracket to being good enough to regularly get to the medal race to start medalled. Equally Nick is not getting any younger...!"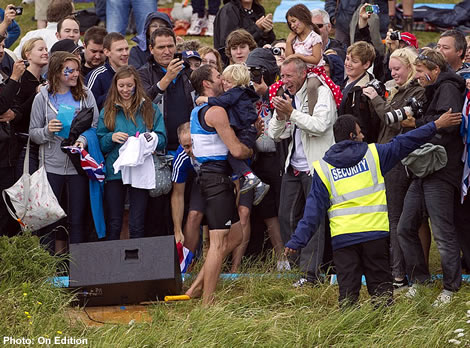 Another Olympic cycle away is Sam Sills' 16 year old younger sister Saskia who won at this year's ISAF Youth Sailing Worlds, picked up another gold at the EUROSAF Youth Europeans and claimed the under 17 world title in addition to overall silver at the RS:X Youth Worlds in October.
ISAF's ridiculous change from the RS:X to the kiteboard and then back to the RS:X has had the RS:X sailors doing a merry, and for the RYA a costly, dance.
"We did a lot of work fast tracking our program," says Park of how they took on kiteboarding. "We had all our coaches and all our non-kitesurfing windsurfers all on kitesurfing programs. We sent a team to the Europeans and to the Worlds. We had quite a lot more than just the standard coaching staff at the World Championships in terms of doing analysis of the event and what was going to be important and all the sports science requirements. So we did invest quite a bit."
Fortunately this experience may not be lost if kiteboarding gets reinstated as an Olympic discipline in the future. "I do feel disappointed for the kiteboarding-specific sailors who made changes in their lives to get on board with the program," Park continues. "And of course it was a significant amount of expenditure that we otherwise we wouldn't have needed to spend."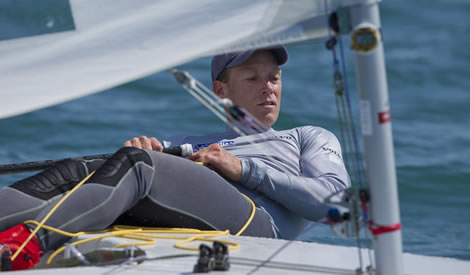 In the Laser Paul Goodison is returning for his fifth campaign, hoping to repeat his Gold medal from Beijing rather than his Games last year when his prospects were destroyed after suffering a crippling back injury. The set-up looks set to remain much the same as last time with Goodie holding the top spot, but facing some stiff competition from Nick Thompson, both sailors equally matched with Thompson a past World Championship medallist.
"It is going to be tough," says Park of the Laser line-up. "They know that they need to work together to make sure that whoever goes gets a medal. Clearly we didn't this time around."
Gold medal prospects may depend on whether Australian Tom Slingsby, the London 2012 gold medallist decides to make a return appearance for Rio. While the Aussie team was dominant in the 470 Men and the 49er, it was Slingsby's performance in the Laser that shone in Park's opinion: "He was dominant across the class and was significantly faster than the others. He had a technique that makes him sail faster than the others that no one else has managed to master yet, so that is a learning opportunity for people."
While the Aussie team typically focussed on its star players (which they lacked in some classes) and didn't have much depth compared to the British team, the Aussies have a capable replacement for Slingsby if he decides not to return, in Tom Burton.
Following her outstanding and perhaps slightly surprising outstanding performance at London 2012, the big hope in the Laser Radial remains Ali Young, who according to Park is as keen as ever. "Literally the day after her competition finished, she was back training which was just incredible. She has already done one regatta in Palamos and won that at Christmas time."
However also on the ascent is Chloe Martin, who in 2008 won gold at the Laser European Youth Championship.
Hugh Styles remains as coach for the Radials. Styles worked closely with Ali Young for London 2102 and must view their strong but sadly medal-less performance there as unfinished business. "Ali has come on an incredible amount in the last 12-18 months, so hopefully she can continue and convert that next time," says Park.
In the 470 Men, there are currently two silver medal winning helms looking for crew, after Luke Patience's crew Stu Bithell teamed up in the 49er with Nick Rogers' crew Chris Grube (read more about them here).
While Patience is certainly man of the moment following his silver in Weymouth last year, Rogers has been back in the GBR Olympic fold since around May 2011. Fortunately it is not only crews heading to other classes. With Nic Asher having also gone 49er, his former crew Elliot Willis, himself a past World Champion, remains behind, with Richard Mason (not the Kiwi Volvo sailor) having made the transition the other way, from the 49er back to the 470, two years ago.
Of the 470 sailors Park says: "The challenge is really not whether we have enough talent in the boats, it is whether we can optimise the talent to make the gold medal winning difference. Over recent Games when you look at the statistics in the Men's 470, the Australians have been the dominant team for the last 10 years, but following that Great Britain has clearly been second. So we are confident we have some good talent. We need to make it so we get a program where we can maximise the talent we have."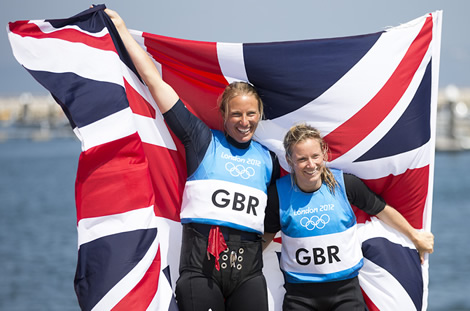 The exodus of sailors from the 470 Women to the 49er FX, is perhaps not surprising given the stand-out performance of Hannah Mills and Saskia Clark, the London 2012 silver medallists, who announced as they finished the medal race in Weymouth last August that they would be going again.
"They are looking to continue and build and consolidate on the progress that they have made and again there is unfinished business there," says Park. "In my view they could have won the gold medal with probably a day to spare, 'if only....' Those famous words."
While Sophie Ainsworth has headed for the FX, her former 470 partner Sophie Weguelin remains in the class and there is a sizable roster currently coming through the Development squad, including Mike McIntyre's daughter, Eilidh.
Currently Harvey Hillary is the 470 coach. Steve Lovegrove is expected to return at some point as well and we very much hope that Morgan Reecer, who was instrumental to the Patience-Bithell silver, will be enticed into making a return too. In coaching circles he is probably the only person who has the wily cunningness necessary to stand up to the Australian team's Ukrainian 470 coaching guru, Victor Kovalenko.
In the Finn, even with Ben Ainslie's departure, there remains enviable depth in the British with Giles Scott waiting in the wings, along with past Finn Gold Cup winner Ed Wright plus newbie Figaro sailor Mark Andrews and Andrew Mills. For more on the latest in the British 49er squad, see our interview with Stuart Bithell.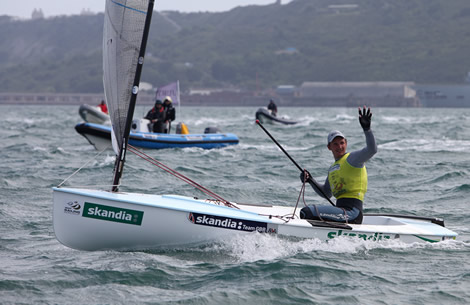 In addition to the musical chairs going on among the sailors, the British team has a new winter base at the impressive Centro de Alto Rendimiento Infanta Cristina facility on the Mar Menor (landlocked lake) in Spain's Murcia region. This is where Alan Hillman has his Pro-Vela sailing school and was also the venue for the EUROSAF High Performance Grand Prix in 2011.
"It is a good facility," says Park. "At this time of year, it is freezing cold in the UK, so you can toughen up and get out there, while in Spain last week it was 20°C and the sailors are able to work outside all day. They can go sailing for four or five hours each day, come back in and go for a bike ride and there's daylight from 9am to 5pm. And it has a very convenient airport."
Traditionally Palma has been the British team's training venue, but Park reckons conditions on the Mar Menor are more relevant in terms of practice for Rio.
"In Palma the highs are similar, so you can get 23-24 knots like you can in Murcia, but the lows are lower, because of where Murcia is on the mainland you don't get the same low temperatures. And in Palma you can get big waves and there are a lot of days when you can't sail because there is no wind or too much wind. Murcia is a great training venue and we look forward to being there [en masse] in March. It is nice to be somewhere a little bit different that also provides a bit of novelty for the sailors and it is quiet so they can get on with their own stuff."
Meanwhile a new Olympic Steering Group is due to be assembled soon. This is the non-executive group instrumental in Olympic selection.
Funding
Good news is that following the results of Team GBR's sailors in Weymouth last year, the funding for sailing has received a 10% increase, taking it up to around £25 million over a four year period, it was announced shortly before Christmas.
"That was pretty good," says Park. "That puts sailing as the fourth best funded sport in the country behind rowing, cycling and athletics and ahead of swimming and other traditionally bigger, better funded sports. Being in that top four helps you in terms of getting some priority spots for funding. That gives us the money to underpin the program for the next four years which secures all those people that are working within the program and the jobs and the number of athletes in the program."
Contracts with sailor, coaches and other staff involved get renewed in April.
Park continues of the award: "We had a significant increase on the paralympic side - another couple of million - and at the grass roots level we also had a good award. From an Olympic perspective, although the award is up 10%, our spending power is roughly similar, in line with the cost of living." He adds that the weaking Euros has helped their budget while having to compete in an Olympic Games in Rio, will obviously cost more than it being on home turf.
While £25 million sounds huge, it covers the RYA's Olympic World Class Program, including for example the living awards for the sailors on the Olympic program, boat allowances, coach funding. And it also includes funding for the RYA development squad, transitional, youth and junior programs at a national level, as well as the High Performance Managers, the central administration, plus the funding of the equipment from RIBs, to the store, etc etc. "It sounds like a lot of money, but it is over four years and once you realise the breadth of the program a lot less of that money that is available to be spent on Olympic sailors going sailing."
Obviously on the hard jobs for Park and his team at the RYA is to decide how much money gets spent on the many different avenues available to them, with the ultimate goal of getting as many medals as possible at Rio 2016 as well as nurturing future talent to perform even better at future Olympiads.
"We have been pretty successful in our strategy to date, but it doesn't mean we have done everything right but in terms of being a low risk program, in getting more right than we get wrong, we are probably the most successful program in terms of targets and achievements across all sports since the lottery funding started in 1997. I have no reason to think that wouldn't be the same going forwards..."
Back to top
Back to top