Olympic squad musical chairs
For the next Games the sailing events will of course feature two brand new classes. With the departure of the Star and Women's Match Racing, so for the women there is the welcome arrival of the Women's skiff, the 49erFX, a 49er with a cut-down rig, and the overdue return of a multihull, the Nacra 17, to be sailed by a mixed crew. While kiteboards were in and the RS:X sailboards were out for six months last year, this decision was overturned at the ISAF Council meeting in Dun Laoghaire at the beginning of November.
With these changes, so musical chairs is currently going on in Britain's Olympic sailing team with people swapping classes and new crew pairings emerging. The next Games will also see a departure of several grandees of British Olympic sailing with the likes of Ben Ainslie, Iain Percy and Andrew Simpson unlikely to be returning following the demise of the Star as an Olympic class.
For many Olympic sailors one of the principle issues at present is getting up to speed with the new equipment.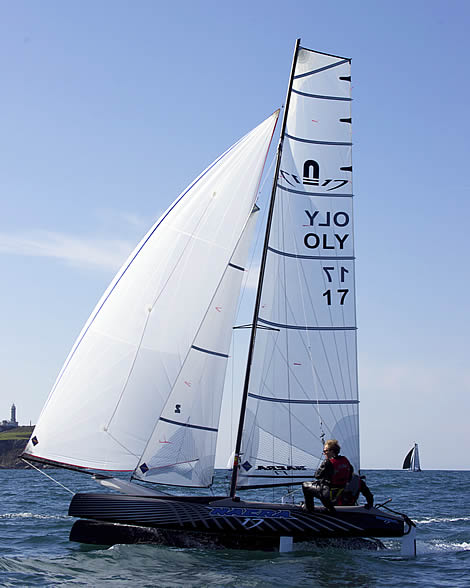 Nacra 17
The first two Nacra 17 catamarans arrived in the UK at the beginning of January followed soon after by two more although according to Park, Team GBR wasn't among the first wave of national teams to receive boats and some other countries received boats in the autumn.
However the new Olympic catamaran hasn't been without teething problems and impressively the Nacra 17 has been having issues with both its carbon masts and its curved daggerboards. "There have been different issues with different masts," says Park. "One mast split up the front seam and peeled in half which is not very good, the result being that our boats were delivered with alloy masts, so we haven't had any of those carbon mast experiences. Right now it is a temporary fix while they up-spec the mast and when they have got it all sorted, then they'll reissue them."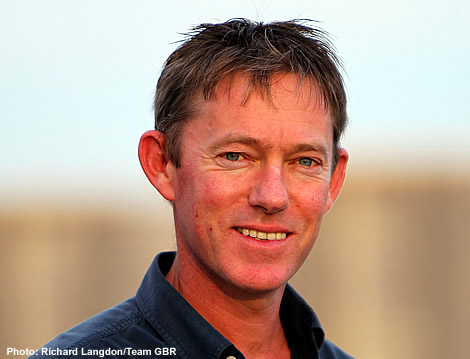 However the boats delivered to the UK have experienced issues with foils snapping. "In the first week that we had our boats, we broke two foils. It is all very well testing your boat, but when you then put it under the pressure of Olympic training with people sailing day in day out, knocking in four or five hours a day, four or five days a week, it is just a different level. Then there's the pressure that the sailors are putting them under and the different ways they learn to sail them."
Park himself has been known to be a fairly handy Tornado sailor and apart from the teething problems reckons the Nacra 17 looks good. "I think they have good potential once they will get the mast and the foils sorted out. With the curved foils the boat lifts and it wants to foil and people watching are saying that arguably if it had a T foil on the rudder as well, it might even foil. So that makes it quite interesting, a little bit different, fast and exciting. And of course it is the first mixed event. That brings with it a whole new entertainment..."
The target crew weight for the Nacra 17 is 110-130kg and it will be interesting to see whether it is the boys or girls who end up helming. Given that Rio is expected to be a light wind venue one imagines that the crews will be erring towards the lighter end of the crew weight range, so we'll be ending up with yet more, small, Hobbit-sized Olympic sailors.
"Over the course of a regatta I'd argue that eight out of ten times what is more crucial is getting the boat going faster in the lighter winds and whether they are able to pop a hull earlier than the other crews," continues Park. "Certainly in the Tornado there became an optimum weight that was perhaps a little bit lighter than was otherwise expected.
"What will be interesting is whether doing the Wild Thing is the way to go downwind or twin stringing and sailing the angles; whether you are able to drive it hard enough to get it foiling, sailing it like a 49er rather than a Tornado where once you get the hull up and you start getting the speed then you are looking to bear off and try and point closer to the mark. That, I suspect, will have a bigger impact than all-up crew weight."
Currently in the Nacra 17 squad are women's match racing helm Lucy Macgregor who has teamed up with hot shot second generation cat sailor Tom Phipps, a two time ISAF Youth Worlds winner and one time runner-up. With even more cat heritage is Rupert White, son of Rob, grandson of 1976 Tornado gold medallist Reg, who is back sailing with Nicola Boniface. The duo won bronze at the 2011 ISAF Youth Worlds which Rupert followed up with a gold in Dun Laoghaire last year (along with becoming SL16 World Champion).
Also in the squad are former Star sailor John Gimson, Macgregor's match racing crew Annie Lush, Beijing Yngling gold medallist Pippa Wilson and 470 sailor Ben Saxton, who was a medallist at the 470 Europeans last year and was also RS200 National Champion (and very nearly SB20 World Champion).
So the squad has a mix of Olympic veterans, fresh faced young cat sailors, including White and Boniface who are the only ones to have already campaigned in anger as a mixed crew. Interestingly, at present none of the old Tornado squad has signed on for the Nacra and in fact this could prove hard to do so now as the RYA only has four boats and the Nacra importer reckons that the first 17s available to private individuals (rather than through the national authority) will only become available in July. This means that any additional people who want to have a crack at the Nacra are going to have to wait and train on a similar boat – the existing Nacra 17 squad was training in Vipers last autumn as they awaited the arrival of their new equipment.
The cat sailors are being coached by Steve Lovegrove and other 'specialists' are expected to join in en route.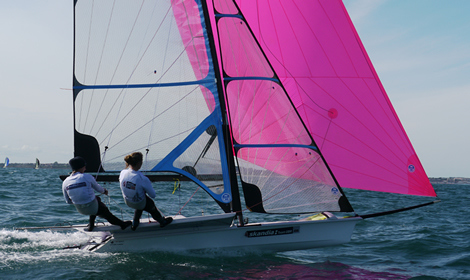 49erFX
The 49erFX has had a easier introduction as an Olympic class, as the new rig and sail package, bought from Mackay Boats and manufactured respectively by Southern Spars/North Sails supplied from Sri Lanka, are easily retrofitted to existing 49er hulls. The FX upwind sail area is 19.6sqm compared to the regular 49er's 21.2sqm, while the kite is down from 38sqm to a much more modest 25.1sqm, with the mast's top and bottom tubes reduced by 450mm.
The first FX hardware reached the UK in October, while obviously there was little difficulty getting hold of 49er hulls. However before the rigs arrived many of the potential FX crews were out sailing in the men's 49er.
"On the lighter wind days was that all fine, but as the wind comes up it becomes tougher," says Park. While the pros make it look easy, keeping the damned things upright is a fairly significant initial hurdle for those not used to sailing these tippy boats. So it has been back to school for a number of the sailors.
"You go into the initial process of sailing around and trying to learn how to recover from capsizes," says Park. "As a result of that we have had a fairly significant injury rate – in November, on the night of our awards ceremony, I got our weekly injury report and at that time 50% of the squad were carrying an injury of some sort which is really unusual. 18-20 people were carrying some sort of injury - normally, it would be three or four."
In the FX squad at present – Charlotte Dobson has moved across from the Laser Radial, while there has been a mass exodus from the 470 class. Penny Clark and Katrina Best (nee Hughes) have parted company. Clark has currently teamed up with the Development squad's Nicola Groves, a former RS800 and 29er sailor, while Best has as her new with the talented Frances Peters, who won 29er gold at the ISAF Youth Worlds in 2008. Also from the 470 is Sophie Ainsworth while Kate Macgregor competed at London 2012 with her elder sister Nicky's women's match racing team.
Unlike the established classes Park says that at present they are running a squad system for both the FX and the Nacra, so, despite what we've said above, there are no fixed helm-crew combinations just yet. According to Park when they train helms will sail with different crews each day and he expects this to continue through the first few events this year.
"We decided to do that fairly early on in our program, just because it allows us to take a little bit of the emotion out of helm-crew selection when none of the sailors have really done it before. So they are all trying to establish what the skill sets are and who have got the right skills. Also a lot of sailors are transitioning from other classes, and new sailors coming in, like Frances Peters out of the youth squad who has done a reasonable amount of skiff sailing in 29ers and RS800s, but not very much Olympic sailing. Then we have other sailors like Charlotte Dobson and Penny Clarke who have done a lot of Olympic sailing in the Laser Radial and 470, but not much skiff sailing. So they have got lots to learn."
Harvey Hillary was initially training the FX sailors but this has since transferred to 49er ace Mark Asquith. "It is all going well and is quite exciting but to be honest we are just desperate to get some racing in as well," says Park.
Tomorrow we look at the rest of the Olympic classes

Back to top
Back to top