Miami OCR sets sail
The 311 sailors representing 37 countries were greeted with spectacular, yet challenging conditions for the first of six days of racing at the ISAF Sailing World Cup Miami. Sailors from five racecourses on Biscayne Bay welcomed sunny skies with temperatures in the mid-70s and moderate to strong winds.
Making their second appearance on the ISAF World Cup series is the 49er FX event. Olympians Giulia Conti and Francesca Clapcich of Italy teamed up in the 49er FX and were rejuvenated to be on the racecourse today with a new challenge. Conti is making the switch from the 470 and Clapcich is transitioning from the Laser Radial.
"We've been training on Lake Garda in this type of wind and probably stronger," said Conti. They finished first, fifth and second in today's three races. They have a narrow lead over Brazilians Martine Grael and Kahena Kunze in the eight boat fleet.
"After two Olympic campaigns in the 470 we wanted to try something else," explained Conti. "Francesca and I feel reborn in this class. "We couldn't get off to a good start in the second race, but we maneuvered well around the course today in general."
Swedish 470 Olympian Sebastian Ostling, who is now making a shift to the 49er, has teamed with Kalle Torlen this week and the duo are in first place through three races. They posted first, third and second results to take a slight lead over Canadians John Ladha and Daniel Inkpen. Americans Fred Strammer and Zach Brown are surging into the 49er scene as well. They sailed well on Monday and are in third place. The 49er FX and 49er fleets sailed in 9 to 12 knots for most of the day.
The Nacra 17, a mixed multihull event, made their official ISAF Sailing World Cup debut this afternoon with seven competitive teams looking to make their mark on the new Olympic class. Two American teams comprised of Sarah Newberry and John Casey are tied atop the leaderboard with Sarah Streater and Matthew Whitehead.
The Men's and Women's 470 fleets got the day started this morning in 15 to 18 knots. World #7 and 2012 Olympian Stuart McNay (USA) just missed out on the medal stand last year in Miami. He and David Hughes rushed out to an early lead in the 11 team fleet, by finishing third and first.
There are two Austrian teams competing in the Men's 470. World #13 and 2012 Olympians from Austria, Matthias Schmid and Florian Reichstaedter are fresh off a win at the 470 North American Championship here in Biscayne Bay. They finished second and fourth today.
"We've had a long break, and this is our first real world cup and regatta since Olympics," said Schmid. "We are just trying to get back into racing mode and put our first foot forward for the next Olympic campaign."
Winning today's first race in the nine team Women's 470 event was China's Xiaomei Xu and Chunyan Yu. Brazil's Fernanda Oliveira and Ana Luiza Barbachan were fifth and second today. They finished sixth at the Summer Games in Weymouth/Portland. Oliveira won a bronze medal at the 2008 Olympics with Isabel Swan as crew. Swan is racing this week with skipper Renata Decnop and are looking ahead to Rio 2016. After struggling in race one, Decnop and Swan placed third in race two.
"This is the first international event we have sailed together, so we are getting used to being a team. We have only been sailing for three months, but have practiced in Rio a lot and have known each other for a long time," explained Decnop. "We had a good start in our first race, but most importantly, we didn't get to the right shift. The second race was much better. On the second upwind leg we got to our right shift."
Great Britain's Nick Dempsey made a statement on the Men's RS:X course today. The 2012 Olympic silver medalist and defending ISAF Sailing World Cup Miami Champion was second and first today to take a one point lead over Brazilian Olympian Ricardo Santos. The 2012 Olympic gold medalist Dorian Van Rijssbelberghe of The Netherlands is currently third in the fleet of 23.
The Women's RS:X course is also stacked with talent. Finland's 2012 Olympic silver medalist Tuuli Petäjä won race two this afternoon. She will be dueling this week with two standout Spanish board sailors Marina Alabau and Blanca Manchon. The World's #5 Alabau is a four-time ISAF Sailing World Cup Miami Champion and is in third place. Blanca Manchon, the 2010 ISAF Rolex World Sailor of the Year, won race two today.
Charlie Buckingham (USA) came out on top of the 73-boat Laser fleet in race two and he placed fourth in race one to take early control. He is closely followed by Olympian David Wright (CAN) and World #11 Jesper Stalheim (SWE).
Juan Ignacio Maegli is one of two Guatemalans racing this week. "Sailing isn't very big right now in Guatemala. There is only about 20 of us that sail back at home right now and I wish it would start growing," he said. "Hopefully, I can do my part in helping that. Rio 2016 has been the goal since I started sailing Lasers five years ago and I can't wait. There is so many good guys in the Laser fleet but I'm striving for the Rio podium and hopefully I'll achieve it." Maegli is currently in seventh place.
In the 29-boat Laser Radial event, Turkish sailor Cagla Donertas has an early lead, followed by Isabella Bertold (CAN) and World #5 Tuula Tenkanen (FIN).
The Sonar and 2.4 mR events raced in strong winds that diminished throughout the day. Breezes this morning reached 15 knots and dropped below 10 by the end of racing. The 2012 Paralympic bronze medalists Aleksander Wang-Hansen, Marie Solberg and Per Eugen Kristiansen of Norway posted a pair of bullets in the highly competitive 10-boat Sonar Fleet.
World #4 Byornar Erikstad of Norway has asserted himself in the 18-boat 2.4 mR fleet. He finished third in race one and was victorious in race two. He is followed by Allan Leibel of Canada, who won the opening race.
Of the 311 sailors competing this week, 121 are representing the United States. There are 70 Canadians racing and Brazil has the third highest participation total with 19.
ISAF Sailing World Cup Miami, established in 1990 by US Sailing, is open to boats competing in events chosen for the Olympic and Paralympic Sailing Competitions. Most Olympic classes will count a five-day opening series (Monday-Friday) and a double-point medal race (Saturday). The RS:X Men and Women will have a three day opening series (Monday-Wednesday) followed by semifinal medal round on Thursday and final medal round on Friday. The top 10 finishers in the opening series of each class will advance to the medal race. Competitors in the Paralympic classes will have five days of fleet racing (Monday-Friday) and no medal race. Medals will be awarded to the top three boats in each Olympic and Paralympic class on Saturday, February 2.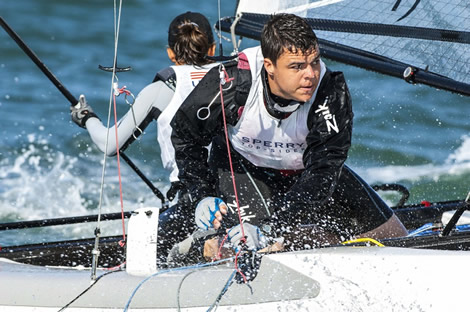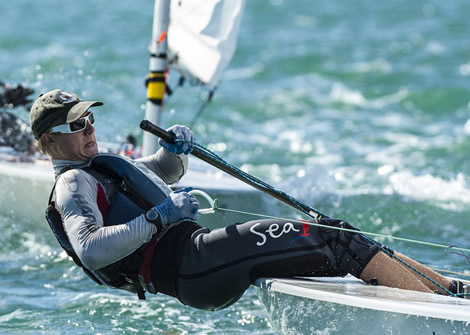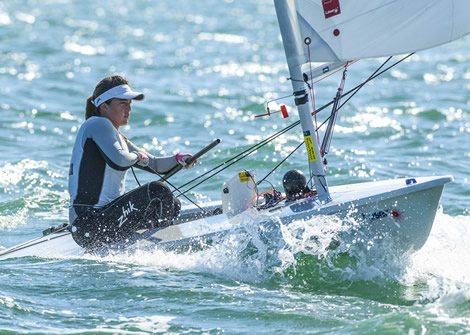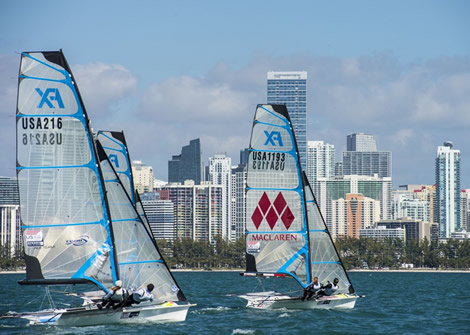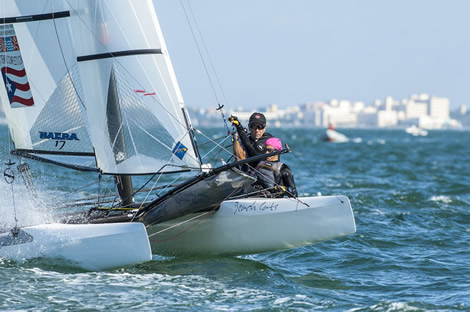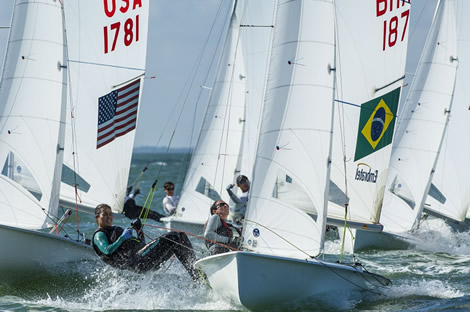 Back to top
Back to top