Thurlow Fisher Lawyers wins opener
Defending champion Thurlow Fisher Lawyers, skippered by Michael Coxon, led all the way in a variable southeast breeze to take out Race 1 of the 2012-2013 Australian 18ft Skiff Championship on Sydney Harbour today.

Coxon with his team of Dave O'Connor and Trent Barnabas took the lead soon after the start and were never headed over the long SE course to defeat arch rival Gotta Love It 7 (Seve Jarvin, Scott Babbage, Peter Harris) by 19 seconds.

Coopers-Rag & Famish Hotel (Jack Macartney, David Witt, Mark Kennedy), challenged the leaders throughout the entire course before finishing a further 50 seconds back in third place.

Former Australian champion Micah Lane was fourth on Appliancesonline.com.au, followed by Lumix (Jonathan Whitty) with the revolutionary wing mast and Yandoo, skippered by John Winning.

On a day which provided all teams with plenty of headaches, the Thurlow Fisher Lawyers crew was in control from the outset and led by 50 seconds at the first windward mark.

Despite variations in wind direction and strength, the Thurlow Fisher Lawyers lead was never less than 30 seconds and the final margin was more a reflection of Coxon's conservative covering tactics.

After the race Coxon was very happy with the performance under the trying conditions: "We got a good start and I was particularly pleased with our boat speed. Added to that, our crew work was excellent under some difficult conditions and it was a great way to start the championship.

"Heavy ferry traffic and the changing wind conditions made life difficult, but once we were in the lead we were more concerned with covering our challengers".

Lumix was second behind Thurlow Fisher at the first mark, with Southern Engineering Services (Adam Barnes), De'Longhi-Rabbitohs (Simon Nearn), Coopers-Rag & Famish Hotel, Asko Appliances (Marcus Ashley-Jones) and Yandoo in a group just behind Lumix.

A fast spinnaker run by Smeg (Trevor Barnabas), Team Daly (Nick Daly) and Gotta Love It 7 saw that trio feature in the top six at the bottom mark.

The windward leg back to the Clark Island mark saw a massive wind shift with many placings changing dramatically.

Thurlow Fisher's lead was back to 35 seconds as Coopers-Rag & Famish Hotel moved up into second place ahead of Smeg and Gotta Love It 7.

Lumix was caught on the 'wrong side' of the course and lost several places.

The spinnaker run to Chowder Bay took a toll on the fleet as Smeg and Mojo Wine (Matt Searle) capsized and only quick crew work by Malcolm Page and his team on The Kitchen Maker saved a capsize when they received bad air from a passing ferry.

Over the latter stages of the race, the weather closed in and spectators were treated to the unusual site of watching the two leaders come to the finish in misty conditions.

Congratulations to Adam Barnes and his crew on showing their best form since joining the 18 seconds when they took out the handicap section of the race in Southern Engineering Services.
Full results here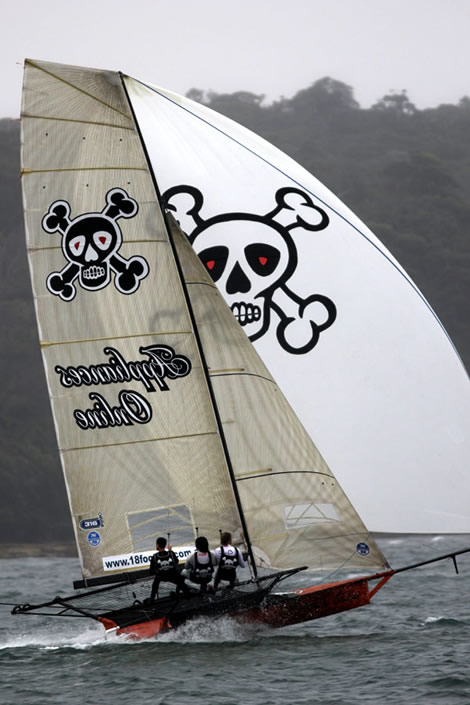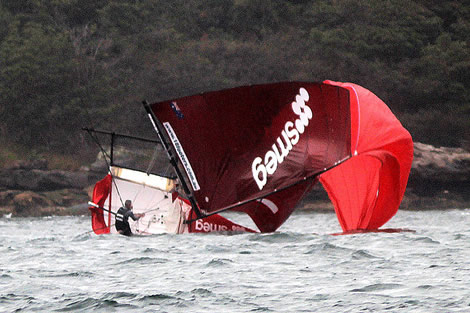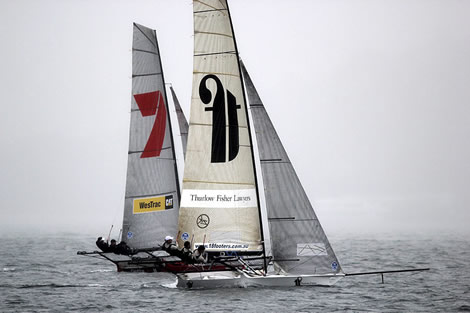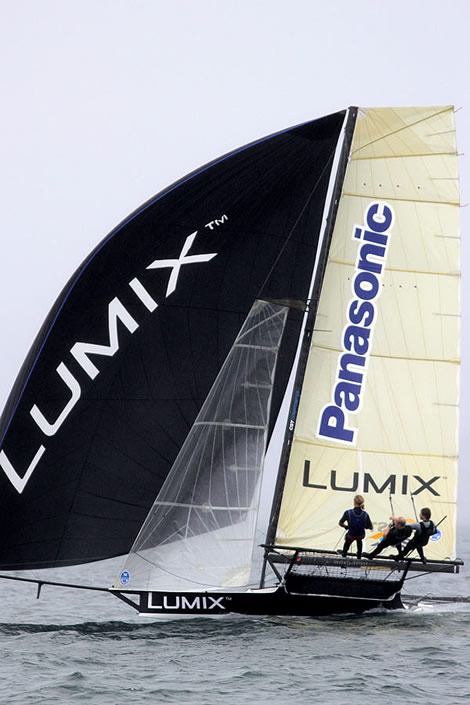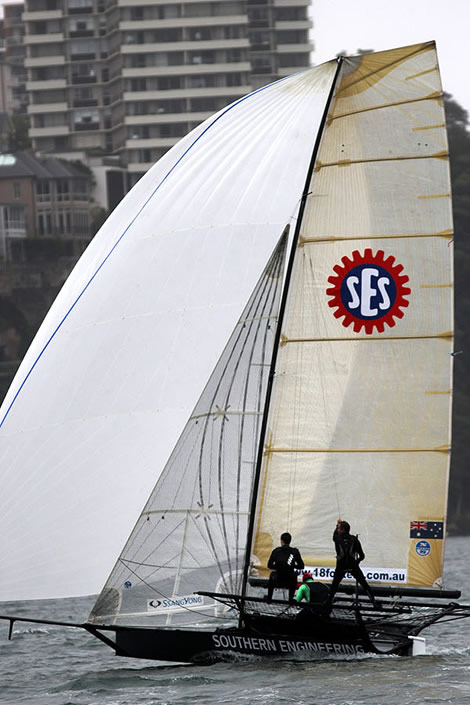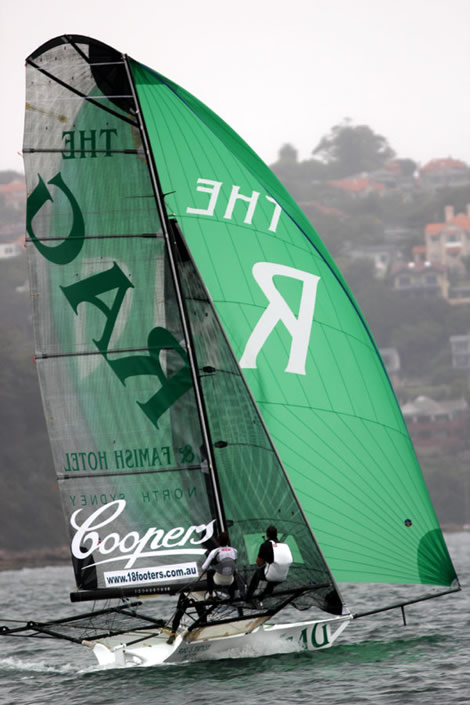 Back to top
Back to top