Knocked into the stratosphere
They've done it... After 10 years of hard graft, Paul Larsen and his Vestas SailRocket team has destroyed the world sailing speed record on board their radical 40ft long by 40ft wide, neutral stability yacht.
The fastest man afloat was American kiteboard Rob Douglas, who in 2010 set a new average speed down a 500m course of 55.65 knots. But on Friday on Walvis Bay in Namibia, Vestas SailRocket averaged a monstrous 59.23 knots (all outstanding records mentioned in this article are subject to ratification by the WSSRC). To put this into perspective, this 3.58 knot hike is the largest leap the World Sailing Speed record has ever seen since its records started with Tim Colman's pedestrian 26.3 knots on Crossbow back in 1972.
Biggest leaps in the outright World Sailing Speed record:
| | | | | | |
| --- | --- | --- | --- | --- | --- |
| Year | Type | Skipper | Where | Av speed | Spd jump |
| 2011 | Neutral stability foiler | Paul Larsen, AUS | Walvis Bay, Namibia | 59.23 | 3.58 |
| 1973 | Crossbow | Tim Colman GBR | Portland, UK | 29.3 | 3 |
| 1986 | Windsurfer | Pascal Maka FRA | Sotavento, ESP | 38.86 | 2.86 |
| 2010 | Kite-board | Alexandre Caizergues FRA | Luderitz, NAM | 54.1 | 2.74 |
| 1990 | Windsurfer | Pascal Maka FRA | Stes.Maries, FRA | 42.91 | 2.43 |
| 1977 | Crossbow II | Tim Colman GBR | Portland, UK | 33.8 | 2 |
| 2005 | Windsurfer | Finian Maynard BVI | Stes.Maries, FRA | 48.7 | 1.88 |
| 1975 | Crossbow | Tim Colman GBR | Portland, UK | 31.1 | 1.8 |
| 1988 | Windsurfer | Erik Beale GBR | Stes.Maries, FRA | 40.48 | 1.62 |
| 1980 | Crossbow II | Tim Colman GBR | Portland, UK | 36 | 1.6 |
"It's just sinking in now, the grin is permanent - it's just epic," a hungover Larsen enthused when we spoke to him in Namibia.
While the forecast on Friday indicated that there was going to be some breeze, the wind had remained resolutely in the low 20s for most of the day. Larsen and the team had spent most of the day waiting for the breeze to build and Larsen says they almost didn't go out. "We were all getting bored of sitting around and it was like 'let's do a run, just to all wake up and go home with a bit of a buzz,' and we got up there and it was like it was meant to be: The wind just came up a little bit and it was just absolutely gold.
"We have been used to trying to pour more power into the equation by sailing in winds of up to 34 knots, but we always designed the boat to do it in 26 knots. We set that because we figured that would be an average when the gusts are hitting 30, because otherwise it just gets too choppy and chop is what messes it up because then you have to start heavily compromising the design to handle chop, and give it more clearance and more freeboard, etc."
Read more about the design of Vestas SailRocket 2 here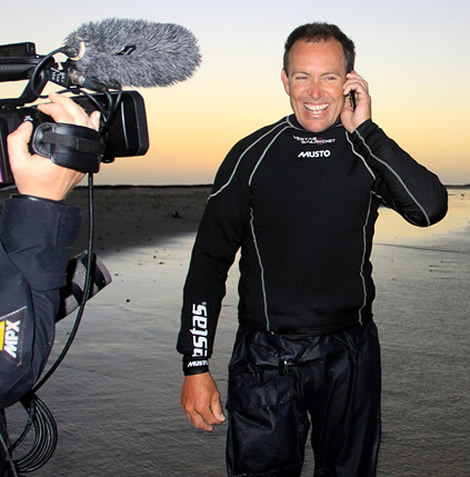 Larsen reckons that for their record run it was in around 25 knots, the wind ranging from 28 knots down to 22 knots. Another significant difference from Monday's run when they touched 60 knots for the first time, was that this time they used the full extent of the course, giving Vestas SailRocket and her pilot more opportunity to hit the big numbers. "So I could hang on to it for longer and I knew it was high tide at the end of the course, so I could keep pushing it."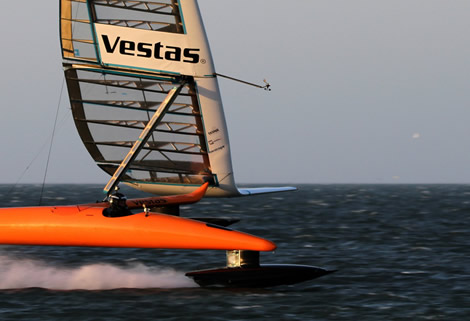 The configuration of Vestas SailRocket was similar to Monday although Larsen says there were some substantial peak rudder loads – 170kg at one point.
As to the run itself Larsen maintains it was one of the cleanest he's ever done. With less wind it was also in flatter water, which no doubt helped. While on Monday's run the pod had been flying strangely high, which Larsen reckons was because they had just accelerated to a peak speed and then almost immediately bailed out, so the pod hadn't had a chance to get into its groove, on the record run it just sat where it was designed to, skimming the surface of the water.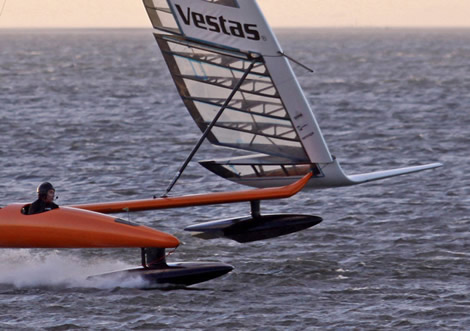 "It was so smooth, I didn't think we'd done it," Larsen recounts. "I thought it was going to be close, that was what was needed to be done, that was a tight run, a good average, but I'd probably raised the expectations in my own mind of what that first 60 felt like, so when I did it again, I was more comfortable with it. The wing was sheeted max in and the boat was levitating. All three pods were just about in the air - if I was a designer looking at it I'd go 'they've done it...' The run was supersonic, above the barrier of sailing and the glass ceiling that we were aiming for. From here, it will just be a case of seeing how far it will go."
As to the potential of Vestas SailRocket in her present configuration, Larsen says that their foil is designed to do 65 knots tops and they are getting close to that. The foil, discussed in detail in last week's article, is still showing no signs of cavitation. Larsen says there is more in the tank yet and the aim is to hit a peak speed of 65 knots and to break the 60 knot average barrier, not tantalisingly close. "I want to see the skips in Luderitz full of kite surfing equipment! That'll give them something to cry about! But I don't think it is out of reach of the kiters yet. I was worried that it was a run that going to just beat the record and someone like Seb Cattalan down in Luderitz could go and beat it again. I'm glad we have substantially beaten it."
To break the 60 knot barrier he reckons they need a day when the wind is averaging 27-28 knots. "I think we can get comfortably up into the 60s averages and that will be job done for this foil. Then we'd have to design a new foil and come back, but the boat is structured for well above these speeds. Despite these silly speeds, they are conservative foils. You can go more radical than this, but that takes new sponsors and more financing and that can be an expensive process."
He points out that their current ventilating foils aren't very efficient, even though on Friday they were happily managing 2.5x wind speed. However they are based on low drag ratios – around 4:1, not 9 or 10:1 - but fortunately Vestas SailRocket has been designed with enough power to drag the foil down the race track.
As they wait for the 60 knot day – they have a two week window before the WSSRC measurer goes home - they are going to attempt other records. Yesterday Vestas SailRocket ticked off the record for the nautical mile, dispatching L'Hydroptere's average speed of 50.17 knots set in 2009, with a cool 55.32 knots. During this Larsen recorded a peak speed of 63.98 knots... Getting closer.
Larsen's partner, Swedish offshore racer Helena Darvelid, is also going to have a go in the driving seat in an attempt to rack up some women's records. The outright record currently stands at 50.43 knots, set once again in Luderitz by French kiteboarder, Charlotte Consorti. However she will have a back seat driver in Larsen who will be on board with her. "I would happily leave here with Helena having the outright record. That would be perfect! If she gets confident in it, she can take it alone," he says, almost believably.
Vestas SailRocket is so close to the 60 knot barrier that this has to come. However Larsen believes that if conditions are right they could equally make another 3 knot leap in the record. He equates it to when they broke the sound barrier. "It didn't take them long to go from Mach 1 to Mach 2. But once you realise the secrets it is just a matter of applying the science. The real performance is still to yet to be seen."
Rather like the old adage of 'delivering' America's Cup yachts around the race track (not so applicable with AC72s), Larsen says all the hard work has now been done with Vestas SailRocket. Aside from the boat being a little tricky to launch, out on the course it is just a case of "point and shoot. It doesn't take extreme skill, it just takes the ability to hang on and hang on until you think you've done it. That is the beauty of a boat against a board."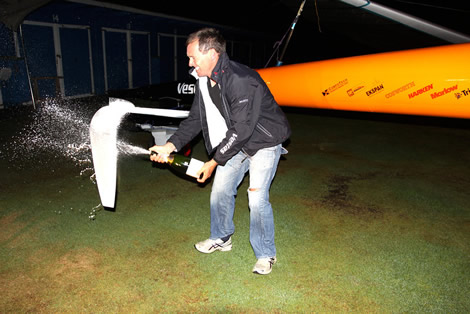 Breaking the record coincided with sundowners on Friday night and they subsequently descended on their local bar. "We don't tempt fate by chilling the champagne, but other people had and the local bar, The Raft, had pre-empted this and bought every bottle of fine French champagne they could find in Walvis Bay and it was on ice. I am going to make one of those silly Australian hats with the corks off it and its going to be my outright record hat. I don't remember going home!"
So ten years hard work...10 years.... a lot of scepticism along the road and Larsen and Vestas SailRocket's creator and their team have finally been vindicated in the most major way. "We have sacrificed a lot to do this. We have both [he and Helena] sacrificed our sailing careers to chase this thing. There are other things out there in sailing that haven't been done based on as much truth as this boat is and hopefully now when we walk into people's meeting rooms and they will sit there and take us a little more seriously and say 'these guys can deliver'. There are other things I want to do now. Hopefully we can keep this project going in the background, because it is only just starting. If someone wants to go for 70 knots there is a boat out here I wouldn't change much on."
So an offshore version? "I'd be interesting to see how I'd base the concept on an offshore boat, but I am not just going to do it because it works in speed sailing. I'd think about it long and hard. Offshore there are a lot of compromises. I think it would be a case of applying some of these concepts, not wholly relying on this as a means of stability, but it would be able to use it. I get sick to death of looking at boats sailing along nose diving - that doesn't need to happen at all! Windsurfers don't do it, kiteboards don't it, our boat doesn't do it and they are the fastest boats in the world. L'Hydroptere and these foilers basically are all trying to tip over and they are fighting to stop that, so they have a limit. How come no one is saying 'hey, you can use wind like this and you can put a foil there and that whole problem just disappears?' And they design these stupid-looking bows – no one really listens because that is the hottest, coolest-looking thing. I look at them and think they are fundamentally flawed."
So a big congratulations to Paul and the team. The long hard work has paid off. But stay tuned over the next days – because if Vestas SailRocket does manage a 60 knots average, that will be equivalent of breaking Mach 2.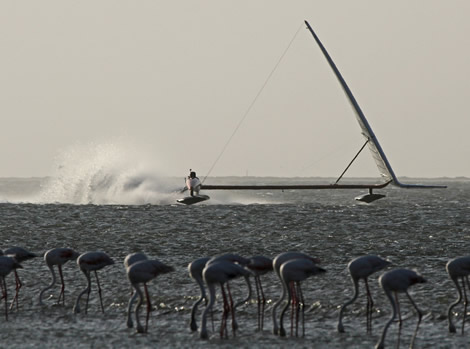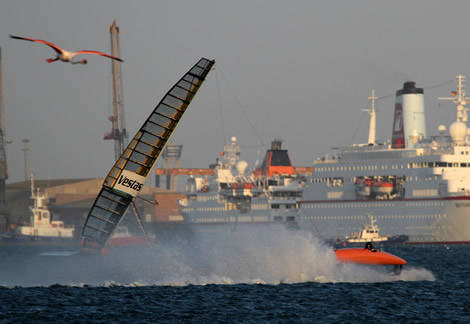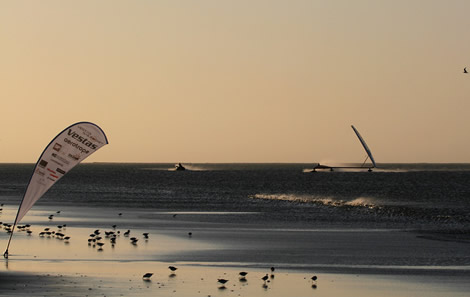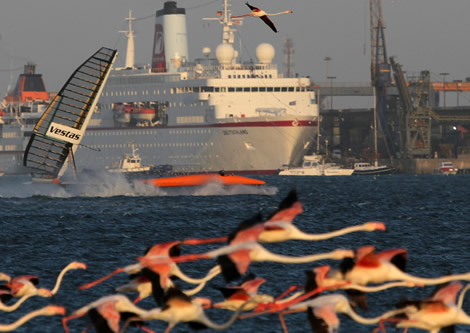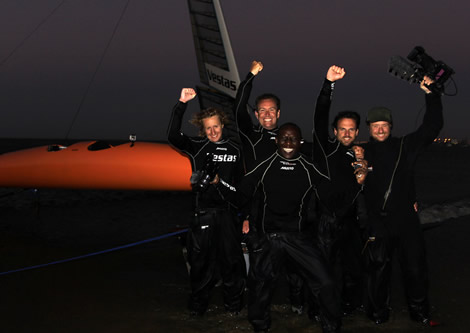 Back to top
Back to top