The perfect Olympic story
One of our favourite tales to come out of the sailing at London 2012 was that of Pavlos Kontides. One of two Cypriots competing in Weymouth, the 22-year-old from Limassol was an outside shot at a medal and yet claimed Laser silver behind Australia's run-away favourite Tom Slingsby.
For larger nations this might have been of only minor consequence. But for Kontides this represented not just Cypriot's only medal in sailing, but the only medal his country has won across ANY sport at the Olympic Games...EVER, since Cyprus gained independence in 1960.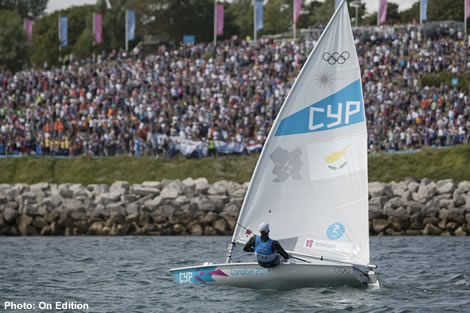 Understandably since he returned home from the Games Kontides has become an overnight celebrity.
"There were really big celebrations were waiting for me," admits Kontides. "All the people back home - they think I am a national hero now, especially young kids. They are much more interested in sport now and I was really happy to see that, because the motto of the Olympic Games was to 'inspire a generation'."
Iinbound at the airport in Larnaca returing from London 2012 he was met by a crowd of 4,000-5,000 fans carrying banners and shouting his name. As is a Greek tradition for returning Olympians, at the airport he was crowned with laurels.
Celebrations continued at his sailing club, the Limassol Nautical Club, attended by members of the club, the Cypriot Sailing Federation as well as members of parliament and the Mayor and city councillors.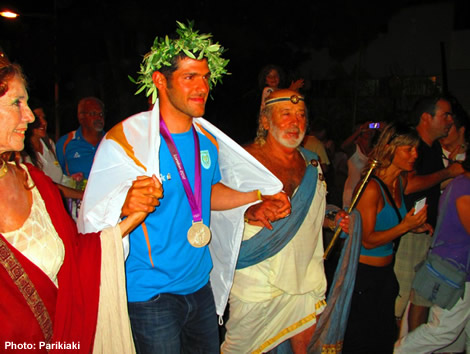 This featured a more unique celebration, as Kontides explains: "In the past in ancient Greece when an Olympian was coming home they used to have walls around the village and they broke down part of the wall for the Olympian to pass through and they never rebuilt it to show others that they don't need protection any more – they have an Olympian. They tried to same – they broke a small wall for me to pass through, so that was really emotional to do." This took place at the club – a wall was demolished Kontides stepped through and was taken taken up to the podium where he was again given a laurel wreath to wear.
The next day Cypriot President Demetris Christofias awarded his country's first Olympic medallist with the Cyprus' highest honour – the Grand Cross of the Order of Merit of the Republic of Cyprus.
"It was really nice to see people recognising this big achievement and recently they told me that Cyprus was announced from IOC as a country for sport 2012 and it was due to the silver medal I won," Kontides says. Further awards for Kontides are also in the pipeline.
Integral to Kontides' success in the Olympics was joining forces with the Croatian Olympic Sailing Team and since 2006 he has been regularly going to Croatia to train. Here he is considered 'part of the family' and he even travels to events with the Croatian team. In particular this access has given him the opportunity to train with Croatian Laser ace Tonci Stipanovic. Form going into London 2012 suggested that Stipanovic was a medal favourite having only just before finished second at the World Championship in Germany. Unfortunately a poor result in the final full fleet race at the Games destroyed his prospects and he ended up fourth, just five points off the podium.
Kontides paid tribute to his Croatian colleagues: "The medal I won should be considered as half Croatian as my sparring partner is Tonci Stipanovic and our coach is Jozo Jakelic. In the end Tonci finished fourth. I felt sorry for him. It would have been a great achievement for us to both be on the podium. I hope next time in Rio we will achieve that – why not gold and silver?"
Alongside the accolades he is receiving personally, Kontides says he is pleased that his success is not only inspiring more people to take up sailing in Cyprus, but is helping to put his country on the map as a destination for sailing events in the future.
"Cyprus is an island and we have perfect sailing conditions throughout the year and it is almost like there is nowhere else in Europe that you can find such conditions. In January-February the temperature is around 15-16°C which is really warm for Europe and the sea temperature almost never drops below 16."
Next summer the ISAF Youth Worlds are coming to Cyprus, taking place over 11-20 July in Limassol. This is an event close to Kontides' heart as he was Youth World Champion in the Laser in both 2007 and 2008. "For me it will be really nice to be part of it and observe the younger sailors trying to do what I did in the past. And this maybe will be the starting point of Cypriot sailing starting to grow and for it to become a venue for international circuits."
His success he also hopes will push more Cypriot sailors to raise their standard so they too can make it to the Games. In Qingdao Cyprus fielded four sailors – Laser, RS:X Men and Women and the Finn – but this dropped to just two for London 2012.
Kontides' medal at the Games is certain to be beneficial for his future Olympic campaigns and he is currently in negotiations with sponsors looking to share in his success. More money is also likely to become available from the government, who will be helping fund their sports star's university education, which is taking place in UK.
Currently Kontides is mid-way through the Ship Science course at the University of Southampton which he put on hold two years ago to focus on his Olympic campaign. The plan is now to spend the next two years completing his degree, before then resuming his Olympic sailing full time in the build-up to Rio 2016.
Over the next two years Kontides says he won't be able to train as much but will attempt to be on the water as much as possible and do all the regattas he can. "It is a pretty full schedule, but I used to do this in the past – and it was working. So I will try it again."
Looking forward to the Laser class for Rio, it seems likely that some of the old guard, the Tom Slingsbys, possibly the Paul Goodisons, etc will be moving on to allow more fresh faces such as Kontides' on to the podium. Kontides believes the new generation is already coming through.
"You have maybe two or three guys of my age, born in 1990, that showed some great performances in their World Cup races and at the Europeans and Worlds and maybe in their countries they are leading. But there will always be some strong countries - like Australia and Great Britain and for sure someone from there will be competing against us, so we have to be also ready and train as hard as possible."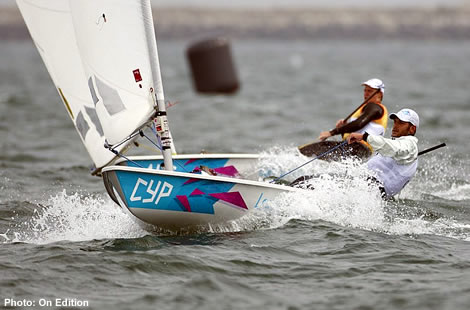 In the case of GBR, Nick Thompson has been waiting in the wings for years, while among the Australians it would be Tom Burton, who currently leads the ISAF rankings.
"If Slingsby or Goodison leaves that doesn't mean the competition will get lower," Kontides continues. "I think if anything the competition will get higher because younger people are keener now and as we have seen in the Games, the ages of all those winning medals across all sports is going down and down. You could see in swimming the 15 or 16 year olds, the girls winning gold medals, which was really amazing."
We caught up with Kontides in Rovinj, Croatia last week when the Croatian Olympic team had been invited to sail as guests on board the RC44s as they competed in their World Championship.
Kontides admits that at present he doesn't have much big boat experience but was excited to see how big teams operated. "In the future I would like to sail such boats, especially in the America's Cup – the format it is now it is really challenging and I'd love to be a part of it."
Career-wise aside from his sailing, his training could see him end up on the technical side of a big campaign but there are other prospects available to him in his native Cyprus which is a Mediterranean hub for commercial shipping but where the oil and in particular gas industries are shortly to boom.
Back to top
Back to top