Champion of champions crowned
Ben Saxton and Alan Roberts, representing the RS200 class, are the new Endeavour dinghy Champion of Champions.
22 year-old Saxton from Grafham Water Sailing Club, and Roberts from Hayling Island Sailing Class made an impressive start to the Topper-supported Endeavour championship at the Royal Corinthian Yacht Club yesterday with three firsts and a third place, which put them in the overnight lead in the 25-strong fleet. They then went on to win the first of two races today before the wind finally disappeared. This left them five points clear ahead of last year's Endeavour champions – Nick Craig and Toby Lewis – who took overall second place.

Saxton's win was particularly impressive because until the Calltracks-sponsored Endeavour training day on Friday, he had never stepped foot in a Topper Xenon before. Although Roberts, his teammate, finished second place at the Endeavour championship as crew last year and was able to bring valuable experience to the team this weekend, the pair had never sailed together in a spinnaker boat before. Interestingly, they immediately gelled as a team and the combination of good starts, good sailing and being able to seek clear air to gain the all-important speed advantage in the super-competitive fleet, are what really gave them the winning edge.

Commenting on his win, Saxton said: "I am unbelievably happy with this result. I can't quite believe it. We thought if we sailed well we could do it, and we did. I am extremely grateful however, I had Alan's previous Endeavour experience to work on, plus I am sure years of sailing at Grafham Water helped me today because it was really shifty on the Crouch."

Roberts added: "Having almost won it last year against Nick Craig, it is definitely good to come back and seal it the way we did. Racing against the likes of Nick [Craig], the Olympic boys [Christian Birrell and Luke Patience] and so many good people, makes it a really great event, and one that I really want to return to. Hopefully next year."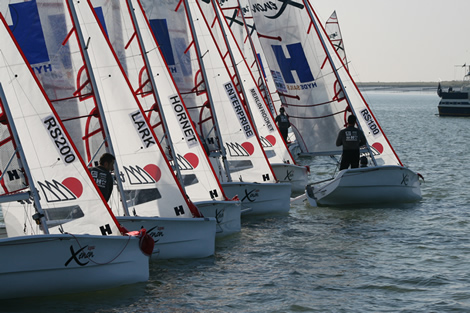 Second placed Craig spoke highly of the winning team: "It is very impressive that Saxton has won it first time. That is something I couldn't have done. He probably had a stone or two less weight in the boat than us, which may have helped a bit, but generally it was down to really good sailing, which is what matters."

Setting a course in today's shifty, light winds and strong tidal conditions on the River Crouch was a race officer's nightmare. Thankfully Kim Allen managed to make the best of the conditions and successfully completed two races before the wind died away altogether.

The final race winners in today's light, taxing conditions were Jasper Barham and Graham Sexton representing the Laser 2000 class. They only had one race finish outside the top five, and a win in today's final race was enough to secure a podium position after six races.

Christian Birrell, who won the event with Stuart Bithell in 2010, and then finished fourth overall last year representing the Enterprise class, finished this year's event fourth once again, this time sailing for the Merlin Rocket class. He managed to beat his 2010 team mate Bithell, and Luke Patience (470 Olympic silver medallists), by four points.

Special thanks to the Endeavour Trophy sponsors which include the following: Topper, Allen Brothers, Calltracks, Hyde Sails, Selden, English Braids, Petticrows, Musto, Noble Marine, Sea-Sure and GJW Direct.
Results:
| | | | | | | | | | | |
| --- | --- | --- | --- | --- | --- | --- | --- | --- | --- | --- |
| Pos | Class | Helm | Crew | R1 | R2 | R3 | R4 | R5 | R6 | Net |
| 1 | RS200 | Ben Saxton | Alan Roberts | 1 | 1 | 3 | 1 | 1 | 7 | 7 |
| 2 | Enterprise | Nick Craig | Toby Lewis | 6 | 2 | 1 | 2 | 3 | 4 | 12 |
| 3 | Laser 2000 | Jasper Barham | Graham Sexton | 5 | 5 | 4 | 26 | 4 | 1 | 19 |
| 4 | Merlin Rocket | Christian Birrell | Andrew Tunicliffe | 3 | 4 | 10 | 4 | 5 | 11 | 26 |
| 5 | 470 | Stuart Bithell | Luke Patience | 2 | 6 | 11 | 3 | 11 | 8 | 30 |
| 6 | Firefly | Stuart Hudson | Tom Foster | 11 | 12 | 7 | 7 | 7 | 3 | 35 |
| 7 | Contender | Ben McGrane | Roz McGrane | 4 | 3 | 17 | 26 | 2 | 18 | 44 |
| 8 | Musto Skiff | Bruce Keen | Penny Clark | 10 | 7 | 13 | 26 | 12 | 5 | 47 |
| 9 | RS100 | Paul Childs | Tom Morris | 9 | 14 | 5 | 26 | 15 | 9 | 52 |
| 10 | National 12 | Graham Camm | Zoe Ballantyne | 14 | 10 | 2 | 26 | 13 | 15 | 54 |
| 11 | RS Feva | Matt Whitfield | James Taylor | 26 | 9 | 8 | 5 | 18 | 14 | 54 |
| 12 | Scorpion | Thomas Gillard | Oliver Wells | 7 | 8 | 20 | 26 | 10 | 12 | 57 |
| 13 | Lark | Steve Hall | Simon Haighton | 17 | 19 | 14 | 26 | 8 | 2 | 60 |
| 14 | 29er | Matt Venables | Will Alloway | 12 | 17 | 6 | 26 | 6 | 23 | 64 |
| 15 | Hornet | Richard Garry | James Beer | 8 | 15 | 12 | 26 | 14 | 22 | 71 |
| 16 | B14 | David Hayes | Tom Pygall | 13 | 18 | 18 | 8 | 17 | 17 | 73 |
| 17 | 18ft Skiff | Jamie Mears | Emma Clarke | 18 | 11 | 16 | 26 | 16 | 13 | 74 |
| 18 | Solo | Andy Davis | Matt Mee | 26 | 26 | 9 | 26 | 9 | 6 | 76 |
| 19 | RS300 | Steve Bolland | John Teague | 16 | 16 | 15 | 26 | 23 | 10 | 80 |
| 20 | Fireball | James Ellis | Dan Ellis | 26 | 13 | 26 | 6 | 20 | 21 | 86 |
| 21 | Topper | Giles Kuzyk | Adam Cockerill | 20 | 23 | 19 | 26 | 22 | 16 | 100 |
| 22 | Wayfarer | Chris Owen | Sam McNamara | 19 | 21 | 21 | 26 | 19 | 20 | 100 |
| 23 | Albacore | Nev Herbert | Steve Penfold | 15 | 20 | 23 | 26 | 24 | 19 | 101 |
| 24 | Osprey | Gareth Caldwell | Jon Gibbons | 21 | 22 | 24 | 26 | 21 | 25 | 113 |
| 25 | Cadet | Nick Sutton | Sam Barr | 22 | 24 | 22 | 26 | 25 | 24 | 117 |
Back to top
Back to top