Greeks remain on track
Day three of the Tornado World Championships was a write off with no wind on Wednesday. The race committee evaluated their decision again at 2pm CET but then cancelled racing for the day with not a breath of wind in sight.On Wednesday evening the class held the Annual General Meeting. There was good attendance with the main point of discussion around where the class now goes and how we promote this fantastic multihull to new sailors now we are officially no longer an Olympic class. There was also some change within the committee with Roland and Nahid Gaebler standing down from their positions as President and Treasurer.

On behalf of the class, I would personally like to say a massive thank you to Roland and Nahid for their hard work and dedication over the past few years. Roland has been the figure head at the front of the push to regain Olympic status and put hours of his own personal time into promoting the class and boat he loves so much.

There are new horizons ahead with lots of keen sailors who enjoy sailing the boat. Jurgen Jentsch will now take over as President of the ITA.

Day four was the complete opposite to day three with sailors waking up to beautiful sunshine across Lake Garda and the wind building.

The racing started at 1PM CET with race 6 of the 2012 World Championships. Clear skies and the famous Ora winds kicking in from the south to set up perfect conditions for the sailors. There was a steady 10 - 12 knots of breeze across the race course for race one. Of course in first place was Team Redbull followed by Roland and Nahid Gaebler who had a consistent day on the water. In third place were Nikos Mavros and Alexander Tagaropoulos.

The wind picked up for race two with 18–20 knots blowing, but still the right hand side of the course being the best route as it always is in Lake Garda. The sailors who judged the upwind lay line best came out at the front of the fleet but others missed the lay line losing up to 20 places in the fleet.

Matteo Ferraglia and Lorenzo Bianchini who are currently sitting in second place overall were unable to start the second race due to a boat breakage which they managed to fix this evening. Again Iordanis and Kostas came out with another bullet followed by Roland and Nahid then Brett and Ryan who sit in third place overall.

The Greeks are now only one race away from winning the World Championships for the second time in a row.

There is a big gap in the fleet after 8th place but with lots of individual battles making great racing for the whole fleet.
Results:
| | | | | | | | | | | |
| --- | --- | --- | --- | --- | --- | --- | --- | --- | --- | --- |
| Pos | Sail no | Crew | R1 | R2 | R3 | R4 | R5 | R6 | R7 | Tot |
| 1 | GRE 7 | IORDANIS PASCHALIDIS, KONSTANTINOS TRIGKONIS, NAUTIKAL CLUB THESSALONIKI | 1 | 1 | 1 | 1 | -2 | 1 | 1 | 6 |
| 2 | ITA 8 | Matteo Ferraglia, Lorenzo Bianchini, CV ARCO | 2 | 3 | 4 | 5 | 1 | 4 | (dns) | 19 |
| 3 | AUS 330 | Brett Burvill, Ryan Duffield, Nedlands Yacht Club | 3 | 4 | 2 | 3 | -10 | 9 | 3 | 24 |
| 4 | GER 1 | Roland Gaebler, Nahid Gaebler, MIX, KYC-NRV | 7 | 5 | 3 | 7 | -13 | 2 | 2 | 26 |
| 5 | GRE 11 | Nikos Mavros, Alexander Tagaropoulos, Nautical club of Thessaloniki | 5 | 9 | 7 | -11 | 4 | 3 | 4 | 32 |
| 6 | AUT 377 | Manfred Schönleitner, Georg Hirsch-Stronstorff, Union Yachtclub Attersee | 4 | 6 | 8 | 4 | 3 | 7 | (dns) | 32 |
| 7 | SUI 228 | Martin Rusterholz, Simon Koster, RVS | -12 | 8 | 6 | 2 | 5 | 8 | 5 | 34 |
| 8 | CZE 686 | David Krizek, Adam Zdenek, YC LP | 6 | 2 | 5 | 6 | -18 | 5 | 11 | 35 |
| 9 | SUI 22 | Marcel Steiner, Jörg Steiner, Simpl | 8 | -12 | 10 | 9 | 7 | 12 | 7 | 53 |
| 10 | GBR 7 | Joe Bennett, Marko Reynolds, Felixstowe Ferry SC | 10 | 11 | -14 | 8 | 9 | 10 | 6 | 54 |
| 11 | AUS 325 | Allan Gamble, Kim Nicholas, Nedlands Yacht Club | 9 | 13 | 19 | -29 | 11 | 11 | 13 | 76 |
| 12 | SUI 232 | Jean-Marc Cuanillon, Michael Gloor, YCB / SCH | 21 | -24 | 17 | 13 | 6 | 6 | 15 | 78 |
| 13 | GER 69 | Dieter Maurer, Maren Odefey, MIX, LYC | 11 | 17 | 9 | 12 | 14 | 23 | -27 | 86 |
| 14 | GER 60 | Arndt Meyer, Manfred Syrowy, YCN | 13 | 7 | 12 | 19 | 24 | -28 | 14 | 89 |
| 15 | GER 100 | Josef Gunkel, David Gunkel, SCFF | 20 | 18 | -25 | 18 | 8 | 18 | 16 | 98 |
| 16 | GER 205 | Stefan Lippert, Thomas Grassl, FCSS | 16 | 16 | 15 | 15 | -31 | 13 | 26 | 101 |
| 17 | AUT 354 | Heinz Boehler, Markus Pinggera, YCRhd | -23 | 10 | 21 | 17 | 12 | 22 | 22 | 104 |
| 18 | GER 4 | Wilfried Jodorf, Ludwig Boecker, FCSS | -22 | 22 | 20 | 16 | 15 | 16 | 20 | 109 |
| 19 | AUS 305 | Paul Peterson, Jared Eyles, Nedlands Yacht Club | 17 | 21 | 23 | 22 | 19 | (ocs) | 8 | 110 |
| 20 | GER 2 | Betz Markus, Betz Andreas, SMCÜ / RVÜ | 19 | 19 | 16 | 10 | (dns) | dns | 9 | 114 |
| 21 | GER 99 | Klaus Rocholl, Sven Rausch, Lübecker Yachtclub | 28 | (dns) | 18 | 14 | 25 | 15 | 18 | 118 |
| 22 | NZL 89 | Aaron Young, Robert Butterfield, Timaru Yacht & Power Boat Club | 25 | 20 | 11 | -30 | 26 | 30 | 12 | 124 |
| 23 | AUT 3 | Dietmar Salzmann, Arno Müller, YCRhd | 15 | 14 | 28 | 28 | 20 | 21 | (dns) | 126 |
| 24 | ESP 211 | Jentsch Jürgen, Steimer Klees Sarah, MIX, SCFF/ CNSE | -33 | 23 | 27 | 26 | 27 | 20 | 10 | 133 |
| 25 | GBR 11 | John Ready, Matt Johnson, MYC | 24 | 25 | 26 | 27 | 16 | (dns) | 17 | 135 |
| 26 | GER 947 | Guggenmos Wilhelm, Maier Alex, Segelclub Füssen Forggensee | 18 | 15 | 24 | (dns) | 32 | 25 | 24 | 138 |
| 27 | GER 111 | Hayung Schodde, Björn Helmerichs, Wilhelmshavener Segelclub | 14 | (ocs) | 22 | dns | 23 | 19 | 23 | 142 |
| 28 | GER 990 | Hannes Jantke, Philipp Wetzig, Segel-Club Salzgitter e.V. | 27 | 26 | 13 | (dns) | dns | 17 | 19 | 143 |
| 29 | FRA 294 | JEAN CARON, GUILLERME NICOLAS, YACHT CLUB DE CARNAC | -31 | 27 | 30 | 23 | 21 | 29 | 21 | 151 |
| 30 | ESP 15 | Dominik Kopp, Florian Kopp, Segelclub Mattsee | 32 | 30 | 29 | 20 | 17 | 26 | (dns) | 154 |
| 31 | SUI 223 | Laurent Béguelin, Mottier Frédéric, CVMC | 29 | -34 | 31 | 24 | 22 | 24 | 28 | 158 |
| 32 | AUT 337 | Kurt Waibel, Denise Waibel, MIX, YCH | -34 | 33 | 32 | 25 | 33 | 14 | 33 | 170 |
| 33 | AUT 269 | Jens Haefner, Stefan Neussl, ÖSV | 30 | 31 | 37 | 21 | 34 | (ocs) | 25 | 178 |
| 34 | SUI 226 | Gudrun Kolb, Dylan Teal, MIX, SCRG | 35 | 29 | -36 | 31 | 28 | 27 | 32 | 182 |
| 35 | ESP 1 | Antonio Bolado Cantera, Aurelio Martínez Gutiérrez, REAL CLUB MARITIMO DE SANTANDE | -37 | 35 | 35 | 33 | 29 | 31 | 29 | 192 |
| 36 | AUT 371 | Harald Breitfuss, Anna Breitfuss, MIX, SYC | -36 | 32 | 34 | 32 | 30 | 33 | 31 | 192 |
| 37 | GBR 403 | barry arnison, Nicole Davy Burton, MIX, gratham water | -38 | 37 | 33 | 35 | 36 | 35 | 35 | 211 |
| 38 | ITA 25 | Lorenzo Sclavi, Paolo Reggio, yacht club italiano | 26 | 28 | (dns) | dns | dns | 36 | dns | 213 |
| 39 | GER 1103 | Jochen Seifert, Dusi Barske, Augsburger Segler-Club, Royal | (dnf) | 36 | dnf | 34 | 35 | 34 | 34 | 214 |
| 40 | SUI 229 | Christian Manz, Artur von Scala, SIMPL | (dns) | dns | dns | dns | dns | 32 | 30 | 226 |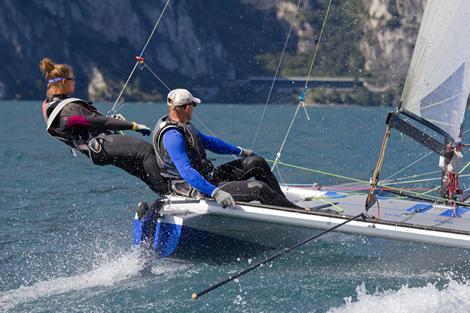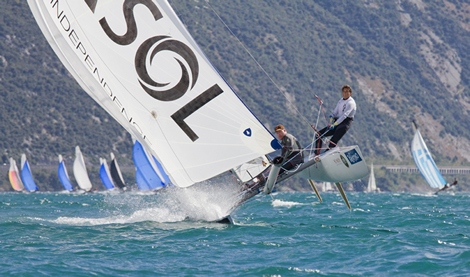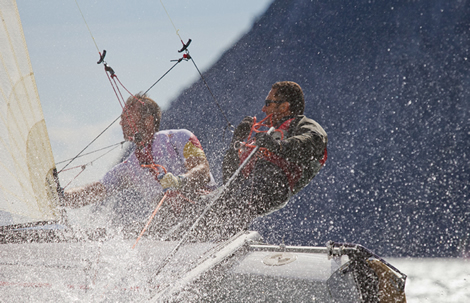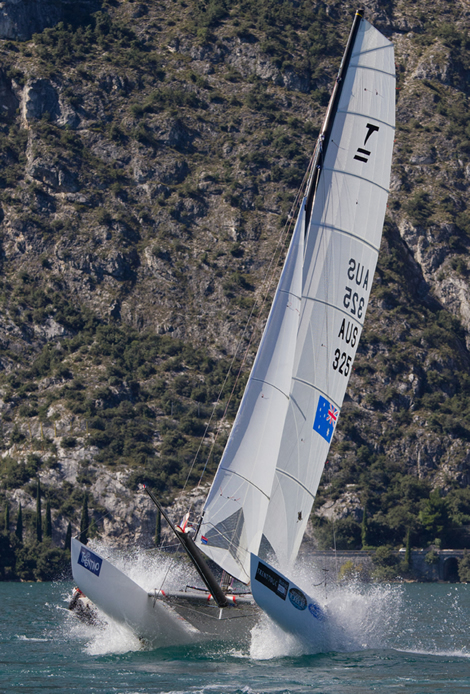 Back to top
Back to top