How Australian became top sailing nation at London 2012
Wednesday August 15th 2012, Author:
James Boyd
, Location: none selected
Australia's supreme effort in the sailing at London 2012 went according to plan for the first time in three Olympiads. After they bombed eight years ago in Athens, returning home with no medals, a new program was put in place, simply entitled 'the Gold Medal Plan', to rectify this. This came right in part in Beijing with golds in both 470 classes, but their sailors falling disappointingly short of the podium in both the Lasers and 49ers. But for London 2012 the form book prevailed. As the Australian Sailing Team's High Performance Director Peter Conde put it on Saturday: "We thought we could come away with three golds. We did that - we came away with three golds and a silver. I think we can say 'mission accomplished'."
If Olympic sailing is supposed to be one of the most competitive pinnacles within our sport, it remains something of a mystery how there could be four stand-out teams going into London 2012? While Team GBR had Ben Ainslie in the Finn, Australia had the other three: Tom Slingsby in the Laser, Nathan Outteridge/Iain Jensen in the 49er and Mat Belcher/Malcolm Page in the Men's 470.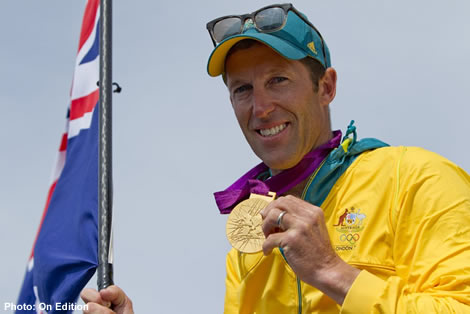 470 double gold medallists Malcolm Page gave us his thoughts on this: "The system we have in place is the key to that. The Australian sailing team was reborn seven years ago and it was very green and new for Beijing, although we did get some success there. We are a lot more mature now, another four years down the track and we've refined things and that's why we are where we are today.
"Leading into the Games we said we had three Gold medal strong chances and a potential fourth medal outside of that. To just deliver that under this pressured situation in the environment we are in now, in a foreign country, with the British being the host country, was a credit to our system and the process that we went through over the last four years plus three. It is great and our team is really strong.
But Page also observed there is now a wealth of experience within the Aussie camp: "When you look at all the other medallists, the five of us have known each other for a very long time and then you look at Elise [Rechichi] and Belinda [Stowell] as well [the 470 Women's crew] – they have been in the team and they are previous gold medallists, so the experience we have is really great and it has really been shared between all of us and our different styles and it has made us stronger."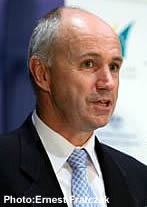 Yachting Australia CEO Phil Jones has a more simple explanation: "I know this sounds tripe, but I think we have just got talented athletes. We have got people like Nathan Outteridge and Tom Slingsby – they just love sailing and are really good at it. There is a temptation within Olympic campaigns to go 'this is what we do, let's just do this' and for people who are talented and enjoy doing it, that is a mistake." Both Outteridge and Slingsby have been campaigning Moths and both are involved in the America's Cup, Outteridge as Team Korea's helm, Slingsby with Oracle Team USA.
"I just think they learn different things from sailing different boats. We don't force people to do it and it is something that makes it hard to manage," says Jones.
All three of the dominant Aussie teams had been consistently winning regattas leading up to the Olympics, all of them were multiple World Champions, as Ben Ainslie was in the Finn, but this had also been the case in 2008 and after their Beijing experience there was still no sense of certainty of the outcome coming into London 2012.
Compared to Beijing, the Australian sailors certainly felt more at home in Weymouth's mostly big conditions that paid those with grunt and who were best at boat handling. In addition, as Malcolm Page observes, with pretty much the same sailors returning (with the exception of Mat Belcher replacing Nathan Wilmot on the helm of the 470) the sailors were four years older and wiser entering this Games with more Olympic experience than they had had in China.
Phil Jones adds that when they introducing the 'gold medal plan' post Athens, they genuinely weren't expecting to reap the fruits of it until 2012. "When you start implementing changes, it takes a long time - not just some technical changes, but changes in philosophy among the sailors. And it was about building a team and that has taken a while. When we look at it now, these medals we have got involved four different coaches in four different medals, whereas before our gold medals depended on one person [470 uber-coach Victor Kovalenko]. So the encouraging thing for us now is that we have got a system and we have got people with Olympic experience and extremely good technical coaches. Plus we have got an extremely strong support team and management in place and, at this level, those things make the difference."
The management structure in the Australian team is slightly different to Team GBR's in that they have both a 'High Performance Director' and a Head Coach. After Athens, Michael Jones was appointed to the former position, coming to the job with strong backgrounds in both business and sailing. As Phil Jones describes him: "He was very successful as a 'change agent', because we needed to do it quickly. Then unfortunately he had some health issues in the lead up to and post China."
When Michael Jones resigned they looked around and identified Peter Conde, the original architect of their 'Gold Medal Plan', as having the right credentials, but whom they had to entice out of retirement. Again a success sailor predominantly in keelboats like the Etchells and Star, Conde also came with 'real world' skills following a successful career as a management consultant.
Also unlike the British set-up, Conde is able to call upon the experience within the team's 'High Performance Advisory Group'. This includes heavy guns of Australian sailing such as Glenn Bourke, John Bertrand, Grant Simmer and 470 gold medallist Tom King.
"We have got a lot of successful sailors on there," says Phil Jones. "It is literally an advisory group, there to advise the High Performance Director. He manages that and we take issues to that and discuss with them. We have found that different perspectives are useful and the danger is from a management team, you can easily get a bit locked into implementing things and these guys, for whatever reason, tend to be a bit left field and it is quite useful to have that 'different view', so it has proved to be a helpful group."
One of Conde's role is also to encourage the Australian Olympic sailors to gel as a team.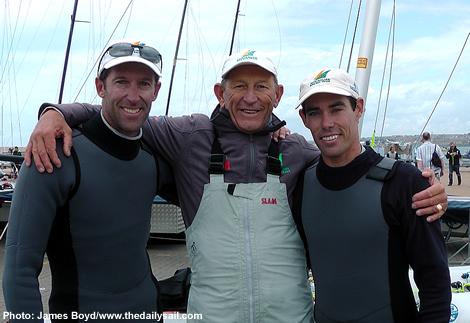 A jewel in the crown of the Australian Sailing Team is their Head Coach, Victor Kovalenko, aka 'the medal maker'. While Kovalenko's focus is largely on his beloved 470s, he has also been key to the development of coaching across the classes. Read more about 'the medal maker' here.
Integral to the Gold Medal Plan has been maintaining a continual flow of the Australia's most talented up-and-coming sailors into the scheme and this required a strengthening of their Youth Sailing program. As Jones observes: "You are quite likely to succeed if you have got people who have done well at Youth World Championships." And over the years Australian sailors have. Among their London 2012 team was Nathan Outteridge a three-time Youth World Champion and Elise Rechichi, who podiumed at two Youth Worlds and won 470 gold in Beijing. In the pipeline now is Gabriele King Youth World Champion in the Laser Radial in both 2007 and 2008.
An additional difficulty in running a development program across Australia, compared to the UK, is the sheer size of the country and that it has more of a federal nature, with each state having its own funding for sailing. "We have worked hard to get consistency across that network and it is good because in a country like Australia you can't drive form Perth to Sydney for the weekend, whereas in the UK you have the benefit of having all your best athletes together in one place. That is always a problem – the tyranny of distance," says Jones. Despite being a vast country, Australia's population is only 22.7 million compared to the UK's 62.6 million.
Better funding
It has been reported that the Australian Sailing Team's funding for this last Olympic cycle amounted to Aus$ 21 million (roughly £14 million) although this is across all their programs from youth upwards. In addition they raise roughly Aus$ 500,000 in sponsorship. This compares to just under £23 million for Team GBR, of which roughly £8 million was spent over four years specifically on Olympic sailing.
Jones is uncertain whether success in sailing at London 2012 will lead to more funding for the team going into Rio 2016. "I think we have a good case bearing in mind that there will be four new classes in Rio potentially. We'll obviously be making the case for it, but so will everyone else. It is a double edged sword - they'll argue we don't need any more funding because we have been successful. We'll argue that we can be more successful with more. And of course it is a finite pool."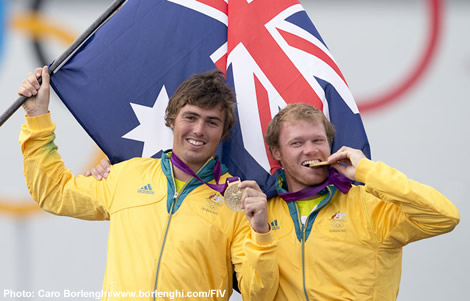 Rio 2016
Looking ahead to Rio 2016, Jones says that they will be continue to increase the depth in each class. Australia didn't send a complete squad to London 2012 – they were not represented in the Star of the RS:X Men, so there is room to push there, as well as in the four new disciplines of Men and Women's kiteboarding, women's doublehanded skiff and the mixed catamaran.
Outteridge and Jensen are likely to go again in the 49er, if Slingsby moves on then they are already covered with the talented Tom Burton waiting in the wings, who is already nipping at the heels of Tom Slingsby. Belcher is likely to return with a new crew.
Jones reckons that the Australian Olympic team's results at London 2012 - excellent in sailing, but generally disappointing else (three of their seven golds were in sailing) might also help to entice more people into competitive sailing from a youth level upwards.
"In terms of the talent pool, I certainly don't think we are going to be any worse off in Rio than we are here," Jones concludes.
Back to top
Back to top