London 2012 470 Women's medal race: First Kiwi gold
Friday August 10th 2012, Author:
James Boyd
, Location: none selected
Strangely the competition in the 470 Women going into the medal race was similar to that of the 470 Men. Again there was a British team in the hunt, although in this caseHannah Mills and Saskia Clark were in a better position, level on 33 points with New Zealand's Jo Aleh and Olivia Powrie. These two teams had also broken away from the rest of the pack. Dutch duo and two time World Champions Lisa Westerhof and Lobke Berkout had suffered badly on the final light wind day of full fleet racing, dropping them back to 19 points behind the leaders.
Unfortunately for Mills and Clark their chances of beating the Kiwis to the gold medal were destroyed moments after the start. As Saskia Clark explained: "Hannah did an awesome job of the pre-start and we got the Kiwi where we wanted her. She tacked out and was passing clear behind all of the boats and we just got wedged between the Aussies and the Italians. And that was the separation she needed to get around the fleet.
"We called middle-left, which it was until the wind totally died and did a right shift. From that point on there was no way back. It filled back in on the second beat half left, but it was one of those things. In hindsight we should have just stopped and tacked and gone with her and kept it close. But hindsight is a great thing... In all that pre-start manoeuvring we were fighting for a boat length, which we got, and suddenly she had 200m so she was never going to let us have that back."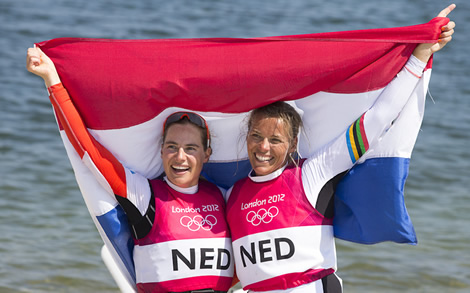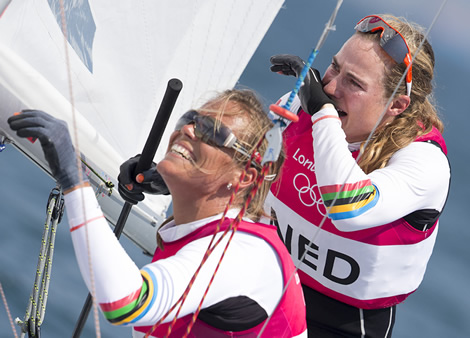 Westerhof and Berkhout came home sixth in the medal race squeaking into the bronze slot. Devastatingly the French crew of Camille Lecointre and Mathilde Geron went into the final day three points behind the Dutch and in the medal race finished a place ahead of them, ending with the worst possible Olympic sailing result: fourth by just one point.
While at few months ago Hannah Mills and Saskia Clark would have been overwhelmed if they had been told they had won the silver medal, Mills appeared far from happy with today's result.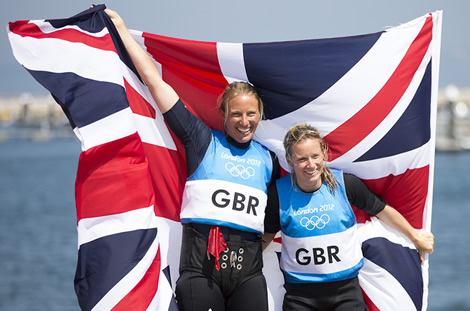 Coming off the water she said: "We told each other to pull ourselves together, but we were both absolutely gutted. I just felt I had let everyone down. I got a bit emotional which was probably a bit stupid. But sport is hard and the margin between winning and losing is tiny. We made a tiny mistake and got punished so hard for it. From that moment on, there was nothing left to do. It is just hard to take sometimes.
"Don't get me wrong – we are so so happy to have won a silver medal, but right now I am feeling a bit raw. One mistake we made we got punished pretty hard for. There was no way back into the race, so we were a bit disappointed about that.
Clark said that she was pleased with the rollercoaster ride she has been on since she and Mills, the 2008 420 Youth World Champion, turned 470 sailor, joined forces. "When we teamed up in February 2011 we were out to get selected. We had a three month window of opportunity to make that happen and we went from strength to strength and we have achieved things that are new for British 470 women. I have been trying to do it for a long time, so to have done it with Hannah over these last six months – World Champions and Olympic silver medallists. It is pretty awesome."
According to Clark, she and Mills made a pact coming into the slipway that they would continue on to Rio 2016 in the 470. "We are just going to look forward to the next opportunity in Rio and get the Gold there instead."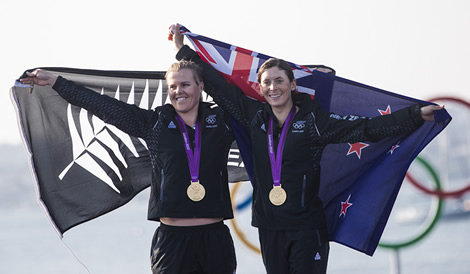 Jo Aleh has been lining up to get an Olympic medal for some time. Having represented New Zealand in the Laser Radial in Beijing, where she finished 7th, she and Powrie have consistently been in the top 10 throughout this Olympic cycle and came into London 2012 having finished fourth at the Worlds but won Skandia Sail for Gold on Weymouth's Olympic waters.
"We thought it would be a tight race," said Powrie. "We have been neck and neck all week, so we are obviously very close around the race track. I guess the Brits got a bit caught up with the other boats and we managed to sneak away into a nice clear lane."
From here Powrie is going back to University. "That's not going to be much fun. Then we'll just sit down and have a chat."
Now they have won the 470 it seems plausible that we might see the Kiwi aces getting into the Women's Skiff for Rio 2016. As Aleh says: "At least we have ticked this one off!"
More from Carlo Borlenghi/www.borlenghi.com/FIV

Back to top
Back to top