London 2012 470 Men's medal race
Australians Mat Belcher and Malcolm Page held a four point lead over Brits Luke Patience and Stuart Bithell going into today's medal race. With the two teams already assured of either a gold or silver medal, a match race in the medal race was inevitable.
And so it was that as the five minute gun sounded the Aussies engaged.
During this dust up there was a collision, as Stuart Bithell explained: "We knew it was going to be a bit of a match race. Before the start they tried to hunt us down, but we were prepared for that. There was a little protest over a port-starboard incident - they were on starboard, we gybed away on to starboard and they hit us but they didn't give us enough time and opportunity. But we managed to get to the start line on time which was the main aim, if they did do that."
In the light southeasterly wind, the Brits did a good enough job to shake off their opponents with both hitting the boat end of the line on port, with Patience and Bithell bow forwards.
"We needed that, we didn't want them attacking us too much on the first beat," said Patience.
Up the first beat the Brits remained ahead rounding the top mark first and, with Croatian light wind specialists Sime Fantela and Igor Marenic in second ahead of the Aussies, at this point the Brits were in a gold medal-winning position.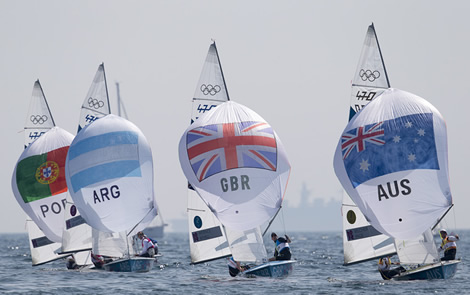 But this was not to last long. On the run the Aussies, always strong on the downwinds, launched themselves into the lead as the Brits were also overtaken by the Croats, these three extending away from the fleet. "They just soaked inside," said Patience of how they were overtaken. "It was tricky. There was pressure everywhere. You just get dealt a hand of cards and it is how you play those cards. We were first around and often that is a disadvantage when it is light winds, because people can gybe on you and that's exactly what happened."
On the second beat the Aussies headed right, the Brits were allowed to split left and there followed a tacking duel up the beat which intensified coming into the top mark. These shenanigans allowed the Croats to round in front with the Argentineans, Lucas Calabrese and Juan de la Fuente pulling up to third ahead of the Brits. And these positions remained until the finish, despite the Brits being penalised on the run for pumping and their then having to carry out a turn.
This gave gold to the Belcher and Page, silver to the Brits with the Argentineans maintaining third in their dust up with Italians Gabrio Zandonã and Pietro Zucchetti giving them the bronze.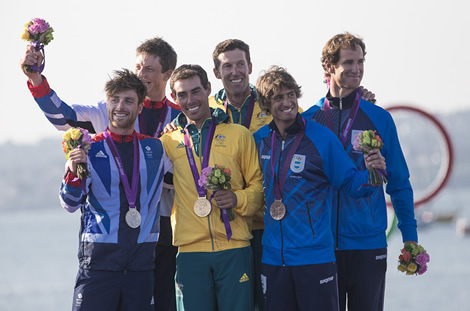 "We had a good go," said Stuart Bithell afterwards. "It was nice and tight and close, there were protest flags coming out. It was always going to be close - you don't have many races in your life that are like that. Statistically it is not going to happen that often - we only do about seven medal races a year, so that makes the stats even less so again. And it is nice to do it from a place that is a win-win situation. It is fun."
Typically, as we saw with the medal race match racing specialist Ben Ainslie in the Finn race, the idea is to take your opponent to the back of the fleet. But this didn't materialise in today's race.
"We were trying to slow the whole thing up and let the fleet catch up," explained Patience. "Us and the Aussies match racing at the front of the fleet - we didn't think it would be like that. Normally you are sailing each other down the fleet and you are doing that at the back. But us and the Aussies just have had jets on us this week and we were just gone, it seems, much to our annoyance! The Croatians caught up, but not quite enough.
"It is a different thing to beating a boat, trying to get a boat in between you and the person you are trying to beat. It is largely out of your control and it was largely out of our control. It didn't help that we were away from the rest of the fleet in first and second."
Aussie helm Mat Belcher agreed that the match race hadn't gone to plan. "We were expecting to be further back in the fleet, especially from the start. We were a little bit surprised how far it went right just after the start. We were first and second at one point which was surprising because that wasn't really the plan for both of us. We regrouped, we changed the situation and we knew at that point that we were going back to normal racing to try and win the race. We had a couple of crossings where we both let each other go."
And so the Brits continue the tradition of Nick Rogers and Joe Glanfield in winning Team GBR a silver medal in the Men's 470 (they came home with them from both Athens and Beijing).
For Patience and Bithell, winning an Olympic medal on their first attempt was of course a dream come true. As Patience put it: "It is something that has been building for so many years. You dream of that moment. You dream of standing on the podium. Now we are here, we are 25 years old, we built this campaign out of nowhere in late 2009 and here we are 2012 Britain's best 470 sailors and one of the world's best with the Aussies. We are a good chunk ahead of the rest of the fleet right now. We can confidently say that. What a journey it has been. Morgan Reeser our coach has been so good at guiding us in the hard times and, believe me, they come.
"This week has been a blast. I am just so glad to steer a boat for Stu. He is a great friend and he is a legend. He crews that boat better than anyone."
Patience and Bithell intend to continue and now have Rio 2016 in their sights. "This is just a warm-up. We thought we'd get silver out of the way! We are going to Rio and we are going to do it all again and go one better," said Bithell.
While the Australian team's coach Victor Kovalenko is considered the guru in the 470 class, the British duo's coach, American Morgan Reeser, hasproved himself to be not far behind. Reeser is himself a 470 silver medallist from Barcelona and as a coach was behind the dominating campaign of Greece's Sofia Bekatorou and Emilia Tsoulfa, who won four consecutive World Championship titles and Olympic gold in Athens 2004.
Reeser provided some telling statistics on how well his protégés had done at this Olympic Games. "I told them that normally near the end of the fleet racing portion we go back and look at the races and say 'we could have saved two points here, five points there, six points there and you could have ended up with 15 points by the end of the regatta'. With them it was two points at that point! You can't ask for much more than that. They sailed pretty much a faultless event. I can guarantee there has been no 470 sailor in history who has dropped a sixth in the Olympics." In comparison the Aussies discard was a ninth.
And even though they lost today's medal race the Brits achieved the first objectives, Reeser continued. "They got off the line and got round the weather mark first – you can't ask for much more than that. One of our goals was consistently good weather mark roundings and they were best at that in the fleet by quite a ways. They sailed like champions is the bottom line."
Throughout this Olympic Games, a feature of Patience and Bithell's campaign was that they seemed to be having a good time. This is something that Reeser instilled in them following his experience with the Greeks. "There is no question that they had the most fun in this whole Olympic fleet. When I coached Sofia in Athens that was one of the goals as well, because she had won the Worlds and the Europeans before Sydney and had no fun there.
"Luke and Stu could have been very stale here. They live here, they sail here all the time and we didn't go to the Worlds - we were about the only ones that stayed. And they still enjoyed themselves. You are not going to sail well unless you are having fun."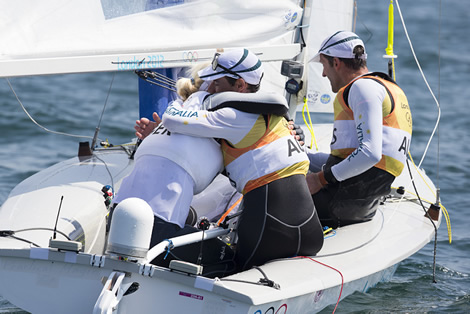 But huge praise must be lumped on Australians Mat Belcher and Malcolm Page. Like Nathan Outteridge/Iain Jensen and Tom Slingsby the Australian 49er and Laser London 2012 gold medallists, they were the stand-out favourites for the 470 Men's gold and that it turned out to be nip and tuck with the Brits was something of a surprise.
"They haven't beaten us in close to two and a half years, but we certainly did feel them breathing down our neck and this week especially they had a great week," said Page, who now having won his second consecutive 470 Men's Gold medal makes him Australia's most successful ever Olympic sailor.
Going into the medal race the Brits were a massive 35 points ahead of the third-placed Croats, with the Aussies another four points further ahead, an unheard of separation.
"It just shows that what we did to the rest of the fleet – we really did gap them, surprisingly so," continues Page. "It made for big drama, but it certainly didn't help my nerves! We have a lot of respect for those guys – they are not only just great guys, but phenomenal sailors."
Mat Belcher added: "It was very close. We only had a four point lead going into it and it is a credit to both teams to be able to get to that stage. It is a nice feeling to know that you are guaranteed at least a silver for both of us. We have raced each other enough to know our style and our personalities. We have had some really close events over the last three or four years with them and we have really enjoyed it. There were never more than four points separating us.
"Today it was neck and neck. The first time around the top mark they had the gold, but the bottom mark we had it, half way up the next beat, they had it, etc. Obviously we kept our nerves and maybe a few nice wind shifts here and there – it is just fantastic it came our way."
From here Page, now 40, is set to retire from Olympic sailing, while Belcher, 29, is planning to continue but first is going back to University. "I am doing a Masters in Urban and Sustainable Development. I enrolled in that a few weeks before the Games and that will take me two years, but we will regroup. Sailing at the moment is obviously the number 1 sport for Australia and there is a lot of vibe and I want to be part of that. So, a couple of months to have a bit of a break, regroup and work out a plan for 2016."
A replacement for the irreplaceable Page, who won his first 470 World Championship in 2004 and has claimed five more since then, along with two Olympic golds, has been lined up from Australia's powerful 470 squad. "It is a tradition to go for a younger model," quips Belcher, teasing his eminent crew.
However there is a plan for a Belcher-Page reunion at the 50th anniversary 470 Regatta and Masters Worlds to be held next year in La Rochelle in August.
Both Belcher and Page were impressed with the sportsmanship at the front of the 470 fleet. "We had amazing respect for each other for the rules," said Page. "No one cried wolf this week. That last harbour race we did here, we were in a dogged match race and I remember looking at them the whole time to see what they were doing and Luke was looking at me and we were smiling at each other. It was good – it was a great friendly, but very tough battle this week. I have got the utmost respect for those guys and I hope we paid them back in the same way."
"It is a great credit to the class," added Belcher.
Luke Patience agreed: "Everyone has had a good time. There are no hard feelings. Today we could have been a bit aggressive to each other, but it was just sport and off the water we are all buddies."
More photos from Carlo Borlenghi/www.borlenghi.com/FIV
Back to top
470 Men's results
| | | | | | | | | | | | | | | | | |
| --- | --- | --- | --- | --- | --- | --- | --- | --- | --- | --- | --- | --- | --- | --- | --- | --- |
| Pos | Nat | Helm | Crew | R1 | R2 | R3 | R4 | R5 | R6 | R7 | R8 | R9 | R10 | MR | Tot | Net |
| 1 | AUS | Mathew Belcher | Malcolm Page | 3 | -9 | 2 | 1 | 1 | 1 | 3 | 5 | 1 | 1 | 4 | 31 | 22 |
| 2 | GBR | Luke Patience | Stuart Bithell | 2 | 1 | 4 | 2 | 3 | 4 | 1 | -6 | 3 | 2 | 8 | 36 | 30 |
| 3 | ARG | Lucas Calabrese | Juan de la Fuente | 5 | -24 | 3 | 9 | 17 | 8 | 2 | 2 | 5 | 6 | 6 | 87 | 63 |
| 4 | ITA | Gabrio Zandonã | Pietro Zucchetti | 6 | -26 | 1 | 8 | 6 | 13 | 8 | 4 | 11 | 3 | 12 | 98 | 72 |
| 5 | NZL | Paul Snow-Hansen | Jason Saunders | -28 | 3 | 5 | 4 | 16 | 3 | 7 | 9 | 13 | 12 | 14 | 114 | 86 |
| 6 | CRO | Sime Fantela | Igor Marenic | -28 | 13 | 9 | 10 | 8 | 5 | 15 | 1 | 2 | 22 | 2 | 115 | 87 |
| 7 | FRA | Pierre Leboucher | Vincent Garos | 9 | 10 | 11 | 6 | 10 | 2 | -19 | 11 | 4 | 11 | 16 | 109 | 90 |
| 8 | POR | Álvaro Marinho | Miguel Nunes | 12 | 2 | 16 | 5 | 11 | 7 | 17 | 3 | 10 | -28 | 10 | 121 | 93 |
| 9 | AUT | Matthias Schmid | Florian Reichsteaedter | 1 | 4 | 7 | 19 | 4 | 16 | -24 | 10 | 14 | 14 | 18 | 131 | 107 |
| 10 | SWE | Anton Dahlberg | Sebastian Östling | 4 | 6 | 8 | 14 | 13 | 9 | 14 | -24 | 22 | 13 | 20 | 147 | 123 |
| 11 | ESP | Onan Barreiros | Aaron Sarmiento | 7 | 8 | 12 | -27 | 24 | 6 | 10 | 13 | 15 | 9 | | 131 | 104 |
| 12 | NED | Sven Coster | Kalle Coster | 8 | 5 | 19 | 7 | 21 | -24 | 9 | 22 | 6 | 8 | | 129 | 105 |
| 13 | GER | Ferdinand Gerz | Patrick Follmann | 13 | -17 | 13 | 16 | 9 | 10 | 11 | 14 | 9 | 10 | | 122 | 105 |
| 14 | USA | Stuart Mcnay | Graham Biehl | 15 | 22 | 10 | 3 | -23 | 23 | 6 | 18 | 7 | 4 | | 131 | 108 |
| 15 | ISR | Gideon Kliger | Eran Sela | 17 | 11 | 17 | 11 | 2 | 14 | 5 | 12 | -28 | 23 | | 140 | 112 |
| 16 | SUI | Yannick Brauchli | Romuald Hausser | 11 | 16 | 18 | 22 | 14 | 12 | 12 | 7 | -23 | 7 | | 142 | 119 |
| 17 | RUS | Mikhail Sheremetyev | Maxim Sheremetyev | 21 | 18 | 14 | 13 | 5 | 20 | 4 | -25 | 18 | 17 | | 155 | 130 |
| 18 | JPN | Ryunosuke Harada | Yuugo Yoshida | 19 | 12 | -25 | 12 | 7 | 11 | 21 | 17 | 17 | 15 | | 156 | 131 |
| 19 | GRE | Kampo Kampouridis | Efstathios Papadopoulos | 14 | 7 | 20 | 15 | 18 | -28 | 27 | 19 | 8 | 20 | | 176 | 148 |
| 20 | CHN | Weidong Wang | Daokun Deng | 20 | 15 | 6 | 26 | -27 | 17 | 22 | 26 | 12 | 16 | | 187 | 160 |
| 21 | FIN | Joonas Lindgren | Niklas Lindgren | 22 | 19 | 22 | 17 | 12 | 15 | -26 | 21 | 21 | 18 | | 193 | 167 |
| 22 | KOR | Gunwoo Park | SungMin CHO | 23 | 14 | 15 | 24 | 20 | -25 | 20 | 8 | 24 | 21 | | 194 | 169 |
| 23 | IRL | Ger Owens | Scott Flanigan | 16 | 25 | 24 | 25 | 15 | 22 | 25 | -27 | 16 | 5 | | 200 | 173 |
| 24 | TUR | Deniz Cinar | Ates Cinar | 10 | 23 | -26 | 18 | 22 | 21 | 23 | 16 | 19 | 26 | | 204 | 178 |
| 25 | CAN | Luke Ramsay | Michael Leigh | 24 | 20 | 21 | 21 | 19 | 19 | 16 | 20 | -26 | 19 | | 205 | 179 |
| 26 | RSA | Jim Asenathi | Roger Hudson | 18 | -27 | 27 | 20 | 26 | 26 | 13 | 15 | 25 | 24 | | 221 | 194 |
| 27 | CHI | Benjamin Grez | Diego Gonzalez | -25 | 21 | 23 | 23 | 25 | 18 | 18 | 23 | 20 | 25 | | 221 | 196 |
Back to top