London 2012 day 5: Magnificent day for the Brits
Thursday August 2nd 2012, Author:
James Boyd
, Location: none selected
See today's reports here for the Finn, 470M, 49er, Star, Women's Match Racing and RS:X Men and a photo galleries from Carlo Borlenghi and Rick Tomlinson.
In Weymouth Team GBR had clearly had an extra Weetabix for breakfast.
Over the course of day five of sailing at London 2012 the Brits were putting in some exceptional results almost across the board with first Stevie Morrison and Ben Rhodes posting two bullets in the 49er, while at the same time Olympic newbies Luke Patience and Stuart Bithell managed a second in front of the spectators on the Nothe course and following this up with a win in their second race on the Weymouth Bay West, leaving them leaders after the opening day of 470 Men racing.
In the RS:X Men, Nick Dempsey won today's second race. Meanwhile out in the roaring spring tide of the Weymouth Bay South course, Ben Ainslie scored his first win of this Olympics with a more Ainslie-like 1-3 today, beating Danish arch-rival and Finn leader Jonas Høgh-Christensen in both races, reducing his deficit to just three points. Not to be left out Iain Percy and Andrew Simpson repeated their most acceptable 1-2 as they did yesterday, extending their lead to nine points in the Star.
"Today was a good day," advised RYA Olympic Manager Stephen Park. "But we are really conscious that we should just take it one day at a time."
Weather-wise Weymouth continued to lay it on with the wind back in the southwest blowing at around 14-17 knots on the Finn/Star course with a similar amount on the Harbour course and a little more on the Nothe. However the spring tide proved challenging particularly on the Finn/Star course with long downwinds and short upwinds.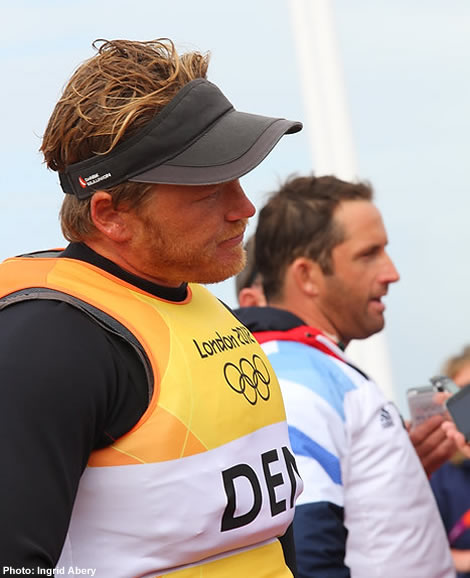 A pleased but mainly heated Ben Ainslie came ashore after racing, more fired up than we have ever previously seen him on land. This was partly due to an incident at the leeward gate in the second race when, rounding in third place behind Jonas Høgh-Christensen and ahead of the Netherland's Pieter-Jan Postma, both his opponents accused him of hitting the mark. Ainslie was adamant that he hadn't hit the mark but with two against one and no other competitors in the vicinity, a protest situation was never going to stack up in his favour and so he carried out a penalty turn.
"He and the Dutch guy basically teamed up to claim I hit the mark when I didn't, which seriously pissed me off, because I didn't hit the mark and there is not much I can do about that," Ainslie fumed. "There could be a protest hearing, but fortunately I am old enough and wise enough not to fall for that trick and had to take the penalty turn. So that really fired me up to get past them to the finish and it has certainly fired me up for tomorrow."
Høgh-Christensen gave his side: "In the race I thought he hit the mark. The Dutch guy thought he hit the mark as well. We are two guys who were on both sides of him and we both saw him hit the mark. If he really thinks we ganged up on him he should protest us for bad sportsmanship. Just coming with that allegation is pretty bad. No one gangs up on nobody and if he thinks that then he is the bad sportsman. We try and race by the rules. He hit the mark. He should do the penalties and if he was so sure that he didn't hit the mark then he shouldn't have done his penalties but he did, so maybe he did hit the mark..."
Looking at the BBC footage of the incident (which can be viewed here - go to 02:35:30) it looks very much like Ainslie didn't hit the mark but in fact Postma did...
"I should have a pretty good idea of whether I hit a mark or not," Ainslie concluded. "Those guys, if that's the way they want to play it, then fine, but they probably didn't want to fire me up for tomorrow..."
Stephen Park observed that there is a huge amount of pressure on Ainslie, with everyone expecting him to win on home water. In 12 years of Finn sailing the only person to have really challenged him before is team mate Giles Scott. "To be honest, he felt angry and perhaps a little bit disrespected by Jonas and Pieter-Jan alleging that he had hit the mark, when he didn't hit the mark. It is clear on the video that he didn't hit the mark. If they are good enough they should be good enough to win without that."
Paul Goodison

As to the recovery of Paul Goodison after his back issues on day one – Park says he is a lot better today following his fast track rehabilition from the Team GBR medical and physio team. "He has been out on his bike today to make sure he keeps it all moving. Of course there is only so much you can do because it just gets tender if you keep pummelling away.
"We have got some good guys who we thing are the best in the business to try and make sure they all keep doing. They have done a good job. He will be ready to race tomorrow and he will be a little bit more cautious and we wil make sure he remains on some strong painkillers to make sure he gets through the day."
Goodison remains on strong painkillers which he'll be on tomorrow. These are substantially stronger than aspirin but not so powerful that Team GBR would have to get special dispensation for using them – which is a lengthy administrative process.
Back to top
Back to top