49er favourite
Going into the Olypmic Games, even Ben Ainslie would be hard pressed to replicate Nathan Outteridge and Iain Jensen's near perfect record in the 49er. Since 2008 the Australian team has won the World Championship every year bar 2010 when in the Bahamas the title went to Spanish sailing weapons Iker Martinez and Xabi Fernandez leaving them second.
In fact in every 49er event Outteridge and Jensen have sailed in in this Olympic cycle they have finished on the podium, with the exception of one when they finished fourth.
But, like team mate Tom Slingsby, Outteridge has been in this position before - favourite going into Beijing, only to finish off the podium, with a fifth place after a disastrous capsize close to the finish line of the medal race destroyed his chances. When it comes to the Olympic Games, he very much has unfinished business.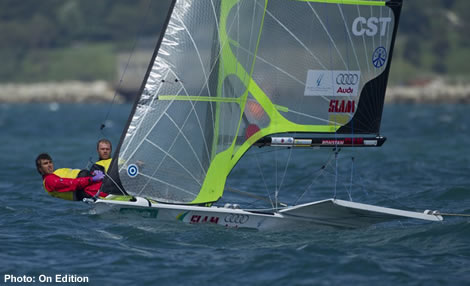 Since Beijing, Outteridge has changed crew from Ben Austin back to Iain Jensen (aka 'Goobs'), a childhood friend, Lake Macquarie neighbour and former crew – the two won the Junior 420 World title together in Melbourne back in 2004.
Australia is obviously home of the skiff with the high profile 18ft skiff racing that takes place on Sydney Harbour as well as the 12 and 16ft skiff classes. The Bethwaites are also from there with the 49er having been penned by Bethwaite son Julian.
When the Olympic skiff was introduced for the Sydney Olympics in 2000 it was Australian Chris Nicholson and crew Daniel Phillips and latterly Ed Smyth who picked up the first three World titles over 1997-9. However like Outteridge to date, Nicholson never managed to translate this success to the Olympics, finishing a disappointing 6th on home waters in Sydney and then 7th in Athens.
According to Outteridge their time in the Olympic skiff didn't cross, Nicholson pulling the plug after Athens while Outteridge and Ben Austin made their debut in 2006.
So how come they are so good? Easy question – difficult answer, which Outteridge embarks on: "There is a lot of teamwork involved. Take our coach Emmett Lazich - he coached the Finnish guys to a gold medal in Sydney in 2000 and then he coached Markus Baur, the German in Athens, and he sails himself the whole time and he has won a few Moth Worlds and he sails 18ft skiffs - he is just a really smart guy when it comes to setting up the rig and knowing the speed element of the equipment and whatever you can do with the one design class is taken care of. So when we go racing, we have good confidence in our boat speed and then it is about making the right decisions.
"The decisions become quite obvious if you have got good speed, because after a minute or two you are in a good position to decide to keep going or to tack. There are a lot of teams out there and they train and train for boat handling and position, but unless you get the whole package you are never going to make the podium."
In addition to having a good man looking after their coaching and boat development, Outteridge and Jensen have taken a slightly different approach to their training partnerships. While the British system is to have their own national squad and to keep their technology and know-how in house, the Australians have teamed up with Peter Burling and Blair Tuke, from over the water in New Zealand, as their training partners.
"We have had really good training partners since 2009 in the Kiwi guys who were second at the last two Worlds," says Outteridge. "Obviously I started a few years before them - they were silver fleet in Garda, 15th in the Bahamas and they have been podium finishers at most of the major events ever since…"
So now you have to watch out for them? "We do! It is a good and a bad situation because the guys we train with all the time are our closest competitors, but at the end of the day if we can go into the Games as no1 and 2 and we get half way through the Games and we are still number 1 and 2, then we just fight it out at the end. It is better than training with someone who is further down the list when you don't benefit as much from each other."
Outteridge says there are other Aussie 49er sailors he has trained with – including the second placed Aussie pairing of William and Sam Phillips, but they haven't had the same funding as Outteridge and Jensen and have taken a year out.
So essentially Outteridge's arrangement with the Kiwis is like Ben Ainslie training with Zach Railey and the two being able to share their knowledge together right the way through and on into the Games, something that couldn't be done with the other British Finn sailors because of the one sailor per nation per class rule.
"We have got a good training group and that makes a big difference," continues Outteridge. Also in their travelling circus is the Irish team of Ryan Seaton and Matt McGovern. "Your last five or six days' prep before any event, you all train together and you cross check your boat speed, you do some racing."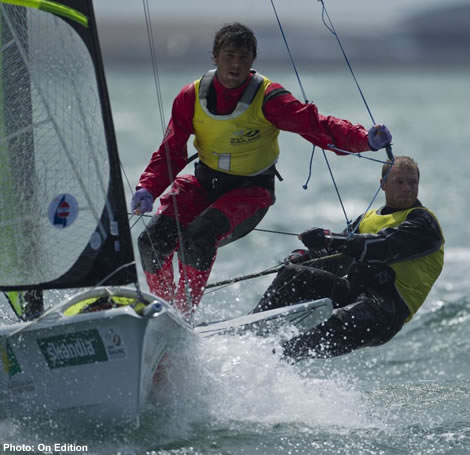 Possibly an issue going into the Olympics is that while the Australians have been consistently the frontrunners, another team peaking specifically for the Games might oust them. "It is a worry," concedes Outteridge. "There are always teams that will peak at the right moment for the Olypmics. We saw that in the last Olympics with the Danes, who hadn't really won an event before and they get to the Olympics and they have the event of their lives. There is going to be a lot of weird things that happen at the Games, but from our position we know that if we just do the basics right that at least we'll be in the hunt half way through the event and then it will depend on how many mistakes other teams make."
49er racing at the Games involves more races than the other classes and because of the boat is tweaky lightweight and high performance Outteridge believes it produces a higher 'error rate' than other classes. "It is just the nature of the boat – for example if you mis-time your sheeting by a little bit at the start, a boat will go from 2 knots and 12 knots like that (flicks finger) and as soon as they go on the breeze… then you have to tack out and duck and there are laylines that change all the time and the apparent breeze – it just seems like one of those classes where if you look at the average score it is way higher than any other fleet."
This has a great bearing on the strict way he and Jensen sail, repeating what they do best, always aiming to be consistent. "If we do that, eventually on average our results will be better and consistency is always going to pay. Generally what we drop normally seems to be 10 points less than most other teams – and that is what wins the events. Even though the points might be close on the last day, if they are dropping a 20 and we are dropping a 10 – there is way less pressure on you than there is on them."
Outteridge says that key to their racing is working with their coach to analyse risk and how much risk they are able to take in different wind strengths and conditions. "It is very rare that we have to sail high risk. We often sail low risk and then every now and then it is like 'we are in a certain spot where we can't afford to risk sailing away from the fleet', but every now and then we'll do it and it works pretty much 90% of the time because we just don't bang a corner for the sake of it. We only do it when it's important."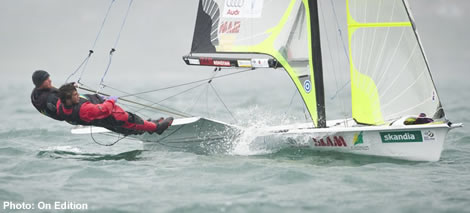 New rig

Since Beijing, the 49er rig has been upgraded, changing to carbon fibre spars and a square top mainsail. "The rigs have changed completely," says Outteridge. "The old fibreglass/alloy masts - to tune those things, everyone spent years and years working out how to do it. Now we've got new rigs, square top main, a jib with the zipped luff and there is more power in the rigs, so everyone's crew weight has gone up a little bit more. It is a stiffer mast with a bit of a softer tip to allow for the square top."
(While crews across the board were abnormally light for Beijing with most around 140kg, now with a potentially stronger wind venue in Weymouth plus the new rig, crew weights are typically up to around 155kg. Personally, in Beijing Outteridge was around 63kg, while now he is up to 80kg.)
Outteridge attributes his and Jensen's phenomenal success at the beginning this Olympic cycle to their getting on top of the new rig quickly. "Emmett's knowledge of being able to look at any rig and set it up made a huge difference, so we started our four year campaign maybe a step ahead of most teams and since then people have been trying to catch us."
But this situation has since changed. "Now the boats are all a much more similar speed than they were a couple of years ago. That is one thing coming into the Olympics - we have sailed in Weymouth five times and we have won five times, but each time the distances are getting closer and closer. So it is going to come down to the full package, not just the settings we've been running."
Outteridge agrees that coming from the 'home of the skiff' also helps. "We have a lot of not just 49er sailors but 16ft and 18ft skiff sailors who come and have a look and will give us their 10c worth - something to think about, it could be just one or two things from people that don't even sail in the class. Or you can just sail your 49er against a 16ft or 18ft skiff and you can learn stuff from that whereas a lot of European sailors are just really fixed into the 49er and just trying to tune that up. They don't see the big picture sometimes."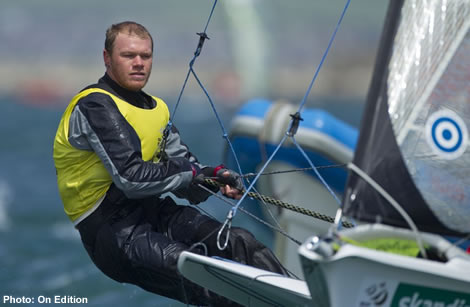 Three surefire golds?
While it will be a shock if Ben Ainslie fails to win gold in the Finn, the Australian team is in a similar situation in not only the 49er, but also the Laser (with Tom Slingsby) and the 470 Men (with Mat Belcher and Malcolm Page).
So why is this? "I think it has just been building for a long time," says Outteridge. "Like in Sydney the team did quite well and then in Athens performed really badly, so from that moment on they tried to change the whole system and they looked at how the British do it and they have a big team and they share information among each other."
Since Athens the Aussies have taken much more of a team approach and there are more group sessions. "At those we discuss the whole dynamics or the whole theory of trying to campaign for an Olympic Gold medal," says Outteridge. Instrumental to these is the Aussie team's Head Coach, Victor Kovalenko.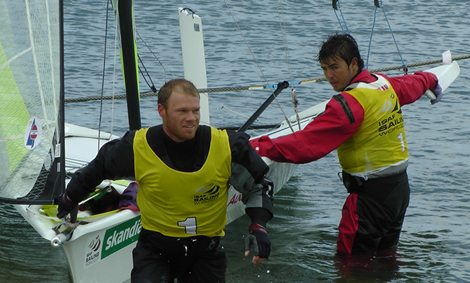 "Victor is very instrumental in sharing his knowledge among the classes," says Outteridge.
As to Kovalenko's direct involvement with their campaign Outteridge says the 'Medal Maker' looks more at the big picture for them. "He is obviously focussed on the 470 and he works mainly with all the coaches. We have got a good system where all the Olympic coaches work together and spread their knowledge to all the other coaches further down, so that the sailors are getting well educated from a younger age.
He continues: "You have got the 470s, the Lasers and ourselves who are consistently right up there and Michael Blackburn has done a great job with the Lasers and it is not just Slingers now, there are three or four other guys, and Tommy will probably stop the Lasers after this Games, but at least we know there are some more coming through. It comes from having a good funding system now that supports all the other teams that aren't the no1 team."
This was development program was set up after he had outgrown youth sailing, says Outteridge. He and Slingsby earned a name of themselves at the Youth Worlds, Outteridge in particular with his three consecutive title in the 29er with Ayden Menzies in 2002, in the 420 the following year in Madeira and again with his present crew in Gydnia, Poland.
"Because there was so much success at the Youth Worlds in the early 2000s Yachting Australia looked at it and found this model, and since then they have been trying to get the junior classes into the right youth classes for the Youth Worlds, giving them a good pathway and a good chance to get involved with a bit of funding to help them get there."
So their prospects for dealing with the unfinished business in Weymouth over the next fortnight is looking good but he says that going into Beijing they also looking strong. "Our team was pretty strong going into China but as you know what the weather can be like in China, nothing is a cert. I think our team was a strong then as it is now. It is about how well you can convert your chances."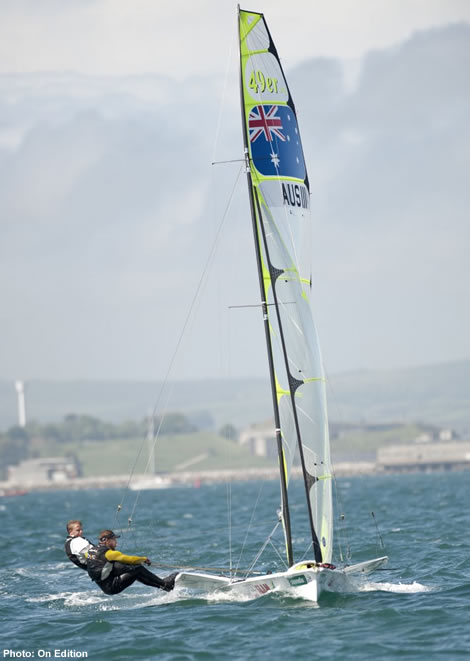 Back to top
Back to top