Hamish Pepper and Jim Turner take on London 2012
Kiwi America's Cup and big boat tactician Hamish Pepper is back for his fourth Olympic Games, his second in the Star after a 9th place finish in Beijing. But this time around he has a new crew. Following Finn medallist and top America's Cup grinder, Craig Monk, being lured away last summer to Artemis Racing and the AC, so the familiar figure of Jim Turner will be taking on the 'wet assed' role with him at London 2012.
Wait a minute – isn't Jim Turner a Brit? Turner explains he met his wife in New Zealand when he was out there sailing in the 2003 America's Cup with GBR Challenge and has spent the last eight years living in his newly adopted home. "We have got two daughters, both born in New Zealand, and I have always qualified to become a New Zealand citizen. You can live there quite happily with a British passport being a member of the Commonwealth, so until Hamish and I started to sail together I didn't actually need to have a passport, but then I did and it was reasonably easy to organise. It probably forced me to do it sooner than I might have."
According to Pepper, his crew is even getting pretty handy with a BBQ these days.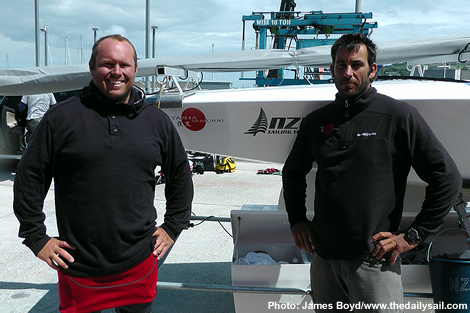 The duo are both regulars on on the big boat circuit, but hadn't sailed much together apart from a stint on board the Synergy Russian Sailing Team in the short lived Louis Vuitton Trophy. "Jim was the only person I thought good enough to come and to try and win a medal with," says Pepper. "So we started down the process of whether or not he would like the boat, sailing around in the water all the time and to see if we'd get on. The next step was making sure he was able to qualify as a New Zealander..." All these boxes now ticked.
Turner says he has had Olympic aspirations for a long time. During the hiatus over the Star in the late 1990s he sailed with the late Glyn Charles, and ever since then he has been awaiting the right opportunity. "I didn't want to go along and get a T-shirt that says 'I've been to the Olympics'. I've only ever wanted to do something you think you have a good crack at. With Hamish - we get on well and since we've been sailing together we get on well on the boat, so I think it is an opportunity worth pursuing."
While Pepper is 41 and Turner 36, it is quite change of lifestyle for a professional sailor, in demand on the big boat circuit – Turner is usually one of the Niklas Zennstrom's elite crew on board Rán – to return to the monumental struggle in time, energy and expense of Olympic campaigning. "In the Star class I am still one of the younger people, which is quite remarkable!" says Turner. "I guess I grew up with Bart [Andrew Simpson] and Iain [Percy] in the Youth Squad - I'm the same age as them - and they are considered a young crew in the Star. But it is interesting when you are around all the Laser sailors, etc – they are all 19, so then you start to feel a bit older!"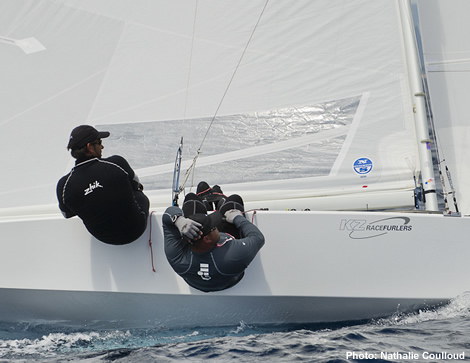 More pies

Maximum combined crew weight for a Star is determined by a formula that prevents teams from having a 470-sized helmsman and Giant Haystacks as a crew, so effectively the heavier the helm, the higher the combined weight of the crew. For example an 80kg helm can have a 113.3kg crew with a combined weight of 193.3, whereas a 100kg helm can have a 100kg crew with a combined weight of 200kg.
"The helmsman needs to be able to be strong enough and fit enough to be able to hike out and muscle the boat around, but the heavier the crew the better," says Pepper. "So it is working out what combination is best." For this Games, Star helms are typically 88-94kg, their crews around 103-108. "Iain Percy is probably about 92kg and Bart is about 105 and I think that is a pretty nice combination and we are pretty similar. The Irish - Peter [O'Leary] is a little bit lighter on the helm and heavier on the crew and Scheidt is a bit lighter again and a heavier crew. But it is all very very even."
Turner admits he's had to bulk up for the Star campaign and monitoring this over the Games will be crucial. While at most Star regattas there is one weigh-in, at the Games they are daily. "We're all on the limit. That's important in a venue like Weymouth."
One significant variation between Star campaigns is how much time crews allocate to them. One gets the impression that the likes of Robert Scheidt and Freddie Loof do nothing but Star sailing. Others have to earn a living in between. For the Kiwi team, since joining forces in the autumn, they have been on the case pretty much full time.
"This year I've only done two regattas out of Star sailing on Rán and they were both back in January when they fitted in – Rolex Miami OCR immediately after Key West or the Bacardi Cup immediately after the RORC Caribbean 600," says Turner. "Star sailing is priority no1. It is a hard balance because if you haven't got results and you aren't in the squad you have to fund it, which means earning money which means going [non-Star] sailing."
Living in New Zealand, while racing mostly in the USA or Europe, is an additional logistical challenge and requires them to have three boats, one in each of these zones – the Miami boat is the one Pepper and his then crew Karl Williams sailed in Beijing, while the one in New Zealand Pepper won the 2006 Star Worlds and the Bacardi Cup in and their new boat arrived three months ago in Europe ready for the Games.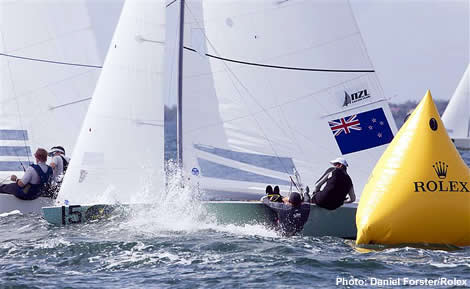 Hardware

Weapon of choice in the Star class for London 2012 is the P-Star, originally developed by German Star sailor Marc Pickel following a significant CFD study by the Yacht Research Unit in Kiel. The boat is now built by the North American Sailing Centre in Richland, MI with state of the art high precision CNCed tooling as used in AC boats (there's very comprehensive info on how it's built here). While Italian-built Lillias were prolific in Qingdao four years ago, all but three boats to be used in Weymouth will be P-Stars: The Portugese are sailing a Lillia, the USA are in a Folli, while Swiss sailor Flavio Marazzi is sticking with his Swiss-built Wilke.
So why the change? "The P-Star is very straight in its aft sections and it has quite a lot of volume forward, but there is not much tolerance in the designs, so they are only subtle things and it is just built very well. They suit the conditions in Weymouth very well," says Pepper.
Turner adds: "The P-Star is more of an all-round boat, whereas in China people were going lighter assuming it was going to be light conditions, which it ended up not being... In Weymouth as we all know, it could be a week when it blows or is 10 knots. I think you'd be quite punchy if you turned up for a regatta there in August in a corner, either for very light or strong winds."
For the Games, Star teams are allowed to measure in two masts, two booms, two mains and two jibs. All the masts are made by Emmeti in Italy, which has been the class' spar maker of choice for several Olympic cycles. According to Pepper there isn't much variation in the mast - it is more down to their tuning for light or heavy conditions.
When it comes to sails, the US team is using Doyles, Mark Mendelblatt working with Jud Smith, but between everyone else there is an equal split between North and Quantum. Quantum is strong in the class due to the involvement of Star class sages Mark Reynolds and George Szabo based out of their San Diego loft. However the two top teams - Scheidt/Prada and Percy/Simpson - are with North and most of the top teams have their own sail designers. The Brits for example have their sails built in the UK but they are designed by Juan Garay of the North loft in Argentina. Pepper and Turner's sails are principally Quantum but with some North UK as well.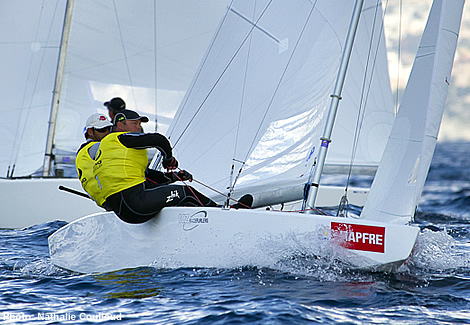 Goodbye Star boat

Obviously there is major concern about the Star being struck from the Olympic roster for Rio 2016, although there are still rumours of the Brazilian hosts making overtures direct to the IOC for it to be reinstated, for Brazil probably has the strongest Star sailing tradition in the Olympic Games outside of the USA, with Robert Scheidt continuing the previous success of Torben Grael.
Turner and Pepper make the same argument about the hardware costs as Tornado sailors once did – while the boats are more expensive, they have a longer lifespan than some other smaller and cheaper Olympic boats which go soft faster and have to be replaced more regularly in order to be competitive. Certainly the Star's sails and masts are slightly bigger, (although the Star has two sails to the 49er and 470's three) but beyond that the running costs are the same as any other two person boat.
"A 470 sailor will get through as many mains and jibs as we will, but they are going through two or three boats while we might go through one," says Pepper. "In the 49er, the top guys will buy four or five sets of masts and sails and pick which ones have the best bend characteristics, so ultimately you still spend the same. But the biggest part of overall campaign costs are the people and that is all the same [between two person campaigns] - accommodation, fuel, coach, a car, you have to buy airplane tickets, etc - they are the big ticket items."
Pepper adds that Star's probable departure will be a great loss, because it is where all the top international sailors gravitate to, so the racing is as competitive as it gets. "Where are people like Tom Slingsby and Ben Ainslie and Paul Goodison going to go after this? Are they going to continue on sailing Lasers and Finns or does ISAF want the top sailors to continue on? There is a lot of public interest among these name sailors to move on to the Star class, to duke it out for the Grand Title.
"You look at what they have introduced. We now have the Women's Skiff and the Women's 470 and the Men's Skiff and the Men's 470 – they are the same weight limit. All you are doing is dumming down both classes. Why don't they have one class and one weight limit and get the best sailors from all the countries in that class so it is actually a really good yacht race?
"I think there needs to be a shake-up of the thinking in terms of the classes sailed at the Olympics. I agree with the skiffs, but dropping the windsurfing for example for kitesurfing...? Dropping the Tornado with the America's Cup going catamaran? Then in May they selected kiteboarding over windsurfing, but in June when ISAF was selecting classes for the youth Olympics they selected boards... To me it just seems like they are a bit out of touch."
While the Star may be the grown-ups Olympic class, Turner points out that it still requires a very high degree of athleticism: "Physically the Star is still a hard boat to sail. You come ashore from a three race day in 15-20 knots and you know you've been sailing, more so perhaps even than going sailing on a Cup boat. It is a physical boat."
As to the level of competition in the Star class at London 2012, Pepper muses: "It is pretty tight up there. It is going to be a close contest. For sure we have to sail well and have the regatta of our lives, but if we do that I think there is an outside chance."
Turner points out that within the 16 Stars going to the Games this year, there are seven Star World Champions, his helm being one. "In the Laser you might have two or three. Here we have 16 boats and half of the fleet have won the Worlds, so you can imagine how high the fleet is. The guy that comes 10th or 12th may have been a World Champion... It is a bloody hard fleet."
Despite the high competition Pepper and Turner are bullish about their prospects. At Skandia Sail for Gold they were top three and were still in with a shout going into the medal race. "We know that when the buck's down, we sail well and do all the things we need to do and we can compete,"says Turner. "Hamish has been sailing in the class for six years and has got a good database and knowledge of what is going on. I don't think we are behind in what we know or what we have available to us. We have enough resource to have the gear we want: Everyone is going to have a P-Star, everyone has got the same mast and the sails, they are not the deciding factor. It is about who gets off the line well, who gets the best shift, who has got some speed and who sails well and stays out of trouble or gets disqualified and makes mistakes. If we have a really good regatta and do everything we know we can do we know we can do well. But that's the same throughout the fleet. Some people's wheels will fall off and some people will stick it together."
Pepper concludes: "You are going to get the best all-round sailors winning here in Weymouth. It is not a weight sensitive place. It is not like someone has tilted their whole kit one way. You can leave in a 20 knot forecast and sail in 6 knots here. I think it is going to be one of the best sailing Olympics for a long time."
Back to top
Back to top