Challenging conditions for future Olympians
If conditions were challenging yesterday, they were even more so on day two of the Four Star Pizza ISAF Youth Sailing World Championships in Dun Laoghaire. A westerly to southwesterly breeze, blowing off the picturesque town on the outskirts of Dublin, was making the wind both shifty and gusty out on the water for the 343 future Olympic potentials, all under 19 years of age, who have congregated in the Emerald Isle from all four corners of the globe. At one point a squall passed over the fleet measuring 25 knots in the harbour.
Despite the testing conditions on the water, today competitors in the eight classes all completed three races and with five races in total now sailed, have been able to discard their worst result.
With the offshore breeze making life difficult, Spain's Carlos Robles and Florian Trittel managed to score a 1-1-3 today in the 29er fleet. But they are not alone to have a single figure overall result in the mini version of the Olympic 49er skiff with France's Lucas Rual and Thomas Biton winning the last race. They are now four points behind the Barcelona-based sailors.
"We did three races with really difficult conditions - very shifty and very puffy, but we managed to stay in front," said Robles. "We still don't have a drop [ie a bad result], and that's really good for us." Out on the water Robles said they had seen the wind oscillating between 6 and 14 knots as the wind shifting by up to 40 degrees. "All the day it was really inconstant – really, really difficult. We had to have our eyes out of the boat all the time looking for puffs."
One of the biggest leads is developing in the 420 Men, where France's Guillaume Pirouelle/Valentin Sipan discarded their 18th in today's second race leaving them on 11 points, in turn 11 clear of Pieter Goedhart/Lars Van Stekelenborg (NED) after Spanish twins David and Alex Charles were declared OCS in today's final race.
"We are doing our best said," said Sipan, who with his helm won the 420 European Championship last year. The duo is considered among the favourites for honours in this event. "We have good speed and we are making quite good starts and we are following the shifts - it is good."
"The conditions are quite difficult with big clouds and it is very shifty," added Pirouelle. "But we like it when it is more windy." This is not the duo's first time in Dun Laoghaire this year having won the ISA Mitsubishi Youth National Championship, where it was equally shifty.
A 1-2-3 today has propelled Britain's Annabel Vose and Kirstie Urwin into the lead of the 420 Women's class, where they are now on 7 points, 11 points ahead of today's race two winners Carrie Smith and Ella Clark (AUS), benefitting from Beijing gold medallist Tessa Parkinson being with them here in Dun Laoghaire as their coach.
"We didn't lead around any of the top marks," said Vose of today's results. "Places were going up and down, but we had some good reaches and we did some good decision making and looking at the next marks, which were quite key and just managed to gain places slowly."
Vose, 17, was 420 World Champion last year but with a different crew. Urwin only joined her in September. Having also attended the Youth Nationals here in Dun Laoghaire in April, the Brits came good today after they were nailed in yesterday's first race when they found themselves on the wrong side of a giant and persistent shift. "It is really shifty out there and it is really difficult - you see that from the results. It is such a high scoring event, so I think we did quite well to get a few top 10s today.," said Vose.
Britain is also leading in the RS:X Girl's class where Saskia Sills is putting together a near perfect series, discarding the third she scored in today's first race to end the day on 5 points, eight points ahead of Italy's second placed Veronica Fanciulli. Meanwhile Reg White, the late 1976 Tornado Gold medallist, would have been proud of his grandson Rupert, who posted a 1-1-2 today with crew Tom Britz to move into the lead of the SL16s.
"It was a good day - we're pretty happy with it," said White, who reckoned that they had made the biggest gains on the reaching legs of today's three races. "We had to keep focussed the whole day, even when things didn't go quite to plan. Downwind is our strong point. Generally we managed to pick the right side today which helps."
White and Britz are now four points ahead of yesterday's joint leaders Paul Darmanin and Lucy Copeland (AUS) who hold second.
One of the fleets where it remains tightest at the top after five races is the RS:X Men where Korean defending champion Wonwood Cho, still leads, but remains just a point ahead of Mattia Camboni, the Italian one of a collection of boats able to discard their BFD disqualification from yesterday's first race. However among the Laser Radial Boys, the USA's Mitchell Kiss leads after winning today's second race, but is tied on points with Italy's Marco Zani.
Three points separates the leaders in the Laser Radial Girls, where Norway's Line Flem Höst still leads but with a four point advantage over Turkey's Pinar Kaynar, winner of today's second race. However the best scoreline of the day belonged to third placed Agata Barwinska, who posted a 3-3-2. The Pole's view of today's conditions was markedly different to the rest of the competitors: "It was really good wind, first strong wind and then it was dropping and dropping. I think it was a great wind for me, the best wind for me."
Barwinska is competing in her first ISAF Youth World Championship, which she says is the most important regatta of her sailing career so far.
The Laser Radial Women's fleet also sees Malaysia's Khairunneeta Mohd Afendy competing, 31st among the 42 boats. "It's pretty good, but it's pretty cold too, because it's really different weather between here and Malaysia, and the wind is really shifty." At present the temperature is into the 30s back home in Lankawi.
This is Afendy's second Youth Worlds, having won her Nationals in Malaysia and come 7th in the Youth Olympic Games. At the recent Laser Radial World Championship in Germany she was five places adrift of gaining Malaysia a berth at London 2012. However the Youth Worlds she says is an event she likes because she gets to compete with sailors of her own age. "I really want to improve my skills here and compare with other sailors."
Racing continues at 1200 tomorrow with two races, with conditions forecast to be stronger and even more gusty.
Top three results:

Laser Radial (Boys): 1st - Mitchell Kiss (USA) 34pts 2nd - Marco Zani (ITA) 34pts 3rd - Mark Spearman (AUS) 39pts

Laser Radial (Girls): 1st - Line Flemhost (NOR) 15pts 2nd - Pinar Kaynar (TUR) 18pts 3rd- Agata Barwinska (POL) 21pts

420 (Boys): 1st – Guillaume Pirouelle/Valentin Sipan (FRA) 11pts 2nd - Pieter Goedhart/Lars Van Stekelenborg (NED) 22pts 3rd - David Charles/Alex Charles (ESP) 25pts

420 (Girls): 1st - Anabel Vose/Kirstie Urwin (GBR) 7pts 2nd - Carrie Smith/Ella Clark (AUS) 18pts 3rd- Ilaria Paternoster/Benedetta Disalle (ITA) 18 pts

29ers: 1st - Carlos Robles/Florian Trittel (ESP) 5pts 2nd – Lucal Rual/Thomas Biton (FRA) 9pts 3rd – Quinn Wilson/Dane Wilson (USA) 14pts

SL16 Catamaran: 1st – Rupert White/Tom Britz (GBR) 6pts 2nd - Paul Darmanin/Lucy Copeland (AUS) 10pts 3rd - Henri Demesmaeker/Phillip Hendrickx (BEL) 10pts.

RSX Boys: 1st – Wonwood Cho (KOR) 9pts 2nd- Matta Camboni ( HKG) 10pts 3rd - Kieran Martin (GBR) 14pts

RSX Girls: 1st - Saskia Sills (GBR) 5pts 2nd - Veronica Fanciulli (ITA) 13 pts 3rd - Anastasiya Valkevich (BLR) 17pts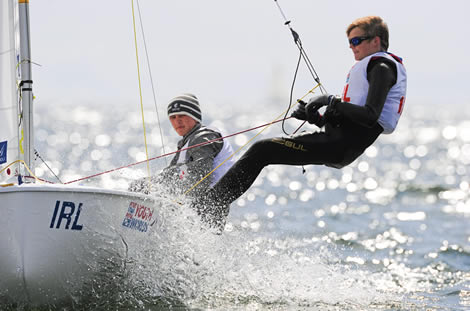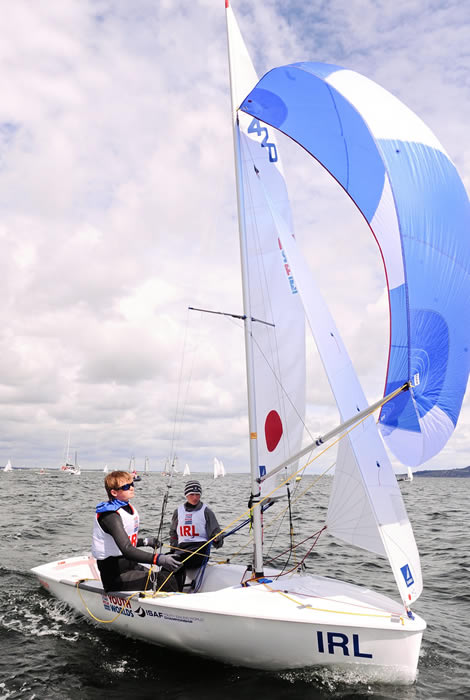 Back to top
Back to top