Bundock and van Leeuwen lead
The second day of the Zwitserleven Sailing Week started out sunny with a force 4 southwesterly that decreased and died before filling in again from the southeast.
After seven races Darren Bundock (AUS) and Jeroen van Leeuwen (NED) are in first place in the Texel Dutch Open, with a lead of five points over defenders Mischa Heemskerk and Bastian Tentij.
Bundock commented: "The first three races went well. We came in first once and second twice. But in the last match the spinnaker halyard broke and we didn't finish very well. We couldn't hoist the spinnaker any more in the mast track. So a discard race it is. Jeroen and I haven't sailed together since the World Championships last year. We're a bit rusty. But it's going better every day. It's nice to be first, but in the end it is a great training for the Round Texel Race itself. That's the real work."


Mischa Heemskerk and Bastiaan Tentij moved up from third to second overall, despite a BFD in the fifth race. "We had a difficult start of the day", said Tentij. "The disqualification wasn't good of course, but we got our boat speed back. We slept for more than ten hours last night - we needed that. Too bad that the wind was less, but at least we won the last two races. We hope the races will continue tomorrow, because we're not in the lead yet."
Oscar Zeekant and Karel Begemann dropped from first place to third.
Today four teams tried to set a new record for sailing around Texel. Though it turned out to be more of a training session than an actual serious attempt. Before setting off the teams already knew they wouldn't succeed, because there wasn't enough wind and it was only decreasing more.
John Moret/Danny Radelaar, along with Hans Bouscholte/Peter Vink and Will Sunnucks/Oliver Egan today tried to break the record for the second time this week. The last team were Czechs, Martin Sedevis and Jan Kopun.
"It turned into a match racing with Hans and Peter", recounted Will Sunnucks. "On the Waddenzee there was more wind at the coast and there we had to tack. Those who tacked to the coast took the lead again. Actually we tried to beat Hans, instead of sailing a record. And so we did." Sunnucks was the fastest with a time of 3h24m52s.
Meanwhile at the Nacra Infusion World Championship, Gunnar Larsen/Sam Frank are tied with Coen de Koning/Thijs 
Visser for the number one position. Larsen and Frank scored four bullets today to lead overall.
Larsen commented: "It was weird. This 
afternoon looked completely different. The race course had to be reversed
 completely with the changed wind. My compliments to the committee for
taking care of this so fast. It took a completely different strategy
 and a different tactic. We sailed pretty conservative and that turned 
out well.'"
De Koning and Visser dropped to second place in the ranking, as the former said: "It didn't go well today. I don't really know what the reason is of this disappointing day. I don't blame the weather because it's always the sailor's fault. We just made some mistakes today."
The Texel Dutch Open and Nacra Infusion World Championships continue until tomorrow. On Saturday the 35th Zwitserleven Round Texel Race will take place, the start is at 1100-1200.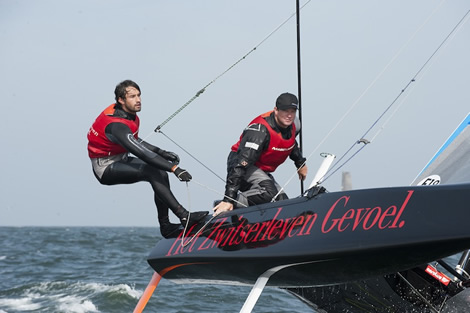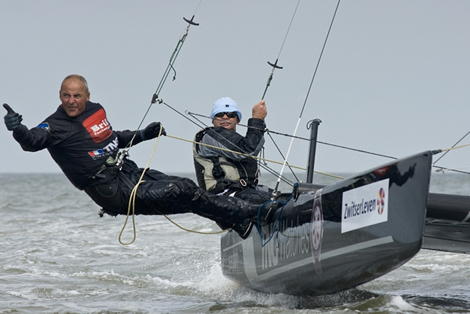 Back to top
Back to top