Blustery day in Weymouth
An intense depression passing over England, created winds of up to 30 knots, driving rain and limited visibility for the Skandia Sail for Gold fleets and in turn cancellations, postponements in a challenging but at times yeehaa day for those classes that did race.
Anticipating the big conditions, racing was brought forward, starting at 1000, but already it was excessive for the Paralympic class who were kept ashore. The rest of the classes sailed, with the exception of the Stars, the bigger classes having their first day divided into Gold and Silver fleet.
The Finns moved inside Portland Harbour to sail just one race, but the stronger conditions and the course move were no truck for Britain's Giles Scott, who scored his fifth bullet in seven races to move 12 points ahead of Ben Ainslie, in turn 10 points ahead of the USA's Beijing silver medallist Zach Railey.
The Netherland's Pieter-Jan Postma emerged through the murk to lead at the top mark ahead of Spain's Rafa Trujillo and Scott. The conditions worsened through the race with the wind building and increasingly bad visibility. Postma held onto his lead at the gate while Scott moved up to second and Australian Brendan Casey to third.
Scott made his move on the next downwind and team mate Mark Andrews also got past Postma up the second beat. Scott then sailed away to win by a sizeable margin while Sweden's Daniel Birgmark squeezed in third place just ahead of Postma.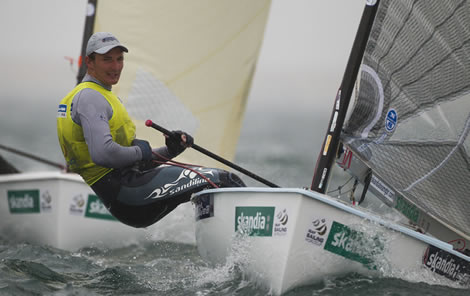 "It was pretty miserable out there, rainy and wet, but it wasn't too windy, maybe 20 knots," recounted Scott. "It only got windy when the clouds cleared and it came through at 35 knots – the racing was fine. It was a good show from the British boys, we love the rain. I haven't done a lot of Finn racing recently, but I'm still in shape and I've been doing a lot of America's Cup sailing which is really physical. I've also been training with Ben and the other boys so I'm not racing fit, but I'm still physically fit and capable of sailing a Finn. I seem to be sailing quite fast, so more of the same tomorrow. It's looking fresh so I think we might be on for an afternoon sail but I'm sure we will get a race in."
It was a dramatic day for third placed Zach Railey. While rounding the leeward gate, one of the boats behind tried to take a more direct route and barged at the mark, colliding with the American. He explained: "I had just made up a bunch of boats on the downwind and was waiting to go around the leeward marks. It was very tight with the pack and there was a boat that came in without room and unfortunately tried to take room on a couple of us. There was a pretty big collision which threw me out of the boat and the boat got broken in the process. So I had to come in." He was subsequently granted redress allowing him to remain in third place overall.
The 470 Men and Women's gold fleets were sent out to their course on Weymouth Bay and experienced the brunt of the brisk conditions.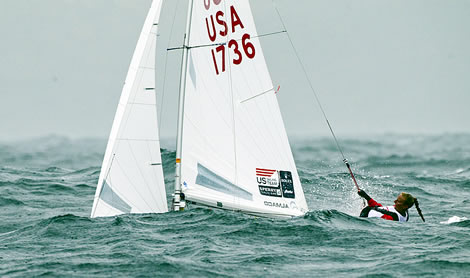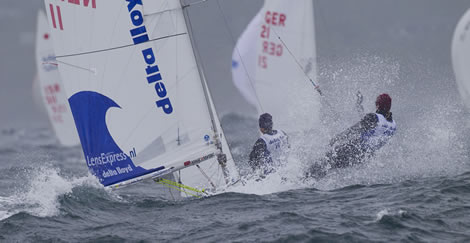 Liking the big conditions were Kiwi 470 ladies Jo Aleh and Polly Powrie, who posted two bullets to end the day leading with France's Camille Lecointre and Mathilde Geron second nine points behind, and Torben Grael's daughter Martine and her model crew Isabel Swan up to third, displacing Hannah Mills and Saskia Clark, who don't seem to be at their best in the strong conditions (they are at the lighter end of the weight spectrum).
Jo Aleh reflected on their superiority in the breeze: "We were worried that we might not get to race due to the strong winds. We didn't start very well today, but we were able to chip away at it until we ended up taking the lead. In the first race we were leading from the start, but kept getting passed and then finally got the first on the line… we only took the lead at the last top mark so were pretty happy to have got that. One more day of really windy racing before medal day so we're looking forward to it, we love the windy weather."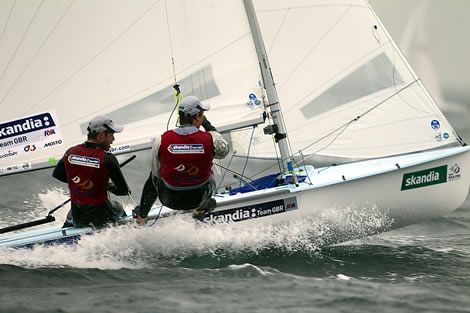 In the Men, Britain's Luke Patience and Stuart Bithell had another top performing day, their 2-1 causing them to close their second place to three points behind perennial Aussie leaders Mat Belcher and Malcolm Page, who posted a 1-3. The Brits now have a 5 point cushion over young Kiwis Paul Snow-Hansen and Jason Saunders.
Patience commented: "Today was the first day of gold fleet racing, it was pretty wet and windy, but luckily with me being from Scotland, and Stuart being from the north of England, we're used to the bad weather and came out today with a second and a first, which is our best day so far I think, so we're happy."
The big conditions were felt to be too much for the 49er to race outside the harbour and today's one race was won by Aussie World Champions Nathan Outteridge and Iain Jensen, further increasing their lead over second-placed Frenchmen Manu Dyen and Stephane Christidis. Behind them Britain's Dylan Fletcher and Alain Sign moved up to third, after team mate Dave Evans and Ed Powys posted a 17th dropping them to fourth, while London 2012 sailors Stevie Morrison and Ben Rhodes suffered a DNF and are now sixth, 10 points off the podium.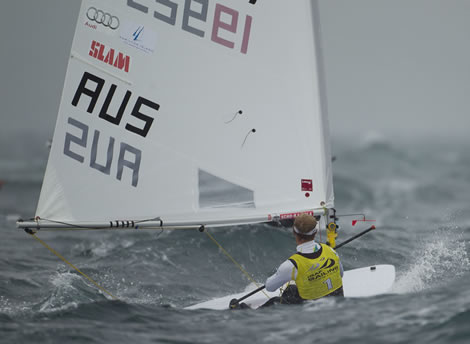 In the Lasers, Tom Slingsby is back in the driving seat having posted a 1-4 while yesterday's leader, his team mate, Tom Burton, dropped to fourth, after a rotten day scoring a 33-18.
"I sailed really well and I'm happy with today's results," said Slingsby. "Tomorrow I hope to be in good shape and have a good race so I can go to medal race day with no pressure. That's the goal. Normally this is my bread and butter, the super-strong, big waves, very windy stuff is usually where I can get a gap on the fleet, but I'm working my ass off and only just managing to stay with them. Everyone seems to have improved and they have realised that they needed to make a gain in the strong winds and they have. So I just need to find another gain to get ahead before the Olympics comes around."
Britain's Paul Goodison lies fifth after with a 10,7 today leaving him 14 points off the lead, but three from the podium.
Top scorer today in the Radials was Ireland's Annalise Murphy who posted a 1-3, elevating her to fifth place. Otherwise it remains impossibly close for the podium with China's Lijia Xu still leading, but only one point ahead of Britain's Ali Young and Finland's Sari Multala, with Young ahead on tie break. The other contenders all had a bad day in the breeze and former leader, Evi van Acker is now fourth, 12 points off first.
Young posted a 5-1 today. "It was pretty breezy out there today with some big waves so it was good racing!" she said. "It's been very close at the front of the fleet all week and it will be for the next few races so the key for me is to keep delivering consistent results and it should all be good.
"There are five or six boats which are continually changing places at the top of the fleet - keeping it close and very interesting! It's always good to be perform well here in Weymouth and Portland, especially prior to the Games as it's the last racing opportunity between now and August to really test yourself in a highly competitive environment."
"The wind has been in a slightly different direction every day so far this week, so it's given me a bit of variety and keeping me think what is going on. Every time you race in Weymouth you learn something new, something that is going to be useful for the Games, so it is a good opportunity to do that. It is a good opportunity to have a look at your competitors when you are racing."
The Women's Match Racing completed both the repechage and the gold group round robin, the latter won convincingly by Russia's Ekaterina Skudina, Elena Oblova and Elena Siuzeva – who were unbeaten. In the repechage round the teams of Kiwi Stephanie Hazard and Spain's Tamara Echegoyen ended up on top, and they now move on to the quarter finals with the gold group teams.
After winning the opening round robin, Britain's Lucy Macgregor, Annie Lush and Kate Macgregor were joint bottom of the gold group today but are already qualified for the quarter-finals where tomorrow they will race Olivia Price's Aussie team.
Stephanie Hazard commented: "We started the regatta pretty slow but we've built up momentum over the last three days, today especially we had to come out strong to secure our spot in the quarter finals. The conditions were tough, pretty wet and pretty cold but it's just a case of keeping it simple and keeping it fast on the track.
"We're really happy with the way we've been sailing, we're now really looking forward to getting in to that gold fleet series and going hard, doing what we have been doing the last couple of days. No nerves as such, just going out there to do what we know.
"The sailing standard is so high, every team can win. It's all about being the best team out on the race course for every race, there's no room for error and you've got to be on your game if you want to pull in the race wins, because nothing but your best is good enough."
Today conditions were greaet for the RS:Xes. The Men had an extended day, sailing their first race early and then their second last, just as the breeze really kicked in. Germany's Toni Wilhelm won the first race, and the Netherland's Dorian van Rijsselberge the second. It lifted the latter to second place above Nick Dempsey, who posted a 8-7. Overall leader and World Champion, France's Julien Bontemps had another solid day with two thirds increasing advantage to eight points.
Van Rijsselberg commented: "The regatta is going okay so far. I've learn a lot so far in this regatta, which is good, so I'm happy. The racing today was tricky, not just because it was windy and cold, but because of the rain, it makes it hard to see where the mark is, but the racing is still fun. It's good to see everyone getting ready for the Games, everyone is getting more serious and every little point counts so you really have to be on top of your game."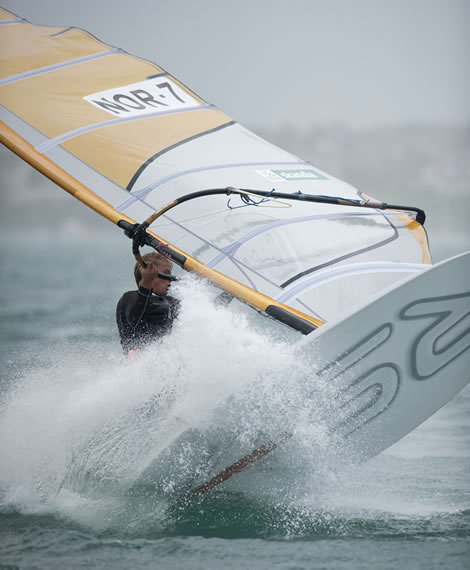 The Women windsurfers only sailed one race in the morning, and overall leader Poland's Zofia Noceti-Klepacka finally scored something other than a first or second – a fourth, now her discard, but she holds a 13 point lead over Spains' second placed Marina Alabau, who finished second today. In third is the Ukraine's Olga Maslivets, tied with Israel's Lee Korzits, another 15 points behind Alabau. Britain's Bryony Shaw bounced back from her OCS yesterday with a third today.
Racing has been postponed until midday tomorrow due to the weather forecast – as the sailors were leaving the venue today, the gusts on the harbour wall were already reaching 53 knots with more to come overnight. However Windguru is still showing a solid 29 knots with gusts of up to 36 in Portland Harbour at 1300 tomorrow and dropping only slightly through the afternoon.
Tomorrow will see the medal races for the Paralympic classes and the last full fleet races for the rest of the classes prior to Saturday's medal races.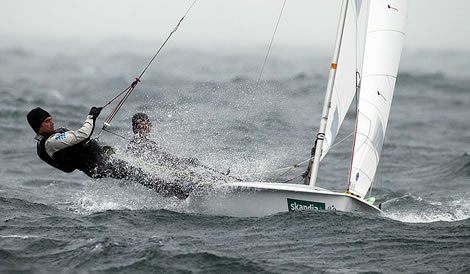 Back to top
Back to top