Another masterclass from Giles Scott
Competitors on day three of Skandia Sail for Gold got a first glimpse of the big conditions forecast for tomorrow and Friday. Although the torrential rain had abated, giving way to a blustery but sunny afternoon, the southwesterly winds were piping up to 20 knots and there was a nasty sea and spring tide for the classes competing out on Weymouth Bay.
Giles Scott once again delivered a command performance in the Finn. His 1-2 today has caused him to march into the lead of the heavyweight men's singlehander, eight points ahead of second placed Ben Ainslie.
Today's first race got under way after a general recall and Scott was soon in the lead. The battle behind was between Deniss Karpak (EST), Pieter-Jan Postma (NED) and Mark Andrews (GBR). Scott went on to win his fourth race in a row while Postma continued his good form with a second. Third place finally went to Ben Ainslie (GBR) after another big recovery.
Scott then looked to be going for his fifth race win in the second race of the day, rounding the top mark ahead of Ivan Kljakovic Gaspic (CRO) and Brendan Casey (AUS). But Ainslie had other ideas and stormed downwind to the gate to take the lead and then just sailed away from the fleet, while Scott dropped to third. Kljakovic Gaspic and Scott changed places again on the next upwind, but Ainslie had already built a huge lead and they finished in this order.
Scott commented: "I have taken the lead now, so my regatta is going quite well, although I still have that 21st looming over my head so I have to be careful with that. I seem to be sailing quite well today; I got a one and two so things are going swimmingly. The conditions got much better towards the end, the sun came out, racing-wise though, it is pretty similar with the wind from the right and about 15 knots and some big waves; meant some fun racing! To keep on top I am going to keep doing what I am trying to do now by taking each race as it comes and doing as well as possible in each of them. It is always better to have fewer points than more, being out in front is always a nice position to be in. There is pressure to be in front but I can't say I am losing sleep over it."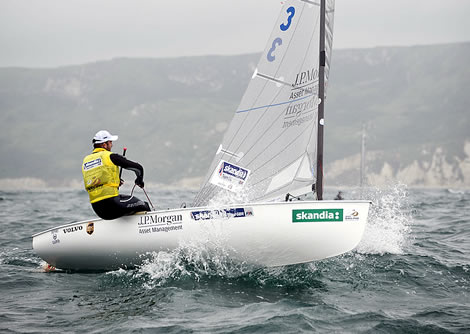 Ainslie, who is still tired from his massive Finn Gold Cup victory and is believed to be a little ill as well, said: "I had a nice final race to end the day. I haven't been 100% at this regatta, but to be honest it is a great opportunity to get out on the water and see how the competition is doing and know more about the venue so it is completely worth doing and hopefully I will start to feel better towards the end of the week. Giles is doing really well, he certainly has turned the pace up especially upwind in these conditions. I am very lucky that he is my training partner.
"The next three days are going to be good, I know there is a lot of breeze coming in but this has been a good competition. Having Giles taking me to this level just before the Games is undoubtedly great for me. It was great to have four guys in the top ten the other week at the World Championships and that wasn't including Giles racing; it is very successful to work as a team and push each other along. Hopefully we are all benefiting from this; I know I certainly am in the run up to the Olympics.
"In the remainder of the regatta and that split to gold fleet, I see it as an opportunity to sail on the waters, and nail set up and equipment. Hopefully come Saturday we will have another chance to race on the medal course which will be another good learning experience. Weymouth is a really difficult place to sail technically even if people might think we have an element of local knowledge, I can tell you sailing out here is very difficult. There are a lot of unusual things and you have to be prepared for everything and take the opportunity to make a gain; some people seem to get these more often than others. It is about hanging in there and getting some good results."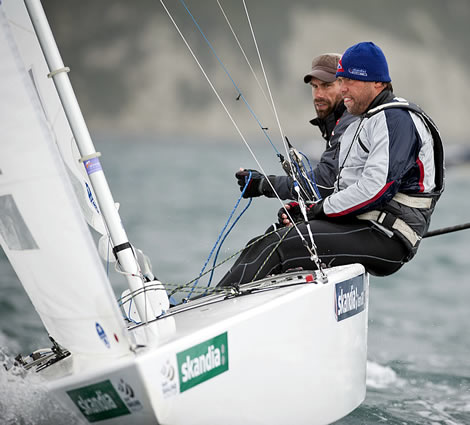 Iain Percy and Andrew Simpson had the best day in the Stars, with their 2-1 propelling them from fifth into the top spot overall, a slender point ahead of Brazilian rivals, Robert Scheidt and Bruno Prada. Dropping to third, two points off second are Ireland's Peter O'Leary and David Burrows.
Percy commented: "A much better day today, found a lot more speed upwind and we are still working on our downwind, so managed to get a two and a one. Half way through the regatta and it all starts again with any number of boats still in the medals."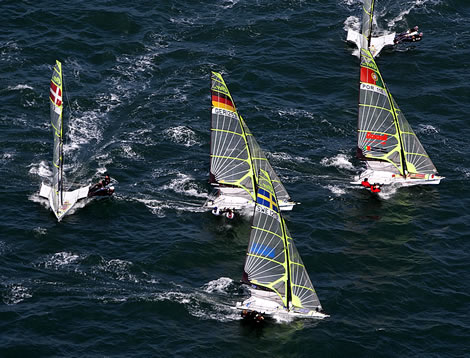 In the 49ers, France's Emmanuel Dyen and Stephane Christidis made the best of today's conditions along with British Olympic representatives, Steve Morrison and Ben Rhodes, elevating them to second and fourth overall respectively. However the Aussie favourites, Nathan Outteridge and Iain Jensen were also up there and continue to lead, now with a six point advantage over the French.
"Today was a good day, we had a fourth and two firsts," said Outteridge. "We always worry about Stevie (Morrison) and Ben (Rhodes) - they are slowly creeping their way back up the leaderboard. They have a won a medal the last two times we have raced, so we would never count them out."
Morrison added: "We had a good day today. It was in the harbour so we had some gusty, shifty winds then it got steadier and the sun's come out so it's turned into a really nice day. This home event is a learning process. We feel like we've been sailing pretty well. We've sailed very consistently and none of the results we've got have been down to luck. They've all been solid, fought-out wins.
"We've not been taking many risks and it's led to a very steady score sheet. Unfortunately we got a disqualification yesterday for being over the start line early which is one of those things. We were a little bit surprised especially as the boat that was ahead of us that didn't have a British flag on was not called over the line. But who knows, I'm sure they were right and we were wrong.
"We need to be a little bit cautious because we had a flag from yesterday and you only get one discard from a series, that means any more mistakes are going to count fairly heavily on us – but we knew we were in that situation and you can only do what's right.
"In many ways we have been trying to work on our starts a bit, fortunately today it was a fairly even course which meant that actually we could afford to start on port tack which often would be seen as a high-risk start but in terms of being over the line is quite a low-risk start. You effectively start behind everyone but you come flying out."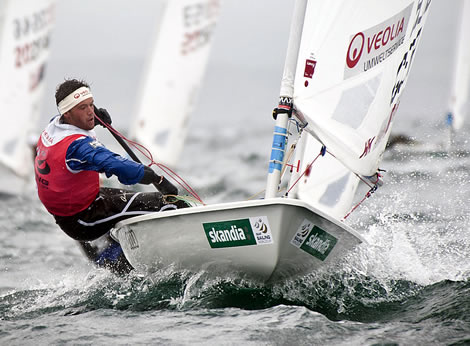 In the Lasers, Aussie no2 Tom Burton achieved more solid results - a bullet and a discardable ninth - to retain the lead, but team mate and favourite Tom Slingsby dropped from second to fourth, after posting a 6-7.
Burton commented: "I don't know what happened between the first and the second race, I was really struggling for speed in the second race and I started to go backwards a lot. I finished around eighth so a solid day all round. I have been doing a lot of training with Tom (Slingsby), as he is our representative for the Olympics. I'm sure he doesn't mind that I'm beating him, but it is pretty good to get one on him!"
Slingsby told thedailysail: "Today I didn't sail too well - I wasn't too quick and I wasn't too smart and I gradually lost positions each race which was a bit frustrating. It wasn't the conditions – usually I do fine in that stuff – it as just one of those days. I wasn't tacking in the right spots. Downwind I was sailing quite poorly and so I was taking risks and the risks weren't paying off. I was losing a boat a leg it felt all day, so a bit frustrating. It wasn't as hard as it could have been but I just didn't do the simple things right today."
Britain's Paul Goodison lies sixth, two points off the podium after finishing second in both today's races. "It was a much better day out there today for myself after a frustrating first couple of days. I was a little bit disappointed not to win the first race after leading round every mark except for the last one which is always a shame. But the second race I was a bit happier with because I was sixth or seventh around the windward mark so to finish second is really pleasing.
"To be honest, overall I am pretty frustrated. On the first day in the first race I was leading all the way, but the race was abandoned after 40 minutes when we were on the last run so I was pretty disappointed about that. So that wasn't a great start and on the second day not being able to see the marks was tough and I was missing them by 200 or 300 metres which put me in the 20s when I should have been in the top three.
"So I was really angry and frustrated with myself, but it cleared up and I won the last race and had a good day here so I am heading in the right direction. It would be nice if it was a level curve at the top but you have to deal with these adversities and it is how you come back really that you see what you are made of."
But the fight remains close with German Phillip Buhl up into second and Sweden's Rasmus Myrgren, now third, with Croatian Tonci Stipanovic fifth – these three and Slingsby separated by just one point.
Tighter still are the Laser Radials where Holland's Marit Bouwmeester's 6-2 today moved her into the lead, followed by China's Lijia Xu, yesterday's leader Evi van Acker from Belgium, Finnish ace Sari Multala and British hope Alison Young all separated from Bouwmeeser by two points. Gintare Scheidt is still in the mix, holding sixth, but has dropped back after being disqualified in today's first race.
Shock horror, stop the press...iin the 470 Men Aussie favourites and triple World Champions Mat Belcher and Malcolm Page have technically lost the lead to Kiwis Paul Snow-Hansen and Jason Saunders, who scored two bullets today compared to the Aussie's 1-3, to take the lead on countback.
Britain's Olympic representatives, Luke Patience and Stuart Bithell continued their consistency from yesterday, a 3-3 today pulling them up to third, now four points shy of the leaders.
"We have finished qualifying and we have got a good set of scorelines to spring board us into the final series," Patience told us. "It was really difficult today. We had a big range - down to 12 knots and we saw gusts of maybe 18 knots. The waves conditions were just making it so, so difficult today. We had wind against tide which churned it up even more. The waves were offset to the wind so I must have played 4km of main sheet today, in and out so I'm a tired boy!"
However today was not so good in the 470 Women for newly crowned World Champions Hannah Mills and Saskia Clark, who's 13-14 has dropped them out of the lead into third, overhauled by France's Camille Lecointre/Mathilde Geron and Kiwis Jo Aleh and Polly Powrie, the Brits now eight points adrift from first.
Jo Aleh commented: "It was okay today, our first race didn't go so well, so we wanted to do better in the second one and then it all came together. We have finally got a race win so it is all great; it is our first race win of this regatta. The conditions are tough here but at least it isn't raining so we are happy with that but it might be back in the next few days! Wind is all good fun, we like all conditions, whatever comes! The good thing about this regatta is that the whole Olympic fleet is here plus a few extras so it a perfect training regatta before the games especially as it has been so well organised."
It will be interesting to see how Mills and Clark deal with this sudden downturn in performance tomorrow.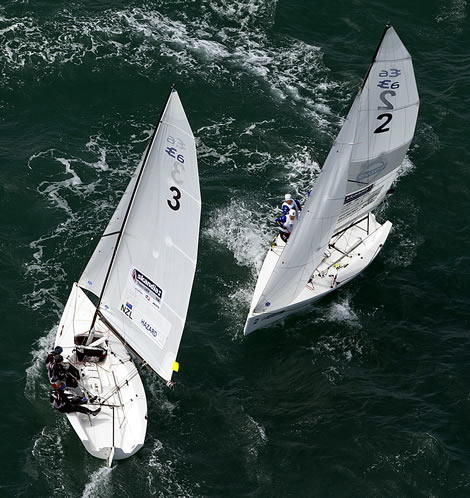 The Women's Match Racing completed their initial round robin. They have since gone through to another round robin for the top six (the 'Gold' group) while the rest go into a repechage round, the top two getting a quarter finals berth.
Winning both their final matches in the opening round robin today, Lucy MacGregor's British team was the top performer in this and moved on to the gold round with Claire Leroy (FRA), Olivia Price (AUS), Ekaterina Skudina (RUS), Silja Lehtinen (FIN) and Anna Tunnicliffe (USA) who finally pulled it out of the bag to take the last place.
The Repechage Round got underway with first blood going to Renee Groeneveld, Stephanie Hazard and Tamara Echegoyen – all with three wins each. They will complete the round in the morning. The Gold Group also started racing and Ekaterina Skudina put her nose in front with three early wins – again, the Group will complete their racing in the morning.
The RS:X Men raced in the morning in the more moderate conditions, but with the same two players – France's Julien Bontemps and Britain's Nick Dempsey - out the front. However the field is closing in behind them, with the talented Dutchman Dorian van Rijsselberge, now just one point behind Dempsey with Pole Przemysaw Miarczyski another two behind.
Dempsey explained: "I had a really difficult first race today - it was the first time we had sailed in the bay in a little while. I was pretty sure that the left was going to be quite favoured, but the problem was that I lost my lane and I had to tack out so the separation was massive. The course was big which meant the separation was big, so I was caught out today; it didn't do what I thought it was going to do which is unfortunate.
"The good thing is that I learnt quite a few lessons in that first race and I was able to put them into practice in the next race and I sailed well. There wasn't anything different in the second race, I don't think, it was pretty obvious you had to go left and so I did everything possible to be in that situation. I made sure I had a safe start which meant I wasn't at the favoured end of the line but I was safe and I just went fast and the right way. That is why the first race was so frustrating because I was fast but I just couldn't get to where I wanted to be."
Alongside Giles Scott, the most stand-out performance at Skandia Sail For Gold continues to be that of Poland's Zofia Noceti-Klepacka in the RS:X Women, who added another two bullets to her scoreline. She is now 13 points ahead of Spain's second placed Marina Alabau, with Israeli Lee Korzits third, another eight points behind.
Zofia Noceti-Klepacka's enthusiasm is perhaps one of the reasons she is doing so well. "I am training really hard and I have some really good training partners who include a world champion and I am really seeing the results from this. I will continue to train hard in the hope that at the Olympic Games I do well. I love Weymouth, the conditions are great, the wind is great, so I sail slalom for fun in the evenings! I really like the people here - it is like Poland."
In the Paralympic classes British Skud World Champions Alexandra Rickham and Niki Birrell are emulating the Polish windsurfer, now with five bullets and a discardable third, although even with this impressive tally they are only five points in advance of Canada's Qingdao bronze medallists, John McRoberts and Stacie Louttit.
Rickham said: "We have had a string of silvers at this regatta, which has always been tough to take, but we are sailing consistently at the moment. Today was really hard for everybody, it was probably the toughest conditions for us in terms of the crew and helm. It was gusting anything from 23-26 knots and Niki had to think pretty hard because the wind was shifting all over the place.
"We were really happy with the results today in such difficult conditions. To get two bullets was all we could ask to come away with really. This is giving us a lot of confidence that the training we are doing is paying off now we are in the run up to the Games. But at the same time we aren't going to rest on this, we are nit-picking on everything so there is always tons to work on. I'm sure that our coach will whisper a few things in our ears at the end of the regatta ready for the next few training sessions."
The home team is also ahead in the Sonars, with John Robertson, Hannah Stodel and Steve Thomas' 2-3 today moving them into first now two points ahead of the Netherlands' Udo Hessels, Mischa Rossen and Marcel ven de Veen.
Hannah Stodel said: "It was a good day out there; it was massively shifty though; so it was anybody's game. We got a little bit of luck when we wanted it and we sailed pretty well actually, so we did deserve it. Monday was just… one of those days when we couldn't do anything right but that is over now and we are improving. We have picked ourselves up and dusted ourselves off!"
Almost completing a British hat-trick in the Paralympic classes is Helena Lucas. After scoring a third and a fifth today and discarding a 17th from the first race, Lucas pulled up to tie level with the Netherlands Thierry Schmitter, who has an edge in the tie-break thanks to a first place.
Schmitter only managed a sixth and an eighth, discarding the latter, and commented, "I didn't do as well today, it was a very hard wind to sail in and I had a few difficulties which meant I was unable to keep an overview of the fleet and lost a little bit of control… It's not so easy when there are four or five guys leading at the top, I sailed my discard today so I can't make any more mistakes in this regatta, it's getting tougher and tougher but we knew that before we started."
Racing at Skandia Sail for Gold continues tomorrow) with the Paralympic classes (2.4mR, SKUD and Sonar) finishing on Friday, 8 June and medal races for the 10 Olympic Classes scheduled for Saturday, 9 June.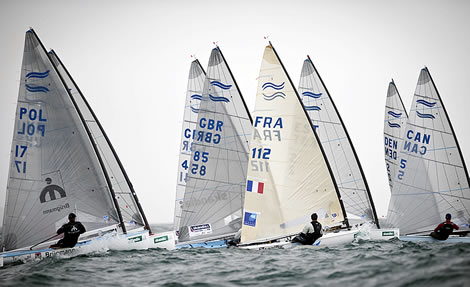 From Richard Langdon/Skandia Team GBR

Back to top
Back to top