Percy and Simpson take the lead
In Hyeres, it seems the wind is all or nothing. After two days of very shifty weather in the beginning of the Star World Championship, it finally decided to blow 20 knots with more in the gusts. These conditions were to the liking of Skandia Team GBR's Iain Percy and Andrew Simpson.
Today's race started at 11.00 and got away cleanly. Danes Michael Hestbaeck and Claus Olesen were the first at the weather mark, with Mateusz Kusznierewicz and Dominik Zycki (POL) just behind with Iain Percy and Andrew Simpson third. The Poles took the lead downwind, trying not to incur any damage on their boat and particularly its mast for in today's conditions nine boats didn't finished and three suffered broken masts. But ultimately the Brits shows their superiority in the conditions to pulled into the lead and were followed across the line by Kusznierewicz/Zycki and Freddie Loof/Max Salminen.
Tomorrow 10 knots of wind is forecast with the start scheduled for 12.00.
Top 50 results:
| | | | | | | | |
| --- | --- | --- | --- | --- | --- | --- | --- |
| Pos | Helm | Crew | Nat | R1 | R2 | R3 | Tot |
| 1 | PERCY LAIN | SIMPSON ANDREW | GBR | 6 | 7 | 1 | 14 |
| 2 | SCHEIDT ROBERT | PRADA BRUNO | BRA | 7 | 2 | 6 | 15 |
| 3 | O'LEARY PETER | BURROWS DAVID | IRE | 3 | 4 | 12 | 19 |
| 4 | ROHART Xavier | PONSOT Pierre alexis | FRA | 1 | 19 | 5 | 25 |
| 5 | KUSZNIEREWICZ MATEUSZ | ZYCKI DOMINIK | POL | 5 | 20 | 2 | 27 |
| 6 | MARAZZI FLAVIO | DE MARIA ENRICO | SUI | 14 | 1 | 14 | 29 |
| 7 | PEPPER HAMISH | TURNER JIM | NZL | 18 | 5 | 8 | 31 |
| 8 | STANJEK ROBERT | KLEEN FRITHJOF | GER | 8 | 8 | 16 | 32 |
| 9 | HESTBAEK MICHAEL | OLESEN CLAUS | DEN | 25 | 3 | 7 | 35 |
| 10 | LOOF FREDRIK | SALMINEN MAX | SWE | 2 | 32 | 3 | 37 |
| 11 | ECHAVARRI ERASON FERNANDO | RODRIGUEZ RIVERO FERNANDO | ESP | 4 | 11 | 22 | 37 |
| 12 | POLGAR JOHANNES | KOY MARKUS | GER | 26 | 9 | 10 | 45 |
| 13 | SPITZAUER HANS | HABERMUELLER GERD | AUT | 10 | 22 | 15 | 47 |
| 14 | MATE ARAPOV | SIHISA MIKULICIC | CRO | 16 | 12 | 20 | 48 |
| 15 | CLARKE RICHARD | BORJN TYLER | CAN | 12 | 37 | 4 | 53 |
| 16 | PAPATHANASIOU EMILIOS | TSOTRAS ANTONIOS | GRE | 39 | 6 | 9 | 54 |
| 17 | MELLEBY EIVIND | PEDERSEN PETTER | NOR | 15 | 28 | 13 | 56 |
| 18 | MENDELBLATT MARK | FATIH BRIAN | USA | 13 | 34 | 11 | 58 |
| 19 | LOVROVIC,JR MARIN | LOVROVIC DAN | CRO | 11 | 33 | 19 | 63 |
| 20 | SUZUKI KUNIO | WADA DAICHI | JAP | 36 | 10 | 21 | 67 |
| 21 | NEGRI DIEGO | VOLTOLINI ENRICO | ITA | 19 | 35 | 17 | 71 |
| 22 | WARBURG GUSTAVO | CARISSIMI LUCAS | ARG | 17 | 29 | 27 | 73 |
| 23 | ANDERSEN BENNY | JUST MOGENS | DEN | 9 | 41 | 24 | 74 |
| 24 | DOMINGOS AFONSO | MELO FREDERICO | POR | 20 | 18 | 36 | 74 |
| 25 | LOFSTEDT TOM | LUNDGREN HAKEN | SWE | 29 | 15 | 32 | 76 |
| 26 | SZABO GEORGE | HAGIN VINCENT | USA | 24 | 25 | 28 | 77 |
| 27 | BORTOLETTO Davide | VONGHER ALESSANDRO | ITA | 35 | 17 | 31 | 83 |
| 28 | STEGMEIR DANIEL | STEGMEIR BEAT | SUI | 21 | 23 | 41 | 85 |
| 29 | LABANDEIRA JULIO | CALEGARI FEDERICO | ARG | 27 | 26 | 34 | 87 |
| 30 | GIMSON JOHN | SHANKS ANTHONY | GBR | 23 | 38 | 30 | 91 |
| 31 | JENSEN JOHNNY | GROTH JAKOB | DEN | 44 | 13 | 39 | 96 |
| 32 | NAZZARO PAOLO | NATUCCI EDOUARDO | ITA | 37 | 16 | 43 | 96 |
| 33 | DE HAAS MARC | VELDHUIZEN ERIK | NED | 28 | 36 | 38 | 102 |
| 34 | GUREYEV VASYL | KOROTKOV VOLODYMYR | UKR | 31 | 50 | 23 | 104 |
| 35 | MERKELBACH HUBERT | HOLLWEG NILS | GER | 32 | 46 | 33 | 111 |
| 36 | PASCOLATO ALESSANDRO | BOENING HENRY PAUL | BRA | 22 | 56 | 35 | 113 |
| 37 | BURGER CHRISTOPH | MARAZZI RENATO | SUI | 30 | 57 | 29 | 116 |
| 38 | MISURA MARIN | BARAC TONKO | CRO | 55 | 39 | 25 | 119 |
| 39 | NIKLAUS MICHEL | STRUBE MARK | SUI | 33 | 14 | DNF | 120 |
| 40 | MCKENZIE PAUL | TOTTH PHILIP | AUS | 38 | 61 | 26 | 125 |
| 41 | ANOSOV ARTHUR | KUSHNIR VITALII | UKR | 49 | 62 | 18 | 129 |
| 42 | CHATAGNY JEAN PASCAL | DUCOMMUN PATRICK | SUI | OCS | 21 | 37 | 131 |
| 43 | KROOK INGVAR J SON | PETERSON BENJAMIN | SWE | 53 | 27 | 51 | 131 |
| 44 | WYSS DANIEL | JOSS URS | SUI | 50 | 30 | 60 | 140 |
| 45 | DABRY Raoul | COTTE Tristan | FRA | 51 | 43 | 46 | 140 |
| 46 | WITTICH JUERG | TRACHSEL CHRISTIAN | SUI | 45 | 47 | 48 | 140 |
| 47 | WEINREICH GERHARD | KAGI ALEXANDER | AUT | 43 | 48 | 53 | 144 |
| 48 | ZIMMERMANN LORENZ | ROESELER RONALD | SUI | 48 | 24 | DNF | 145 |
| 49 | KHASHINA DENID | MECHETIN DMITRY | UKR | 40 | 60 | 45 | 145 |
| 50 | ANTONIC BOSTJAN | STRAKH GENNADI | SLO | 61 | 31 | 55 | 147 |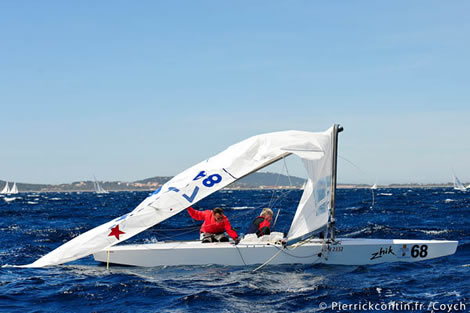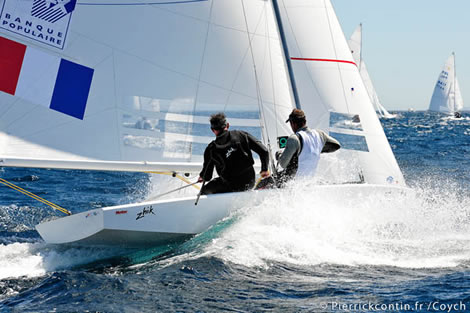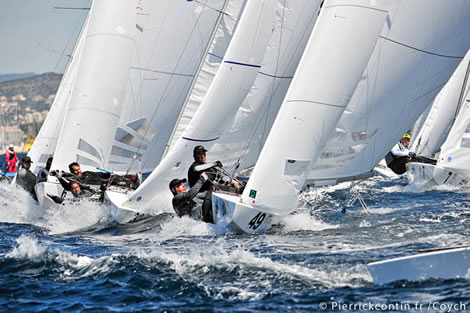 Back to top
Back to top