Upheaval in Hyeres
It was another day of big breeze and substantial seas for the grand finale of the Semaine Olympique Françaisein Hyeres, the double points scoring medal races. The conditions proved too boisterous for some classes with the 49er and the three Paralympic classes staying ashore.
The biggest drama of the day involved Tom Slingsby. Going into today the Australian Laser ace was leading by two points and in the medal race he was ahead when on the second beat his mast snapped.
As Slingsby recounted: "The race was going according to plan, I rounded the top mark second, was second at the bottom, overtook the German and had a nice lead up the second beat when 100 metres from the top mark my mast broke, that's the way it is sometimes. That's sailing I guess, it's a bit weird when your worse race all week is a third and you end up fifth overall but I'm really happy with my performance, I sailed well and very consistently and am looking forward to the World Championships next week.

"The Olympics is the major goal this year but the worlds is one I'd like to win, winning a World Championships is always a good thing so I'm going to go for it. A German sailor won here and another German won last week so they'll have plenty of support up there but I like going onto people's home turf and knocking them off."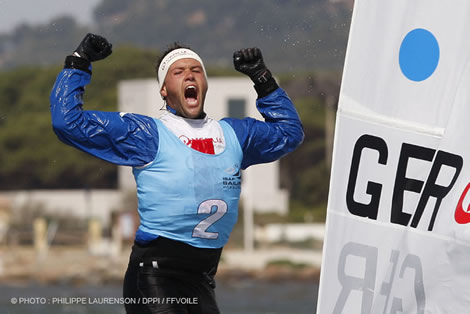 The German in question was Philipp Buhl, second at the start of the day, who won the medal race to claim the gold, seven points ahead of New Zealand's Andy Maloney with team mate Andrew Murdoch third.
For the German this is the first time he has won a Grade 1 event. "I love to come here," said Buhl. "Some years ago I won the laser Youth World here. This place brings me good luck! I sailed fast and strong this week. We train in these sort of conditions many times a year. It was great fun in the downwind but to be honest my back hurts a bit from that challenge. Tom Slingsby broke his mast in the lead so that's why it's Gold and not Silver for me, so I would have been happy with silver medal. Winning Gold because someone breaks a mast is not nice."
In the Laser Radial, the medal race also brought about a change in leader. A disappointing seventh place finish for World Champion Marit Bouwmeester (NED) in the medal race, allowed Beijing Bronze medallist Lijia Xu (CHN) to win overall, after she came home third today, enough to leave her three points clear of Evi van Acker (BEL), leaving Bouwmeester with the bronze.
"My objective here was to sail well in the breeze," said Xu. "I used to be a light wind sailor, but I have practiced a lot in the windier conditions to be ready for Weymouth. Of course I am happy to have won this event, especially in these conditions!"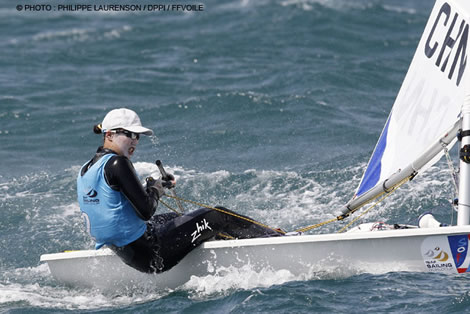 Today was disappointed for Skandia Team GBR's Alison Young who led the Laser Radial earlier in the week. She missed a podium place by just one point.
Another displacement occurred in the Finn, with Spain's Rafa Trujillo beaten by Australian Brendan Casey by just 0.4 of a point... Starting the day in third, Casey won the medal race while the Spaniard came home seventh.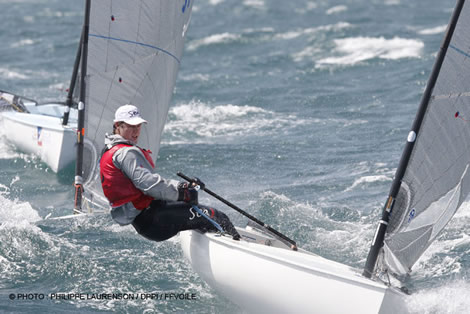 Victory in Hyeres was enough to earn Casey his ticket to London 2012: "I am so excited about my selection! I had to prove good results, and that's done!" said Casey. "After today I'm feeling great relief. I've been trying for many years to firstly qualify for the Australian Olympic team and then have the opportunity to race at the ultimate level and I've finally done that. I'm very happy with the overall result, I was very fortunate with some outcomes in the protest room to get into the position to win the event but ultimately it came down to winning the last two races, and in particular, my performance in the medal race. I'm more than pleased with how it panned out."
Bronze went to Vasiliy Zbogar (SLO), which was enough for him to achieve selection too. This will be Zbogar's fourth Olympic Games, his first in the Finn having won Bronze and Silver in the Laser.
There was another victory for Australia in the 470 Men, although this had all but been secured on Thursday by Mat Belcher and Malcolm Page who started the medal race with an 18 point lead over the tied second and third.
"With this standard of fleet and especially with the medal race being worth double points anything can happen," said Page. "It was great to have a bit of breeze on today, it takes a little bit of the trickiness out of the race, it becomes about boat handling and speed and we relied on that, put our heads down and went for it and came home with a good enough result."

Belcher said that the pair is pleased with where they are placed heading into next month's 2012 470 World Championships and ultimately the London 2012 Olympic Games. "We've done a lot of work in Australia and feel that we're developing well as a team and individually. We're focusing on ourselves and it's nice to have the confirmation that we're coming along in the right areas. We've still got a lot of work to do, there are a lot of people fighting for the same position and the same results as what we're trying to achieve. We feel that with three months till the Games we're happy with where we're at, it's now head down, bum up and keep working hard."
Croatians Sime Fantela and Igor Marenic won the medal race to take Silver while Sven and Calle Coster took Bronze.
With the 470 Women's gold already secured by Lisa Westerhof and Lobke Berkhout (NED) yesterday, the double World Champions backed this up today by winning the medal race, leaving them an impressive 31 points clear of second. The fight for positions was won by Americans Amanda Clark and Sarah Lihan with France's Camille Lecointre and Mathilde Géron, finishing third overall. This result was enough to secure Lecointre and Géron their berth at London 2012.
After braking their mast yesterday, still Skandia Team GBR's Iain Percy and Andrew Simpson led the Stars going into today and won the medal race to secure the title.
"After breaking the rig yesterday while leading, we obviously didn't want to make the same mistake twice – well, it wasn't a mistake, the rig failed – so we were a bit more cautious today than we maybe would be normally," Simpson explained. "Iain did a great job and we managed to get into the lead at the top mark and sailed pretty conservatively from there, let everyone else wipe out a bit, go on their side and fill up with water! We managed to get round without too many issues, so it was great."
Percy and Simpson will race their World Championships at the same venue starting on 5 May, and while they have learned lots about the venue and their equipment, they also admit that their eyes are on Weymouth rather than adding a World Championship title to the one they won in 2010.

"The Worlds is obviously very different to the Olympic format, so we're more focussing on how we're going at Weymouth and focussing there. We probably wouldn't have done the Worlds if we hadn't had the injury to Iain's back in Perth, so we're here to try and make amends for that, and we've learnt a bit this week. It could be a completely nice sunny, light winds regatta rather than the breezy regatta we've had here, but it will be great learning and probably a bit of speed testing mainly as part of that event."
France's Xavier Rohart and Pierre-Alexis Ponsot came home second in the Medal race to finish second overall with Fredrik Loof and Max Salminen (SWE) third.
Beijing Laser Radial gold medallist Anna Tunnicliffe and her team demolished the opposition in the Women's Match Race, remaining unbeaten in 16 races. Without getting to semis or finals, Tunnicliffe won at the end of the round robin ahead of the teams of Sally Barkow (USA) and Ekaterina Skudina (RUS) who took Silver and Bronze.
Lucy Macgregor, Annie Lush and Kate Macgregor finished fourth after race officials were unable to complete a potentially decisive final round robin match for the GBR trio against USA's Sally Barkow.
Not having to race today, Manu Dyen and Stéphane Christidis (FRA) came out on top in the 49er.
"We sailed well this week despite the strong conditions," said Christidis. "We took the lead when the wind was more moderate and were able to keep it in the breeze."
The title was won last year by Italians Pietro and Giancarlo Sibello, while the French skipper suffered an injury and had to retire from the regatta. Manu Dyen paid tribute: "We want to dedicate this victory to Pietro Sibello. We are sorry that he didn't get the OK from his country to keep racing after his health problem in Perth! We are missing a great team on the circuit."
Not racing today was a disappointment for Stevie Morrison and Ben Rhodes, poised in fourth place but on equal points with third and denied the chance to improve on their position.
There were also overall lead changes in both RS:X class and in both cases, a bad day for Poland. Among the Women, Moana Delle (GER) took the title from Maja Dziarnwoska (POL) after she won the Medal race, leaving the Pole second with Charline Picon (FRA) third.
"I love Hyères! I am very excited with my week, I had lots of fun racing in these conditions," enthused the young German. "I am going to the Olympic Games for the first time and I am happy to see I can win this event and have good speed in the breeze."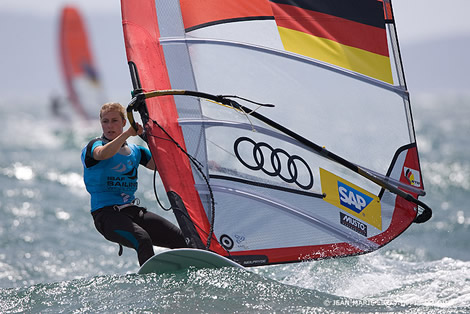 Worse was to befall Piotr Myska (POL) who dropped off the podium after being disqualified at the start of the medal race. This left World Champion Julien Bontemps (FRA) to win the race and the title with Przemek Miarczynski (POL) taking Silver and Toni Wilhelm (GER) the Bronze.
"I was tired after the windy conditions at the Worlds in Cadiz. So it was tough to start again with a windy event! Especially with the Polish who are fast in the breeze, I needed to give my best!" explained Bontemps.
The paralympic classes could not race today due to the strong winds and high seas. The Sonar class, was the only one of the three to leave the dock, but in the 22 knot winds, coupled with big waves, conditions were deemed unsuitable for racing, allowing Skandia Team GBR's Robertson, Stodel and Thomas, to win gold.
"We've won, and had an awesome week but sadly no sailing today," said helm Robertson. "It was a bit disappointing not to get sailing and surf around out there for a bit, but that's the way it goes unfortunately. It was getting a bit too fruity and the waves were huge! It's a good result for us for the week – not that it was so important for us to win here. It was more of a process thing for us to get everything ticked off for [the Paralympics in] September. We're quite pleased with how everything is going– it's all good."
Bruno Jourdren, Nicolas Vimont-Vicary and Eric Flageul took Silver with Aleksander Wang Hansen, Per Eugen Kristiansen and Marie Solberg (NOR) the Bronze.
Damien Seguin (FRA) is adding another Hyeres title to his collection the only sailor in Hyères this week to retain his title. Helena Lucas (GBR) finished second with Thierry Schmitter (NED) third.
Following her silver in Palma earlier this month, Lucas was disappointed to not have the chance to go racing on Friday, but was also happy with her performance amid testing conditions this week. "The first two days we had pretty big breeze and I was going really quick, and really quick downwind so that was encouraging to know I've got the speed now in all conditions. It's good to know and is like a little secret weapon to have in the armoury! If I can keep on my game and keep medalling now at Delta Lloyd and then Skandia Sail for Gold it would be great and would put me in really good stead hopefully for selection and then going into the Paralympics. If you can keep popping them in in the top three than that all bodes well for the real thing."
In the Skud, Miami OCR winners Daniel Fitzgibbon and Liesl Tesch (AUS) took Gold with Alexandra Rickham and Niki Birrell (GBR) in silver and Americans Jennifer French and Jean-Paul Creignou in bronze.
"We came here to the goal of getting a medal so we've ticked that box," said Rickham. "We've learnt a lot of lessons. We've made some quite rudimentary mistakes this week so I think the good thing is that we've had that reminder, it means that we'll go back, reassess our processes and everything, and the battle will continue at Skandia Sail for Gold! It was really close racing and we slipped up races five and six and gave them the option. If we'd had more races then the result may have been different, but [the Australians] sailed well and we can't take away from them."
As to the British performance overall this week, RYA Olympic Manager Stephen Park gave his assessment."After the mixed and light wind regatta World Cup regatta in Palma, Hyeres has proven a windy weather contrast for the majority of the week. Despite this playing havoc with the race management plans, the outcomes have been promising for Skandia Team GBR. It's particular pleasing to see all three of our Paralympic classes on the podium and being in a position that we were realistically racing for gold in the Laser Radial. Following the silver for Percy and Simpson in Palma, taking the gold by a comfortable margin here provides confidence that they're on the right track.
"It's been a particularly frustrating week for the 49ers and women's match racers where the programme has been curtailed by the strong winds. One more race in both fleets would have given the match racing girls and Morrison and Rhodes a good chance of being on the podium in their respective classes.
"Unfortunately that's just the way it goes sometimes, and is just another justification for why we need to be competitive in all our events."
Back to top
Back to top