Percy and Simpson ease into pole
There were a different set of conditions and a different set of winners today as the wind started out light and shifty with delays to scheduled start times, as day four of the Semaine Olympique Francais in Hyeres saw the start of gold fleet racing.
Two of today's three races in the Star were won by Iain Percy and Andrew Simpson who have now overhauled Canadians Richard Clarke and Tyler Bjorn with Swedes Freddie Loof and Max Salminen in third having won the last race.
"We had a mixed bag - I guess overall it was a good day," explained Percy. "We won two races but we should have won three – we certainly had the speed to but it got very patchy and light in the last race and we just got a bit unlucky on the last run and a group of three boats got past us which made it a little but frustrating to end like that. Overall, the good news is we're really fast upwind – we're struggling a little downwind which is unusual for us but we're really fast upwind and that's a nice place to be after a couple of years of not having that."
Even after their three-race day, the Skandia Team GBR duo stayed out on the water to test sails. Percy explained: "We had to tick off some light wind stuff I don't think we're going to be seeing light winds for a few days so it was our last chance even though it was dusk!"
In the Finn, Athens Silver medallist Rafa Trujillo (ESP) has taken the lead posting a first and a second today. Deplaced from the top spot, Deniss Karpak (EST) suffered from the tricky conditions dropping to second overall ahead of Vasilyi Zbogar (SLO) who won the last race.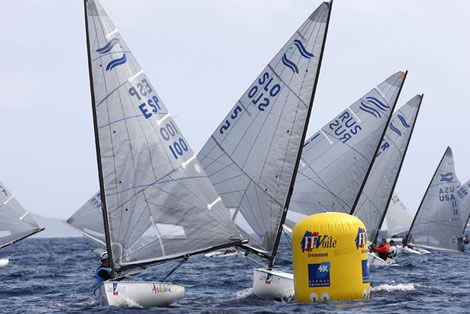 Tom Slingsby showed by he is the World no1. The Australian finished second twice in the light conditions, hasn't finished outside the top three in any of the eight races so far. As a result he has taken over the lead from German Philipp Buhl who had a mixed day scoring a 15th and a first and now trails the Australian hotshot by 2 points. Andy Maloney (NZL) is still third, four points off the lead.
"It's been so close all week so it was good to finally get some points separation today," said Slingsby. "I had two seconds today and it was a real drag race to the right in both races, I was lucky in race one as I had a bad start and had to tack out to the right anyway and then in race two I got to the right when I wanted. I probably led both races but wasn't extending away when out it front so I need to work on that a bit but it was still a good day. Again the racing was really close, I had a solid day and didn't sail a drop which was a good thing, one or two guys sailed a bad one and a good one and a couple of them had two good ones so it's all very tight with just a couple of points in it."
Unfortunately the lighter conditions were not to Alison Young's liking in the Laser Radials and after a string of firsts and seconds she today posted a 13-16 (the latter her discard) dropping her to second. However only a point ahead of her is World Champion Marit Bouwmeester with Lijia Xu (CHN) just another two points adrift and her performance so far this regatta will certainly have caught the attention of the Team GBR selector, who still have a vacancy in the Radial slot. Today's races were won by Evi van Acker (BEL), currently 5th and Tina Mihelic (CRO) who is 11th.
In the 470s despite coming home 11th in today's second race (a counter since their discard is the race when their mast broke on day one) Australia's World no1s Mat Belcher and Malcolm Page have managed to hang on to the lead in the 470 with Sven and Calle Koster now up to second, just two points behind, with Greeks Panagiotis Mantis and Pavlos Kagialis a further five back. Today's best performance was from Portugal's Alvaro Marinho and Miguel Nunes who posted two second to climb to fifth.
Mat Belcher spoke of their day: "In race one we did quite well and got a nice shift to the right, it was really fickle and nobody had any real idea where to go, you just had to use the opportunity in front of you and hope for the best a bit, things went our way and we finished fourth. We found ourselves pretty deep in race two but fought our way back from about 25th or worse at one point to finish 11th which was fantastic."

Page said that the pair is happy with where they are three months out from the London 2012 Olympic Games. "The focus is not always on the results, we're just looking at our performances and certain key points and really focusing on that. Results wise that broken rig hurt us but that's life, you've got to take it on the chin and battle on, taken in perspective it's all about how we develop ourselves and work towards the big one in three months time."
The only class here to have a run-away leader in the diverse conditions is the 470 Women. Although Lisa Westerhof and Lobke Berkhout (NED) scored a 15th in today's first race they are discarding this and are now 23 points clear of second placed Tara Pacheco and Berta Betanzos (ESP) with France's Camille Lecointre and Mathilde Géron up to third after scoring 4,1 today.
"The level in this event is high and we knew that today would see some changes with the light wind," said Westerhof. "Despite a 15th in the first race we managed a good result in the second and keep our lead."
The USA's Amanda Clark and Sarah Lihan and Japan's Ai Kondo and Wakako Tabata, seemed unable to change gears today and both with high scores have dropped to fourth and fifth respectively.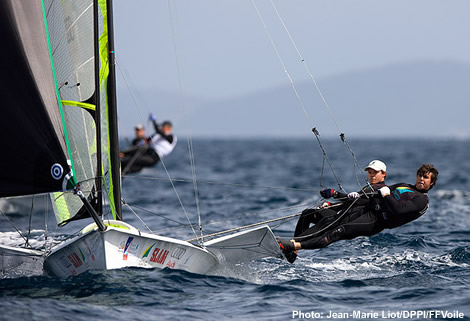 It is tight at the top of the 49ers. After a long day and four races sailed in the Gold group, World Champions Nathan Outteridge and Iain Jensen (AUS) won two races elevating them from fifth to second overall, a point behind France's Manu Dyen and Stéphane Christidis while Stevie Morrison and Ben Rhodes (GBR) hold third.
"We had a nice day with two bullets and two other results in the top seven," said Outteridge. "It was much lighter than we've had all week and we sailed pretty well. We got a bit lucky in the last one and pulled back from almost last with a nice left hand shift to get into fifth at the top mark which was good for us."

This is the first time that the pair has competed in Hyeres together with the regatta an important tune up before the 2012 49er World Championships in Croatia next month.
The Women's Match Racers had a long day trying to finish the round robins. At the end of the day and with some flights still to race, the USA's Anna Tunnicliffe and her team remain undefeated. However Britain's Lucy Macgregor, Annie Lush and Kate Macgregor still have seven round robin bouts to go to complete their opening series in the women's match racing event – they won three of their four matches on Wednesday, beating Julie Bossard (FRA) and Rita Goncalves (POR) before losing narrowly to Silja Lehtinen (FIN) but ending a long day with a win over Silvia Roca (ESP). They now have the second highest win rate to Tunnicliffe's team.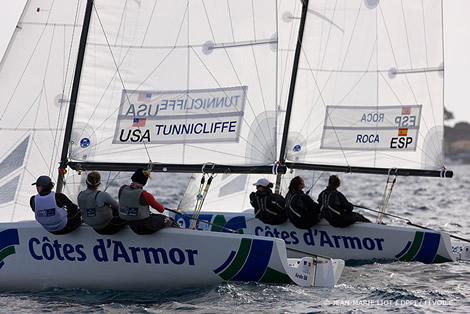 The Women Match Racers will be the first out to race at 8.30 am with the fleets starting earlier than scheduled at 10am.
In the RS:X Men it remains a Polish fest with Piotr Myszka (POL) maintaining his first place with top five results, but the day's conditions more to the liking of his team mate Lukaz Grodzicki (POL) who won both races. Shahar Zubari (ISR) is now up to second with Toni Wilhem (GER) in third on equal points with Przemek Miarczynski (POL).
Poland was not so fortunate in the Women's class where Maja Dziarnwska (POL) suffered in the tricky conditions posting a 15th and 20th and losing the lead to Charline Picon (FRA) who raced to perfection with two victories. "It has been a while since I sailed in these pumping conditions. It was very physical." explained Picon. "We expect waves and breeze tomorrow, it will be technical but it can suit me!"
In the Sonar John Robertson, Hannah Stodel and Steve Thomas have moved into pole position with two days of the event left to run, although only four points separates the top four, with Aleksander Wang Hansen, Per Eugen Kristiansen and Marie Solberg (NOR) in second after winning today's two races and Bruno Jourdren, Nicolas Vimont-Vicary and Eric Flageul (FRA) third.
Lead in the Skud is becoming a duel between Rolex Miami OCR winners Daniel Fitzgibbon and Liesl Tesch (AUS) who are two points ahead Alexandra Rickham and Niki Birrell (GBR), in turn eight points ahead of over Americans Jennifer French and Jean-Paul Creignou.
In the 2.4mR, Damien Seguin (FRA) won today's two race to increase his lead to 11 points over Helena Lucas (GBR) and Thierry Schmitter (NED) who are on equal points.
The forecast is once again quite extreme for the fifth day of racing in Hyères with the Easterly bringing in big waves and strong winds. The final medal races scheduled for Friday 27 April.
From Richard Langdon/Skandia Team GBR:
Back to top
Back to top