Westerhof and Berkhout back on form
More moderate wind conditions allowed for a full day of racing on day two of the Semaine Olympique Française in Hyères as the organisers attempted to catch up with the racing schedule, after yesterday's cancelled races.
In the women's division double 470 World Champions Lisa Westerhof and Lobke Berkhout (NED) are back in top form and are enjoying the big conditions. After just two days of racing the Dutch duo have built up a giant 13 points lead ahead of Japan's Ai Kondo and Wakako Tabata, while Amanda Clark and Sarah Lihan (USA) are in third.
"This is an important event for us." explain the Dutch pair, "We need to show form to the Dutch Olympic committee. So we want to get that out of the way. That would be great. But it is also very nice to sail in the breeze again and see how we go with that. But our speed is good, we are very happy with that. And we are working on some processes and things are coming together now. That is always easier with wind than with light airs. Today we sailed a 1 and 2 and yesterday a 2 and 1. So that is great. Today was not so easy as yesterday. More shifts less wind. But we discussed the opportunities on board and got the most out of them."
Greece's Panagiotis Mantis and Pavlos Kagialis have taken a two point lead in the 470 Men over Gabrio Zandona and Pietro Zucchetti (ITA) and three over the Coster brothers (NED). France's Pierre Leboucher is lying fourth despite sailing with his coach Nicolas Leberre, after Vincent Garos injured his foot last week.
After braking their mast yesterday, the World no1 Mat Belcher and Malcolm Page are back on track and both their races today to climb to tenth.
"Our performance today was probably similar to yesterday, but without the psychological side of damaging the rig in quite extreme conditions," said Belcher. "Today there wasn't as much wind but the breeze was still up there and it was quite cold, perfect preparation for Weymouth and to come away with two wins is nice. It's nice to know that after damaging our gear, that our second or third gear is right up there. Today we had a good 20 to 25 knots again so we wanted to keep it simple and get around the course and make sure that we didn't have any gear failure, but also focus on ourselves. Our performance was really good and our speed was really good, we lose these conditions and to achieve these results is perfect."
In the Finn class Deniss Karpak (EST) is also dominating proceedings, with a perfect scoreline save for a second place in race three. On five points he is already nine points ahead of Rafa Trujillo (ESP) in second, while Dan Slater (NZL) is third, having won today's first race.
Skandia Team GBR's Alison Young managed to hold on to her lead in the Laser Radial class for a second day, scoring a first and second. But only a point behind is Krystal Weir (AUS), with World no1 Evi van Acker (BEL) six points adrift.
In the Laser men, the top standings remain exclusively Antipodean. Only three points separate the top six with Andy Maloney (NZL) and Tom Slingsby (AUS) hold the top two places followed by Tom Burton (AUS) and Andrew Murdoch (NZL). Burton and Philipp Buhl (GER) had the best days both posting two bullets.
"It was a pretty good day today with two bullets in the end," said Burton. "It was pretty tricky, very shifty and still breezy though not as much as yesterday. So it was more about tactics and strategy rather than just hiking. Today pretty well all the Aussies were in the one fleet and we all train together. We know each others strengths so it was pretty close amongst all of us all day."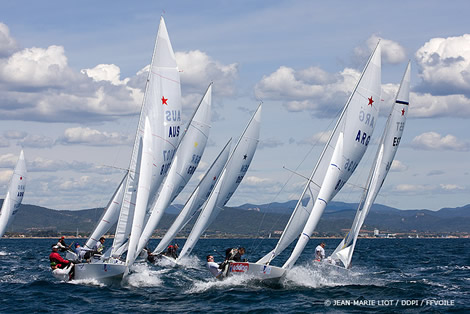 It was a very long day on the water for the Star sailors. Over the course of eight hours on the water, three races were scheduled with the second taking nearly three hours to complete. After several general recalls, this eventually got away but was abandoned when the top mark started drifting. The Stars only returned to shore at 7pm.
World no5, Richard Clarke and Tyler Bjorn (CAN) hold the lead with top three results on six points, but Britain's Iain Percy and Andrew Simpson are in second place five points behind with Xavier Rohart and Pierre-Alexis Ponsot (FRA) third another five points behind. After winning the first race, Robert Scheidt and Bruno Prada (BRA) have retired from the event due to personal reasons.
It was a busy day on the 49er course with seven races sailed between the two groups to catch up to four apiece after yesterday's lost races. After coming second here last year, France's Julien D'Ortoli and Noe Delpech hold the lead with Stevie Morrison and Ben Rhodes (GBR) are second two points behind while the World Champions Nathan Outteridge and Iain Jensen are another two points behind in third.
Other Team GBR sailors gunning for selection are John Pink and Rick Peacock in seventh, Dave Evans and Ed Powys in 15th and Dylan Fletcher and Alain Sign in 18th overall.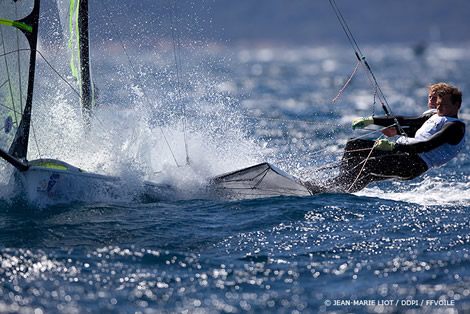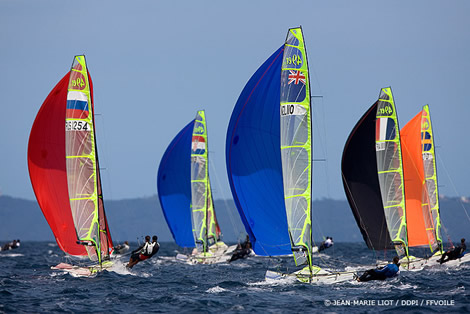 "It was great to finally do some race as we didn't have the best preparation with only one hour of training before the event started," said Outteridge. "We had a good day and are sitting in the front few so we're pretty happy with that. Our results today were definitely all keepers. It's a bit unusual for us to have such a good first day, but we managed to get two seconds in the stronger breeze this morning and then this afternoon when it got tricky we were caught out a few times and clawed our way back to get a fifth and a sixth. In that last one we were 12th at the last top mark and just pulled through to get a fifth so we're really happy with that."
The Women match racers had by far the longest day. Starting at 09.30, the teams only finished at 1900 on their second day of round robins which will continue for the next two days. Anna Tunnicliffe (USA) at present leads, undefeated in six rounds ahead of Lucy MacGregor (GBR), Claire Leroy (FRA) and Sally Barkow (USA). The MacGregors and Annie Lush overcame Lotte Meldgaard Pedersen (DEN), Stephanie Hazard (NZL), Olivia Price (AUS), Tamara Echegoyen (ESP) and Claire Leroy (FRA) were sitting joint first with Anna Tunnicliffe, until the Brits were penalised one point each for causing damage in a collision in their match against the Kiwi team.
Poles dominate the RS:X competition in both the Men's and Women's classes.
World no1 Piotr Myszka has overtaken Julien Bontemps (FRA) to move into the lead after scoring two bullets, while Toni Wilhem (GER) is still his second place with the Frenchman now down to third.
"I am really fast in these conditions." explain Myszka, who won here last year. "I knew I needed a good start. I planned it well and got to third at the top mark. I caught up downwind and was in a good position to control the fleet."
Among the Women, Maja Dziarnowska won both today's races and leads with Moana Delle (GER) is second and Olga Maslivets (UKR) third.
In the Paralympic classes, triple World champions, Alexandra Rickham and Niki Birrell (GBR) lead the Skud on countback from Rolex Miami OCR winners Daniel Fitzgibbon and Liesl Tesch (AUS). They claim two races each and place second in the others.
After starting the first of today's three races with a second, Skandia Team GBR's four-time World Champions Rickham and Birrell managed to pull through from the very back of the fleet in their second race after crossing the startline early and having to return. They went on to win that race, and then the third race of the day after a brief return to shore and a change of course area.
"Alex and I had a good day today – there was around 12-15 knots, maybe a bit more at times, but a bit more manageable than yesterday which was a bit hairy on our course," Birrell explained. "We made some errors yesterday which got us a second and put us on the back foot this morning, but we got the boat on some really nice settings and got some good boat speed today against everyone. The most important thing for the whole year is to make sure we get the best result possible at the Paralympics. That is the aim, to win the Paralympics in September. Here, we're just trying to take every race as a learning opportunity as we don't do so many races against everyone, so we're trying to make the best of every opportunity that's here and not get too stressed about the overall result. We'll try and learn as much as we can out of every race so we can go away and work on some stuff to come back stronger in the summer."
Damien Seguin (NED) has taken the lead in the 2.4mR after three more races were sailed today. Bjornar Erikstad (NOR) lies second with Helena Lucas (GBR) third, after winning the first race with Dutch sailors Thierry Schmitter and Andre Rademaker taking the others.
It was also a long day for the Sonars which had to come out twice today, completing three races. Bruno Jourdren, Nicolas Vimont-Vicary and Eric Flageul (FRA), hold the lead with Udo Hessels, Marcel Van de Veen and Mischa Rossen (NED) second and in third place, Aleksander Wang Hansen, Per Eugen Kristiansen and Marie Solberg (NOR). Skandia Team GBR trio of John Robertson, Hannah Stodel and Steve Thomas's day tailed off after a strong start to their three races – they're fourth overall with a 1,3,12 today.
Start times for Tuesday's races have been brought forward to 0900 for the majority of classes, with predicted building breezes potentially due to result in an early halt to proceedings.

From Ingrid Abery/www.ingridabery.com
Back to top
Back to top