Thurlow Fisher Lawyers seals it
With the Australian Championship title already won by the Thurlow Fisher Lawyers team of Michael Coxon, Aaron Links and Trent Barnabas, today's last race of the event on Sydney Harbour became more a final hit out for the upcoming Giltinan Championship from 17 February.

And what a race it was as the Gotta Love It 7 team of Seve Jarvin, Sam Newton and Scott Babbage put on an awesome display to defeat Thurlow Fisher Lawyers by 1m43s in a north-east wind which ranged between 12-15 knots.

Smeg (Nick Press, Dan Phillips and Dave Ewings) was a further 3m17s back in third place and took second place overall in the championship ahead of Gotta Love It 7.

Today's win by '7' has certainly stamped the team as favourites for the upcoming Giltinan Championship.

After trailing Thurlow Fisher Lawyers by 10s at the first windward mark, Gotta Love It 7 grabbed the lead on the spinnaker run back to the bottom mark where she led by 20s.

7's upwind speed on the next windward leg back to the Beashel Buoy enabled her to extend this margin to 45s, which she increased further to 1m back at the bottom mark on the second lap.

Thurlow Fisher's crew could do nothing to stop the margin going out even further to 1m15s at the final windward mark and ultimately the 1m43s winning margin.

The overall series result was Thurlow Fisher Lawyers 5 points, Smeg 9 points, Gotta Love It 7 11 points, then Rag & Famish Hotel (Jack Macartney) 21, Lumix (Jonathan Whitty) 22, Mojo Wine (Archie Massey) 22, Yandoo (John Winning) 23 and Appliancesonline.com.au (Micah Lane) 25.

While a lot of interest went out of the race for victory, the battle for third-to-eighth placings kept the spectator fleet's interest at a high.

De'Longhi-Rabbitohs (Simon Nearn) was third at the Beashel Buoy windward mark the first time with Smeg, Rag & Famish Hotel, Lumix, Pure Blonde, Appliancesonline.com.au and Yandoo all close behind.

The spinnaker run back to Clark Island took a toll as Pure Blonde and De'Longhi-Rabbitohs both capsized and failed to finish the race.

Although trailing the leader by 3m25s at the second windward, Lumix had moved into third place, ahead of Rag & Famish, Smeg and Yandoo but positions had been changing regularly.

The battle between Smeg, Lumix, Rag & Famish, Yandoo and Appliancesonline continued for the rest of the race while an unlucky Mojo Wine finished strongly to almost join this group after an early capsize.

Mojo Wine's crew were forced to capsize their skiff near the rocks at Bradleys Head shortly after the start to avoid a yacht that had sailed into the fleet, leaving no room for the crew to take any other avoiding action.

The JJ Giltinan Championship, the world's premier 18ft Skiff regatta, will be sailed on Sydney Harbour from 17-26 February. Approximately 30 teams from USA, New Zealand and UK as well as Australian teams representing NSW, Queensland and Western Australia will contest the 63rd JJ.
Results here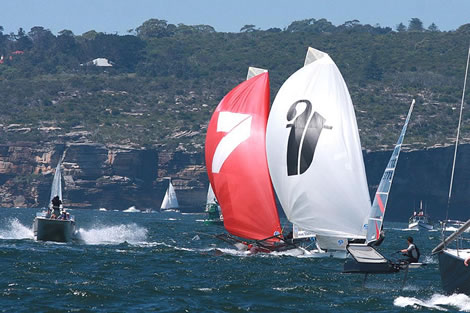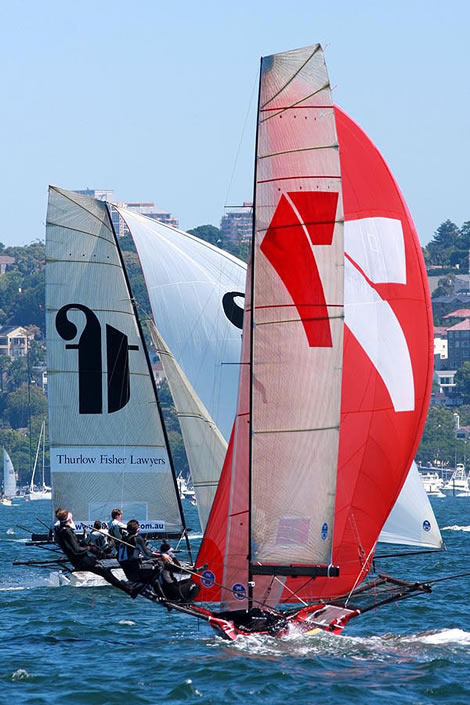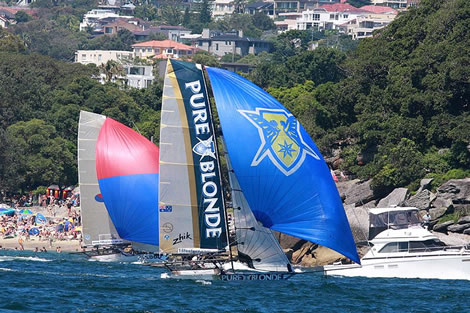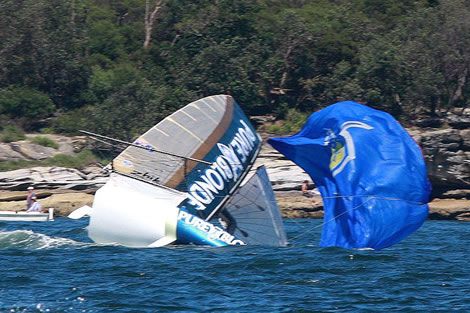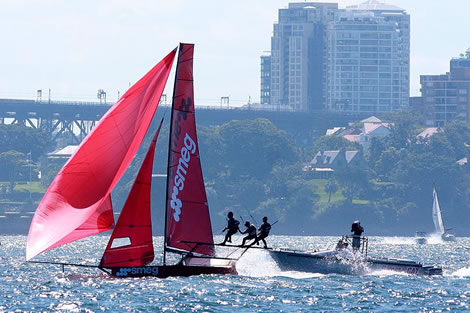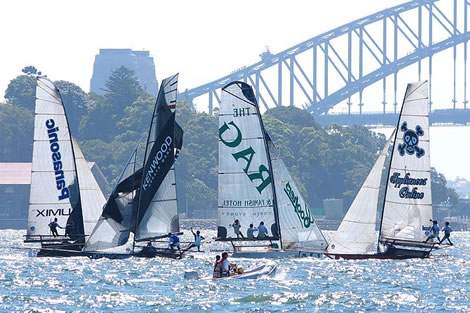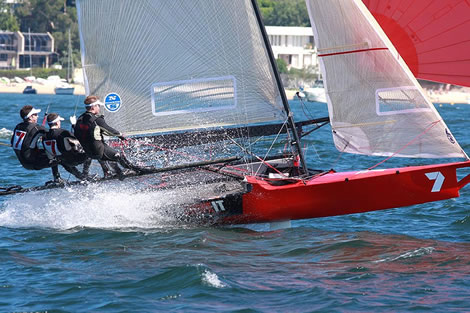 Back to top
Back to top