Golds for Goodison, Dempsey and Team Macgregor
Rolex Miami OCR concluded for the 529 sailors from 41 countries with Skandia Team GBR sailor taking home a fine collection of medal-ware including, significantly, golds for Nick Dempsey, Paul Goodison and the Women's Match Racing trio of Lucy Macgregor, Annie Lush and Kate Macgregor.
Unfortunately for today's medal races Biscayne Bay turned on the lightest breeze yet of the six day long regatta.
The first gold medal of the day went to the World Championship silver medallists Macgregor, Lush and Macgregor in their Women's Match Racing final against Australia's Olivia Price. In contrast to their quarter and semi-final bouts, the British crew took an early lead, winning the first match by a minute before pulling two ahead in the light and difficult conditions.
Price then fought back to claim the third match and looked set to draw level in the fourth after gaining a 12 boat length lead on Macgregor's team on the first lap. Annie Lush explained what transpired: "In the final race in particular we were leading and then we picked up some weed around our keel which really slowed us down – the Australians managed to get about half a leg ahead of us.
"I think Olivia then picked up some weed as well so we were able to catch up a bit, but then she got stopped by some big chop from all the boats that were around and so we were able to overtake her to get the win. We had some pretty crazy racing today, that's for sure!"
The trio's last World Cup victory came in Hyeres, France, in April last year, and they're delighted to have got the Olympic year off to a podium-topping start in Miami.
"It's a great start to 2012 for us – it doesn't feel like we've sailed particularly well this week but we held it together, pulled off some great results along the way and we've learned a huge amount which we'll take forward into our winter training," said the 31-year-old Lush. "You can see from the results this week just how tight the fleet has become – everyone is pushing hard so there's plenty of hard work still ahead of us."
Taking bronze in the Petit Finals after battling with Silja Lehtinen's Finnish team was the USA's Sally Barkow/Elizabeth Kratzig-Burnham/Alana O'Reilly.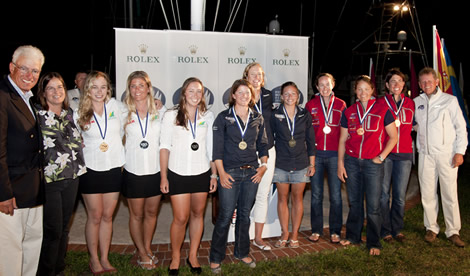 In the Laser class, Paul Goodison and Brazil's Bruno Fontes went into today's race tied, with Goodison. The British sailor explained his race: "I decided to engage a little before the start but nothing too much. I won the right hand side and just pulled away from there. Once I was in front, it was just about extending the lead." The 2008 Laser Olympic Gold Medalist ultimately finished second to Fontes's fifth to take the gold. Canada's David Wright finished fourth to claim the bronze.
"All week the racing has been glamour - really good breeze, but today was quite tricky with it being much lighter and quite patchy," Goodison continued. "Out of the first six races I won four of them, so I was really happy with that, and then going into the gold fleet (mid-week ), it was all about consolidating that lead.
"It's been nice to come and do Miami – it wasn't originally in the plan to come and do this event but after a really good week last week sailing in Key West it made sense to stop by here and work on some of the things I need to before the Games. There are only I think three regattas that I'll do left before the Olympics, so it's good to be working on the things that I need to and to be improving on the things that I've set out to do. I had some good training in Perth, I've done some good work this week and I'm feeling confident looking forward."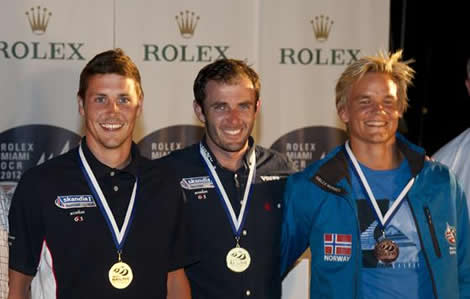 For Nick Dempsey victory was more decisive from the outset. After a postponement to their scheduled morning start due to the light winds, the men's RS:X medal race finally got underway early afternoon, with Nick Dempsey starting the medal race with a near unassailable 18 point lead, to clinch the gold.
After a difficult and disappointing World Championship in Perth, Dempsey was pleased to have found form this week. "It's quite nice [to win a World Cup] isn't it – getting all firsts this week was pretty good so I'm very happy," he said. "It's definitely all going to plan and it's all on track. It was needed, the result at this event, and I'm really looking forward to the next few months."
Dempsey's training partner Elliot Carney also made it a British 1-2 and his first World Cup regatta medal when he claimed silver after a hard-fought medal race. The 22-year-old went into the finale in second place but with the possibility of dropping out of the medals, but he fought to the end in the painfully light conditions to finish second in the race and retain the silver medal spot.
"I made it pretty hard for myself all week with some stupid mistakes at times, and then extremely hard in that last medal race but apart from that I'm really happy!" said Carney. "I think [this medal] is definitely a turning point after the result I had at the Worlds, and now with the result here it's starting to look good for the future so hopefully I can carry this on."
One of the most competitive medal races was in Star class where Brazil's Robert Scheidt and Bruno Prada, won the gold after finishing third today.
"When you go into the medal race, many guys can win," said Scheidt. "You cannot focus only on one guy, so our strategy was to try to make a clean start, especially with speed, because the wind was very light; that was more important than getting to the favored end."
Sneaking into the top-three overall for the first time this week was France's Xavier Rohart/Pierre Alexis Ponso, with their second-placed finish today. The performance secured them silver with just the edge they needed over the bronze medalists Norway's Eivind Melleby/ Petter Moerland Pedersen, who finished sixth today and also had been in third at racing's end yesterday. Losing what seemed to be a sure podium position going into today was Sweden's Freddie Loof/Max Salminen's, who finished eighth in the medal race and fell to fourth overall from second yesterday, only one point out of medal reach.
"The wind made a big shift to the left on the first beat," said Scheidt, "but we weren't there. We were trying to cover the Swedish, and then we were able to tack on them two times and bounce them to the right. Then the left paid big, and we managed to round sixth at the top mark. From then on our race was a little more comfortable, but we were still afraid of the French who were doing really well. We climbed to fourth, and they were in third; in the end, we nailed a third and the French got second."
Scheidt added that all of the top four teams plus more here will be competing at the Olympics, "and they will be stronger, so I think it was very nice for us to win the first regatta of the year. It gives us confidence but we know we have a long way to go until Weymouth."
In the 49er, Nico Delle Karth/Nikolaus Resch finished second to secure gold comfortably for Austria, while the USA's Erik Storck/Trevor Moore won the race to maintain their second-place position from yesterday.
"This week has been perfect for us," said Karth, who with Resch is a two-time Olympian and has qualified his country for the Olympics but has yet to qualify for the Austria Olympic Team. "We were struggling in the first few races, but by the end of the week we made it hard for them (Storck/Moore) to catch up." Winning bronze was Finland's Lauri Lehtinen/Kalle Bask, who had been in third overall yesterday.
Lijia Xu, bronze medallist from the Beijing Olympics, won Laser Radial gold after finishing eighth today to World Champion Marit Bouwmeester's ninth.
"It was very competitive," said Xu, who positioned herself as close as possible to Bouwmeester today to control her. "We have the medalists from the 2011 World Championships in Perth and many other good sailors from all around the world."
While the USA's Paige Railey won the race, Belgium's Evi Van Acker finished fourth to take the bronze medal behind Bouwmeester. "Weymouth could be light to medium breeze, so it is good practice," added Xu.
Skandia Team GBR sailors featured in the Laser Radial final, with Alison Young and Charlotte Dobson ending their regatta just outside of the podium spots in fourth and fifth respectively.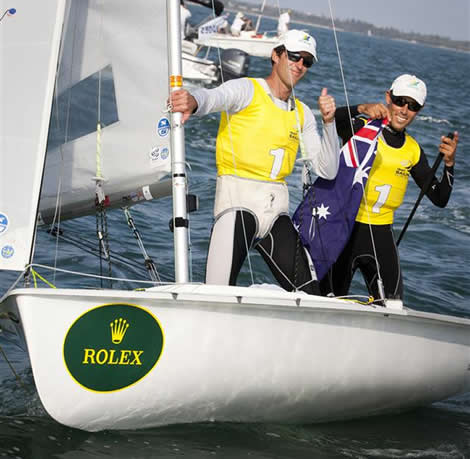 In the 470 Men, Australian double World Champions Mat Belcher and Malcolm Page clinched gold despite finishing last in today's medal race. Ahead of them in eighth place were Dutch brother Sven and Kalle Coster, who took the silver, with fourth-place finishers Panagoitis Kampouridis and Efstathios Papadopoulos from Greece taking the bronze.
In the Women's division, double World Champions Lisa Westerhof/Lobke Berkhout from the Netherlands had to finish in the top-six today but ended up taking third. "It was very tricky and very light," said Westerhof, adding that waves from spectator boats sometimes stopped them in their tracks. After day three Westerhof/Berkhout had jumped ahead of British hopes Hannah Mills and Saskia Clarke, who took the silver today after finishing fourth. "The British spilled some points on one day, and we kept sailing very strong," said Westerhof.
The bronze went to Skandia Team GBR's Sophie Weguelin/Sophie Ainsworth after they won today's race. Weguelin and Ainsworth are part of Mills and Clark's training group in their quest for 2012 gold and are relishing the experience.
"Hopefully the bronze here is the start of things to come," said Weguelin. "It's going to be quite a tough year this year, building up to the Games but we'll just get as much experience as possible. I think working with Hannah and Sas will be a fantastic learning opportunity for us, they're really great sailors and we've got loads to gain but hopefully we'll be able to give a bit as well and push them along."
Mills and Clark were satisfied with their silver, but frustrated that their chances of going one step higher on the podium had slipped away on Friday.
"We're happy to come away with a silver today," said Mills. "It was quite a tough medal race being really light conditions and pretty random so anything could have happened. We sailed the race how we wanted to sail it which was nice, but it always feels a bit disappointing when we really felt like we threw the gold medal away yesterday.
"We just sailed really badly [yesterday]. Our communication wasn't great and we just did exactly the opposite to what we'd decided we were going to do so that was a bit frustrating, but onwards and upwards. I think it's always good to keep the momentum going and keep the medals coming in, regardless of whether it's an outcome regatta or a process regatta, so it's a good start to 2012. Even though right now we feel a little bit down in the long run it's a good performance today in the medal race.".
US Sailing Team Alphagraphic's Zach Railey extended his lead today, starting the medal race 12 points ahead of Denmark's Jonas Hoegh Christensen and winning the medal race for good measure. ,The Dane came home fourth to take the silver. With 18 points separating those two in the final standings, Canada's Greg Douglas finished third today to take the bronze.
"Miami is where I went to college and it all started here, training full time and wanting to make the push towards the Olympic Games," said Railey, who graduated in 2006 and won an Olympic Silver Medal at the 2008 Games, "and now I'm going back to the Games in 2012, and to have my first World Cup victory here in Miami makes it sweeter."
About today's race, Railey said, "I definitely knew that there was going to be some pressure from the Danish sailor. We were locked in a pretty tight match race there before the start, but I was able to break away from him and sail my own race. The goal going in was to capitalize on my performance this week and go out in a good dominating fashion."
US Sailing's Golden Torch Trophy, awarded to the U.S. sailor with the best overall performance at Rolex Miami OCR, went to Zach Railey.
Top three results:

470 Men (22 boats) – 10 races + Medal Race
Gold: Mathew Belcher/Malcolm Page (AUS) 3, 2, 1, 6, [7], 1, 6, 1, 1, 1, 20 (42)
Silver: Sven Coster/Kalle Coster (NED) 1, 3, 3, [7], 5, 6, 3, 3, 2, 6, 16 (48)
Bronze: Panagoitis Kampouridis/Efstathios (GRE) 9, 6, 8, 2, 4, 3, 1, [12], 5, 5, 8 (51)
470 Women (15 boats) – 10 races + Medal Race
Gold: Lisa Westerhof/Lobke Berkhout (NED) 2, 3, 5, [OCS], 2, 1, 5, 4, 1, 1, 6 (30)
Silver: Hannah Mills/Saskia Clark (GBR) 1, 1, 1, 7, 4, 7, [OCS], 2, 6, 7, 8 (44)
Bronze: Sophie Weguelin/Sophie Ainsworth (GBR) 4, 10, 2, 4, 3, 6, [OCS], 9, 7, 6, 2 (53)
49er (23 boats) – 15 races + Medal Race
Gold: Nico Luca Marc Delle Karth/Nikolaus Resch (AUT) 5, 4, 5, 1, 4, 7, 1, 1, 1, 2, 4, 1, 1, 1, [9], 4 (42)
Silver: Erik Storck(Huntington,N.Y.)/Trevor Moore(Naples, Fla., USA) 1, 2, 6, 2, 3, [OCS], 4, 2, 3, 4, 3, 2, 3, 8, 14, 2 (59)
Bronze: Lauri Lehtinen/Kalle Bask (FIN), 2, [BFD], 7, 13, 2, 3, 2, 5, 7, 10, 9, 7, 2, 3, 1, 6 (79)
Finn (25 boats) – 10 races + Medal Race
Gold:Zach Railey (Clearwater, Fla., USA) 1, 1, 1, 2, 1, 2, 1, [3], 3, 1, 2 (15)
Silver:Jonas Hogh Christensen (DEN) 3, 4, 2, 3, 2, 1, 4, 4, 2, [5], 8 (33)
Bronze:Greg Douglas (CAN) [26/BFD], 3, 10, 7, 3, 3, 5, 1, 5, 2, 6 (45)
Laser (Gold) (37 boats)-10 races + Medal Race
Gold:Paul Goodison (GBR) 3, 1, 1, 1, 1, 3, [11], 5, 2, 3, 4 (24)
Silver:Bruno Fontes (BRA) [7], 2, 4, 5, 4, 1, 1, 1, 1, 1, 10 (30)
Bronze:David Wright (CAN) 1, 1, 1, 4, 1, 2, 5, 15, 8, [16], 8 (48)
Laser Radial (60 boats) – 10 races + Medal Race
Gold: Lijia Xu (CHN) 5, [35], 2, 1, 6, 2, 1, 2, 5, 2, 16 (42)
Silver: Marit Bouwmeester (NED) 1, 2, 1, 5, [9], 6, 7, 3, 2, 5, 18 (50)
Bronze: Evi Van Acker (BEL) 4, [18], 10, 2, 10, 9, 2, 1, 1, 6, 8 (53)
RS: X Men (14 boats) – 10 races + Medal Race
Gold:Nick Dempsey (GBR) 1, 1, [OCS], 1, 1, 1, 1, 1, 1, 1, 2 (11)
Silver:Elliot Carney (GBR) 2, 3, [OCS], 3, 2, 2, 5, 2, 3, 5, 4 (31)
Bronze:Sebastian Wang-Hansen (NOR) 5, 2, 3, 4, 3, 4, 2, 4, [6], 3, 8 (38)
RS: X Women (12 boats) – 10 races + Medal Race
Gold:Demita Vega De Lille (MEX) 1, 2, 1, 2, 1, 1, 2, [3], 1, 1, 4 (16)
Silver:Farrah Hall (Annapolis, Md., USA) 2, 1, 6, 6, [OCS], 2, 1, 4, 2, 3, 10 (37)
Bronze:Dominique Vallee (CAN) 5, 5, 2, 3, 2, 5, 6, [7], 5, 5, 2 (40)
Star (29 boats) – 10 races + Medal Race
Gold: Robert Scheidt/ Bruno Prada (BRA) 1, [8], 7, 5, 2, 1, 3, 7, 4, 1, 6 (37)
Silver: Xavier Rohart/Pierre Alexis Ponsot (FRA) 4, 9, 9, 8, 5, [12], 1, 1, 5, 2, 4 (48)
Bronze: Eivind Melleby/ Petter Moerland Pedersen (NOR) 8, 2, 4, 3, 8, 4, 5, 3, 1, [13], 12 (50)
Women's Match Racing
Gold: Lucy Macgregor/Annie Lush/ Kate Macgregor (GBR)
Silver: Olivia Price/Nina Curtis/Lucinda Whitty (AUS)
Bronze: Sally Barkow/Alana O'Reilly/Elizabeth Kratzig-Burnham (USA)
Back to top
Back to top