Rolex Miami OCR: Paralympic classes decided
The three Paralympic classes have been decided at Rolex Miami OCR.
The most impressive performance came from Damien Seguin in the 2.4mR. The Frenchman, who earned himself a Paralympic Gold from Athens and a Silver from Qingdao, has been leading the class from the outset and his 3-1 score today left him 25 points ahead of Canadian Paul Tingley.
"Damien is very good and very consistent and has been at this a long time," said the USA's Mark LeBlanc, whose who finished eighth overall. "Hopefully we can train together."
The Netherlands' Barend Kol snatched bronze with a 4-4 today for 48 points, from Skandia Team GBR's Megan Pascoe, with teammate Megan Pascoe fifth.
In the Skud-18s, Australia Daniel Fitzgibbon and Liesl Tesch posted a 4-1 today to beat Britain's recently crowned World Champions Alexandra Rickham and Niki Birrell to the gold by one point, with the USA's Jennifer French/Jean-Paul Creignou trailing in third.
"We had a terrible first day," said Fitzgibbon, whose team won here last year and was named to represent his country at the Paralympics after it finished third place in this year's World Championship. "It has been a week of us just chipping away, coming back, coming back, until we were third, second and then last night we got up to first, and today we were able to win in the last race. We were in second going into the final race and we had to beat the British team to win the regatta. I'm really happy about how it worked out."
British helm Alexandra Rickham insists they are satisfied with their performance at a venue which has proved tough for them in the past: "We're happy with everything – this is pretty much the worst venue for us! We seem to suffer here every year so to come away with a silver is quite a big step forwards," she explained. "We just missed out on the gold, normally we're fighting just to get the bronze so we leave here really confident and happy with our winter's work. We've had a really long, tough winter working extremely hard and going to more events than most people, and I think it's paid off and it's showing that that work's been good.
"We've learnt tons and at the Worlds as well – it was a much closer Worlds for us than it has been in the last few years, so I think all in all it's more about what we've learnt from these events than the actual winning, though we always like to win!"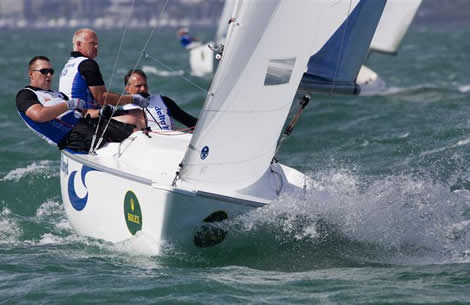 The British crew was also beaten to first place in the Sonars, where the Netherlands' Udo Hessels/ Marcel van de Veen/ Mischa Rossen ended the regatta one point ahead of John Robertson/Hannah Stodel/Steve Thomas, with bronze going to Norway's Aleksander Wang-Hansen/ Marie Solberg/Per Eugen Kristiansen.
"We're pretty chuffed with this week's performance," said Robertson. "We set ourselves goals every day to try and put ourselves under a bit of pressure and I think we achieved the goals every day and just missed out on gold by a few points so it's been good progress. The Sonar fleet is really tight – there are probably seven, eight, nine boats that can win races and it's who can string it together that week to make the podium. The Dutch guys were fourth or fifth at the Worlds and then went on to win here so it just goes to show how close it can be and that we're probably the team that's most consistently up there."
Among the other classes today there was upset in the Laser where Skandia Team GBR's Paul Goodison was usurped for the lead by Brazilian Bruno Fontes, the two sailors now tied on points going into tomorrow's medal race. Fontes won both races today and adding the victories to three others in his ten-race series left him ahead in the tie-break.
"Tomorrow will be a fight for the gold so I will need a good start, and I'm prepared for some match racing on the course," said Fontes, adding that the Rolex Miami OCR counts toward his country's Olympic Trials. "I'm in a very good spot and excited for tomorrow."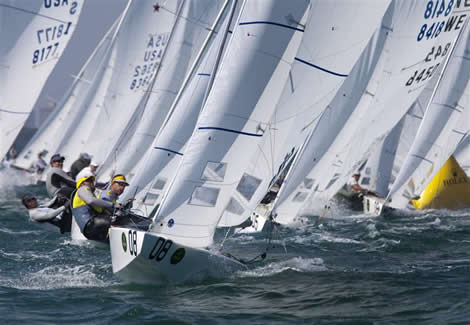 As expected, competition remains tight at the top of the Star fleet. The neck and neck competition between double world champions Robert Scheidt/Bruno Prada and Sweden's Fredrik Loof/Max Salminen was today joined by Norway's Eivind Melleby/ Petter Moerland Pedersen, who won the first of today's two races. However the Brazilian duo won the second race to end the day just two points ahead of the Swedes, with Melleby/Pedersen now five points off third.
Melleby had said earlier in the week that the top ten here are so good that getting to the medal race would be tough. "We have here nine of the top 15 teams from Perth, so the fleet is quite strong."
In the 49ers and RS:X Men the winners are all but decided. Most impressive is the performance here of Britain's Nick Dempsey in the RS:X Men who posted another two bullets today, his scoreline now showing nine wins and a discarded OCS.
"Everything is going pretty well," said Dempsey. "I'm really here for a training regatta, really trying to make the most of the light winds."
In the 49er, 15 races have been held, to the rest of the fleets' 10, and here Austrians Nico Delle Karth and Nikolaus Resch go into the medal race 19 points ahead of the US Sailing Team Alphagraphics' Eric Storck and Trevor Moore.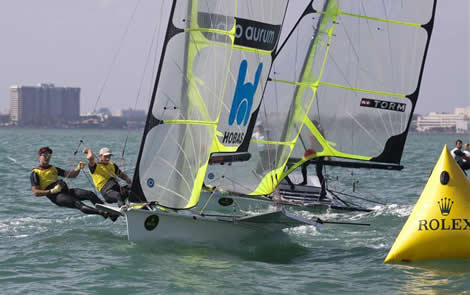 Australian World Champions Mat Belcher and Malcolm Page scored two bullets today in the 470 Men leaving them a comfortable 10 points ahead of the Dutch Coster brothers Sven and Kalle. In the Women's division double World Champions Lisa Westerhof and Lobke Berkhout had the same results today, leaving them 12 clear of British hopes Hannah Mills and Saskia Clark. Mills and Clark go into the medal race with Argentina's Maria Fernanda Sesto and Consuelo Monsegur breathing down their neck, two points behind them.
Beijing Silver medallist Zach Railey is looking comfortable with a 12 point advantage in the Finn over former World Champion Jonas Hoegh Christensen, who is four points ahead of Australia's Brendan Casey.
The fight is still on for gold in the Laser Radial where China's Lijia Xu still leads from Dutch World Champion Marit Bouwmeester. Here the podium has been decided, but not the order with Belgium's Evi van Acker still in contention in the bronze position. Skandia Team GBR's representatives hold fourth and fifth places with Alison Young today sneaking into fourth two points ahead of Charlotte Dobson, who is turn is tied on points with Switzerland's Nathalie Brugger. Remember, the British Laser Radial slot for London 2012 has still to be decided between Young and Dobson.
In the Women's Match Racing, Australia's Olivia Price/Nina Curtis/Lucinda Whitty were the first to advance to tomorrow's finals after they defeated the USA's Sally Barkow/Elizabeth Kratzig-Burnham/Alana O'Reilly 3–1 in today's first semifinals match. Then in the second match, Lucy Macgregor/Annie Lush/ Kate Macgregor, like they did yesterday, became entangled in a do-or-die match to advance to the finals.
First blood went to the Skandia Team GBR sailors, but Lehtinen then pulled two matches back to leave Macgregor's team fighting for their survival – and survive they did, winning the final two contests in the best-of-five encounter to book themselves into the final against Australia's Olivia Price, who overcame USA's Sally Barkow in her semi-final.
"For the past few knockout stages we've taken it to five [matches], so we're definitely getting our money's worth but it's great practice for the Olympics and that's all we're worried about!" explained Kate Macgregor.
"Olivia's been doing really well – we haven't actually raced her in a knockout, we've only raced her when she's been crewing so it's going to be a new challenge. I think tomorrow is meant to be quite light winds so it will be different that's for sure – we'll be doing our best to win gold but we'll also be trying to take as much as we can from the racing tomorrow."
Results: top three per class

470 Men (22 boats) – 10 races
1. Mathew Belcher/Malcolm Page (AUS) 3, 2, 1, 6, [7], 1, 6, 1, 1, 1 (22)
2. Sven Coster/Kalle Coster (NED) 1, 3, 3, [7], 5, 6, 3, 3, 2, 6 (32)
3. Panagoitis Kampouridis/Efstathios (GRE) 9, 6, 8, 2, 4, 3, 1, [12], 5, 5 (43)

470 Women (15 boats) – 10 races
1. Lisa Westerhof/Lobke Berkhout (NED) 2, 3, 5, [OCS], 2, 1, 5, 4, 1, 1 (24)
2. Hannah Mills/Saskia Clark (GBR) 1, 1, 1, 7, 4, 7, [OCS], 2, 6, 7 (36)
3. Maria Fernanda Sesto/Consuelo Monsegur (ARG) 3, 7, 8, [11], 1, 9, 2, 1, 4, 3 (38)

49er (23 boats) – 15 races
1. Nico Luca Marc Delle Karth/Nikolaus Resch (AUT) 5, 4, 5, 1, 4, 7, 1, 1, 1, 2, 4, 1, 1, 1, [9] (38)
2. Erik Storck(Huntington,N.Y.)/Trevor Moore(Naples, Fla., USA) 1, 2, 6, 2, 3, [OCS], 4, 2, 3, 4, 3, 2, 3, 8, 14 (57)
3. Lauri Lehtinen/Kalle Bask (FIN), 2, [BFD], 7, 13, 2, 3, 2, 5, 7, 10, 9, 7, 2, 3, 1 (73)

Laser Radial (60 boats) – 10 races
1. Lijia Xu (CHN) 5, [35], 2, 1, 6, 2, 1, 2, 5, 2 (26)
2. Marit Bouwmeester (NED) 1, 2, 1, 5, [9], 6, 7, 3, 2, 5 (32)
3. Evi Van Acker (BEL) 4, [18], 10, 2, 10, 9, 2, 1, 1, 6 (45)

Finn (25 boats) – 10 races
1.Zach Railey (Clearwater, Fla., USA) 1, 1, 1, 2, 1, 2, 1, [3], 3, 1 (13)
2.Jonas Hogh Christensen (DEN) 3, 4, 2, 3, 2, 1, 4, 4, 2, [5] (25)
3.Brendan Casey (AUS) 4, 5, 3, 1, 4, 5, 3, [6], 1, 3 (29)

Laser (Gold) (37 boats) -10 races
1. Bruno Fontes (BRA) [7], 2, 4, 5, 4, 1, 1, 1, 1, 1 (20)
2. Paul Goodison (GBR) 3, 1, 1, 1, 1, 3, [11], 5, 2, 3 (20)
3. David Wright (CAN) 1, 1, 1, 4, 1, 2, 5, 15, 8, [16] (40)

Laser (Silver) (37 boats) -10 races
4.Marcin Rudawski (POL) 23, 20, 16, 17, 14, [29], 3, 7, 4, 2 (106)
5.Ricardo Montemayor (MEX) 18, 18, 15, 19, 18, [23], 4, 11, 9, 6 (118)
6.Alessio Spadoni (ITA) 24, [30], 30, 24, 19, 8, 17, 6, 2, 1 (131)

RS: X Men (14 boats) – 10 races
1. Nick Dempsey (GBR) 1, 1, [OCS], 1, 1, 1, 1, 1, 1, 1 (9)
2. Elliot Carney (GBR) 2, 3, [OCS], 3, 2, 2, 5, 2, 3, 5 (27)
3. Mariano Reutemann (ARG) 3, 4, 1, 2, 4, 3, [6], 3, 4, 6 (30)
RS: X Women (12 boats) – 10 races
1. Demita Vega De Lille (MEX) 1, 2, 1, 2, 1, 1, 2, [3], 1, 1 (12)
2. Farrah Hall (Annapolis, Md., USA) 2, 1, 6, 6, [OCS], 2, 1, 4, 2, 3 (27)
3. Carolina Mendelblatt (POR) 3, 3, [OCS], 4, 3, 3, 4, 1, 6, 4 (31)
Star (29 boats) – 10 races
1. Robert Scheidt/Bruno Prada (BRA) 1, [8], 7, 5, 2, 1, 3, 7, 4, 1 (31)
2. Fredrik Loof/Max Salminen (SWE) 2, 5, 2, [9], 7, 2, 6, 2, 3, 4 (33)
3. Eivind Melleby/Petter Moerland Pedersen (NOR) 8, 2, 4, 3, 8, 4, 5, 3, 1, [13] (38)

Women's Match Racing:
Semi Final
Olivia Price/Nina Curtis/Lucinda Whitty (AUS) defeats Sally Barkow
(Nashotah, WI., USA)/ Alana O'Reilly (Charleston SC, USA)/ Elizabeth
Kratzig-Burnham (Miami Beach FL, USA); 3-1

Semi Final
Lucy Macgregor/Annie Lush/ Kate Macgregor (GBR) defeats Silja
Lehtinen/Silja Kanerva/Mikaela Wulff (FIN); 3-2
Paralympic classes:
2.4mR (25 boats) – 10 races
1. Damien Seguin (FRA) 2, 1, 3, 2, 1, 3, 1, [9], 3, 1 (17)
2. Paul Tingley (CAN) 6, 7, 2, [9], 7, 5, 2, 4, 2, 7 (42)
3. Barend Kol (NED) 5, 16, 4, 5, 3, 2, [DNF], 5, 4, 4 (48)

Skud-18 (6 boats) – 10 races
1. Daniel Fitzgibbon/Liesl Tesch (AUS) [5], 1, 1, 1, 4, 4, 1, 1, 4, 1 (18)
2. Alexandra Rickham/Niki Birrell (GBR) 1, 2, 2, 2, 2, [3], 2, 2, 3, 3 (19)
3. Jennifer French (St. Petersburg, Fla.)/Jean-Paul Creignou (St. Petersburg, Fla.,USA) 2, 3, 3, 3, 5, 1, 3, [OCS], 1, 2 (23)
Sonar (10 boats) – 10 races
1. Udo Hessels/Marcel van de Veen/Mischa Rossen (NED) 3, [6], 4, 3, 5, 3, 1, 1, 1, 2 (23)
2. John Robertson/Hannah Stodel/Steve Thomas (GBR) 4, 2, 3, [6], 3, 4, 2, 4, 3, 3 (28)
3. Aleksander Wang-Hansen/ Marie Solberg/Per Eugen Kristiansen (NOR) [7], 7, 2, 5, 1, 5, 3, 2, 2, 4 (31)
Back to top
Back to top