Team MacLush win heavyweight quarterfinal bout
Lucy Macgregor, Annie Lush and Kate Macgregor had one of the best days of their Women's Match Racing campaign today when they earned a hard-fought berth in the semi-finals of the Women's Match Racing event at the Miami World Cup, avenging their World Championship final loss from Perth 2011 at the hands of Anna Tunnicliffe's US team in the process.
The Skandia Team GBR trio came through their three pivotal remaining round-robin matches to earn their place in the quarter-finals of the Rolex Miami OCR,. Into the quarter finals and the British crew found themselves in a re-match against the American trio to whom they lost 0-4 in the Perth Worlds final last month.
In spite of some great starts, the British 2012-bound crew were trailing their perennial rivals 0-2 in the best-of-five quarter-final bout, but dug deep to win the next three matches to set up a semi-final meeting with Finland's Silja Lehtinen on Friday.
"We had a lot on today – our group were very tied in the round robin and we won all three of our matches but in fact we had to," Lush explained. "After winning three matches that made us first overall from our group, but if we'd had lost that final match we'd have not even made it through. They were tight matches, but we just managed to get Claire Leroy on the finish line of the final one to go through first."
Lush was delighted with their impressive quarter-final comeback over the American trio, who have yet to be selected for the 2012 Games and who the Skandia Team GBR crew didn't manage to get the better of in the knockout stages of regattas during the 2011 season.
"It was good to race Anna," continued Lush. "We were starting really well against her and in fact in the first two matches we were leading her the whole way round the course only to get rolled at the finish line! So we were then down two but managed to pull it back, keep what we were doing well but work out how to defend her a little bit better in the final three races. Finally we got her!
"We didn't start out with a brilliant regatta, we haven't been winning everything straight out and we've also made a lot of mistakes but it's been good to learn from and it's really nice to get through the quarter-finals," the 31-year-old continued. "It is always a massive sigh of relief because it's such a big cut and everyone racing in the quarters is good – Anna Tunnicliffe's the World Champion and we meet her in the quarters. It's a really tough stage and a relief to get through it.
"Maybe it's a personal thing, but for me today proving something to Anna was a big thing for me for here and beating her on her home waters, so we've done that. We've got a few more to see off before we can think about a medal but we're really happy with today."
Elsewhere in the quarter finals, the results were more decisive. The USA's Sally Barlow dispatched the Spanish team of Tamara Echegoyen, 3-0; the same result as it was for Finland's Silja Lehtinen over the Netherland's Mandy Mulder, and Australia's Olivia Price over Russia's Ekaterina Skudina.
Nick Dempsey had something to smile about in the RS:X Men with another two race wins to add to his scorecard that now shows straight bullets in eight races with an OCS as a discard. Mexico's Demita Vega de Lille is similarly dominating the compact RS:X Women's class.
US Sailing Team Alphagraphics' Zach Railey is similarly in the driving seat in the Finn, but elsewhere all the classes are much closer.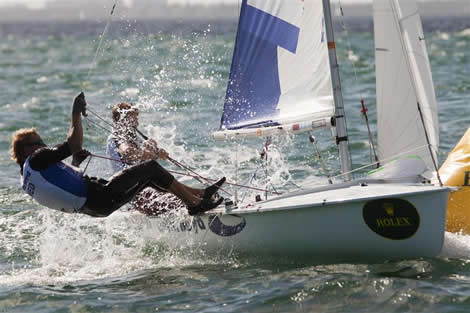 In the 470 Women double World Champions Lisa Westerhof and Lobke Berkhout from the Netherlands continue to fend off the persistent challenge from Britain's Hannah Mills and Saskia Clark, who suffered an OCS in today's first race and in the second they re-crossed the startline they had jumped the gun for a second time. Despite this they trail the Dutch duo by just one point. These two teams are now easing away from the rest of the fleet.
Australian World Champions Mat Belcher and Malcolm Page are leading but perhaps not by the margin that might be expected of them in the 470 Men. They hold a four point lead over Dutch brothers Sven and Kalle Coster who are sailing one of the best regattas of this Olympic cycle.
"Conditions were quite difficult again today, very variable and around 10 to 12 knots," said Belcher. "We had a solid day which included a race win on Australia Day which is always nice. In the first race we weren't quite set up right, we were expecting the breeze to be stronger and had a heavy wind setting so got caught out a bit. We changed the settings between races and immediately had more power and better speed. We started the race well, covered the fleet and found ourselves out in front at the top mark. From then on we got some good lanes and were able to extend at the front."
Among the Brits, Ben Saxton and Richard Mason lie in tenth overall, but after Thursday's racing, Team GBR's Olympic representatives Luke Patience and Stuart Bithell have opted to take no further part in the regatta.
After the intensive test of the Perth Worlds and the distractions of their recent Olympic selection, the emphasis has not been on Miami racing and they were positioned 14th at the end of racing on Thursday. Instead of persisting with the regatta, the duo have chosen to focus their attentions for the remainder of the week on continuing their campaign planning and preparation with the team specialists towards their medal-winning ambitions at the Games in Weymouth this summer.
Two teams have broken away in the 49er where Austria's Nico Delle Karth and Nikolaus Resch leads the USA's Erik Storck and Trevor Moore.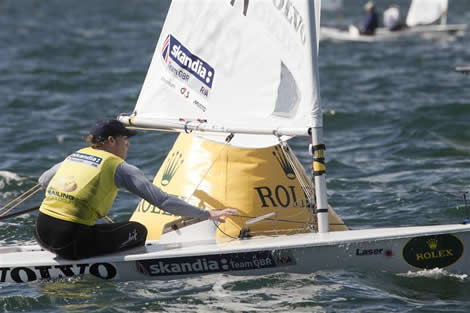 Paul Goodison regained the lead in the Laser, where three boats have now risen to the top, with Canada's David Wright now up to second, two points adrift of the Beijing gold medallist and Brazil's Bruno Fontes up to third after posting two bullets today. Yesterday's leader Chris Dold had a disappointing day, his 21-20 finishes dropping him to seventh.
Similarly there has been a lead change in the Radials, where the Netherlands' World Champion Marit Bouwmeester has dropped to second six points astern of China's Lijia Xu. However Belgium's Evi van Acker had a better day, her 2-1 causing her to pull away from Switzerland's Natalie Brugger with Skandia Team GBR's Charlotte Dobson fifth.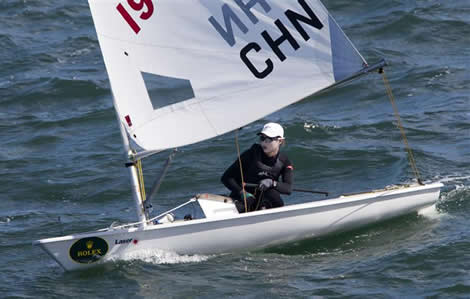 One of the closest competitions is in the Star, perennially a strong class at Rolex Miami OCR. Here double World Champions Robert Scheidt and Bruno Prada remain tied on points at the top with Sweden's Freddie Loof and Max Salminen.
"It's looking pretty exciting," said Scheidt. "Some of the guys who have already got a spot in the Olympics are here and they are really sailing well.
"Today we didn't have a great day. The first race was good because we were coming from behind, but the second race we wanted to start at the boat and got jammed there, so we had to start behind the pack and play catch-up the whole race. We managed to hold our lead, but there are still two races to go until the medal race."
With the final full fleet races taking place tomorrow prior to Saturday's medal races, Scheidt added: "We just have to make one good race to get into the top ten, but our goal is to win the medal, so tomorrow is an important day. You cannot over think it (the medal race). You have to keep things simple and not tack too much, and try to be consistent and close to your rivals. Freddy is a very consistent guy; he's always at the top, and Eivind did really well at the Worlds in Perth, and now he's catching up again. He's sailing really fast."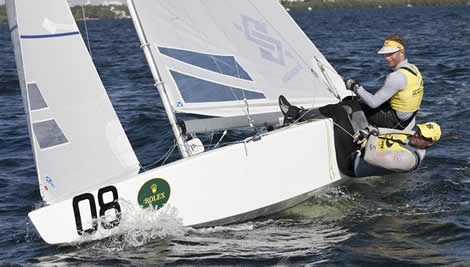 As for Loof, he feels his team has been fighting for every point. "It has been hard work," he said. "It's tricky out there, and both sides are favoured. When you try to get into the oscillation it doesn't work either. The French today had the two bullets, and they came from the left almost all the time and had big gains. Tomorrow we're just going to keep working; we have a few things that we can improve, especially the downwind, and if we get that right, I think we'll have a little bullet ourselves."
For the New Zealand team of Hamish Pepper and Jim Turner (who holds a New Zealand passport), it isn't easy being green. Their borrowed green Star (while their new boat gets built) is a standout—especially at black-flagged starts - in a sea of 30 white Star boats, but they are holding up well despite that and the fact that "green" is also what Turner calls himself.
"It's a different challenge for sure," said Turner, who has never sailed a Star before and is best known for his campaign contributions to two America's Cups and a slew of TP52 races. "Everyone is really on top of their game here because of the Olympics." His skipper Pepper added that there are no other countrymen vying with them for a Star berth at the Olympics. "It's all learning and trying to first qualify our country in France (at Hyeres) and then proving to our country's selectors that we are worthy of going."
For the Paralympic sailors here, tomorrow will be the final day of racing, with two races each scheduled for Skud-18, Sonar and 2.4mR classes.
France's Damien Seguin, who has been leading the 2.4mRs since Tuesday, won today's first race and finished eighth in the second, which he is using as his discard. As such, he has a whopping 20-point lead over Canada's Paul Tingley.
"It was really difficult because I was in the middle of the fleet, so the guys on the right or the left were going ahead of me," said Seguin. "The competition is really high because the Paralympic Games are in sixth months and we had the World Championship two weeks ago in Port Charlotte. I love this regatta, since it is the first regatta of the year for me, and it's a sunny and windy place."
The 2.4m is the only Paralympic classes where British selection for 2012 has still to be determined. Here Megan Pascoe lies in third overall with Helena Lucas seventh.
In the Skud-18s, Australia's Daniel Fitzgibbon/Liesl Tesch are now tied on points with Britain's Alexandra Rickham/Niki Birrell at the top of the scoreboard, while in Sonars, the French team led by Bruno Jourdren has dropped to third when they scored a RAF (retired after finishing) in today's first race. As a result Udo Hessels' crew from the Netherlands now leads John Robertson's British team.
Top three results:

470 Men (22 boats) – 8 races
1.Mathew Belcher/Malcolm Page (AUS) 3, 2, 1, 6, [7], 1, 6, 1 (20)
2.Sven Coster/Kalle Coster (NED) 1, 3, 3, [7], 5, 6, 3, 3 (24)
3.Lucas Calabrese/Juan Maria de la Fuente (ARG) 5, 8, 2, 4, [15], 5, 4, 4 (32)
470 Women (15 boats) – 8 races
1. Lisa Westerhof/Lobke Berkhout (NED) 2, 3, 5, [OCS], 2, 1, 5, 4 (22)
2. Hannah Mills/Saskia Clark (GBR) 1, 1, 1, 7, 4, 7, [OCS], 2 (23)
3. Maria Fernanda Sesto/Consuelo Monsegur (ARG) 3, 7, 8, [11], 1, 9, 2, 1 (31)

49er (23 boats) – 12 races
1.Nico Luca Marc Delle Karth/Nikolaus Resch (AUT) 5, 4, 5, 1, 4, [7], 1, 1, 1, 2, 4, 1 (29)
2.Erik Storck/Trevor Moore (USA) 1, 2, 6, 2, 3, [OCS], 4, 2, 3, 4, 3, 3 (33)
3.Allan Norregaard/Peter Lang (DEN) 7, 5, 8, [12], 1, 8, 7, 3, 9, 1, 1, 11 (61)
Finn (25 boats) – 8 races
1.Zach Railey (Clearwater, Fla., USA) 1, 1, 1, 2, 1, 2, 1, [3] (9)
2.Jonas Hogh Christensen (DEN) 3, [4], 2, 3, 2, 1, 4, 4 (19)
3.Brendan Casey (AUS) 4, 5, 3, 1, 4, 5, 3, [6] (25)
Laser (Gold) (37 boats)-8 races
1. Paul Goodison (GBR) 3, 1, 1, 1, 1, 3, [11], [5] (15)
2. David Wright (CAN) 1, 1, 1, 4, 1, 2, 5, [15] (17)
3. Bruno Fontes (BRA) [7], 2, 4, 5, 4, 1, 1, 1 (18)

Laser Radial (60 boats) – 8 races
1.Lijia Xu (CHN) 5, [35], 2, 1, 6, 2, 1, 2 (19)
2.Marit Bouwmeester (NED) 1, 2, 1, 5, [9], 6, 7, 3 (25)
3.Evi Van Acker (BEL) 4, [18], 10, 2, 10, 9, 2, 1 (38)

RS: X Men (14 boats) – 8 races
1. Nick Dempsey (GBR) 1, 1, [OCS], 1, 1, 1, 1, 1 (7)
2. Elliot Carney (GBR) 2, 3, [OCS], 3, 2, 2, 5, 2 (19)
3. Mariano Reutemann (ARG) 3, 4, 1, 2, 4, 3, [6], 3 (20)

RS: X Women (12 boats) – 6 races
1. Demita Vega De Lille (MEX) 1, 2, 1, 2, 1, 1, 2, [3] (10)
2. Carolina Mendelblatt (POR) 3, 3, [OCS], 4, 3, 3, 4, 1 (21)
3. Farrah Hall (Annapolis, Md., USA) 2, 1, 6, 6, [OCS], 2, 1, 4 (22)
Star (29 boats) – 8 races
1.Robert Scheidt/Bruno Prada (BRA) 1, [8], 7, 5, 2, 1, 3, 7 (26)
2.Fredrik Loof/Max Salminen (SWE) 2, 5, 2, [9], 7, 2, 6, 2 (26)
3.Eivind Melleby/Petter Moerland Pedersen (NOR) [8], 2, 4, 3, 8, 4, 5, 3 (29)

Women's Match Racing - Quarterfinals
Sally Barkow (Nashotah, WI., USA)/ Alana O'Reilly (Charleston SC, USA)/
Elizabeth Kratzig-Burnham (Miami Beach FL, USA) 3 wins- 0 losses
Silja Lehtinen/Silja Kanerva/Mikaela Wulff (FIN) 3 wins- 0 losses
Olivia Price/Nina Curtis/Lucinda Whitty (AUS) 3 wins- 0 losses
Lucy Macgregor/Annie Lush/ Kate Macgregor (GBR) 3 wins- 2 losses
Skud-18 (6 boats) – 8 races
1.Daniel Fitzgibbon/Liesl Tesch (AUS) [5], 1, 1, 1, 4, 4, 1, 1 (13)
2.Alexandra Rickham/Niki Birrell (GBR) 1, 2, 2, 2, 2, [3], 2, 2 (13)
3.Jennifer French (St. Petersburg, Fla.)/Jean-Paul Creignou (St. Petersburg, Fla.,USA) 2, 3, 3, 3, 5, 1, 3, [OCS] (20)

2.4mR (25 boats) – 8 races
1.Damien Seguin (FRA) 2, 1, 3, 2, 1, 3, 1, [9] (13)
2.Paul Tingley (CAN) 6, 7, 2, [9], 7, 5, 2, 4 (33)
3.Megan Pascoe (GBR) 7, 4, [10], 3, 2, 8, 9, 6 (39)
Sonar (10 boats) – 8 races
1.Jourden Bruno/ Vimont Vicary Nicolas/ Flageul Eric (FRA) 1, 5, 1, 1, 2, [8], 3, 6 (19)
2.Udo Hessels/ Marcel van de Veen/ Mischa Rossen (NED) 3, [6], 4, 3, 5, 3, 1, 1, (20)
2.John Robertson/ Hannah Stodel/ Steve Thomas (GBR) 4, 2, 3, [6], 3, 4, 2, 4 (22)
Back to top
Back to top