Rolex Miami OCR - discards kick in
After two lighter opening days, the wind finally got into double figures on Biscayne Bay for day three of the Rolex Miami OCR. Results have also been rejigged today with a discard kicking in.
Frankly the turn-out at in Miami is disappointing compared to previous years - perhaps it is the proximity in the calendar to Perth 2011 or it is the natural attrition in some teams now that many competitors know if they are going to London 2012 or not.
At this stage the stand-out performances are in the RS:X Men where Britain's Nick Dempsey leads by seven points – with a string of bullets and an OCS. Pretender to the Dempsey thone, Elliot Carney now hold second. The margin is larger in the RS:X Women, with Mexico's Demita Vega de Lille now 10 points clear of the nearest competition.
"Elliot and I had a good couple of races today – kind of like training races for the two of us in a way – and it was great to get the conditions we did today," Dempsey explained. "It was the first time we've got planing since we got here, so it gave the body a bit of a rest from the pumping, and it was nice to be going well in those conditions."
Dempsey is treating this Rolex Miami OCR, held on the waters of Biscayne Bay, as a "training regatta", and although many of his typically strong international rivals have opted not to race at this event, the British sailor is by no means resting on his laurels.
"The RS:X fleet is pretty small here, but although some of the big names are missing there are still some good guys in there, and you have to work just as hard to get the results," the 31-year-old explained. "It's never as easy as the scoreline might look, so it's definitely been worthwhile coming here and I'll be pushing hard for the rest of the week."
Among the boats, the biggest leads (both five points) have developed in the 470 Men, as expected, by Aussie multiple World Champions Mat Belcher and Malcolm Page, and in the Brit-free Finn fleet by Beijing silver medallist and the USA's top London 2012 medal hope, Zach Railey.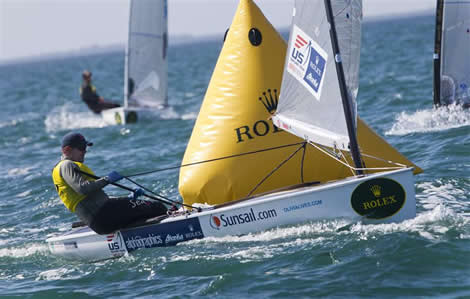 "Conditions were light again today, only getting into the low double digits, and continued to fade as the day went on," said Page, the Beijing Gold medallist. "We were in the afternoon shift and I'd say we had the best breeze when we were tuning up before the start. Once racing got underway we struggled a bit in race one, we couldn't quite punch through the pack. We were in the mix the while time but couldn't quite capitalise.
"Race two was a good one, we got a good start, got the first shift and took the lead three-quarters of the way up the first beat which made it a bit easier. Another four fleet races and the medal race still to go so there's plenty left in this one."
In two of the three Paralympic classes the French are showing the way. Bruno Jourdren's Sonar team is leading that of Britain's John Robertson by six points, while in the 2.4m Damien Seguin is five clear of the USA's Mark LeBlanc. In the singlehander Megan Pascoe holds fourth while teammate Helena Lucas has dropping to 11th after she was called OCS in her second race of the day.
In the third, the Skud, Britain's recently crowned World Champions Alexandra Rickham and Niki Birrell retain the yellow leader's jerseys, ahead of Australia's Daniel Fitzgibbon and Liesl Teschby two points after today's racing.
Elsewhere today has seen a change of leader with, as anticipated, World Champions Robert Scheidt and Bruno Prada pulling up to first in the Star, now two points clear of Sweden's Freddie Loof and Max Salminen. Yesterday's leader, Norway's Eivind Melleby and Petter Moerland Pedersen are now down to third.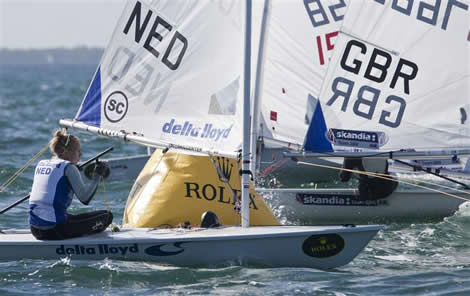 The discard has launched China's Lijia Xu up the leaderboard in the Laser Radial, now just one point astern of World Champion Marit Bouwmeester. These two sailors now have an impressive 19 point cushion over the rest of the fleet, where, in third, Belgium's Evi van Acker is having a disappointing regatta and British hope Charlotte Dobson is now down to fifth, albeit two points off the podium.
The impeccable Bouwmeester reported on her progress: "Today I was struggling a bit because the wind pressure kept going up and down, and in the first race I got a yellow flag (a penalty for unallowed kinetics), but it's good to get out and experience the Miami weather. This regatta has been great practice. I've been sailing against all these girls in many previous regattas and they are all major competition. It's great that so many of them took the time to come here after the Worlds in Perth."
In the Laser men, Britain's Paul Goodison is doing well with a string of bullets save for two thirds, one of which he discarded today. However impressively Canada's David Wright is doing better and is a point ahead of Britain's Beijing Gold medallist.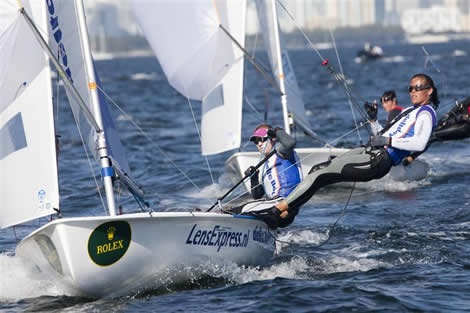 In the 470 Women, Britain's Hannah Mills and Saskia Clark have dropped to second after double Dutch World Champions Lisa Westerhof and Lobke Berkhout saw a return to form, their discard leaving them a point ahead of the Brits. Sophies Weguelin and Ainsworth remain in the hunt in third, five points off the lead.
A string of bullets today caused Austria's Nico Delle Karth and Nikolaus Resch to edge into the lead in the 49ers. They are now one point ahead of the USA's Erik Storck and Trevor Moore.
The round robins, with the top four in each of the two classes progressing to the quarter finals, are nearly over in the Women's Match Racing, with Group B still to complete its last matches tomorrow.
Group A's top finisher Sally Barkow, sailing with Elizabeth Kratzig-Burnham and Alana O'Reilly was especially exhilarated by her 10-1 win-loss record. This was helped by a victory in today's closely watched dust-up with fellow US Sailing Team AlphaGraphics members Anna Tunnicliffe/Molly O'Bryan Vandemoer/Debbie Capozzi who holds a 7-4 record, allowing them to sneak into the quarters.
"I don't think we were ever more than a length apart the entire way around the course, so that was pretty cool," said Barkow. "There were probably about four lead changes; nobody got penalties but everything was really close."
Last year Barkow won bronze here to Tunnicliffe's silver: "Sometimes when you get a two-length lead, then it's not so much of a big battle, and you don't have to defend things so hard. But you can imagine when it's really close that upwind it's kind of good for the boat ahead, but as soon as you go downwind, it's good for the boat behind. So, if you only have a length between the boats, it's really hard to be the boat ahead and stay ahead. That was what it was with Anna."
Also moving on to the quarter finals in Group A are Finland's Silja Lehtinen/Silja Kanerva/Mikaela Wulff with an 8-1 record, and Russians Ekaterina Skudina/Elena Siuzeva/Irina Lotsmanova (RUS) on 8-3.
"We made one or two mistakes out there," said Tunnicliffe, the four-time (consecutive and current) Rolex Yachtswoman of the Year and two-time ISAF Rolex World Sailor of the Year (also current), "but we still made the quarter finals." As for her match with Barkow, she said, "It was full on, lots of fun. It shows that team USA has what it takes, and we will all be pushing hard leading up to the Olympics."
Getting the berth at London 2012 for the US women's match racers will go to a 'winner takes all' trials to be held in May in Weymouth.
Currently five in Group B, Brits Lucy Macgregor, Annie Lush and Kate Macgregor needs to get some more points on the board in their remaining three matches tomorrow if they are to book their berth in the quarter-finals.
Today they opened with a win over the Australian team, helmed by Olivia Price, but conceded their second match to France's Julie Bossard after a "stupid mistake" at the start. As Lucy Macgregor explained: "We were pretty disappointed with the loss really, it was a stupid mistake by me early on. We were both over the line and I took the most ridiculous way to get back behind the line and we then ended up with quite an unattainable distance to try and catch up.
"We nearly got in there at times, but the right was so strong and they were able to just dictate the race, so Julie Bossard won that, but it was good to have got the first win of the day in before that."
"We've had a really good couple of weeks training here and the goal is to win a medal," Macgregor continued. "We're struggling a little bit at the moment with a couple of things in the boat but nothing that can't be fixed – it's just trying to get your head around the racing here.
"Hopefully we'll have a good day tomorrow and get into the quarters and be able to start again."
Results - top-three

470 Men (23 boats) – 6 races
1.Mathew Belcher/Malcolm Page (AUS) 3, 2, 1, 6, [7], 1 (13)
2.Sven Coster/Kalle Coster (NED) 1, 3, 3, [7], 5, 6 (18)
3.Panagoitis Kampouridis/Efstathios Papadopoulos (GRE) [9], 6, 8, 2, 4, 3 (23)
470 Women (15 boats) – 6 races
1.Lisa Westerhof/Lobke Berkhout (NED) 2, 3, 4, [16/OCS], 2, 1 (13)
2.Hannah Mills/Saskia Clark (GBR) 1, 1, 1, [7], 4, 7 (14)
3.Sophie Weguelin/ Sophie Ainsworth (GBR) 4, [10], 2, 4, 3, 6 (19)
49er (23 boats) – 9 races
1.Nico Luca Marc Delle Karth/Nikolaus Resch (AUT) 5, 4, 5, 1, 4, [7], 1, 1, 1 (22)
2.Erik Storck(Huntington,N.Y.)/Trevor Moore(Naples, Fla., USA) 1, 2, 6, 2,
3, [24/OCS], 4, 2, 3 (23)
3.Lauri Lehtinen/Kalle Bask (FIN) 2, [24/BFD], 7, 13, 2, 3, 2, 5, 7 (41)
Finn (25 boats) – 6 races
1.Zach Railey (Clearwater, Fla., USA) 1, 1, 1, [2], 1, 2 (6)
2.Jonas Hogh Christensen (DEN) 3, [4], 2, 3, 2, 1 (11)
3.Brendan Casey (AUS) 4, [5], 3, 1, 4, 5 (17)
Laser (74 boats)-6 races
1.David Wright (CAN) 1, 1, 1, [4], 1, 2 (6)
2.Paul Goodison (GBR) [3], 1, 1, 1, 3 (7)
3.Chris Dold (CAN) 2, 3, 3, 2, 2, [4] (12)
Laser Radial (60 boats) – 6 races
1.Marit Bouwmeester (NED) 1, 2, 1, 5, [9], 6 (15)
2.Lijia Xu (CHN) 5, [35], 2, 1, 6, 2 (16)
3.Evi Van Acker (BEL) 4, [18], 10, 2, 10, 9 (35)
RS: X Men (14 boats) – 6 races
1.Nick Dempsey (GBR) 1, 1, [15/OCS], 1, 1, 1 (5)
2.Elliot Carney (GBR) 2, 3, [15/OCS], 3, 2, 2 (12)
3.Mariano Reutemann (ARG) 3, [4], 1, 2, 4, 3 (13)
RS: X Women (12 boats) – 6 races
1. Demita Vega De Lille (MEX) 1, [2], 1, 2, 1, 1 (6)
2. Carolina Mendelblatt (POR) 3, 3, [13/OCS], 4, 3, 3 (16)
3. Farrah Hall (Annapolis, Md., USA) 2, 1, 6, 6, [13/OCS], 2 (17)
Star (30 boats) – 6 races
1.Robert Scheidt/ Bruno Prada (BRA) 1, [8], 7, 5, 2, 1 (16)
2.Fredrik Loof/ Max Salminen (SWE) 2, 5, 2, [9], 7, 2 (18)
3.Eivind Melleby/ Petter Moerland Pedersen (NOR) [8], 2, 4, 3, 8, 4 (21)
Women's Match Racing
Group A
Sally Barkow (Nashotah, Wis.)/Elizabeth Kratzig-Burnham (Miami,
Fla.),/Alana O'Reilly (Charleston, SC) (USA) 10 wins-1 loss
Silja Lehtinen/Silja Kanerva/Mikaela Wulff (FIN) 9 wins-2 loss
Ekaterina Skudina/Elena Siuzeva/Irina Lotsmanova (RUS) 8 wins- 3 loss
Anna Tunnicliffe (Plantation, Fla.)/Molly O'Bryan (Stanford,
Calif.)/Debbie Capozzi (Bayport, N.Y.) (USA) 7 wins-4 loss
Renata Decnop/Gabriela Nicolino/Larissa Juk (BRA) 6 wins- 5 loss
Nicky Souter/Jessica Eastwell/Katie Spithill (AUS) 6 wins- 5 loss
Juliana Senfft/Fernanda Decnop/Luciana Kopschitz (BRA) 5 wins- 6 loss
Silke Hahlbrock/Maren Hahlbrock/Anlee Lukosch (GER) 5 wins- 6 loss
Rita Goncalves/Mariana Lobato/Diana Neves (POR) 4 win- 7 loss
Vesna Dekleva Paoli/Katarina Kersevan/Lena Koter (SLO) 3 wins-8 loss
Ru Wang/Pan Ting Ting/Li Xiaoni (CHN) 3 wins- 8 loss
Jinnie Gordon/Laurel Gordon-Taylor/Catherine Belange (CAN) 0 win- 0 loss
Group B (Continue racing tomorrrow)
Mandy Mulder/Merel Witteveen/Annemiek Bekkering (NED) 7 wins- 2 loss
Olivia Price/Nina Curtis/Lucinda Whitty (AUS) 7 win- 3 loss
Claire Leroy/Elodie Bertrand/Marie Riou (FRA) 6 win- 3 loss
Tamara Echegoyen/Angela Pumariega/Sofia Toro (ESP) 6 wins- 3 loss
Lucy Macgregor/Annie Lush/Kate Macgregor (GBR) 5 wins- 3 loss
Renee Groeneveld/Annemiek Bes/Marcelien de Koning (NED) 5 wins- 3 loss
Julie Bossard/Pauline Chalaux/Pauline Courtois (FRA) 5 wins- 4 loss
Stephanie Roble (East Troy, Wisc.)/Maggie Shea(Wilmette, Ill.)/Darby Smith (Marblehead, Mass.)(USA) 4 wins- 6 loss
Genevieve Tulloch (Sausalito, Calif.)/Alice Manard Leonard (East Haven, Conn.)/Jennifer Chamberlin (Washington,D.C.)(USA) 4 wins - 7 loss
Anna Kjellberg/Malin Kallstrom/Lotta Harrysson (SWE) 3 wins- 7 loss
Sharon Ferris-Choat/Barbara Kaars Sijpesteijn/Joanne Prokop (CAN) 2 win- 8 loss
Martina Silva/ Ana LucA-a Silva/ MarA-a Trinidad Silva (ARG) 1 win- 8 loss
2.4mR (25 boats) – 6 races
1.Damien Seguin (FRA) 2, 1, [3], 2, 1, 3 (9)
2.Mark Le Blanc (New Orleans, La., USA) 1, [26/OCS], 5, 1, 6, 1 (14)
3.Barend Kol (NED) 5, [16], 4, 5, 3, 2 (19)
Skud-18 (6 boats) – 6 races
1.Alexandra Rickham/Niki Birrell (GBR) 1, 2, 2, 2, 2, [3] (9)
2.Daniel Fitzgibbon/Liesl Tesch (AUS) [5], 1, 1, 1, 4, 4 (11)
3.Jennifer French (St. Petersburg, Fla.)/Jean-Paul Creignou (St.Petersburg, Fla.,USA) 2, 3, 3, 3, [5], 1 (12)
Sonar (11 boats) – 6 races
1.Jourden Bruno/ Vimont Vicary Nicolas/ Flageul Eric (FRA) 1, 5, 1, 1, 2, [8] (10)
2.John Robertson/ Hannah Stodel/ Steve Thomas (GBR) 4, 2, 3, [6], 3, 3 (15)
3.Paul Callahan(Newport,R.I.)/Tom Brown(Castine,Maine)/Bradley Johnson(Pompano Beach,Fla.,USA) 1, 3, 5, 2, [7], 5 (17)
Back to top
Back to top