Rolex Miami OCR starts tomorrow
Life in Miami's Coconut Grove was punctuated today by the added activity of 529 sailors from 41 countries preparing for tomorrow's start of Rolex Miami OCR.
The six-day annual regatta, to be sailed on Biscayne Bay for its 23rd time, is the second of seven 2011-2012 ISAF Sailing World Cup regattas and will play host to elite sailors from around the globe, many preparing for the London 2012 Olympic and Paralympic Games.

Today started early with registration at the U.S. Sailing Center, serving as the event's HQ and staging area for the Lasers, Radials and 470s.
Next door, the Stars used the Coral Reef Yacht Club's two two-ton hoists to launch throughout the day for some practice, while another door down, the Finns tuned up at Biscayne Bay Yacht Club. Still farther down the road, the Paralympic classes used the expansive and accessible Shake-A-Leg facilities, while the RS:X sailors spread their sails on the lawn of Coconut Grove Sailing Club. And as if that were not enough host venues to make an organiser's head spin, across the bay at Key Biscayne Yacht Club and Miami Rowing Club, the Elliott 6m and 49er sailors readied physically and mentally for tomorrow's competition.

"It's going to be a great week here in Miami," said Dean Brenner, Chairman of the U.S. Olympic Sailing Committee. "We're now into the final sprint for the Games, and for all of the competitors, this World Cup event has many implications. There are ranking implications, both internationally and within each country, and there are funding implications. Each country's system is a little different, but in the U.S. we have prize money available to our athletes, and every regatta between now and the Games will take on increased importance, because these are the final dry runs before the Olympics in August."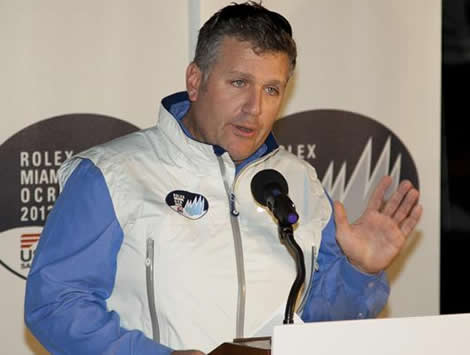 For 2.4mR sailor Mark LeBlanc, this is his last chance to edge out fellow US Sailing Team AlphaGraphics member John Ruf for a spot at the Paralympics. "I was eighth to John's sixth at the 2012 IFDS Worlds," said LeBlanc, explaining that eight and six also are the number of points each sailor respectively carries into this regatta to be added to points accumulated for final finish positions here. "Those points (whichever are lowest) will determine who goes to the Games for the U.S.," said LeBlanc, who added that last July he was fourth at the 2011 Worlds, so he "tasted it a little there."

To see him sail, one would barely notice that LeBlanc is missing his left arm below the elbow. In his 13' 8" long, one-person keelboat, he attracts attention less because he is disabled and more because his head is the only thing that shows above the boat's small cockpit, which seems to hug the rest of his body like a glove. He chooses to steer with foot pedals rather than a forward tiller, which is the option most often chosen by paraplegics.

"For me it is easier; at mark roundings, I can steer and have two free arms," said LeBlanc. "I have spent a lot more time in the boat since I competed here last year, so I'm much more prepared."

Nine of the top ten teams in the ISAF World Rankings are here to compete in the Women's Match Racing event, including those that took the gold, silver and bronze medals in Perth at the class's Worlds: respectively, USA's Anna Tunnicliffe/Molly Vandemoer/Debbie Capozzi; Great Britain's Lucy Macgregor/Annie Lush/Kate Macgregor; and France's Claire Leroy/Elodie Bertrand/Marie Riou.

"The competition is going to be some of the best we have seen on the Sailing World Cup circuit," said Liz Baylis, Executive Director of the Women's International Match Racing Association. "With all of the top teams coming here fresh from the Worlds and a number of teams fighting for their spot on their country's Olympic team, there will be no holding back, and the racing should be very exciting." Baylis also noted that the Rolex Miami OCR will be followed next week by the Women's Match Racing International Country Olympic Qualifying Regatta at which nine countries will vie for the last three available country berths at the Games.

The Netherlands match racing team of Mandy Mulder/Merel Witteveen/Annemiek Bekkering have been training here since early January with the American, Russian and Finnish teams, living the ideal that sailors even at the highest levels help each other. "Sally Barkow organised recent races for us, with umpires and all," said Mulder. "Our goal is to be in the top four. Our Trials are in May, so what happens here doesn't count, but for our own progress, of course, it is important."

Other top-five competitors from the ISAF Worlds competing here are Laser Radial gold medallist Marit Bouwmeester and silver medallist Evi van Acker; 470 Men's gold medalists Mathew Belcher/Malcolm Page; 470 Women's silver medalists Hannah Mills/Saskia Clark; and Star gold medalists Robert Scheidt/Bruno Prada.

Seemingly the underdogs when compared to Scheidt/Prada, John Foster and his son Johnny Foster have only to mention their own Olympic history to be re-considered a threat by virtue of experience. The 74-year-old father has represented the U.S. Virgin Islands in Star class at five Olympic Games, starting with Munich in 1972 and finishing with Barcelona in '92, while his 48-year-old son has crewed with him at three of those. John also competed on his country's bobsled team at the 1988 Winter Olympics. The team has been officially designated the USVI's representative at the upcoming Olympic regatta but first must qualify the USVI for its country berth. The next chance for that is at Hyeres in April.

"That's why we are here, to match our speed with theirs and come to a conclusion of whether it's the tune of the boat or our own abilities that are the difference," said John Foster, who thinks nothing of his age as the oldest here at the Rolex Miami OCR. "Growing old is inevitable; growing up is optional," he said with a wink.
For the Skandia Team GBR contingent, Rolex Miami OCR represents the first regatta of this Olympic year with nine of Britain's London-bound sailors set to compete.
Paul Goodison (Laser), Nick Dempsey (RS:X Men), the women's match racing trio of Lucy Macgregor, Annie Lush and Kate Macgregor, Hannah Mills and Saskia Clark (470 Women) and the newly-selected 470 men's pair of Luke Patience and Stuart Bithell are among the 24 Skandia Team GBR sailors who'll be on the startline.

In the Paralympic classes, Skandia Team GBR's SKUD duo of Alexandra Rickham and Niki Birrell, and the Sonar team of John Robertson, Hannah Stodel and Steve Thomas have already seen a medal-winning start to their Paralympic year at the IFDS World Championships in Port Charlotte, Florida, which concluded last weekend.

Rickham and Birrell captured their fourth straight World Championship title last Sunday, with the Sonar trio claiming bronze, but both teams will be eager to keep the momentum going at this second stage of the 2011-12 ISAF Sailing World Cup series.

In the 2.4mR Paralympic class, where selection trials for the one ParalympicsGB spot are still ongoing, both Helena Lucas and Megan Pascoe will be eager to impress. Lucas came close to the podium spots at the World Championships last week, finishing fourth, while Pascoe is back in action at this regatta, given the all-clear by the team's medical support after a health scare saw her frustratingly sidelined from the IFDS Worlds.

With a late 2011 World Championship in Australia just last month, sailor numbers are down across the board for this World Cup regatta but it still has a key place in the 'big picture' of the British team's 2012 preparations, according to RYA Olympic Manager Stephen Park.

"We have a small but talented team competing at this Miami World Cup event, which in many sailors' eyes falls at an opportune time just ahead of their intensive winter training programmes," Park explained. "Miami provides a great opportunity for some quality racing off the back of the Perth World Championships and before the European regatta season starts, which means the sailors have the chance to race hard and at the same time identify any areas for development to take away and work on during over the next few weeks and months, before they can next put them to the test in the next World Cup or World and European Championship competitions."
For fleet racing in the Olympic classes, the Rolex Miami OCR will consist of a five-day opening series culminating in the double-point medal races on Saturday. For the women's match racing the regatta will consist of an opening series, a knockout series, and a sail-off for boats not advancing to the knockout series. Competitors in the Paralympic classes will have five days of fleet racing and no medal race.

Medals will be awarded to the top three boats in each Olympic and Paralympic class on Saturday, 28 January.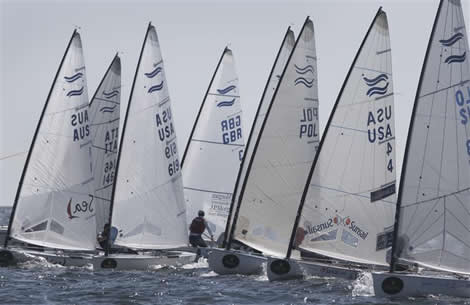 Back to top
Back to top