Ovington's Olympic women's two person skiff
Having been at the forefront of modern skiff building for over 20 years, Ovington Boats have utilised their wealth of experience towards developing designs in-house. With the new slot in the Olympic roster for a women's two person skiff for Rio 2016, so they have teamed up with designer Peter Hobson, to create the Aura which Ovington Boats hopes will represent the beginning of a growing portfolio of projects to complement their production facility.
Starting from a blank sheet of paper the Aura represents a refreshing and modern attitude to skiff design; challenging the ideals created by a succession of box rule designs the Aura takes its inspiration from limitless offshore record breakers and the recent America's Cup developments.
Hobson's hands on approach to the design and build process has seen careful consideration to the detailing, even at the prototype stage – culminating in a clean and simple boat with great aesthetic appeal but also paramount functionality.
The boat has been designed to offer great upwind performance by virtue of waterline length and a powerful sail plan, whist going downwind with a style and media appeal more reminiscent of an 18ft Skiff than that its direct counterparts.
A flat rocker encourages a more dynamic approach from the sailors – to improve spectator appeal and avoid the long static periods often seen once sailors are 'hooked in'. The reduced working space builds upon this ideal, encouraging greater team work, agility and athleticism.
The small and lightweight platform makes for a flighty skiff that will require the most elite sailors to get the best out of it, whist a good club sailor will be able to jump in and enjoy the ride.
With mass high-end supply considered from the outset overly complex and busy components have been avoided, producing a stripped out skiff with only the bare essentials. This approach not only has positive connotations for production but also great long-term practical benefits for class regulation and measurement.
Ovington Boats have partnered with MacKay Boats in New Zealand to build the Aura. The two builders in opposite hemispheres have a proven ability to meet the supply demands of an Olympic Skiff and have a pre-existing global network already in place.
All being well the aim is to debut the prototype at the Ovington Inlands on 30 October; and start to get important feedback from the wider sailing fraternity.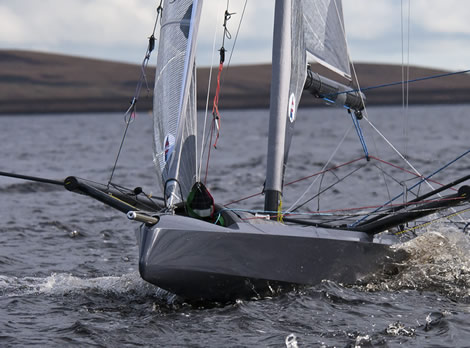 Back to top
Back to top