National rankers
The RYA Olympic Classes National Ranking Series 2011 got off to a flying start at the weekend as the Weymouth and Portland National Academy witnessed some intense racing across four of the Olympic and Paralympic classes.

The weekend was the first of the two events contested as part of the RYA National Ranking Series in Weymouth and welcomed both seasoned campaigners and new faces as the sailors battled it out in breezy conditions on the Saturday followed by much lighter winds on the Sunday.

In the men's 470 fleet, it was a two-horse race across the six race series between Skandia Team GBR's Luke Patience/Stuart Bithell and Nic Asher/Elliot Willis. With a substantial points difference to the rest of the fleet, it was Luke Patience/Stuart Bithell who managed to pip the 2008 and 2006 470 World Champions to the post as they notched up four race wins compared to that of their 470 counterparts who took two race wins to finish in second overall. Phil Sparks/David Kohler ended the event in third overall.
Hannah Mills/Saskia Clark, who were both officially selected to compete for Team GB at the London 2012 Olympic Games yesterday, continued their fine form to finish first in the 470 female fleet and 8th overall. Skandia Team GBR Development squad sailors Sophie Weguelin/Sophie Ainsworth followed up in second and 10th overall, while Amy Seabright/Eilidh Mcintyre finished third and 12th overall.
The 49er class was once again a jostle for top sport between the two top boats with Dylan Fletcher/Alain Sign taking event victory over John Pink/Rick Peacock due to count back. Dave Evans/ Ed Powys finished the weekend in third, level on points with fourth place Skandia Team GBR Transitional Squad sailors James Peters/Ed Fitzgerald.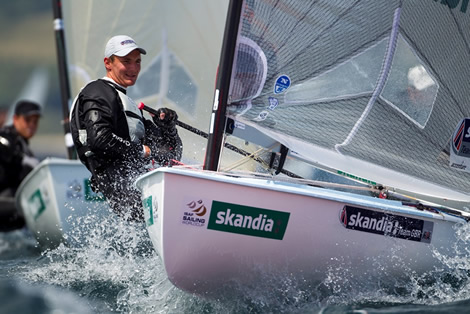 Giles Scott was yet again dominant in the Finn class as he racked up five out of six race wins to secure regatta honours in emphatic style. Development Squad sailor Mark Andrews clinched a regatta second just one point ahead of third place Andrew Mills.

While the Finn supremos occupied the top three places by some margin, fourth fifth and sixth was an intense battle in its own right between some of the nation's promising young stars of the future. James Hadden, the top ranked Junior in the UK finished in fourth, only one point above John Greenwood. Not far behind in sixth was newcomer George Cooper who picked up an impressive bullet in the final race of the regatta.

Meanwhile in the Paralympic classes, Helena Lucas clinched two out of three race wins to take event victory ahead of Meagan Pascoe who finished one point behind in second.

Barrie Edgington, RYA Olympic Development Squad Manager, commented: "It was a great start the to the RYA Olympic Classes National Ranking Series with big breeze and big names dominating, and also first timers making their debut in Olympic Classes. The final round in October will see the RSX and Sonar classes joining the action and the competition for overall places in all classes will no doubt be fierce."
The final weekend for all seven Olympic and Paralympic classes will commence on the 15-16 October and will conclude what has been a highly charged season of Olympic Classes racing.
As well as competing on the world class 2012 waters of Weymouth and Portland, RYA grants and qualification for key 2012 international regattas are also at stake.
Back to top
Back to top