Italians on fire
The weather gods finally allowed a full day of racing at the Star European Championship in Dun Laoghaire on Dublin Bay as a moderate westerly breeze allowed Principal Race Officer David Lovegrove and his team to deliver three races. It is hoped to have two races tomorrow ahead of the forecast for heavier winds.
With their form unchanged since Sunday, Italians Diego Negri and Enrico Voltolini extended their overall lead in the 26-boat fleet, counting one win plus a third place while discarding their eighth place in race six.
Polish 2008 World champion and past Finn Olympic Gold medallist Mateusz Kusznierewicz with Dominik Zycki also showed good pace, with a fifth place and a win yesterday while discarding a ninth in the hunt for the overall lead. Canada's Richard Clarke with Tyler Bjorn also moved up a place to third overnight as the final two races are slated for Friday – weather permitting.
In local interest, a slip in form for Peter O'Leary and David Burrows saw the Cork/Dublin pair drop to fifth place while Max Treacy and Anthony Shanks failed to find their form today.
Provisional overall standings after six races:
| | | | | | | | | | | | | |
| --- | --- | --- | --- | --- | --- | --- | --- | --- | --- | --- | --- | --- |
| Pos | Nat | Skipper | Crew | R1 | R2 | R3 | R4 | R5 | R6 | R7 | Tot | Net |
| 1 | ITA | Diego Negri | Enrico Voltolini | 1 | 2 | 1 | 1 | 3 | -8 | 1 | 17 | 9 |
| 2 | POL | Mateusz Kusznierewicz | Dominik Zycki | 5 | 8 | 2 | 5 | 1 | -9 | 3 | 33 | 24 |
| 3 | CAN | Richard Clarke | Tyler Bjorn | 9 | 1 | 5 | 2 | -13 | 7 | 2 | 39 | 26 |
| 4 | POR | Afonso Domingos | Frederico Melo | 6 | 4 | 10 | 8 | -14 | 5 | 4 | 51 | 37 |
| 5 | IRL | Peter O'Leary | David Burrows | 3 | 6 | 3 | 6 | 12 | -13 | 9 | 52 | 39 |
| 6 | FRA | Guillaume Florent | Pascal Rambeau | 2 | 3 | 6 | 4 | 11 | -19 | 17 | 62 | 43 |
| 7 | GER | Johannes Polgar | Markus Koy | -19 | 12 | 4 | 12 | 9 | 1 | 8 | 65 | 46 |
| 8 | NOR | Eivind Melleby | Petter Morland Pedersen | 13 | -17 | 7 | 10 | 6 | 3 | 7 | 63 | 46 |
| 9 | USA | George Szabo | Mark Strube | 10 | 15 | (28.0 DNF) | 7 | 18 | 2 | 11 | 91 | 63 |
| 10 | USA | Andrew Campbell | Ian Coleman | 14 | 16 | 13 | 13 | 4 | -17 | 5 | 82 | 65 |
| 11 | CRO | Mate Arapov | Ante Sitic | -20 | 13 | 8 | 18 | 16 | 4 | 6 | 85 | 65 |
| 12 | UKR | Arthur Anosov | Vitalii Kushnir | 18 | 10 | 11 | 11 | -19 | 6 | 10 | 85 | 66 |
| 13 | FRA | Xavier Rohart | Pierre Alexis Ponsot | 4 | 5 | (28.0 DNF) | 14 | 8 | 23 | 14 | 96 | 68 |
| 14 | ESP | Fernando Echavarri | Fernando Rodriguez Rivero | 7 | 14 | 9 | 3 | -21 | 20 | 16 | 90 | 69 |
| 15 | POR | Gustavo Roxo Lima | Rubrio Basilio | 16 | 9 | 12 | 16 | 7 | 12 | -21 | 93 | 72 |
| 16 | GER | Alexander Schlonski | Matthias Bohn | 17 | 19 | (28.0 DNF) | 9 | 5 | 11 | 15 | 104 | 76 |
| 17 | GBR | John Gimson | Stephen Milne | 11 | 20 | 14 | 17 | 2 | (28.0 RAF) | 18 | 110 | 82 |
| 18 | IRL | Maxwell Treacy | Anthony Shanks | 15 | 11 | (28.0 DNF) | 15 | 10 | 22 | 13 | 114 | 86 |
| 19 | UKR | Vasyl Gureyev | Volodymyr Korotkov | 12 | (28.0 DNC) | 28.0 DNC | 19 | 15 | 10 | 22 | 134 | 106 |
| 20 | SWE | Tom Loefstedt | Hakan Lundgren | (28.0 DNC) | 28.0 DNC | 16 | 21 | 17 | 15 | 12 | 137 | 109 |
| 21 | GBR | Ante Razmilovic | Brian Hammersley | 22 | 21 | 15 | 20 | 23 | 14 | -24 | 139 | 115 |
| 22 | UKR | Denis Khashina | Dmitriy Mechetin | -24 | 18 | 17 | 22 | 20 | 21 | 23 | 145 | 121 |
| 23 | SUI | Michel Niklaus | Vincent Hagin | 21 | 22 | (28.0 DNF) | 24 | 24 | 16 | 19 | 154 | 126 |
| 24 | GBR | Iain Percy | Andrew Simpson | 8 | 7 | (28.0 DNC) | 28.0 DNC | 28.0 DNC | 28.0 DNC | 28.0 DNC | 155 | 127 |
| 25 | SUI | Jean-Pascal Chatagny | Patrick Ducommun | 25 | 24 | (28.0 OCS) | 23 | 22 | 18 | 20 | 160 | 132 |
| 26 | RUS | Andrey Berezhnoy | Sergey Masalov | 23 | 23 | (28.0 DNF) | 25 | 28.0 DNE | 24 | 25 | 176 | 148 |
| 27 | HUN | Tibor Tenke | Miklos Bezereti | 26 | (28.0 DNF) | 28.0 DNC | 28.0 DNC | 28.0 DNC | 28.0 DNC | 28.0 DNC | 194 | 166 |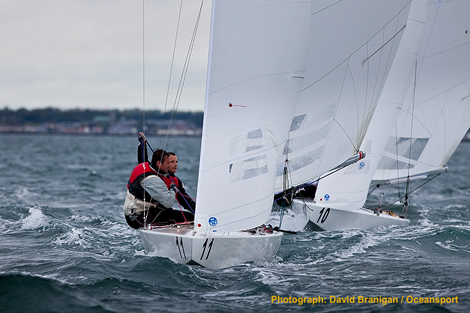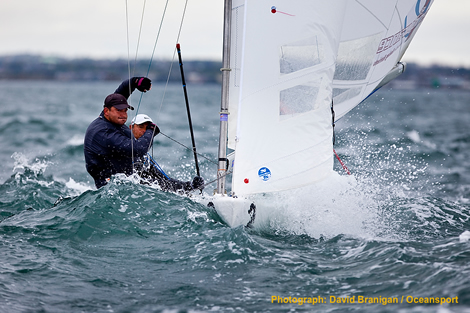 Back to top
Back to top