Pretenders to the Goodison throne
Skandia Team GBR sailors proved a dominant force at the 2011 Laser Standard World and European Junior Championships which concluded in La Rochelle on Saturday, with Alex Mills-Barton clinching the European title and silver in the Worlds while GBR team mate Martin Evans secured the European silver and Worlds bronze.
The Skandia Team GBR Development squad sailors finished the regatta nine points apart come the end of the week, with Mills-Barton finishing a further nine points behind New Zealand's Sam Meech who dominated the series to take the 2011 Laser Junior World Championship title.
Alex Mills-Barton, Skandia Team GBR Development Squad sailor, commented: "I'm really pleased with my performance and overall result. I knew it was going to be a tough event so to finish top European and second in the world is a great achievement. My main aim was to finish first in both but the sailor from New Zealand was a real challenge.
"The conditions really played to my advantage. I have been training extremely hard over the past six months so to have strong winds for the majority of the regatta was great. I was able to maintain speed over the course of the week which enabled some pretty exciting racing.
"My risk management in the first couple of races was quite poor which lead to some mistakes. However towards the end of the regatta it started to improve, although I still need to go away and work on this in preparation for my next event.
"The experience will be crucial for future regattas and my overall development. To be racing at the top of the fleet is fundamental if I want to push on to the next level. My next key event is the ISAF Worlds in December which is by far the biggest event I have raced in.
"I will be training hard over the next five months and hope to put in a solid performance come December," concluded Mills-Barton.
Evans and Mills-Barton are training partners in the Laser Standard and were both extremely confident going into to the event: "I knew I could perform well at this event and was aiming for a top five finish In the world standings and a medal in the Europeans – so to achieve both is a great feeling" said Evans.
"I feel I would have sailed well in any conditions, but to have a strong breeze was an added bonus. Alex has been looking good in training and I knew he was going to be tough competition. We both race well in strong winds as that is what we have been doing most of our training in.
"I posted a couple of first places and the rest were majority top ten finishes which Is a great confidence boost when racing at this level.
"The fleet was very large and the competition extremely tough so to have put in a good all round sold performance and to finish with a medal is fantastic," said Evans.
To add to Team GBR's medal success, Jack Wetherell clinched silver in the under-19 Europeans Laser standard fleet while RYA Volvo Youth Squad sailor Elliot Hanson, 17, from Macclesfield, sealed the under-21 European Laser Radial title.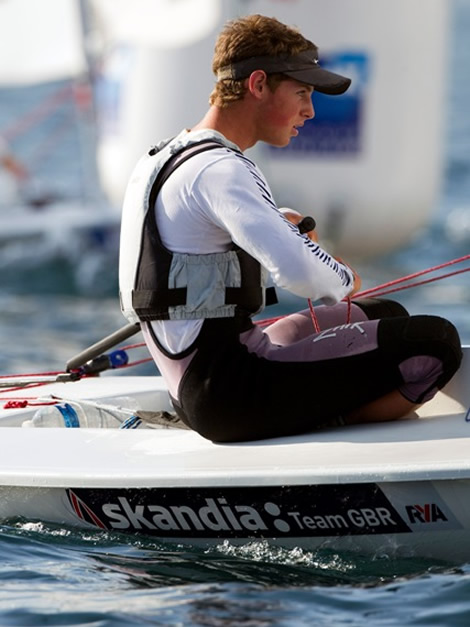 Back to top
Back to top