Leader changes
Varying wind speeds ranging from 13-20 knots provided challenging conditions for the sailors today at the Open Europeans in Helsinki.
While Mat Belcher and Malcolm Page (AUS) in the 470 Men and Ivan Kljakovic Gaspic (CRO) in the Finn maintain their lead in their respective fleets, the 49ers and the 470 women today saw a change at the top with Nathan Outteridge and Iain Jensen (AUS) sneaking into first place going into tomorrow's last day while Brazil's Fernanda Oliveira/Ana Luisa Barbachan have taken the lead in the 470 Women.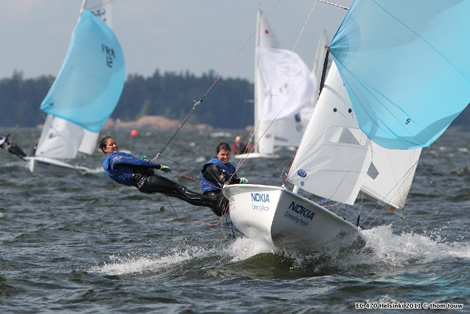 470 Women

Race 6 was a procession behind Brazil's Fernanda Oliveira/Ana Luisa Barbachan, who dominated from start to finish and gave themselves the impetus to take the overall lead from the Spanish by the end of today's three races.
Oliveira commented after racing: "It was a great day for us. A first, fifth and seventh. It doesn't matter for me that we beat the Spanish. We just worry about us, our work, and not for the others. We are sometimes training together with the Spanish girls so it is good to be together. They are very special sailors. We have a lot of races until the end of the event, so we are just concerned to keep going."
The second placed Spanish helm Tara Pacheco commented on the battle in race 6: "We were trying to catch them, but it was impossible!"
Moving on up to join Brazil and Spain in the top three are Denmark's Henriette Koch/Lene Sommer after a consistent 7,4,8 posting.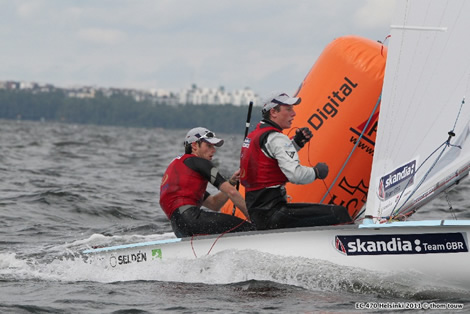 470 Men

The Australians look to be unstoppable as Mat Belcher/Malcolm Page (AUS) produced another race win in race 8 to extend their points lead over the rest of the fleet.
"Today was the first day of gold fleet racing, and it's always nice to be racing the top guys instead of watching them in other fleets," said Belcher. "We had a total change of conditions from yesterday, we were postponed onshore to wait for a front to pass before being sent out in a pretty gusty 13-20 knot breeze. It was another solid day for us with a five and a one and we're pretty happy with our performance so far and will be looking to continue this through the next few days," he said. "With four races to go, things will certainly change but we're enjoying the racing and looking forward to getting to the starting line tomorrow."
Chasing hard and moving up to second overall with a 4,2 are Luke Patience/Stuart Bithell (GBR). Bithell summarised the British team's day: "It was alright, a lot of pressure differences, a lot of oscillating wind shifts. For me on the wire doing tactics it was brilliant. It was an opportunity to gain on the fleet. It was good fun."
Race 7 looked to be a win in the bag for Americans Stuart McNay/Graham Biehl who led for much of the race, but ultimately finished second as McNay explained, "There were a lot of wind shifts out there and a bunch of competitors close behind us. You can't cover everyone. We played the wind as we thought was best and one guy got around us but we are well happy with second."
Israel's Gideon Kliger/Eran Sela drop from second to third, and Kliger reflected, "It was a big mess and very different from the other days. The wind was really shifty and it means everything comes really fast and quickly. The other days it was the opposite and very slow. We made mistakes. We just didn't sail good today but we have confidence to get back."
A further four races are scheduled, before determining the top 10 boats going through to the Medal Race on Friday 15 July 2011.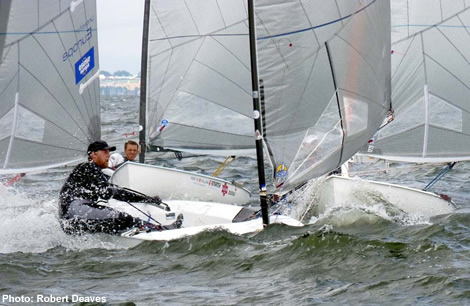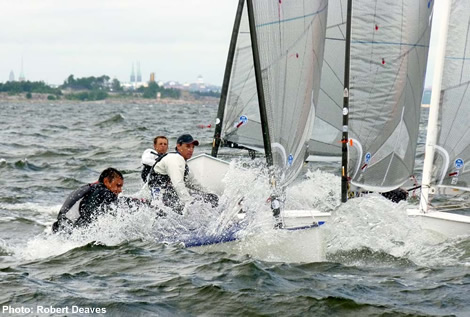 Finn - Scott dominates, but Kljakovic Gaspic still leads
Three more races for the 71 boat Finn fleet were held today bringing it back on schedule. Defending champion Ivan Kjlakovic Gaspic (CRO) hangs onto the overall lead, though the race wins today went to Britain's Giles Scott and Pieter Jan Postma (NED). Scott is now the biggest threat to Kljakovic Gaspic retaining the title he has held for the past two years.
Scott won Race 6 by an impressively large margin, leading and extending at every mark. Then the Race 7, Rafa Trujillo (ESP) led until the final downwind when Scott and Giorgio Poggi (ITA) got past soon after the top mark, giving Scott his second race win of the day. In Race 8, Postma made the best of a large left hand shift out of the start and led at every mark for a comfortable race win.
Kljakovic Gaspic picked up a consistent 3, 5, 4 in today's moderately windy conditions, but Scott has narrowed his lead to just five points. Andrew Mills (GBR) drops one to third after a 5, 10, 2 today and there is a further 18 point gap on the rest of the fleet.
In the Junior European Championship, Egor Terpigorev (RUS) has a one point lead over Josip Olujic (CRO), while Julian Massler (GER) has regained third spot from Milosz Wojewski (POL) after clearly liking the breezy conditions today with three good results.
Scott said of his great day: "It was kind of needed actually. In the first race I got to the top mark in the lead and in that kind of stuff I think it pays to have clear air and if you are out in front it's really easy to extend. The race was quite nice and comfortable for me, and stress free. I was also very much aware we had three races and I took it quite easy coming into the top mark and then just did enough to keep the lead over Rafa.
"It's put a bit of pressure on Ivan and hopefully my legs will be recovered by tomorrow and I will try and do the same again. But today was quite good fun as it was great sailing."
Racing for the Finns continues with the final two full fleet races on Wednesday. The medal race for the top 10 and the final race for the rest is on Thursday 14 July.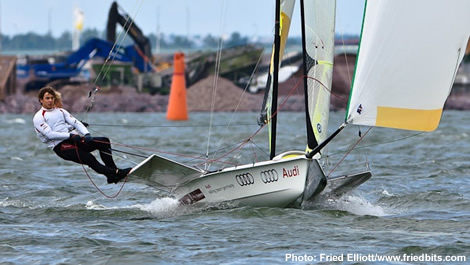 Seiko 49er Europeans - brisker conditions moves Aussies into the lead

Overnight rain cleared the air for the sailors and gave fresh conditions producing four spectacular races. The 49ers began the day in 10 knots of breeze which increased throughout the afternoon with puffs of up to 22 knots.
"Today was like go-kart driving; a small course with three laps" commented Thomas Ploessel, crew of Erik Heil, two young sailors from Germany (23 and 22 years) who currently sit in 8th. The duo qualified in third place for the gold fleet and had three good races today but also sailed one of their discards (5-9-21-6). Ploessel and Heil have been competing together for ten years, beginning in the Teeny, a small doublehanded boat sailed in Germany. Four years ago the duo switched to the 49er after being too heavy for the 470 and have never looked back. Asked if they were surprised by their success this week Ploessel responded: "A little. We know that we are good; we've been training a lot." And on the question of any pressure sailing with the more experienced teams, "A little, but we see that we can beat them, and that's a good thing!"
Seven places in front of the Germans, in true World Champion form, Nathan Outteridge and Iain Jensen (AUS) sailed a 9-3-1-2 to move them in the lead by a two point margin over yesterday's leaders Dylan Fletcher and Alain Sign (GBR) who posted a 1-7-11-7 today. Federico and Arturo Alonso (ESP) sit in third after a solid day of 2-5-4-4.
The final series finishes tomorrow with the medal race to be held at 13:55.
Full results here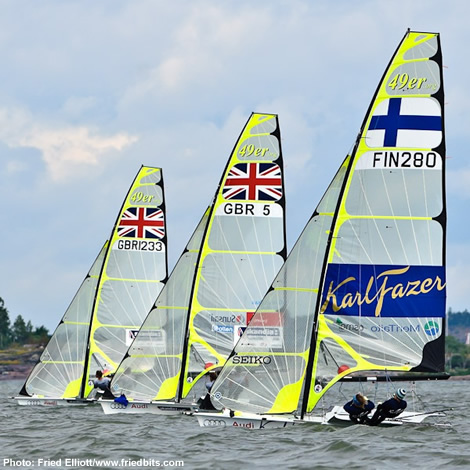 Back to top
Back to top